My Silken Tofu Scramble is made with one of the best foods that help with menopause naturally. Tofu contains isoflavones and phytoestrogens that have been found to decrease many menopause symptoms without the side effects of medication. Soy foods can be a natural alternative for women who can't or choose not to take hormone therapy.
Hormone Balancing Superfood: Tofu
Tofu, made from soybeans, is one of the least expensive ways to get a great source of protein. There are 17 grams of protein in a 3 ½ ounce serving of tofu.
Soy contains healthy phytochemicals which help inhibit tumor growth. They can also balance cholesterol and include antioxidants which decrease risk of disease.
Just as important are the isoflavones soy contains. These are phytoestrogens or weak estrogen-like compounds from plants. The estrogen produced in our body is much stronger than these soy phytoestrogens. When we eat these estrogen-like compounds we can decrease cancer risk at the cellular level.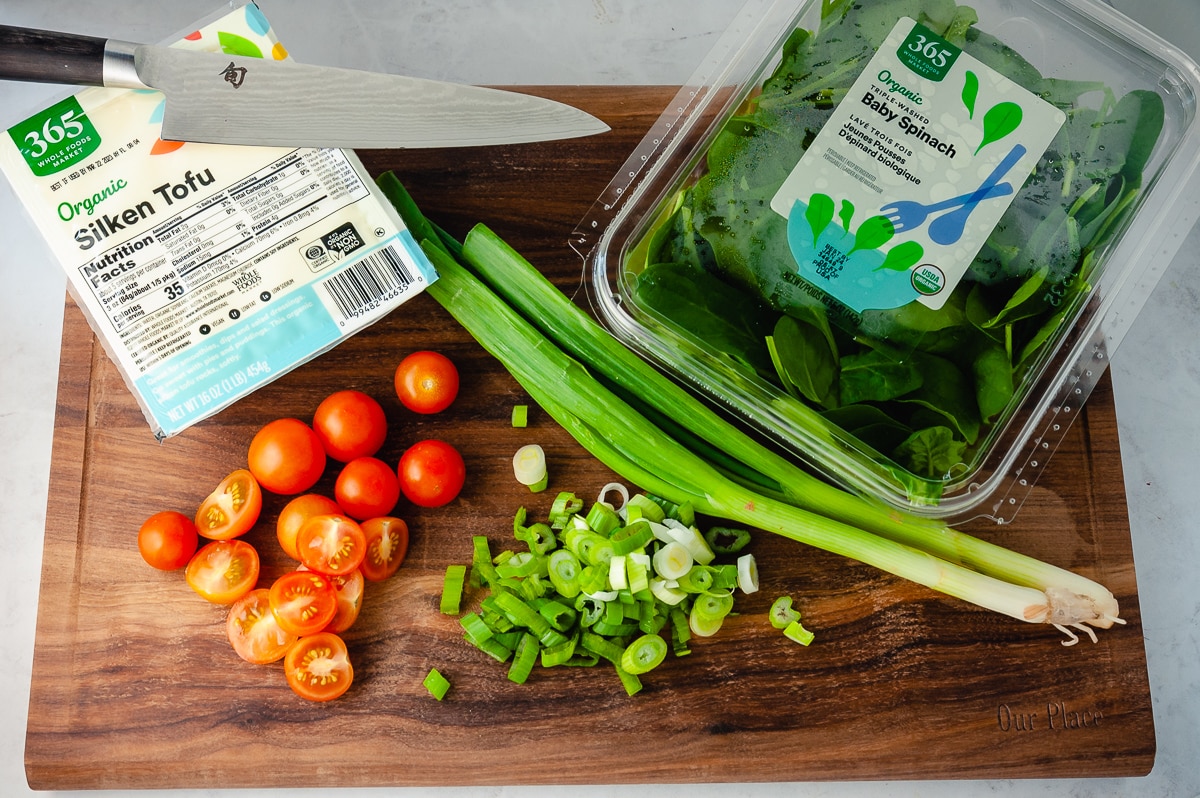 Estrogen rich foods for menopause
The list of foods high in phytoestrogens include flax seeds, sesame seeds, cruciferous vegetables, tempeh, edamame, and tofu. Each of these foods has been associated with benefits in menopause such as decreased cholesterol levels, reduced menopausal symptoms, and a lower risk of osteoporosis and breast and some other cancers.
Tofu is one of the best foods to help with menopause symptoms. A recent study shows that a diet including soy can significantly reduce hot flashes and night sweats.
How much tofu is safe to eat per day
Moderate amounts of soy foods are fine as part of a balanced diet. One to 3 servings of soy a day (about a half cup per serving) is recommended as a reference. If you are taking hormones related to hormone-receptor-positive breast cancer, and you have concerns or questions about phytoestrogens, refer your doctor or registered dietitian for personalized advice.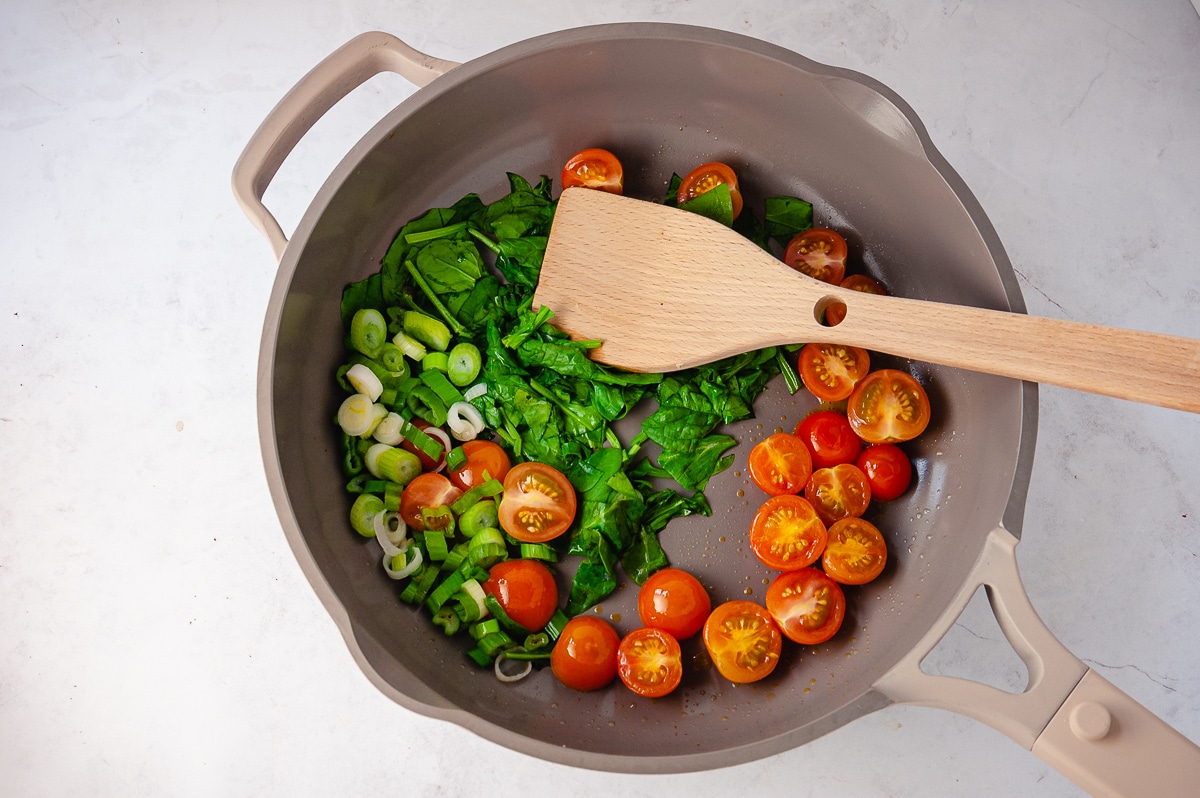 How to use silken tofu
You can use either silken or soft tofu to make a soft egg-like scramble. Silken tofu is also perfect to use in smoothies, soups, and vegan desserts.
Silken and soft tofu cook best in a nonstick pan. If you don't use a nonstick pan you'll need to add a little more coconut oil to prevent the delicate tofu from sticking.
Silken Tofu Scramble tastes best when served warm immediately after cooking. You could batch cook this recipe and portion into storage containers to warm up in the morning. These would be a great idea for quick high protein, savory breakfasts that won't spike insulin and blood sugar.
Reasons why this is a good recipe for menopause:
Protein-packed breakfast
As estrogen falls our muscle mass and strength are in jeopardy. Starting the day with a savory breakfast (not a sugary, sweet breakfast) with protein helps us slow muscle loss. If you prefer vegan or vegetarian meals, adding tofu is a powerful way to meet your protein needs.
Leafy greens
Spinach as well as chard, collards, and kale are just some of the dark green leafys that offer antioxidants, minerals like potassium, and vitamins A, C, and K. Eat leafy greens every day to fight belly bloat, build healthy bones, and boost digestive enzymes.
Nutritional yeast
This is an inactive yeast that adds savory umami flavor to food. Interestingly, it contains all 9 essential amino acids which makes it a high quality plant protein. It's also a source of B vitamins for stress support and it may help lower cholesterol.
Turmeric
This spice gives the Silken Tofu Scramble its yellow color. Curcumin is the main active ingredient in turmeric. It has powerful anti-inflammatory effects and is a very strong antioxidant. The coconut oil and pepper in this recipe help your body absorb the curcumin. This makes it more likely you'll benefit from the benefits like relief of depression and less joint pain.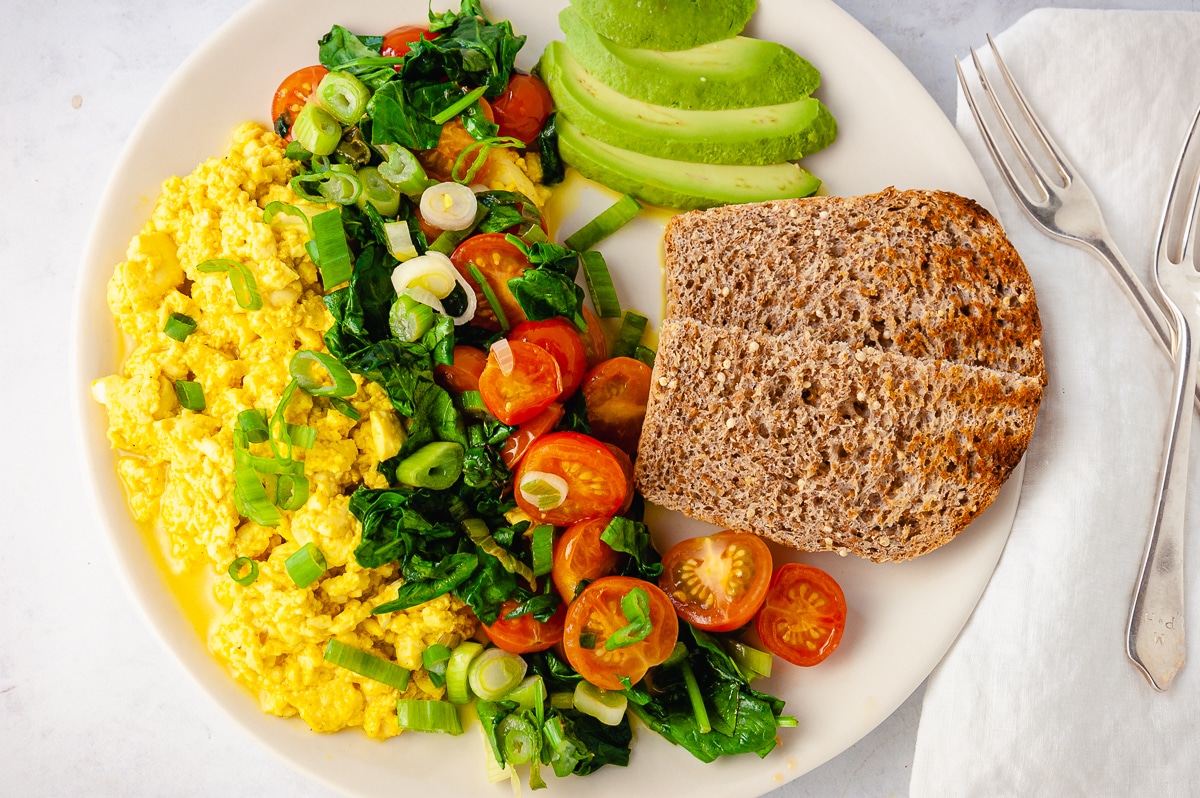 Enjoy some of my other recipes featuring soy foods:
Silken Tofu Scramble
2

teaspoons

coconut or avocado oil

1

cup

spinach

,

chopped

2

green onion

,

chopped

1/2

cup

cherry tomatoes

,

sliced

12

ounces

silken tofu

,

crumbled with the back of a fork

1

tablespoon

nutritional yeast

1

teaspoon

garlic powder

1/4

teaspoon

turmeric powder

1/2

teaspoon

sea salt

1/4

teaspoon

pepper

1/8

teaspoon

black salt,

optional, gives an egg-like flavor
Heat oil in a nonstick pan.

Add spinach, onions, and cherry tomatoes. Cook for 2 minutes. Set aside.

Add crumbled tofu to the same pan. Stir in nutritional yeast, garlic powder, turmeric powder, salt, and pepper. Cook until liquid has evaporated.

Serve scrambled tofu with veggies. Sprinkle with black salt if using.
This post contains affiliate links for products I use and trust. I may receive commissions on purchases at no cost to you. As an Amazon associate I earn from qualifying purchases.