Cruciferous vegetables are especially helpful for menopausal women. Aim to include one serving everyday to get the benefits.
I'm always encouraging my clients to fit in the nutrient-dense vegetables that can make a big impact on health. Switching these veggies in for processed grains like white rice or pasta can help balance blood sugar. This swap also decreases the insulin resistance we struggle with in perimenopause. That insulin resistance is at the root of many hormonal imbalance symptoms like hot flashes.
Cruciferous vegetables are good to eat for menopause
Both broccoli and cauliflower are cruciferous vegetables. Other cruciferous veggies you can rotate in are kale, bok choy, Brussels sprouts, and cabbage. This group of vegetables can help manage symptoms and health issues that are more of a risk in perimenopause and menopause. They contain compounds called glucosinolates which can lower risk of cardiovascular disease. They are also associated with decreasing your risk of breast cancer.
I recommend eating one of these super veggies every day. An easy way to get started is to add frozen riced cauliflower to your protein smoothie. Start by adding ⅓ cup to the rest of your ingredients. You can't taste the cauliflower and it gives the smoothie a soft ice cream texture!
Hormone Balancing Superfood: Broccoli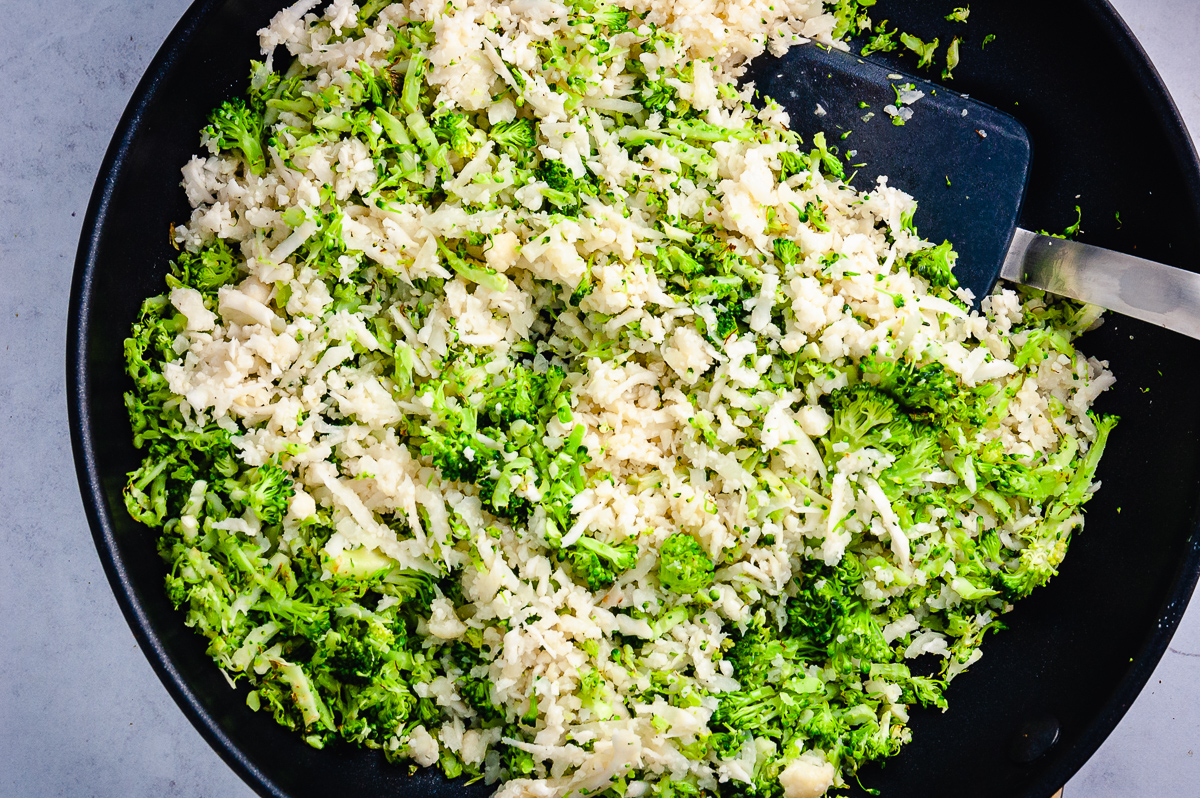 How to grate broccoli and cauliflower for rice
I like to use my food processor. First I chop the vegetables into the largest size that will fit into the feed tube. This seems to work  better to give the grating blade something to grab onto. I put on the grating attachment with the large holes and just shoot the florets and peeled stems through. Some recipes suggest using the s-blade but you will get a finer texture using this method.
How to use broccoli cauliflower rice
This recipe can be used in place of rice, pasta, or a grain. Broccoli cauliflower rice works well to help lower the carbs for a keto or paleo meal. You can arrange it on a pretty platter and serve a protein, like this tofu or this Coconut Curry Seafood, over top.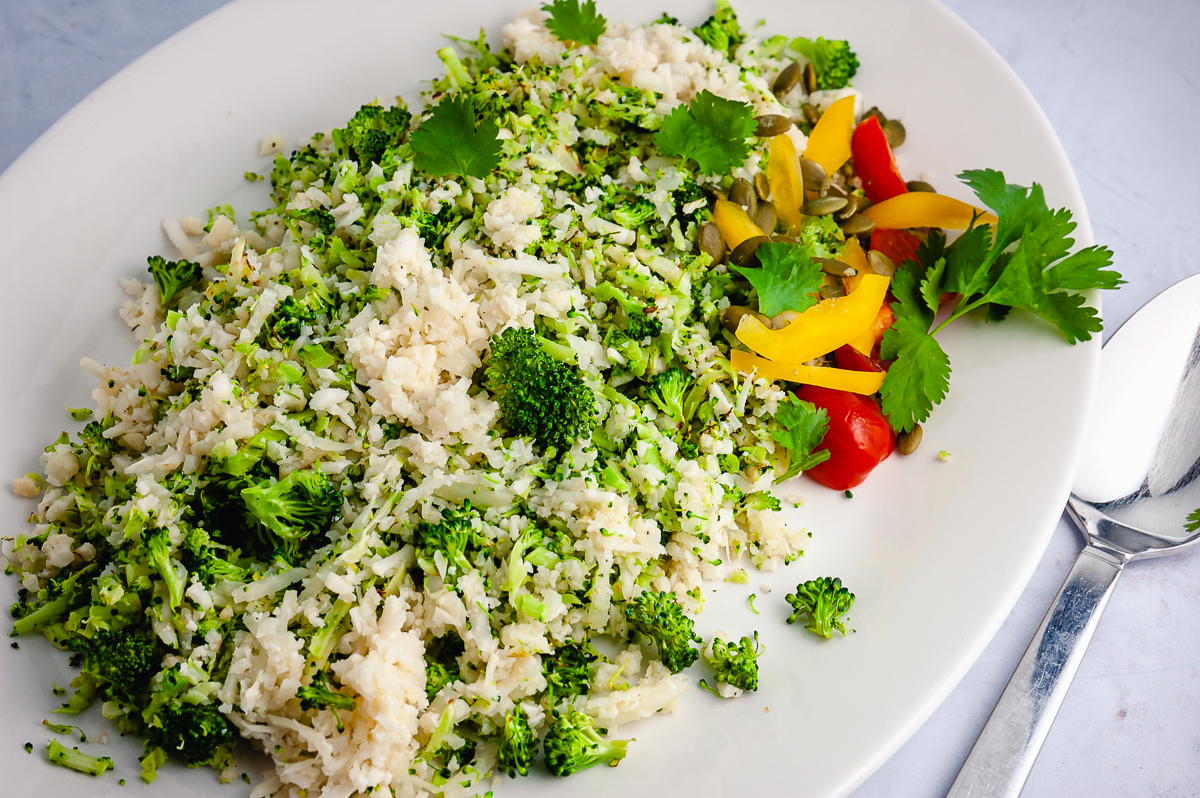 More recipes with cruciferous vegetables:
Broccoli and Spinach Quinoa Salad
Broccoli Cauliflower Rice
2

tablespoons

coconut oil

1

small onion

,

chopped

4

cups

broccoli florets and upper stem

,

grated to size of rice

5

cups

cauliflower

,

grated to size of rice

2

cloves

garlic

,

minced

1

teaspoon

sea salt

½

teaspoon

pepper
Heat oil in a large pan.

Add onions and cook 4 minutes until softened. Add grated broccoli and cauliflower. Cook 5 minutes.

Stir in garlic, salt, and pepper. Cook another 3 minutes.
This post contains affiliate links for products I use and trust. I may receive commissions on purchases at no cost to you. As an Amazon associate I earn from qualifying purchases.