Tofu is a blank canvas to paint with almost any flavor combination. It's a complete plant protein with fiber and healthy fat as well.
Every once in a while I get a craving for a good tofu bowl. Because tofu is a true blank slate, the potential flavoring options are seemingly endless. The classic combo would be garlic + ginger + soy sauce. Garlic and ginger, which help strengthen our immune systems and fight infections, are main ingredients in my Baked Teriyaki Tofu. You can even mix up the sauce and use it on other foods without strong personalities like cauliflower, cod, or noodles.
What exactly is tofu again?
Tofu starts from soy milk. The soy milk is coagulated and then pressed to form a block of firm tofu. It can be used after draining off the liquid it sits in or pressed to dry the tofu a little more. To press the block tofu, place it on a plate wrapped in a clean tea towel or paper towels. Invert another plate on top and weigh down by stacking a canned food or pot on top of the second plate. Let it drain for 30 minutes to an hour, then use it in your recipe.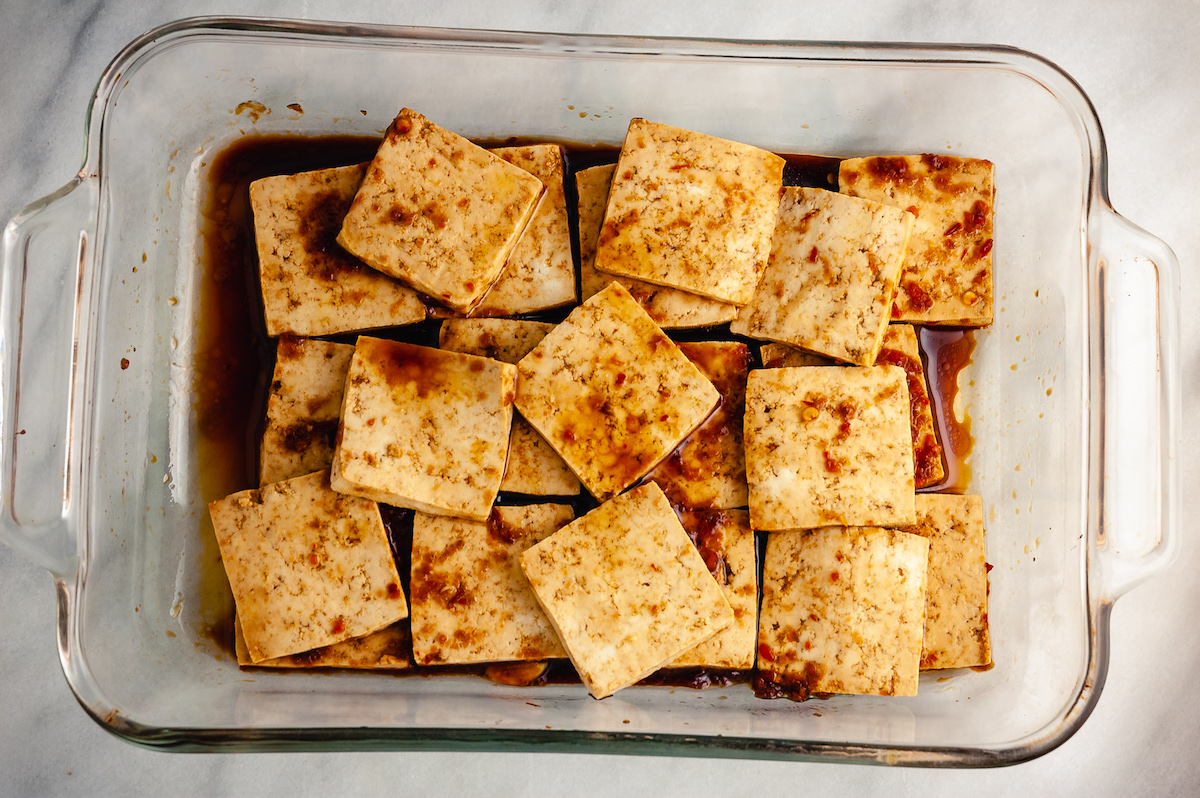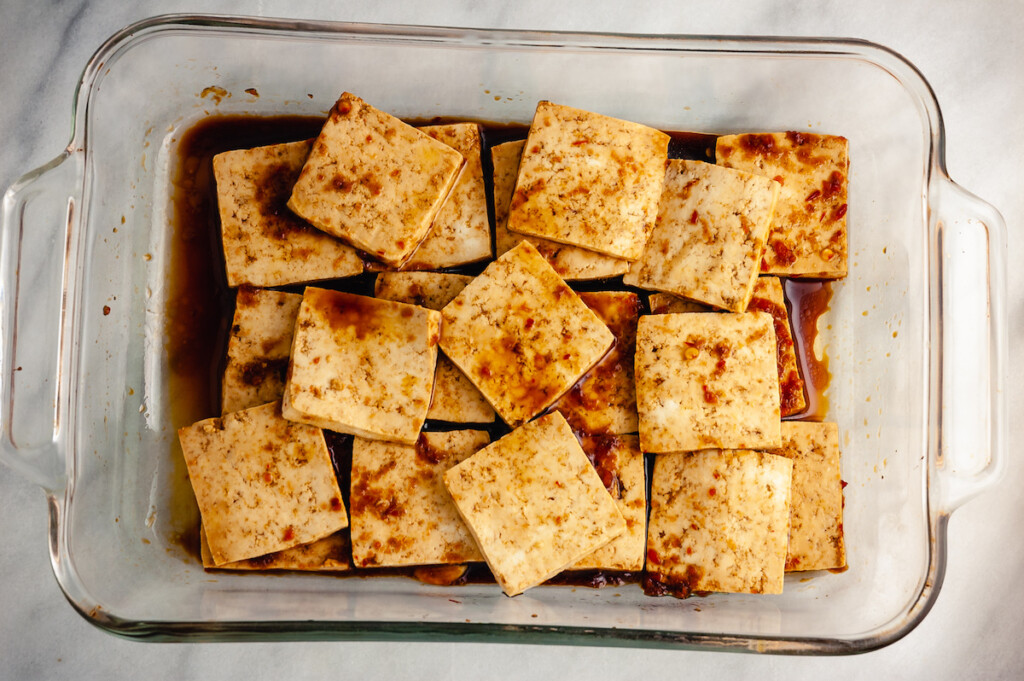 Is tofu good for you?
Good or bad, the health benefits of tofu are a topic of discussion. Soy contains isoflavones and phytoestrogens. These especially benefit women postmenopause, whose estrogen production is minimal. Phytoestrogen has the ability to block dangerous potentially cancer-causing estrogens. Studies show that eating soy foods lowers risk of breast cancer in both perimenopause and menopause.
But if you are a woman in menopause who has already been diagnosed with breast cancer you may need to know your cancer type. Have a conversation with your doctor and dietitian about any changes you should make regarding your soy intake. In general eating soy foods will lower recurrence of breast cancer.
The soy isoflavones in tofu are healthy for women too. Enjoying tofu in a meal every once in a while can also help keep your bones healthy by increasing bone mineral density. And – YAY! – soy foods can help with those pesky menopausal hot flashes. There's a happy thought while nibbling on some perfectly crispy tofu.
What else should I know about tofu and soy foods?
Making tofu does not involve much processing so it's considered healthy in this respect. Other minimally processed soy foods like edamame, soybeans, yogurt, and unsweetened soy milk contain vitamins, minerals, and isoflavones that are good for our health.
Fermented soy foods like tempeh and miso contain probiotics which help improve gut health. Sprouted tofu is also available. Sprouting is a technique that can increase the digestibility of the tofu. You can find sprouted tofu beside regular tofu in healthy food stores.
Cook a batch of my Baked Teriyaki Tofu. Serve some with steamed veggies and brown rice for dinner and use the leftovers to tuck into summer rolls wrapped in rice paper.
I'm sure you'll come up lots of great ideas for this recipe. Share with us on Instagram @freshbalancenutrition #freshbalancenutrition.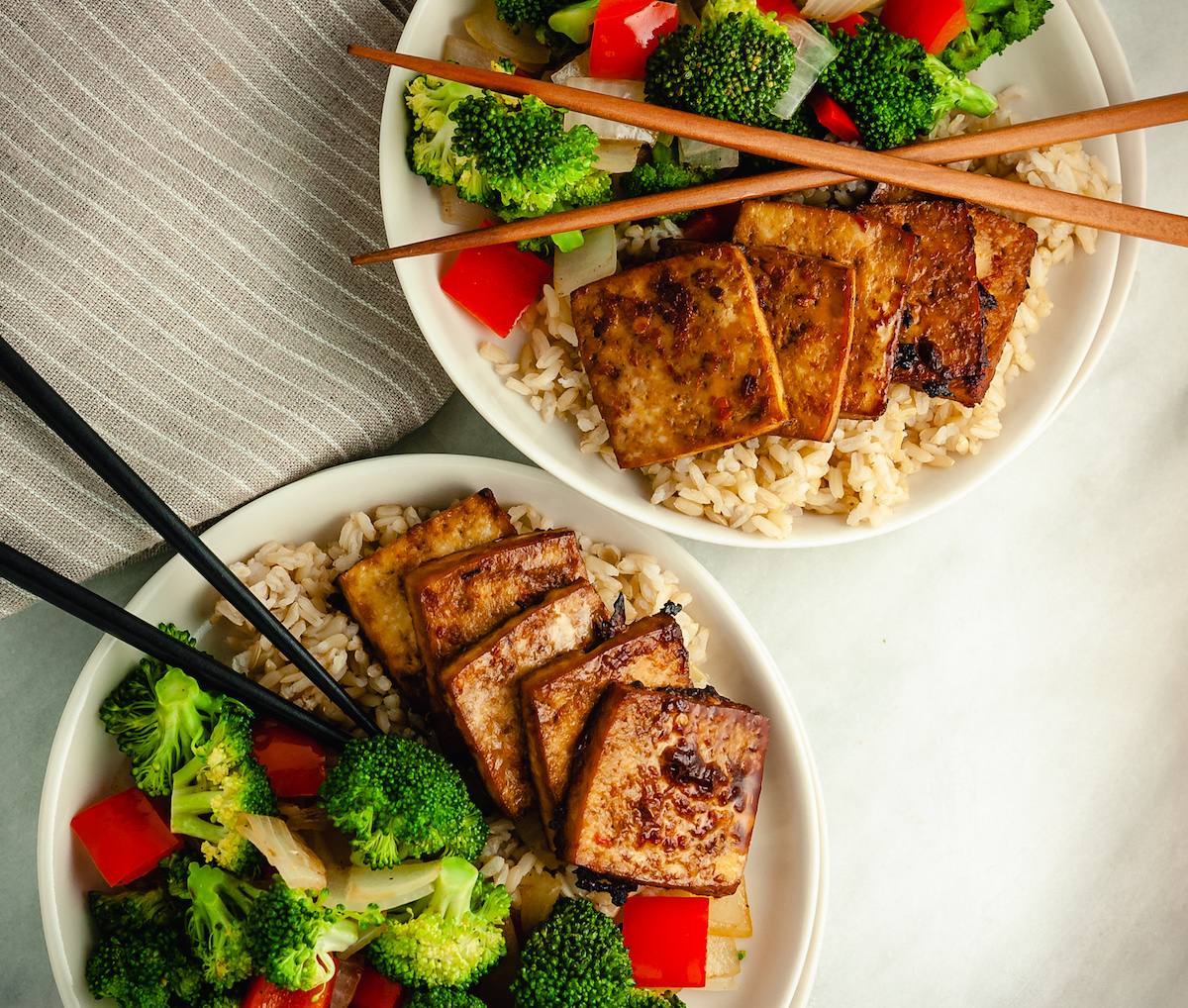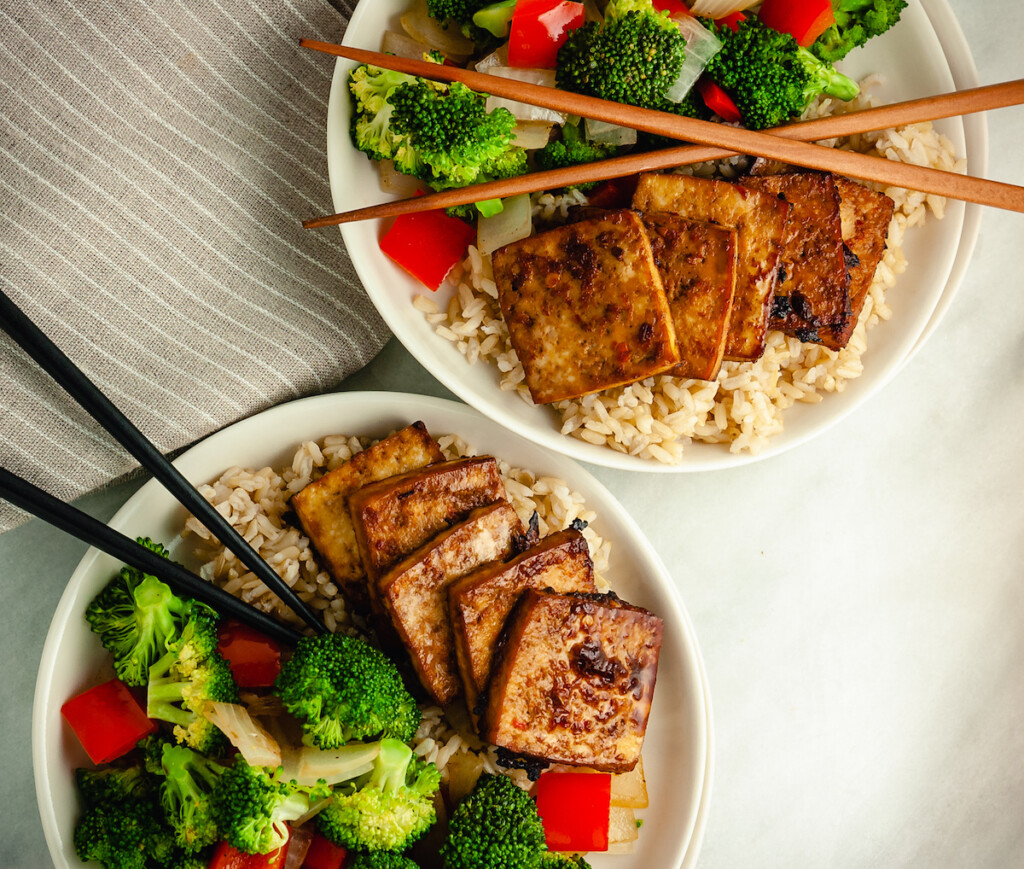 Baked Teriyaki Tofu
1 16-

ounce

block extra firm tofu

1

Tablespoon

avocado oil

¼

cup

tamari

2

teaspoons

maple syrup

2

cloves

garlic

,

minced

2

teaspoons

chili garlic sauce

1

teaspoon

fresh ginger

,

minced
Drain and press tofu for 30 to 60 minutes. Slice into 1/4-inch rectangles.

Whisk marinade ingredients together. Arrange tofu slices in a single layer in a shallow dish. Pour marinade over top and marinate tofu 2 hours or overnight.

Preheat oven to 450℉. Transfer tofu to lined baking sheet. Reserve the extra marinade.

Bake tofu 15 minutes, flip over and spoon reserved marinade over slices.

Bake 10 more minutes.
Notes
How to press tofu:
Put drained tofu on a large plate between layers of paper towels or wrapped in a clean tea towel.
Place a weight, like a can of food or an empty glass food storage container, on top to press out moisture.
Let sit for an hour.