Recipes that include good quality protein in the right amount are some of the best foods for menopause. My High Protein Chicken Soup combines first-rate animal protein and high-fiber plant protein with vegetables for a satisfying meal.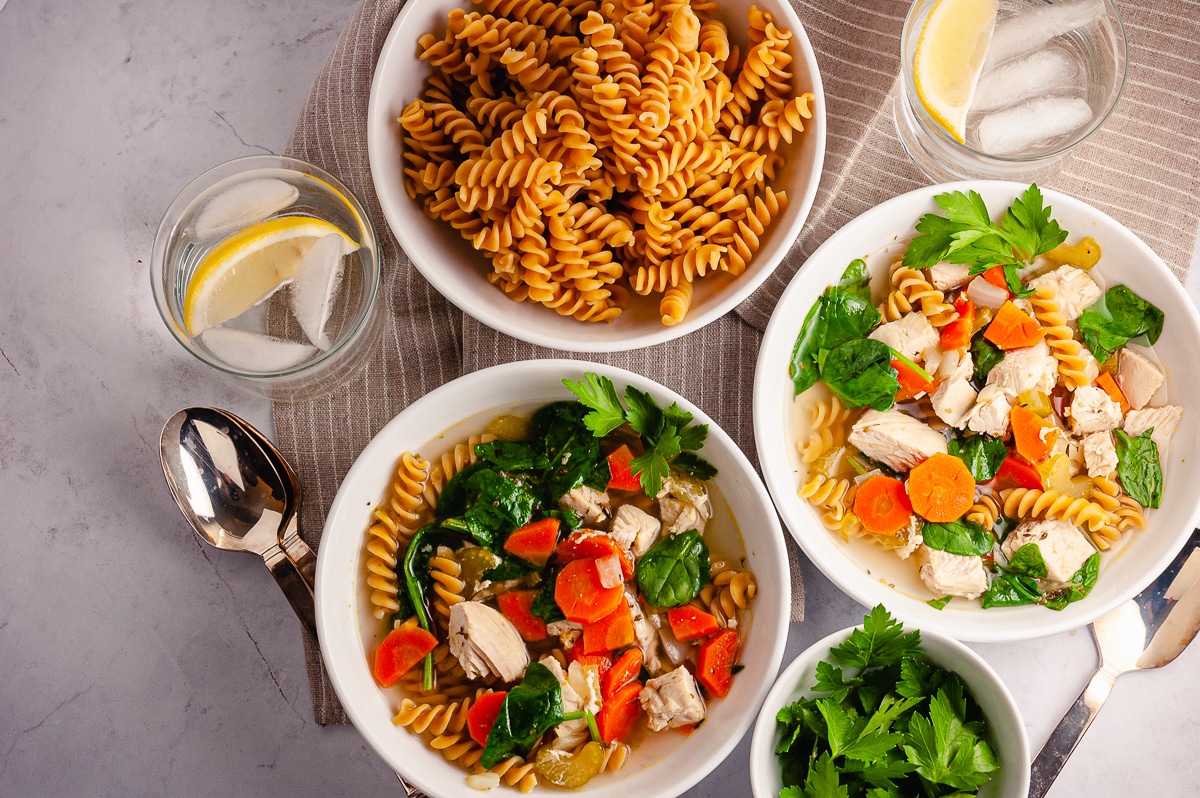 Hormone Balancing Superfood: Chicken
Best protein for menopause
Protein is one of the most important foods that help with menopause symptoms. Eating foods such as chicken, shrimp, eggs, cottage cheese, tuna, tofu, lentils, and beans can help manage a healthy weight during this phase. You can count on protein to help increase both muscle mass and bone strength.
Food sources are better, but if you need to add some protein powder to a smoothie or your overnight oats, whey protein is the best choice. If you're sticking to plant proteins look for a pea protein powder. Pea protein is similar to whey in the essential branched-chain amino acids (BCAAs) leucine, isoleucine and valine, which help fuel muscles and stimulate your body to make muscle mass.
How much protein does a menopausal woman need
Because we are losing lean muscle in perimenopause and menopause our needs increase. I start my clients with 1.6 grams of protein per kilogram or 0.8 grams per pound per day. There may be reasons why we adjust this like increased activity or an injury.
That protein should be portioned out into your meals and snacks throughout the day. This way you'll be getting approximately 25 – 30 grams of protein at a meal and about 5 – 15 grams per snack. A serving of my High Protein Chicken Soup will give you 34 grams of protein.
How to add protein to your diet during menopause
Coming up with enough sources of protein in meals and snacks can be challenging sometimes. You may even be in a panic if you are just realizing that you haven't been meeting your needs. Adding pasta made from legumes or beans is an easy way to up the protein in chicken soup.
Try pasta made with chickpeas, black beans, or lentils. The plant protein and the fiber in these products is around 2 times that of regular wheat based pasta.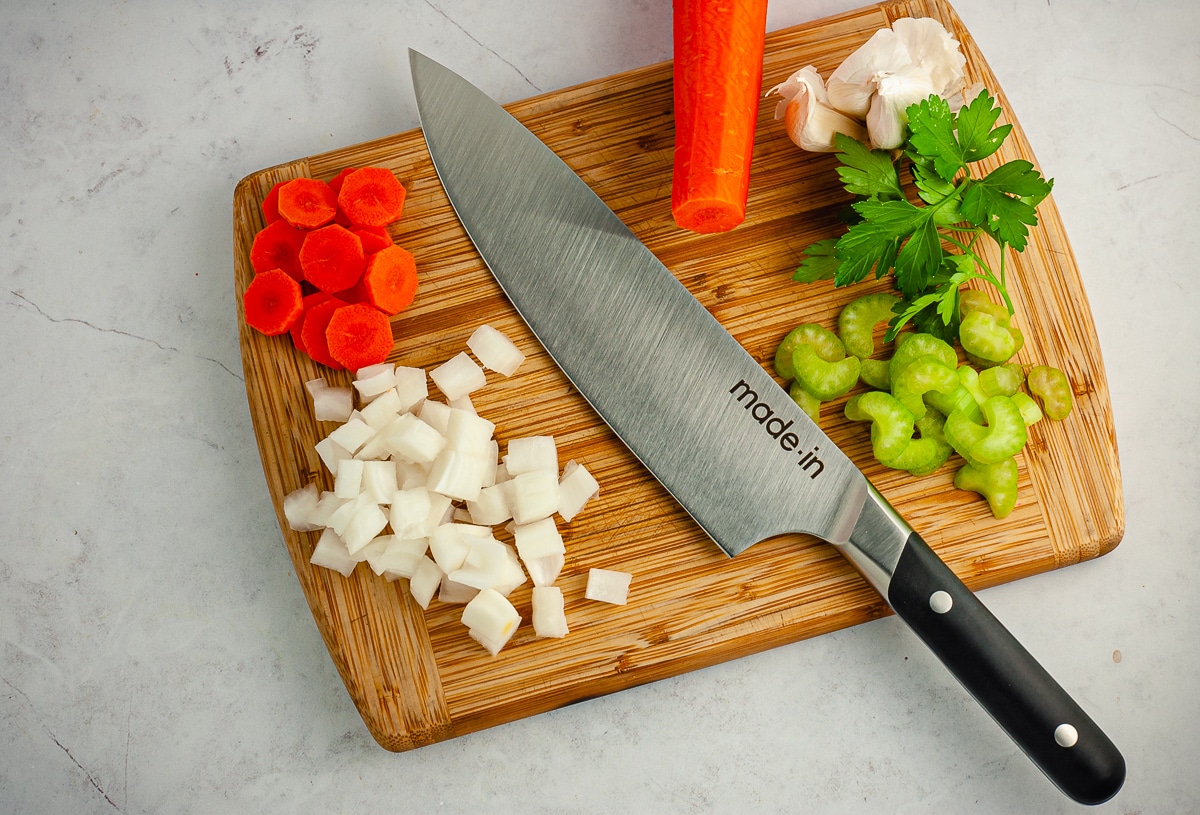 How to add protein to vegetable soup
This is essentially a vegetable soup with protein added to it. You can switch out the proteins to suit your taste. Choose turkey or shrimp instead of the chicken. Go vegan by stirring in some beans, chickpeas, or tofu.
Ideas for high protein breakfast and dinner:
High Protein Chicken Soup
2

tablespoons

olive oil

1 1/2

cups

carrots

1

cup

celery

1/2

cup

onion

2

cloves

garlic

,

minced

1 1/2

pounds

boneless chicken breast

8

cups

chicken broth

2

teaspoons

oregano

1

teaspoon

thyme

1

teaspoon

sea salt

1/2

teaspoon

fresh ground pepper

2

bay leaves

1

pinch

red pepper flakes

1 8-

ounce

box green lentil pasta

3

cups

fresh spinach

,

roughly chopped

juice of 1/2 lemon

1

bunch fresh parsley

,

for garnish
Heat oil in a large soup pot. Add carrots, celery, onions, and garlic. Sauté 6 minutes or until onions are softened.

Add chicken to pot. Pour in broth. Stir in oregano, thyme, salt, pepper, bay leaves, and red pepper flakes.

Bring to a boil. Reduce heat, cover, and simmer 30 minutes.

Meanwhile, cook green lentil pasta to al dente (firm not mushy) according to package directions. Drain and set aside.

Remove chicken from soup. Chop into bite size pieces. Add chopped chicken and any juices back to into the soup.

Add spinach and simmer 5 minutes to wilt. Remove bay leaves and stir in lemon juice.

When ready to serve, place a portion of green lentil pasta in each soup bowl and ladle chicken soup over top. Garnish with fresh parsley.