You need protein. Women are more likely than men to come up short on what is needed each day. Chocolate Protein Pancakes are a delicious way to help meet your goals.
The protein you eat is needed for more than making muscles. It's also essential for helping you to lose weight or maintain a healthy weight. It makes you feel full and satisfied which helps control your appetite.
Antibodies are made from protein. They play a critical role in the immune system's defense against infection and disease.
Protein is the structure for connective tissue and bones. For women, bone health and bone density are important, especially as we age. Getting enough protein can keep bones strong and minimize the loss of bone density that comes with aging.
Hormone Balancing Superfood: Whey Protein Powder
These pancakes have protein from several sources; whey protein powder, eggs, and Greek yogurt. It's not a bad idea to vary your protein sources. Protein from meat, seafood, and plants come packaged with other nutrients like omega-3 fats, fiber, vitamins, and minerals.
The recipe makes 20 pancakes so you'll want to store the pancakes in an airtight container in the refrigerator or freezer. Transfer the gingerbread syrup to a lidded storage bowl for pouring or, my favorite, dipping.
These are not the traditional breakfast pancakes that leave you in a food coma. The nutrient makeup of these Chocolate Protein Pancakes will keep your blood sugar steady. No big blood sugar ups and downs, so you will not be searching for a mid-morning snack.
Is it ok to use a sugar substitute?
I used erythritol in this recipe. This is a sugar substitute which is absorbed differently than other sugar alcohols. Most of it is absorbed in your bloodsteam before reaching the colon. For this reason it may not cause the digestive issues and bloating that other substitutes cause.
Erythritol is excreted in your urine. It doesn't raise blood sugar and insulin levels. Sources like Swerve or Lakanto can be a good alternative to sugar for those of us in perimenopause dealing with insulin resistance.
It is still a good idea to limit the amount of sweet foods containing erythritol eaten at one sitting. I do this myself because I don't want to ingest large amounts of any sugar substitute. I also try to train my sense of taste to be satisfied with less sweetness.
Equipment for this recipe
These pancakes come together so quickly in a blender, plus there aren't a bunch of bowls to wash up. A high power blender will take oats to fine oat flour in minutes.
I use this 12-inch non-stick pan to cook 5 pancakes at a time. A well-constructed pan that is toxin free and silicone free will cook food evenly on a healthy surface that will last. I always get confused about what to look for and avoid with non-stick cookware. This pan is stainless clad, 5-ply construction and is made without perfluorooctanoic acid (PFOA) which poses health concerns to us and the environment.
Pancake variations
add 1/4 cup cacao nibs to the batter for a chocolate crunch
substitute berries for the gingerbread syrup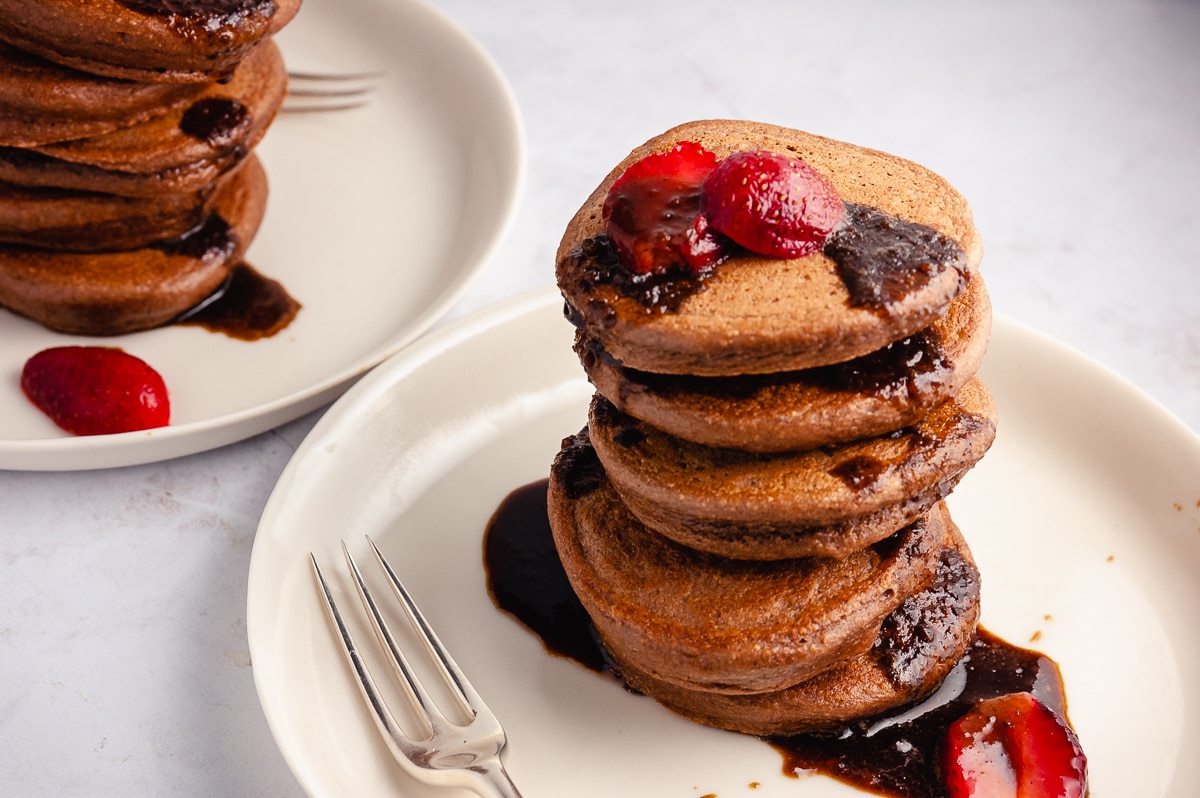 Looking for more variety for your energizing breakfasts? Try these:
Chocolate Protein Pancakes
1 ½

cups

rolled oats

¼

cup

cacao powder

1

tablespoon

baking powder

2

tablespoons

ground flax seed

2

scoops vanilla whey protein powder

,

equivalent of 40 grams measurement

½

teaspoon

salt

½

cup

full fat plain greek yogurt

3

eggs

3

tablespoons

coconut oil

,

melted, plus more for greasing pan

6

tablespoons

water

gingerbread syrup:

4

dates

,

pitted

¼

cup

Lakanto brown monkfruit sweetener

½

cup

water

2

tablespoons

molasses

1

teaspoon

vanilla extract

1

teaspoon

cinnamon

½

teaspoon

ground ginger

¼

teaspoon

cloves

a pinch of salt
Place oats in a blender. Process to a flour.

Add cacao, baking powder, flax seed, whey protein, salt, yogurt, eggs, and coconut oil. Blend to combine all ingredients.

Heat a nonstick pan. Add a teaspoon of coconut oil to grease pan.

Add batter by 1/4-cups to form pancakes. Cook 2 minutes on each side.

For gingerbread syrup:

Place all ingredients in a blender. Blend until dates are broken down – there may still be small pieces.

Transfer mixture to a pot and simmer for 15 minutes. Serve over pancakes.
This post contains affiliate links for products I use and trust. I may receive commissions on purchases at no cost to you. As an Amazon associate I earn from qualifying purchases.