Prepping healthy snacks ahead of time is the secret to preventing mindless snacking. If you have a good snack portioned and ready to go in a container you are less likely to make a poor choice.
I make lists of recommended snacks for clients all the time. Many of my clients are women around 40 years old or older. They come to me because they want to lose weight. We actually find that making lifestyle adjustments related to the overall health of their bodies then leads to the weight loss.
One of the habits we correct is snack food choices. I don't advocate for grazing throughout the day but there often seems to be a long time between lunch and dinner for most people. So it is ok to have a well-planned healthy snack, like these Fruit and Veggie Bites, in the afternoon.
I came up with 3 tasty pairings that are a big departure from boring carrots and celery. A low sugar, high fiber fruit is matched with a subtly sweet veggie in each pairing.
Maybe you tend to hunt down food when you're bored or stressed. Grabbing any one of these 3 combinations can do very little damage. In fact, you'll boost your nutrient intake with Fruit and Veggie Bites. Pack them up in jars, reusable zip bags, or glass food storage containers so you'll make the best choice when it's snack time.
Processed snacks that come in bags or boxes can hurt your health. That's because they often contain inflammatory ingredients like cheap, processed oils and refined grains without the fiber we desperately need.
Carrots + Pears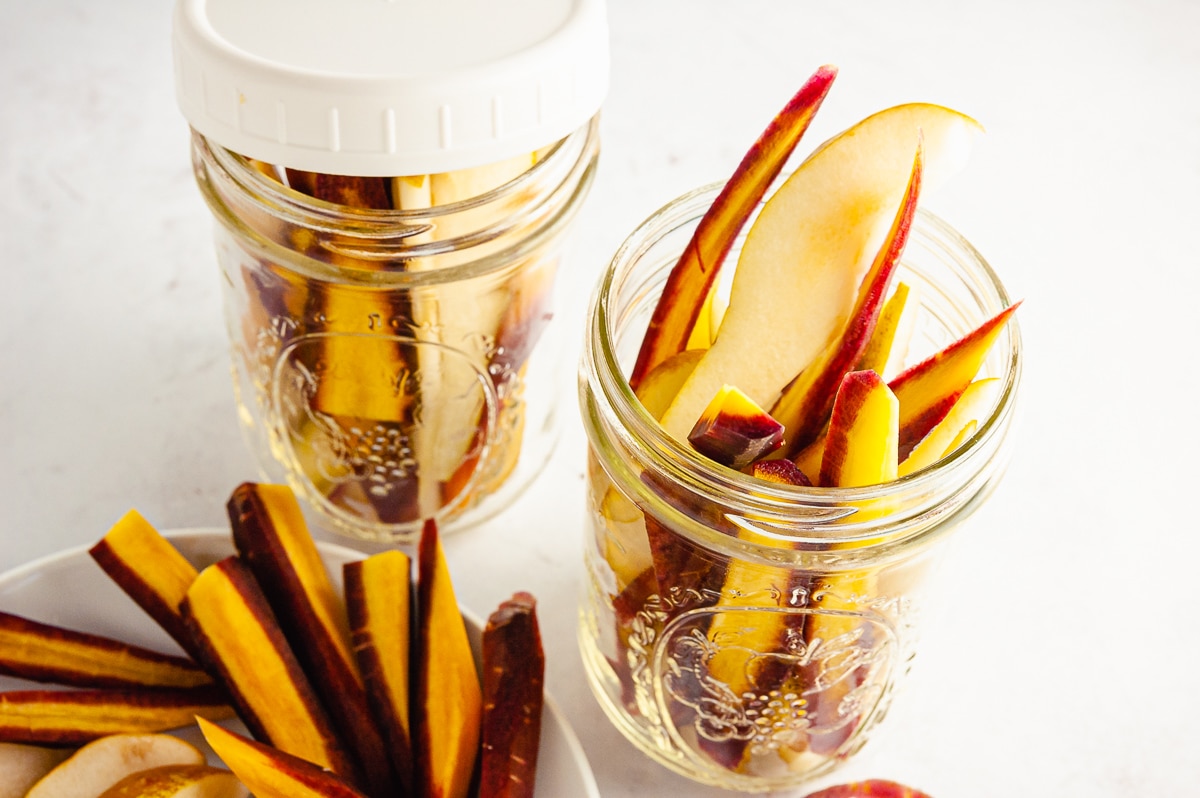 What kind of pears and carrots should I choose?
Use Bosc pears or another firm variety. They will not become mushy as they ripen.
Orange carrots are fine. Selecting some of the deep red, purple, or cream color carrots is more visually interesting. Try to look for fresh carrots that are not dehydrated for the best flavor.
Jicama + Blueberries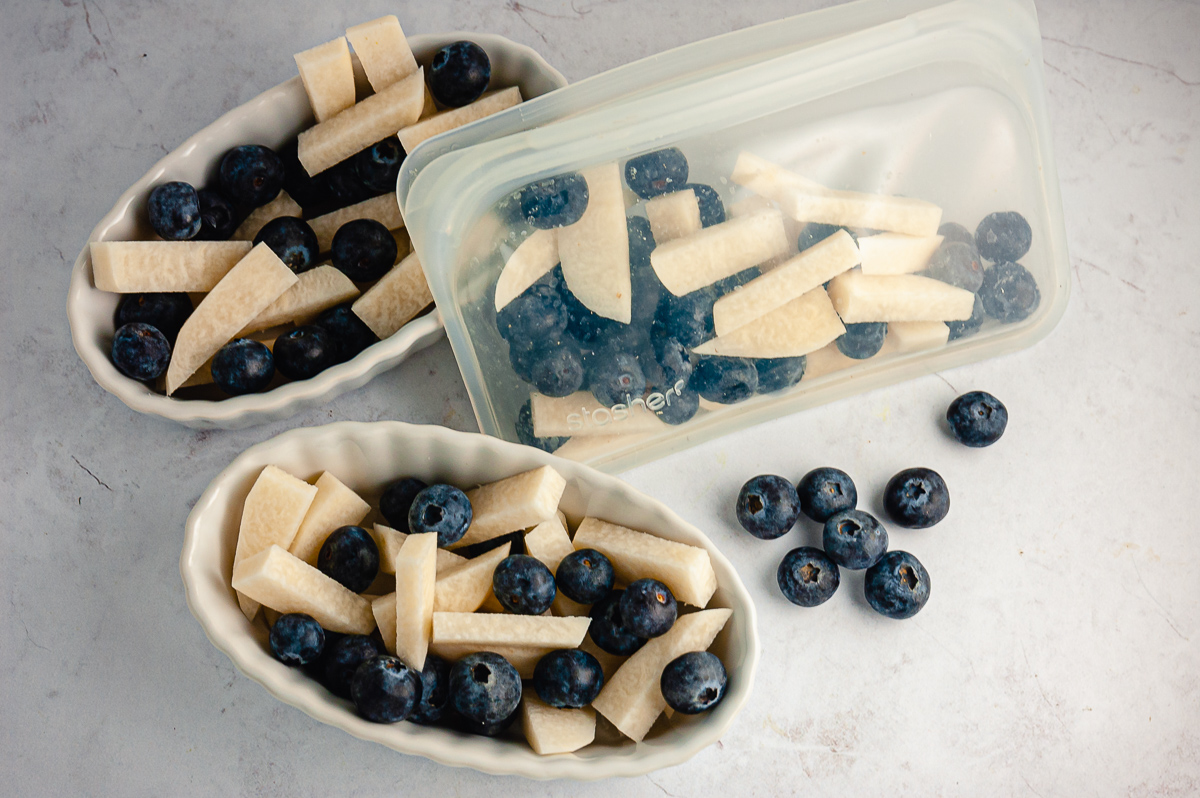 What is jicama?
Jicama is a root vegetable with thick brown skin. Peel the skin with a vegetable peeler or paring knife to reveal the white inside. It is slightly sweet and has a texture similar to an apple.
One cup of jicama has 6.4 grams of fiber and 1 gram of protein. It's full of the nutrients that those little bags of grocery store snacks are not. In your jicama you'll get soluble fiber which helps manage cholesterol levels and potassium to help lower blood pressure.
Use a sharp knife the right size for the job to make prep work most efficient.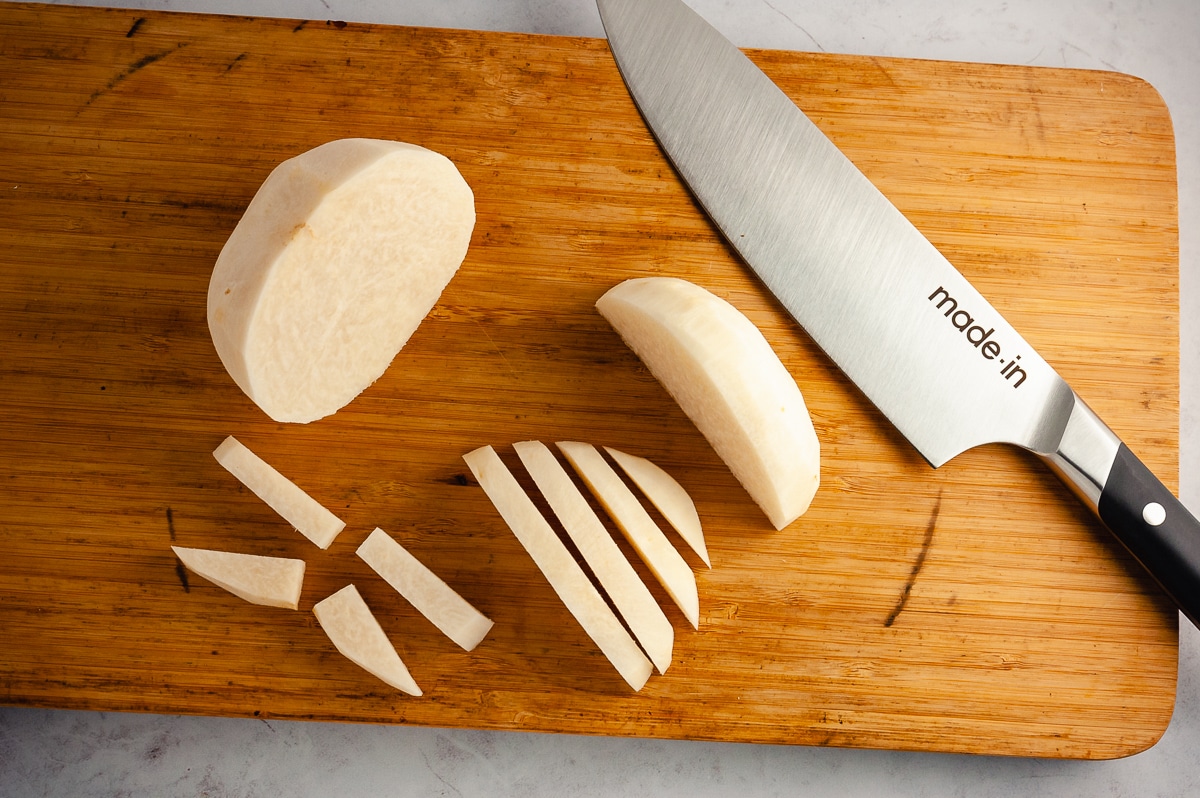 Fennel + Green Apples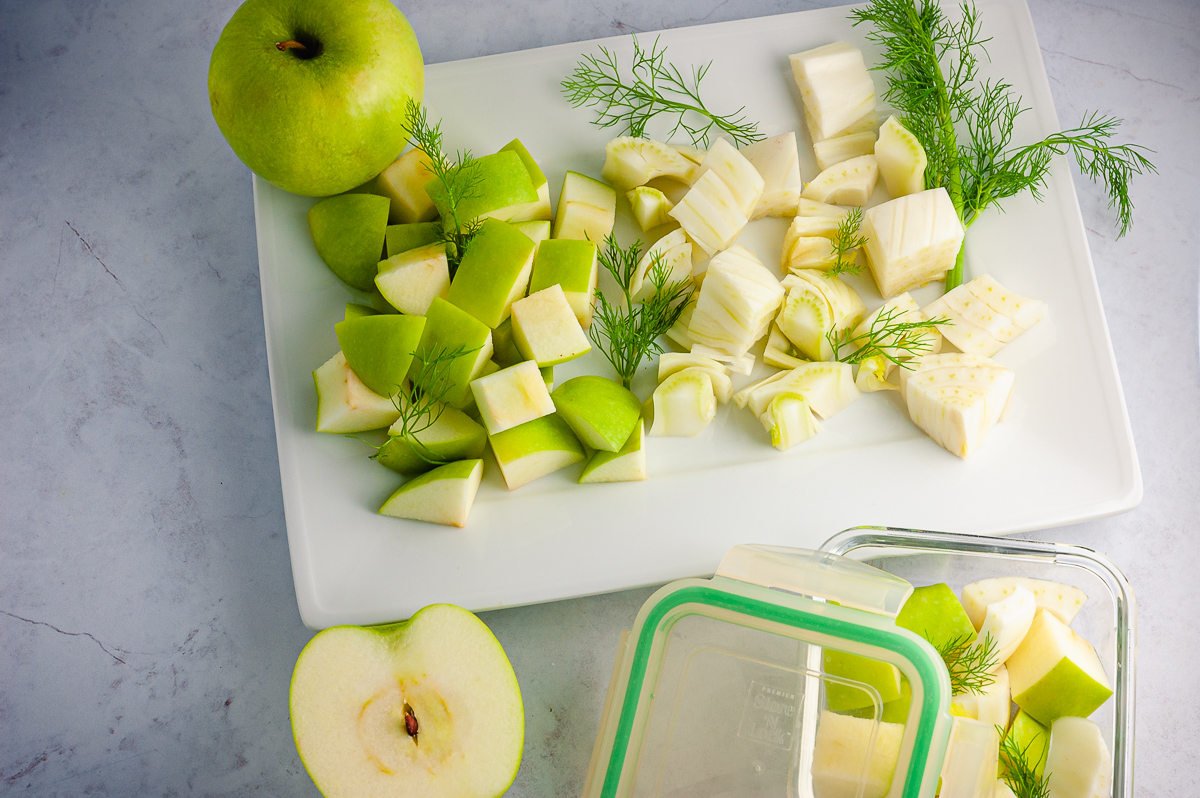 What is fennel?
Fennel is a member of the carrot family. It is a fibrous bulb with green stalks and feathery, green leaves. It has a subtle anise or licorice flavor. The whole plant can be used. You can cook fennel or enjoy it raw like I do.
The bulb can be used in an entree, side dish, or salad. The feathery leaves work well chopped and used as an herb. The stalks can be used in stocks or even quick pickled.
Fennel is high in fiber – great for digestion. This vegetable also provides potassium in addition to vitamins A and C. So you see you are getting a lot of nutritional value for your buck with these fruits and veggies compared to the typical snack.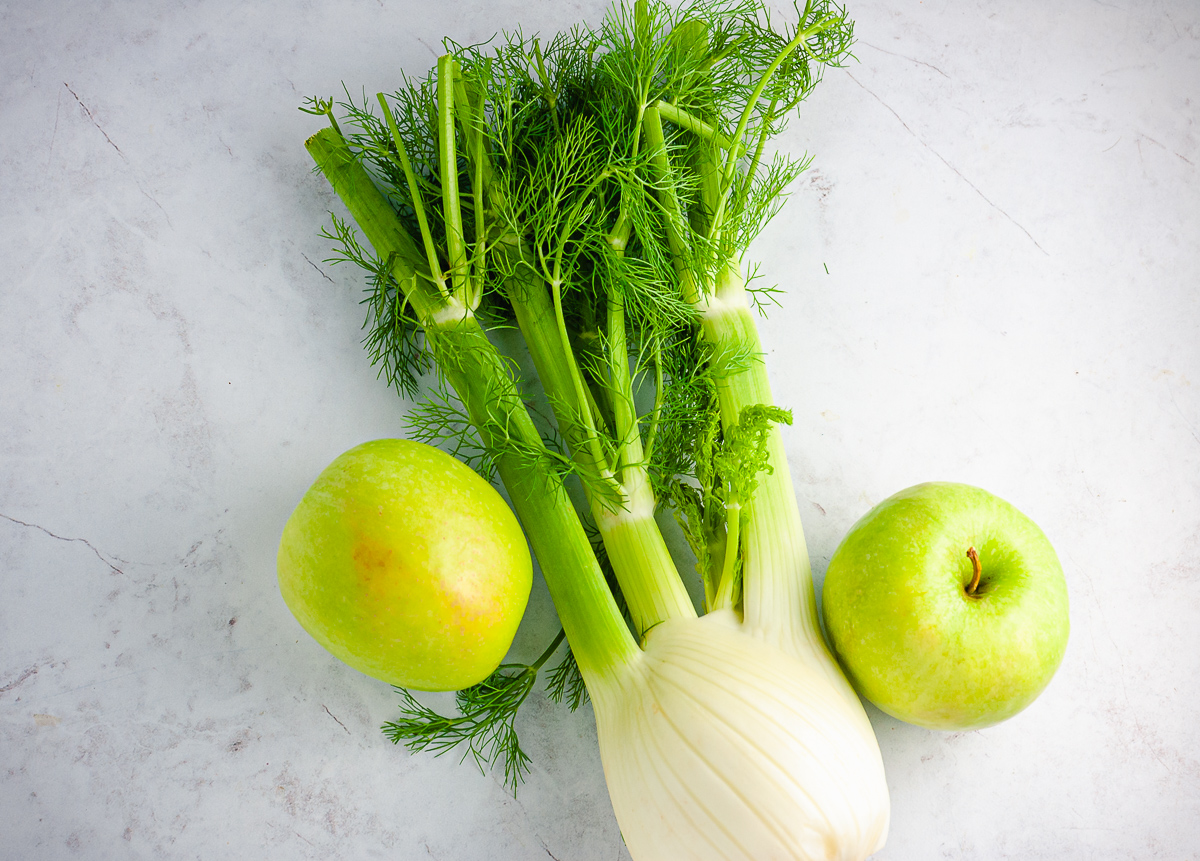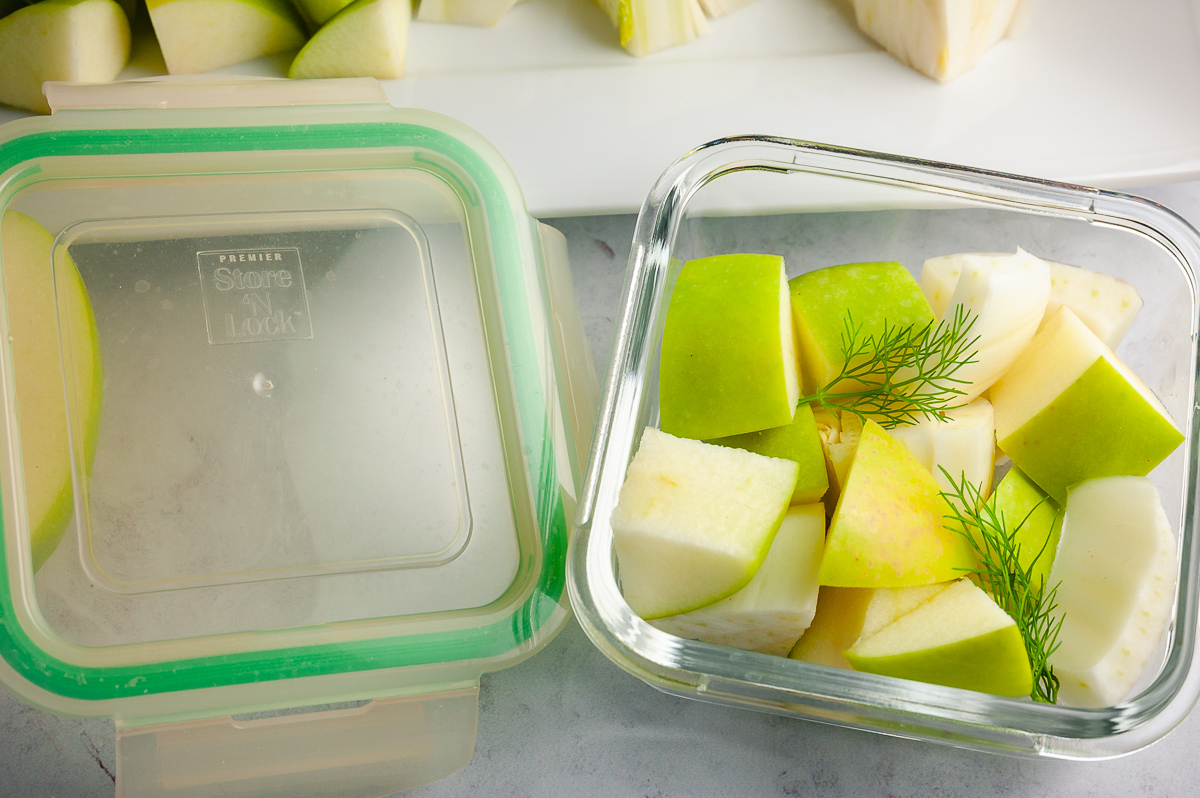 You can bump up the protein by adding a ¼ cup of walnuts, hummus, or some cottage cheese. Other ideas for packable protein:
Beet and Tart Cherry Energy Bites
Fruit and Veggie Bites
Carrots + Pears

4

medium carrots

2

bosc pears

Fennel + Apples

1

fennel bulb

2

granny smith apple

Jicama + Blueberries

1

medium jicama

2

cups

blueberries
Select veggie + low sugar fruit pairing you prefer.

Cut into bite-sized pieces or slices.

Pack in reusable zip bags, lidded jars, or glass storage containers. Veggie Bites will stay fresh for about 3 -4 days.
This post contains affiliate links for products I use and trust. I may receive commissions on purchases at no cost to you. As an Amazon associate I earn from qualifying purchases.