The slow cooker makes my Spiced Winter Squash Soup an easy, cozy way to warm up a blustery day. This is dairy free soup which can be vegan if you choose to make it with vegetable broth.
Golden beets share the stage with butternut squash in this soup. Beets are so sweet I often use them as the sweetening agent in my smoothies, baked goods, and other recipes. Compared to table sugar, this veggie wins with it's long list of super important nutrients plus fiber.
Hormone Balancing Superfood: Golden Beets
Golden beets health benefits for perimenopause
Golden beets have basically the same nutrients as red beets but without the intense, earthy taste. They are packed with folate, vitamin C, potassium, and magnesium. Nutrients we like to see in perimenopause for bone health, glowing skin, and a good night's sleep.
But one of the most interesting compounds in beets is nitrates. The dietary nitrates in beets and a few other vegetables help to relax blood vessels and support cardiovascular health. Our risk for cardiovascular health issues increases as protective estrogen declines in perimenopause and menopause.
Studies show that women in early menopause, 45 and younger, are at risk of having more cardiovascular issues as they age. Eating beets and other vegetables daily is food as medicine – without the side effects!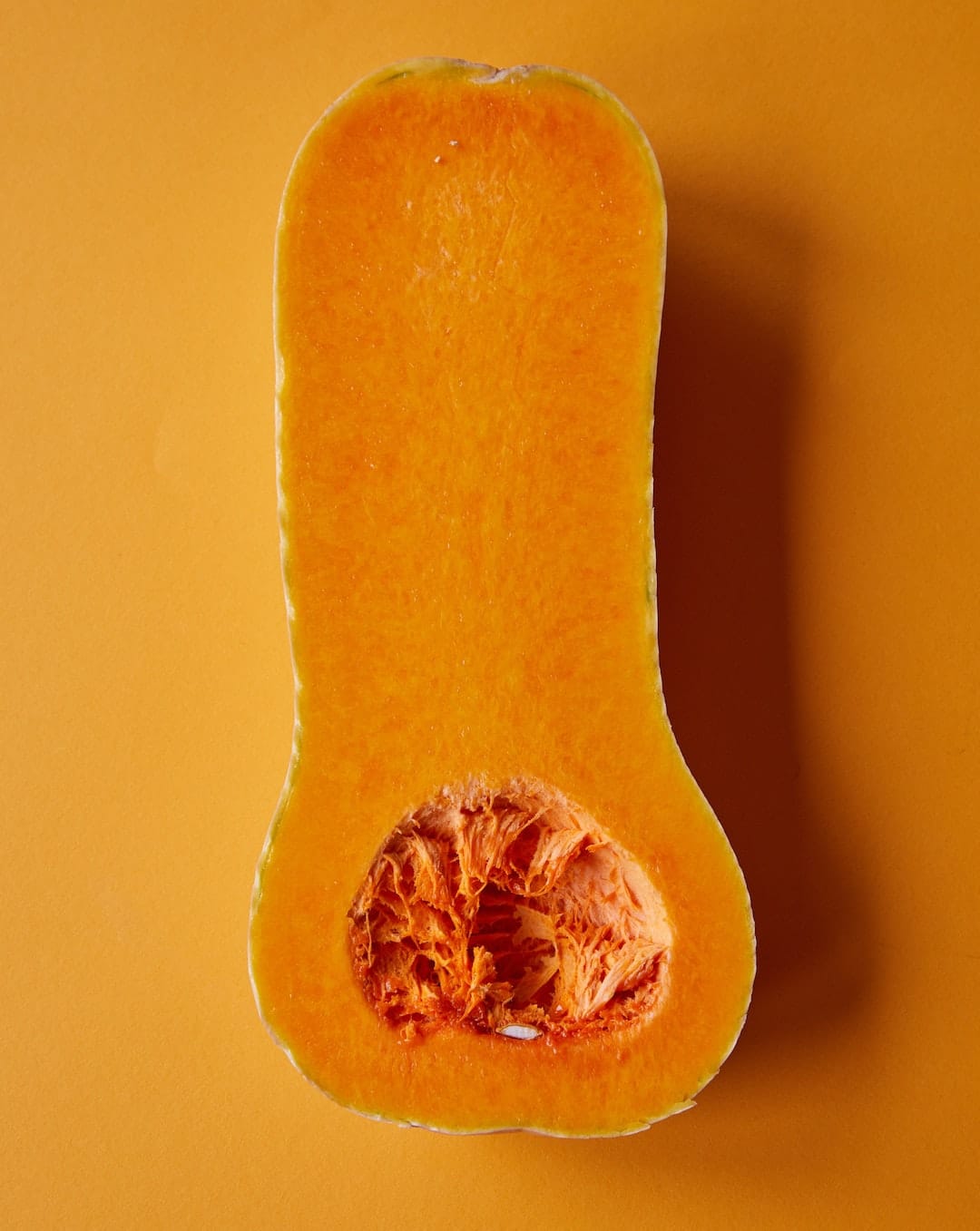 How do you peel butternut squash?
It can be a bit of a challenge to peel a butternut squash. I recommend buying your squash from a grocery store that is known to offer very fresh produce. The fresher the squash is the more tender and moist it will be. This makes it yield more easily as you cut into it.
Cut off about 1/2-inch at the top and bottom of the squash. Then anchor in on a cutting board beside the sink. I like to use a vegetable peeler to peel the bulb end, then rotate it to peel the top end into the sink. The peelings can be collected and thrown in the trash or compost.
Cut the squash in half just above the bulb. Then slice each section in half. The seeds will be in the bulb end. Use a spoon to scoop them out. You can toast them like pumpkin seeds, compost them, or toss them.
Now you can slice the 4 sections into about 1 to 1 1/2-inch slices. Chop the slices into 1-inch pieces and you're ready to roll with the rest of the recipe.
How to make a creamy soup without cream
There are a few ways to get a creamy consistency in a soup, drink, or dessert. One option is to use full fat coconut milk or coconut cream. Silken tofu is a fantastic replacement that adds some protein too. I use cashews to add creaminess to Spiced Winter Squash Soup. Don't forget to soak the a few hours or overnight so it blends to a nice smooth consistency.
Can you use an Instant Pot to make this recipe?
You can make this soup in an Instant Pot also. Use the Slow Cook function or the Soup function. Add additional broth or water as necessary to adjust the consistency to your preference.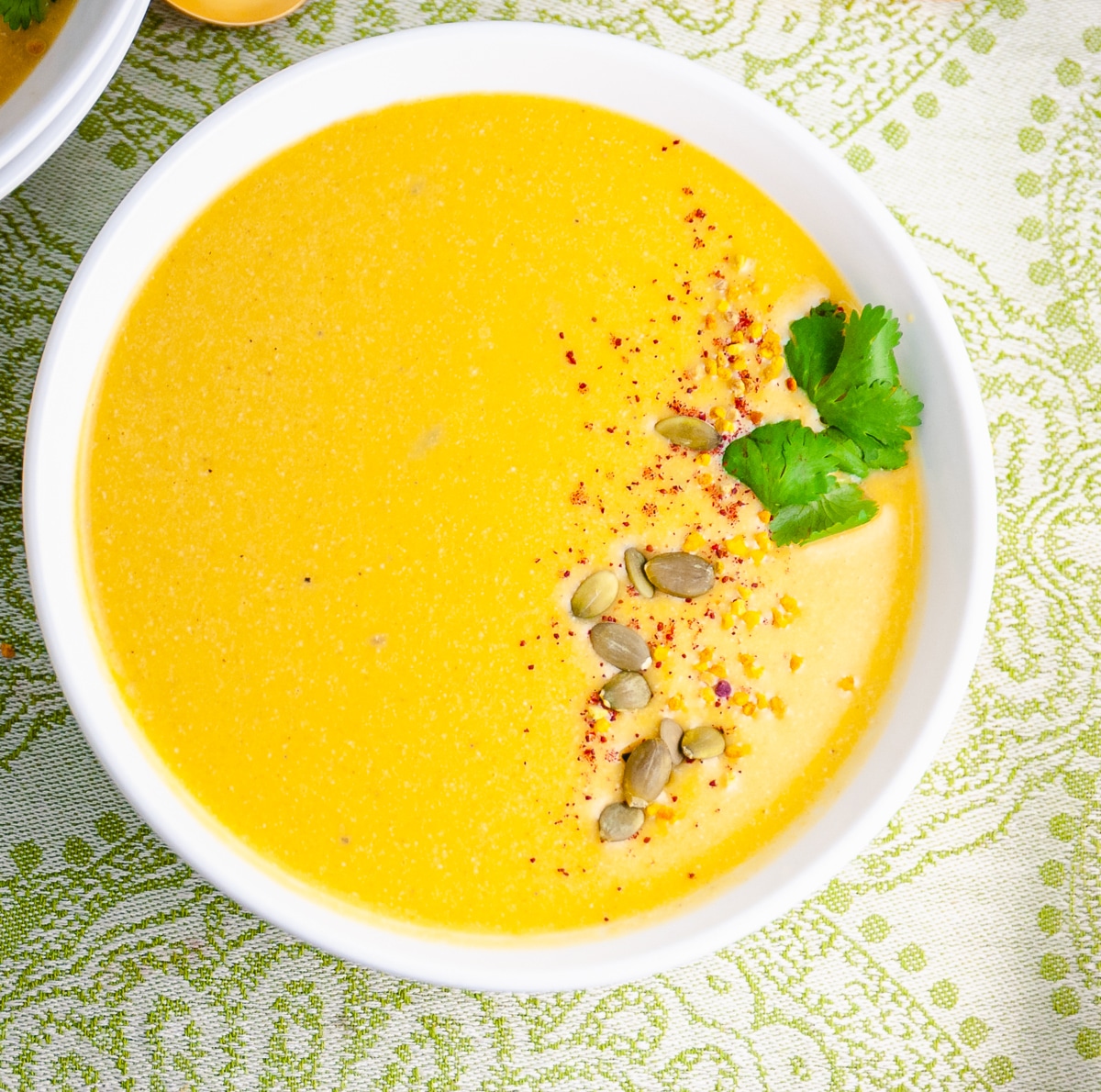 More nutrient-packed soups to try
Sweet Pea and Asparagus Soup with Dulse
Spiced Winter Squash Soup
2

tablespoons

olive oil

1

medium onion

,

diced

2

cloves

garlic

,

minced

2.5

pounds

butternut squash

,

peeled, deseeded, and chopped

2

medium golden beets

,

peeled and chopped

½

teaspoon

cinnamon

¼

teaspoon

cardamon

⅛

teaspoon

allspice

1

tablespoon

coconut sugar or brown sugar

1

teaspoon

salt

4

cups

vegetable or chicken broth

4

cups

water

1

tablespoon

lemon juice

1

cup

raw cashews,

soaked 4 hours or overnight
Heat olive oil in a small pan or in your slow cooker insert if designed for stovetop browning. Add onion and garlic and cook 3 minutes or until softened.

Transfer onions and garlic to slow cooker. Add squash, beets, cinnamon, cardamom, allspice, sugar, and salt.

Stir in broth, water, and lemon juice. Cover and cook on LOW for 6 hours or HIGH for 3 hours.

Drain and rinse cashews. Stir into cooked squash mixture. Purée with an immersion blender or in batches with a regular blender until smooth.
This post contains affiliate links for products I use and trust. I may receive commissions on purchases at no cost to you. As an Amazon associate I earn from qualifying purchases.