An easy entree salad complete with protein and a bonus ingredient from the sea.
This summer is starting to get pretty busy for me. Traveling, visiting friends, managing clients and my new program for perimenopausal women take up a lot of my time. It can be challenging to plan my meals the way I like to. During rushed days like these I keep a sort of template in my head for meal planning so I can put the components together easily when it's time to eat.
Just as I suggest to my clients struggling with what to eat in perimenopause and menopause, I cook off a couple of proteins, gather leafy greens and vegetables, stock some nuts and seeds, and then blend up a dressing. My recent creation, Salmon Protein Salad with Kelp Noodles has all of these ingredients plus an additional feature – kelp noodles!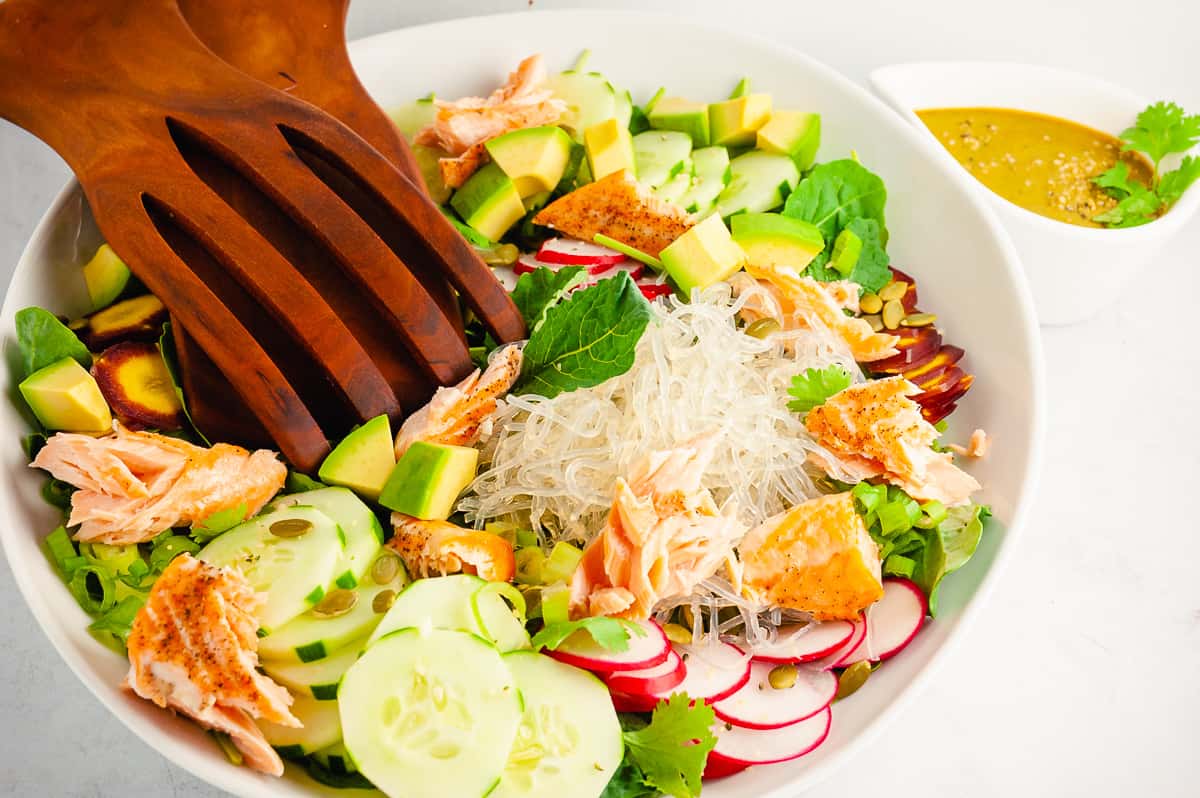 Hormone Balancing Superfood: Kelp Noodles
What are kelp noodles?
Kelp noodles are made from seaweed. They are very low in carbohydrates and contain no sugar or gluten. We like this to help manage insulin sensitivity. Like other types of seaweed, they are a great source of iodine and also contain iron and calcium.
As a trace mineral, iodine plays a key role in metabolism and thyroid function. Inadequate iodine intake can lead to thyroid problems like hypothyroidism.
Kelp noodles are clear, tasteless, and sort of snap when you bite into them. I like both the visual look of noodles in a salad and the texture interest that kelp noodles in particular bring to a dish. They are usually found in the refrigerated section of the grocery store near the tofu.
How do I prepare kelp noodles for Salmon Protein Salad?
Before using kelp noodles in a recipe, rinse them well to remove the liquid the noodles are packaged in. Separate the noodles with your fingers while you rinse them.
The noodles are long, so you can use kitchen scissors or a knife to cut them into desired lengths. They can be used raw or cooked in a recipe.
How do I use kelp noodles?
Kelp noodles can replace other types of noodles in salads. You can also add them to soups or brothy stews.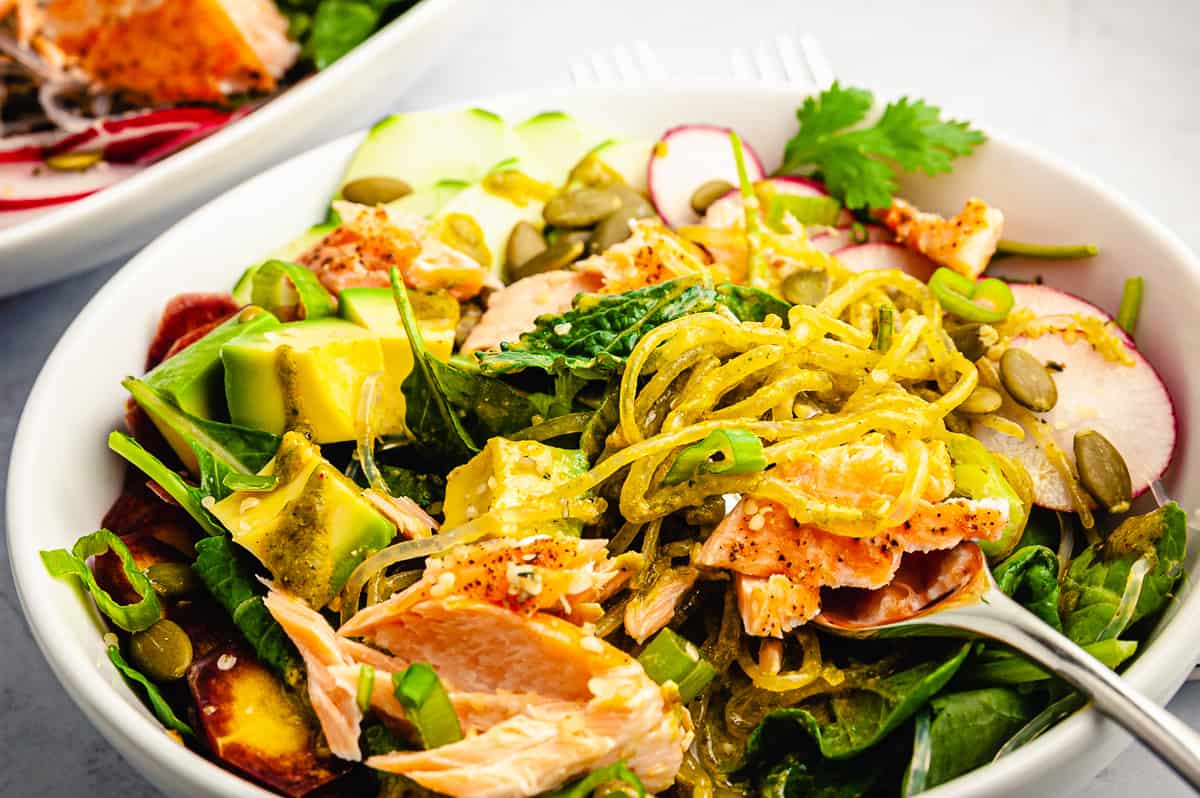 The salmon is easy to cook for Salmon Protein Salad with Kelp Noodles. I just lined a sheet pan with parchment paper, sprinkled the fish with salt and pepper, and baked it for about 15 minutes at 350 degrees. I let it cool for about 10 minutes and I either separate it into chunks for a salad or store it in a glass food storage container for meal prep later.
Friends and clients are always asking me for good quality cookware recommendations. I love the quality and look of Made In products. They are a bit of an investment but what you get in exchange is so worth it. Properly constructed cookware ensures that your food will cook evenly and that the cookware itself will not warp or dent. These items are meant to last.
The sheet pan you use for all baking should be heavy like this one. Lightweight pans will warp and unevenly bake cookies and other foods. The commonly used sizes that fit in most home kitchens are the ½ sheet pan which measures 18"x13" and the ¼ sheet at 9 ½"x13". I use both of these sizes all the time and consider them essential bakeware for my kitchen set up.
The dressing for Salmon Protein Salad with Kelp Noodles comes together easily right in a blender. If you love blending up your own dressings, smoothies, sauces, and dips like I do you have to try this new high power blender by Vitamix. The Vitamix ONE is designed especially for these recipes and has a beautiful sleek design.
My vitamix saves me soooo much time. It's always on my counter for my protein smoothie after my workout, then a dressing for my salad at lunch, and finally, a sauce to pour over whatever protein I'm serving at dinner. Sometimes I throw in a couple of bananas for a healthy soft ice cream for my dessert!
Try another summer, vegetable forward recipe here and my banana soft ice cream here.
Salmon Protein Salad with Kelp Noodles
salad:
5

ounces

baby kale

1

cucumber

,

sliced

2

carrots

,

sliced

4

radishes

,

sliced

1

avocado

,

cubed

2

green onions

,

chopped

1

cup

kelp noodles

,

rinsed and cut if desired

1

pound

salmon

,

cooked

¼

cup

pumpkin seeds
dressing:
juice of 1 lemon

½

cup

olive oil

¼

cup

hemp seeds

1

clove

garlic

,

sliced

1

cup

cilantro

1

date

,

sliced

1

teaspoon

smoked paprika

½

teaspoon

sea salt
Arrange baby kale in a large salad bowl. Top with vegetables, kelp noodles, and salmon. Sprinkle with pumpkin seeds.

Place all dressing ingredients in a blender. Blend until smooth.

Pour dressing over salad and toss to coat.
This post contains affiliate links for products I use and trust. I may receive commissions on purchases at no cost to you. As an Amazon associate I earn from qualifying purchases.