Light and crispy Quinoa Zucchini Fritters help to use up the abundance of summer squash that piles up this time of year.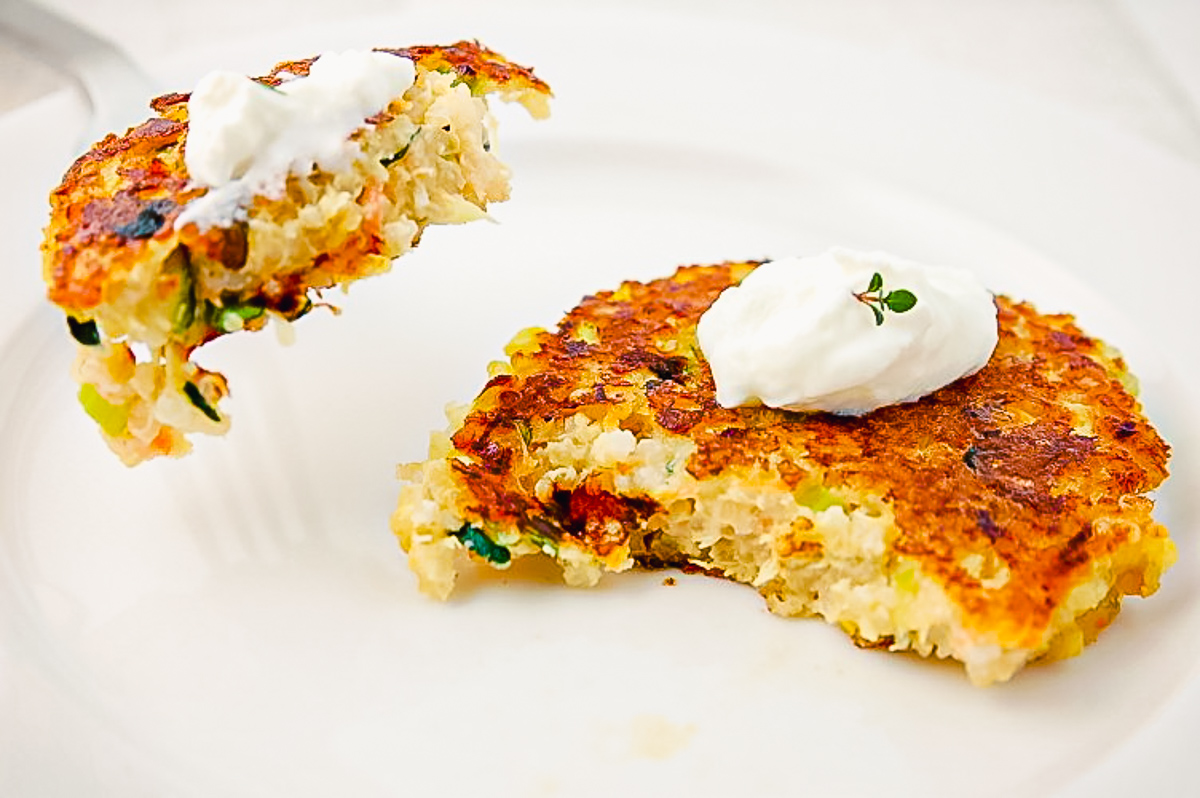 Hormone Balancing Superfood: Quinoa
Surprise! Quinoa is not a grain. It's actually a seed!
You can find white, red, or black quinoa varieties or mix them all together which is a pretty look. All 3 color varieties are gluten free and good sources of antioxidants. One antioxidant, vitamin E, reduces heart disease and cancer risk. We need to be on top of both of those issues in perimenopause and menopause.
Quinoa is a good plant protein providing 8 grams in 1 cup of cooked quinoa. I'm always bugging clients to make sure they are planning for enough protein; whether plant or animal. Slowing muscle loss and boosting immune health depend on it.
We know to expect some fiber in plant foods. Quinoa will give you 5 grams in a cooked cup. This fiber helps relieve constipation. It can help you manage a healthy weight by making you feel full after eating a meal with quinoa.
How to cook quinoa
It's so easy to make quinoa, a caveman could do it!
Combine 1 cup quinoa and 1 ¾ cups water in a medium pot with a lid.
Bring to a boil, cover, reduce heat, and simmer for 18 minutes.
Remove from the heat and let it sit, covered for 10 minutes.
Fluff with a fork and it's all ready.
Ways to enjoy Quinoa Zucchini Fritters
I like to serve the fritters over zucchini ribbons or cauliflower rice and smother them in good tomato sauce. You could make them a little smaller in size and serve them as an appetizer with a dip.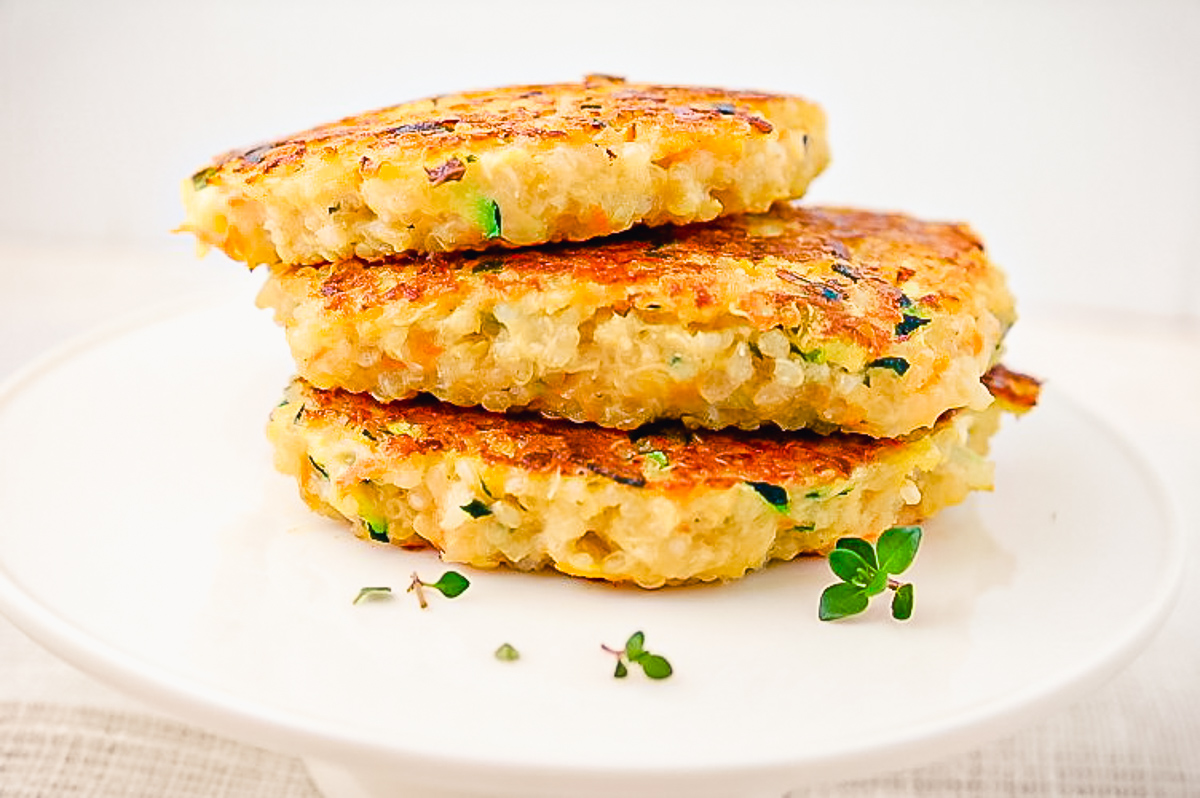 Recipe variations
Experiment with another type of cheese. Maybe a smoked gouda or a cheddar would taste delicious to you. If you'd rather skip the cheese, try adding a few tablespoons of nutritional yeast. It will give that umami flavor to the fritters that we get from cheese plus help to firm them up.
If it's not zucchini season, grate some butternut squash instead. You could use equal amounts of parsnips in place of the carrots.
I use gluten free flour when I make Quinoa Zucchini Fritters, but it works just as well with all purpose flour.
So much grating
There are several ingredients to grate in this recipe. A box grater or flat grater will do fine if you are wanting to use some elbow grease (use your muscles!).
If you have a food processor with a grating blade you can prep these ingredients very quickly. Don't even bother to wash the blade in between ingredients because they will all be blended together in the next step.
Explore other recipes with quinoa right here:
Broccoli and Spinach Quinoa Salad
Strawberry Quinoa Breakfast Bowl
Quinoa Zucchini Fritters
3

tablespoons

coconut oil

3

cups

quinoa

,

cooked

½

cup

parmesan cheese

,

grated

½

cup

plain greek yogurt

1

medium carrot

,

grated

1

small zucchini

,

grated

2

eggs

,

lightly beaten

3

tablespoons

gluten-free flour

,

such as brown rice or oat

2

green onions

,

chopped

2

teaspoons

fresh thyme

¼

teaspoon

salt

⅛

teaspoon

pepper
Heat 1 tablespoon of the oil in a large pan. Reserve the remaining oil to divide between 2 additional batches of patties.

Mix all remaining ingredients in a large bowl.

Use a ¼ cup measure to form patties with the quinoa mixture. Carefully transfer 4 per batch to the pan.

Cook about 4 to 6 minutes per side, until lightly browned. Transfer to a platter and place in a 250℉ oven to keep warm.

Add 1 tablespoon oil and 4 more patties; repeat for 1 final batch.
This post contains affiliate links for products I use and trust. I may receive commissions on purchases at no cost to you. As an Amazon associate I earn from qualifying purchases.