My advice, always be thinking of ways to eat more vegetables.
My Quinoa Vegetable Meatballs have vegetables and herbs tucked inside moist flavorful morsels. This flexible recipe is ready for your creative variations using other veggies and herbs. The prep is so simple you'll want to make a double batch for tonight's dinner and some to freeze for later.
5 things vegetables do to support balanced hormones in perimenopause and menopause
1 – Vegetables contain prebiotics which are fiber like inulin, beta glucans, and resistant starches. The probiotics that make up our microbiome feed on these prebiotics and support the health of our gut at a time when unbalanced hormones can upset gut health.
2 – Sweet potatoes, cilantro, arugula, and other veggies contain nutrients that help our liver to detox. Therefore these super foods will help our body get rid of excess hormones that would be doing harm.
3 – Sea vegetables, like the nori wrapped around your sushi and the wakame in your seaweed salad, are top sources of iodine which supports the thyroid.
4 – Healthy fats are found in plant foods like olives, coconut, and avocados (technically coconut and avocado are fruits). These anti-inflammatory foods are crucial for brain health.
5 – Bell peppers, kale, and broccoli contain vitamin C and B vitamins which help our adrenals when we are stressed out.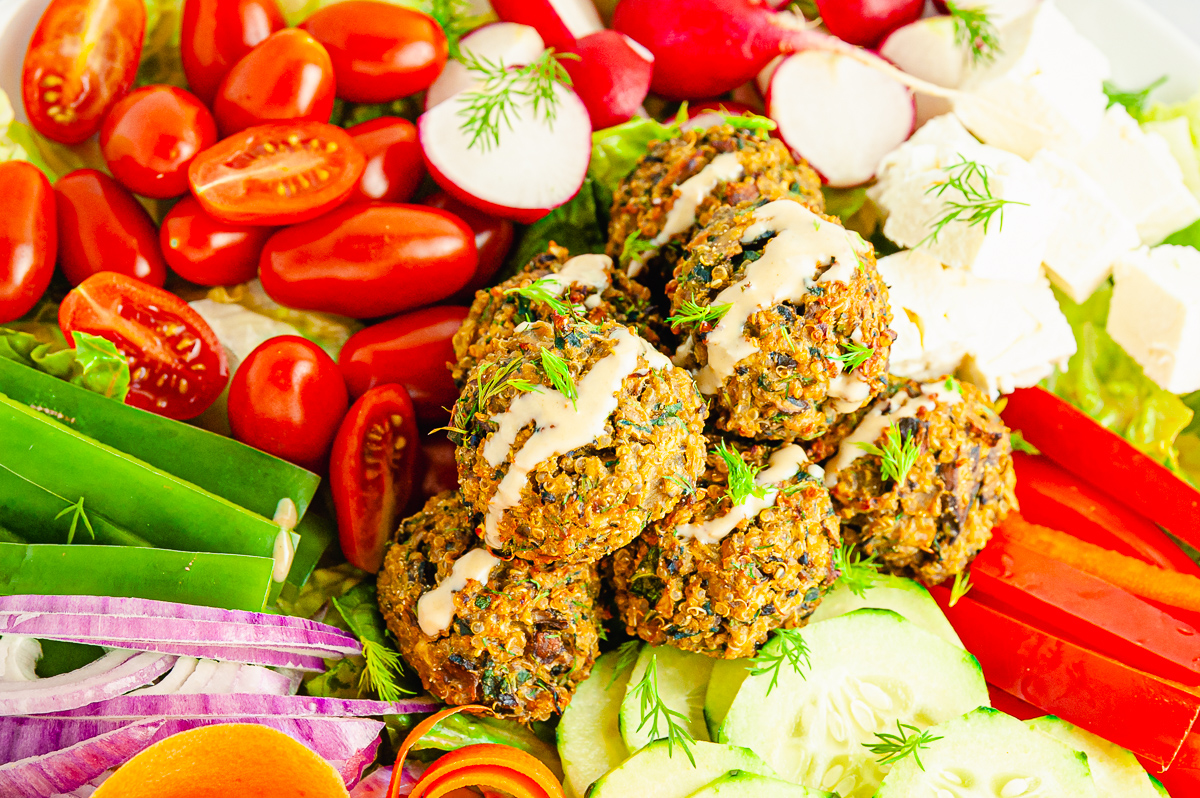 Hormone Balancing Superfood: Vegetables
The Power of Plants
I've heard amazing stories from so many clients about how their perimenopausal symptoms improved after increasing the amount of vegetables in meals and snacks. I encourage them to think outside the box when trying to add vegetables to a recipe.
Can a cup of shredded carrots be added to a batter (quick bread, pancakes, muffins)? Slice some additional vegetables to toss into the stir fry pan to increase the ratio of veggies. How many types of vegetables can you chop, toss in olive oil, and roast? I bet you can create a pretty long list.
To add even more plant power to your plate, serve Quinoa Vegetable Meatballs with Cherry Tomato Vinaigrette or in a salad drizzled with Cilantro Cumin Dressing. Show us your favorite way to style them @freshbalancenutrition #freshbalancenutrition.
Quinoa Vegetable Meatballs
1 ¼

cup

cooked quinoa

,

divided

2

Tablespoons

olive oil

½

medium yellow onion

,

sliced

2

garlic cloves

,

minced or pressed

8

ounces

container bella mushrooms

,

sliced

1

cup

spinach

,

sliced

1

egg

¼

teaspoon

salt

¼

teaspoon

pepper

½

cup

chickpea flour

⅓

cup

fresh dill

1

teaspoon

cumin

¼

teaspoon

red pepper flakes

2

tablespoon

nutritional yeast

1

tablespoons

tamari

½

teaspoon

sea salt

¼

teaspoon

pepper
In a large pan, heat 2 tablespoons of oil. Add onion and sauté 5 minutes until soft and translucent. Add garlic and mushrooms. Sauté 5-8 minutes until the mushrooms are tender. Stir in spinach until wilted. Remove from heat and set aside.

Preheat the oven to 400ºF and line a baking sheet with parchment paper.

Add 1 cup quinoa, mushroom mixture, and egg to a food processor. Pulse until well combined. Transfer to a mixing bowl.

Add chickpea flour, remaining ¼ cup of quinoa, dill, cumin, red pepper flakes, nutritional yeast, tamari, salt, and pepper. Stir to combine.

Use a scoop to portion 2 tablespoons of the mixture. Shape into about 20 balls and place on baking sheet. Bake 20-25 minutes.