The fiber and nutrient-dense carbs in my Power Breakfast Veggie Bowls will boost your energy and keep you feeling satisfied past that mid-morning snack habit.
Getting a few vegetables in at breakfast is essential for reaching fiber and nutrient goals by the end of the day. Perimenopause and menopause is a time when we are battling insulin resistance. A bowl of cereal or a danish aren't going to provide enough of a foundation to start the day.
Common breakfast choices like sugary, low fiber cereal or a cinnamon roll low in nutrients will spike blood sugar. This may leave you feeling tired, sluggish and hungry again.
How convenient is breakfast in a bowl ?! Just assemble a batch of Power Breakfast Veggie Bowls to toss in your bag for eating on-the-go or when you get to work. I pack mine in these containers to prevent leaks.
I like to roast vegetables ahead of time for salads and these breakfast veggie bowls. That just leaves some protein to pair with the nutrient-packed veggies. My goal for myself and clients is to aim for around 25 grams of protein at breakfast.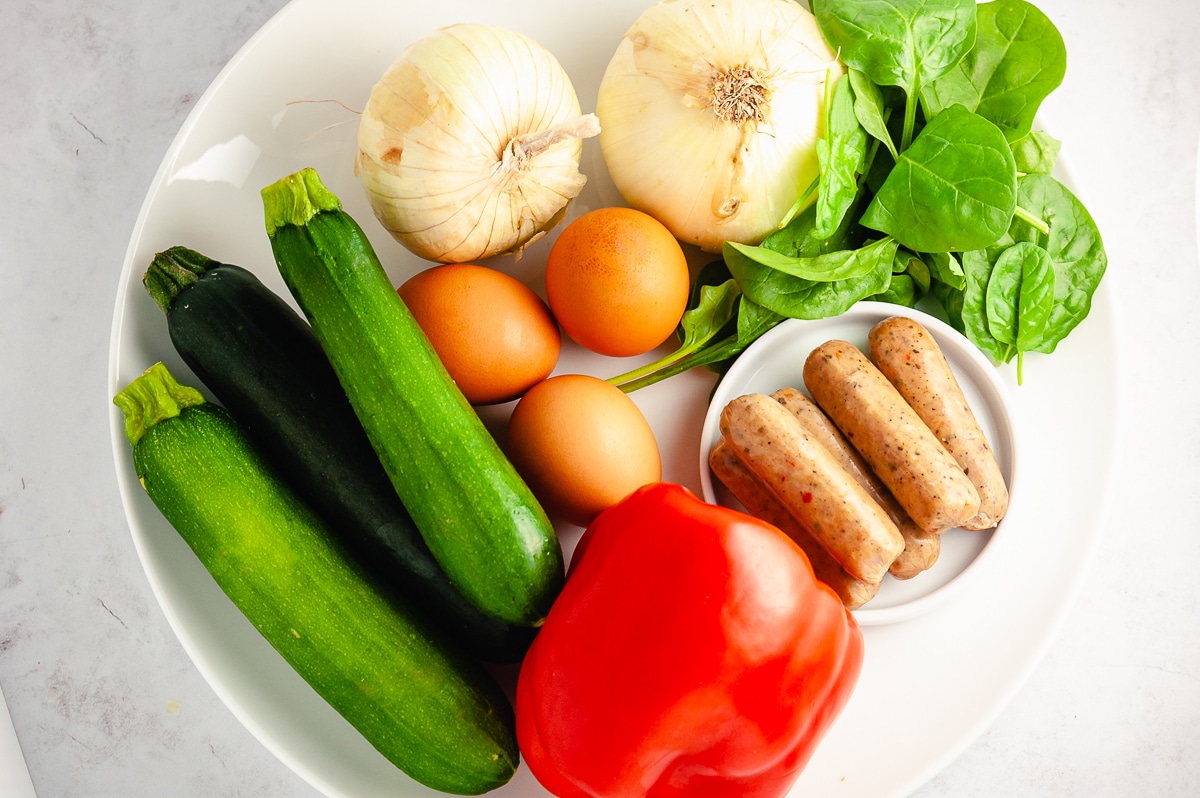 Why a savory breakfast is better
Breakfast foods which are not big sugary treats are much better to start the day. Low sugar, high fiber meals with protein and healthy fat will set you up with steady blood sugar. You might find you feel more satisfied and full longer when you eat this way.
You can read more about the critical nutrients for menopause and aging in this post. I also provide an example of healthy meal plan with a low sugar, high protein breakfast.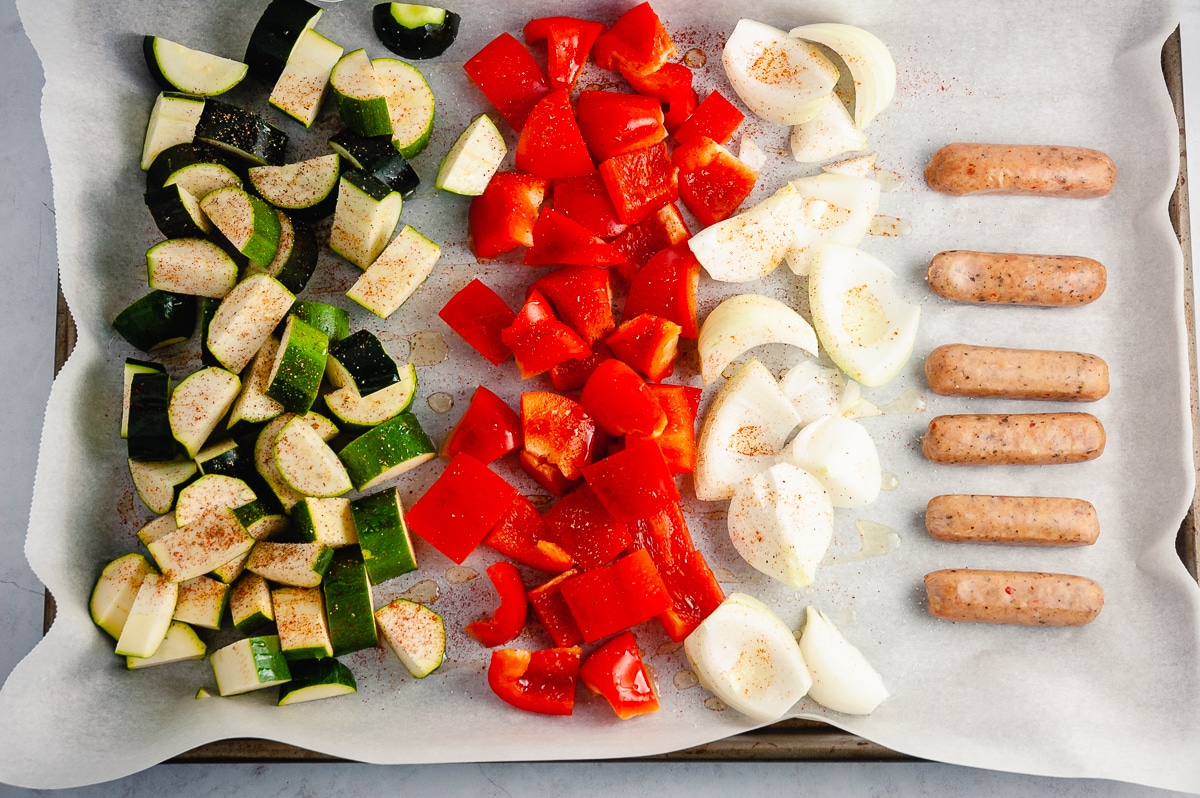 Recipe variations for breakfast veggie bowls
Try making these bowls with other veggies like broccoli or kale. It's so easy to toss chopped vegetables in olive oil and roast on a sheet pan.
Veggie sausage would work really well here too. You can swap chickpeas for the eggs but you'll sacrifice some protein.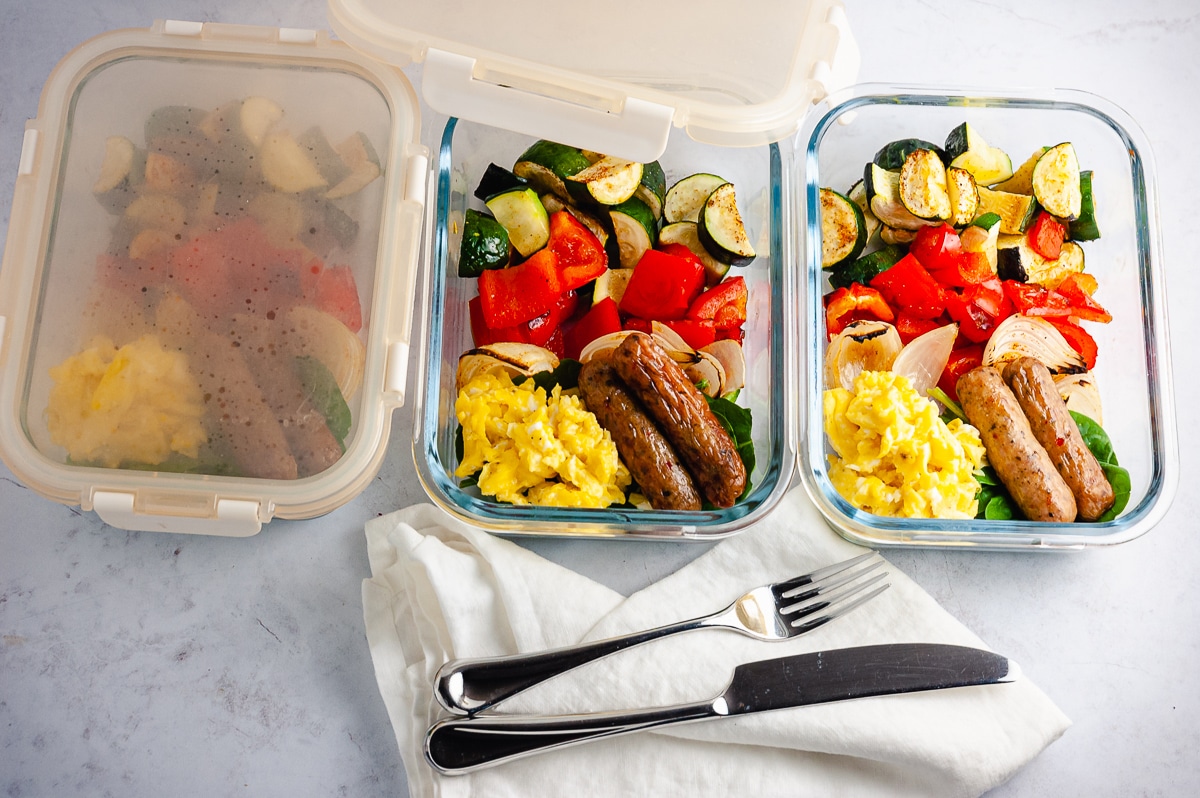 Other savory breakfast ideas
Power Breakfast Veggie Bowl
1

small onion

,

chopped into 1-inch pieces

1

medium red pepper

,

chopped into 1-inch pieces

3

small zucchini

,

chopped into 1-inch pieces

2

tablespoons

olive oil

,

divided

6

chicken breakfast sausage links

3

eggs

3

cups

baby spinach

,

packed

1

teaspoon

salt

,

divided

¼

teaspoon

pepper

,

divided

¼

teaspoon

paprika
Preheat oven to 400 ℉. Line a rimmed baking sheet with parchment paper.

Arrange onions, peppers, and zucchini on lined baking sheet. Drizzle with 1 tablespoon plus 1 teaspoon olive oil. Sprinkle with 1/2 teaspoon salt, a pinch of pepper, and the paprika.

Roast vegetables for 10 minutes. Add sausage links to pan and roast for another 10 minutes.

Heat 1 teaspoon of olive oil in a small nonstick pan.

Whisk the 3 eggs and cook them in the heated pan. When they are just cooked remove from pan and divide into 3 glass storage containers.

Heat remaining 1 teaspoon of olive oil in the same pan. Add spinach and cook about 2 minutes until just wilted. Add some spinach to each of the containers.

Divide the roasted vegetables and sausage links between the 3 containers.

Can be reheated in a microwave on 50% power for 2 minutes or until warmed through.
This post contains affiliate links for products I use and trust. I may receive commissions on purchases at no cost to you. As an Amazon associate I earn from qualifying purchases.