My Hemp Protein Bites are made with earthy, nutty hemp protein powder. This vegan protein contains all the essential amino acids plus some fiber and healthy plant fats.
This is the hemp protein powder recipe you want if you are craving a chocolaty snack. The great thing is these sweet bites come with a list of healthy bonuses.
there are several sources of fiber from seeds, quinoa flakes, and dried fruit
the sweetener is simply dates, no other source of sugar – hard to believe when you taste them
healthy fats come from seeds and coconut
cacao powder is full of antioxidants
Ceylon cinnamon is a good variety to use here because it has been shown to help balance blood sugar
Hormone Balancing Superfood: hemp protein powder
The source of protein I chose for these bites is plant-based hemp protein. Here are a few reasons why I like it:
hemp is a complete vegan protein
depending on which brand you choose, 1 scoop has about 15 grams of protein
it's a good source of fiber, about 7 grams per scoop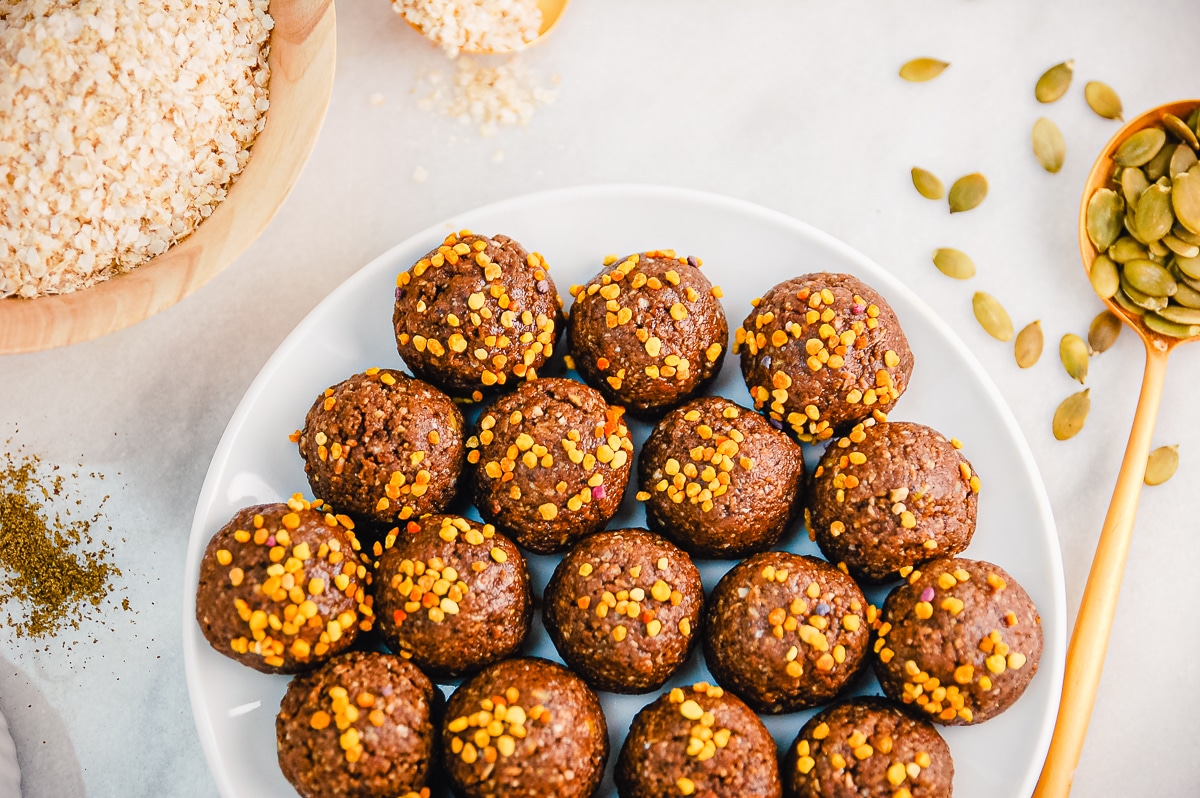 One of the ingredients I added to help improve consistency is quinoa flakes. I usually find them in the cereal aisle of my natural foods store. I've also ordered them online. Quinoa flakes are lighter than oatmeal and are gluten free to boot.
So these bites have several of the health advantages I look for in a treat. They contain protein, fiber, as well as healthy fat – all useful in helping to avoid the glucose spikes (and resulting belly fat) we suffer if we eat high sugar treats. Behind the chocolate flavor are many vitamins and minerals we need for good quality sleep, skin health, and a strong immune system. Using a spoon or small scooper creates perfect portions so we can measure how many we eat.
How to store Hemp Protein Bites
I keep my Hemp Protein Bites in the refrigerator to help them keep their shape and stay fresh. You can also store some in the freezer in a zipper bag or airtight container
Here are a few other healthy vegan snacking ideas for you: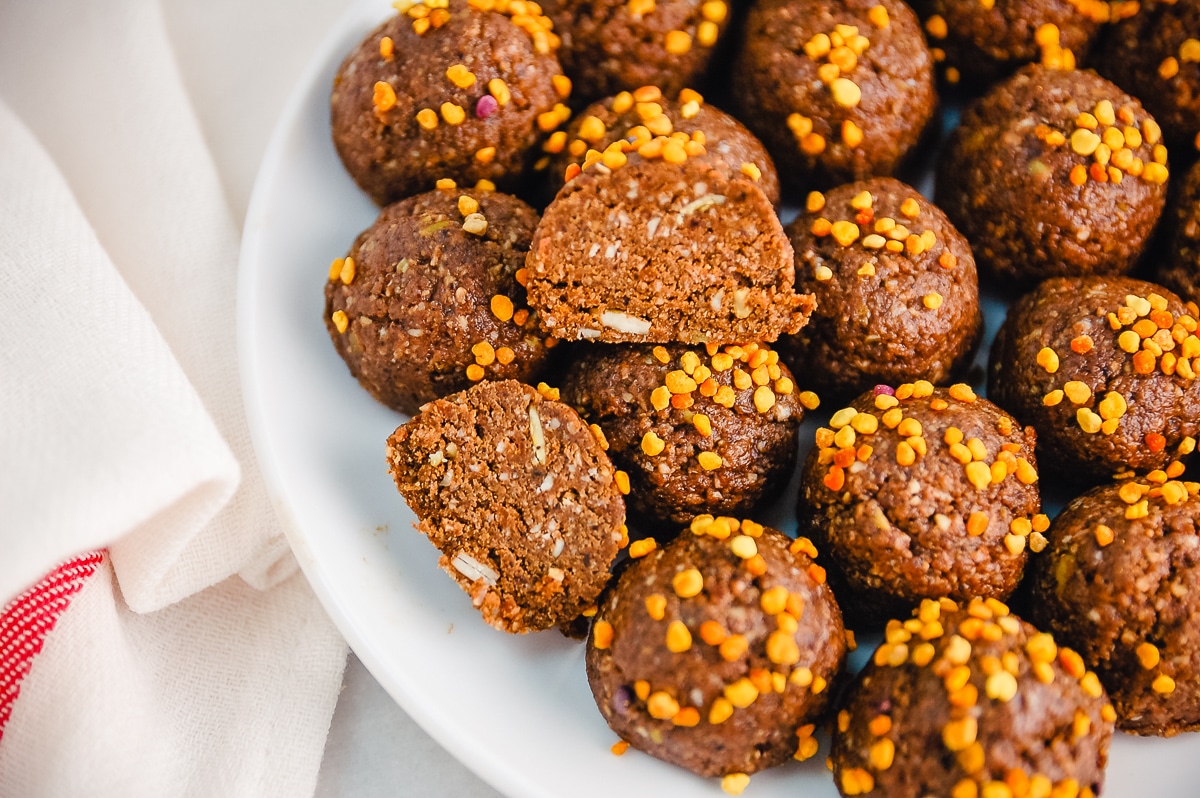 Hemp Protein Bites
½

cup

pumpkin seeds

1

cup

unsweetened shredded coconut

½

cup

hemp protein powder

¼

cup

flaxseed

,

ground

¼

teaspoon

sea salt

¼

cup

cacao powder

1

teaspoon

cinnamon

½

cup

sunbutter

15

medjool dates

,

pitted

5

tablespoons

coconut oil

⅓

cup

quinoa flakes
Place all dry ingredients through cinnamon in food processor. Pulse until seeds are chopped but not completely broken down. Transfer to a bowl and set aside.

Place sunbutter, dates, and coconut oil in food processor. Process until smooth.

Add dry ingredients to wet in food processor along with quinoa flakes. Process until a sticky ball forms.

Use a spoon or small scoop to form balls. Refrigerate for 30 minutes to firm. Store in refrigerator.
This post contains affiliate links for products I use and trust. I may receive commissions on purchases at no cost to you. As an Amazon associate I earn from qualifying purchases.