Homemade popcorn is a very healthy snack choice for perimenopausal meal planning. You get some fiber and protein, two things that are missing from most unhealthy snacks.
Popcorn is one of my favorite snacks. Don't ask me to share though – I can usually eat the whole container myself!
The fiber and protein in this crunchy snack food help to keep blood glucose levels from spiking. Other snack choices like candy or sugar cookies will cause a quick spike in blood sugar. Fiber and protein are key because we become more insulin resistant in perimenopause which may play a part in symptoms like hot flashes, brain fog, and weight gain.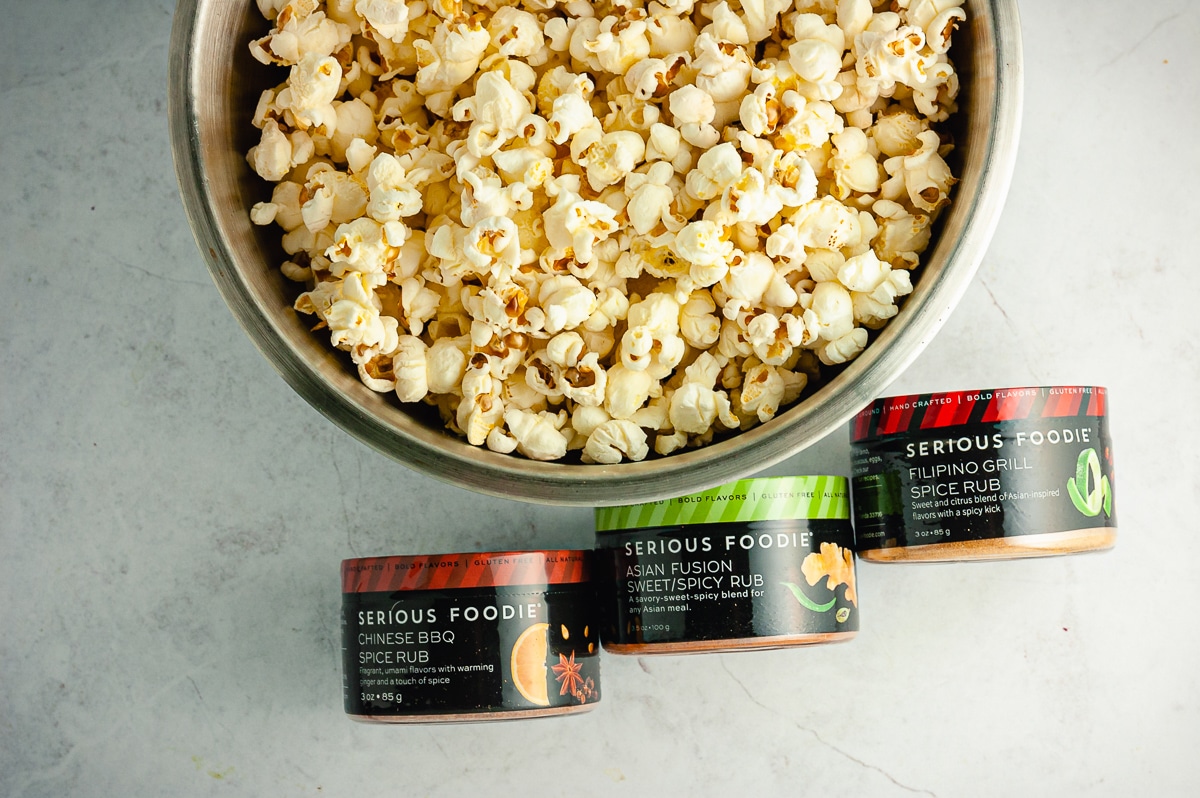 Hormone Balancing Superfood: Popcorn
There are a lot of unhealthy ingredients in those little bags of microwave popcorn you buy at the store. Here's a microwave popper to make popcorn without the questionable chemicals, excessive salt, and unhealthy fats you get in those bags.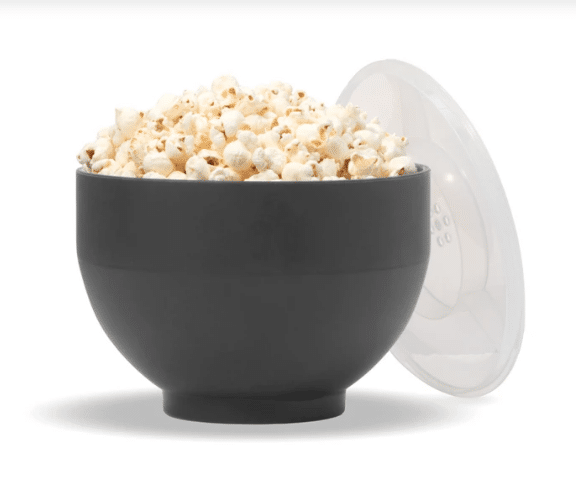 How to pop popcorn on the stovetop
Heat 2 tablespoons of coconut oil in a large pot or dutch oven (my new favorite!) over medium-high heat.
Add 3 kernels of popcorn.
When the kernels have popped, add ½ cup popcorn kernels to the pot and cover.
Cook, shaking often, until the popping slows. This will be about 3 minutes.
Take the pot off the heat and remove the lid to let steam escape.
This will make about 14 cups of popped popcorn.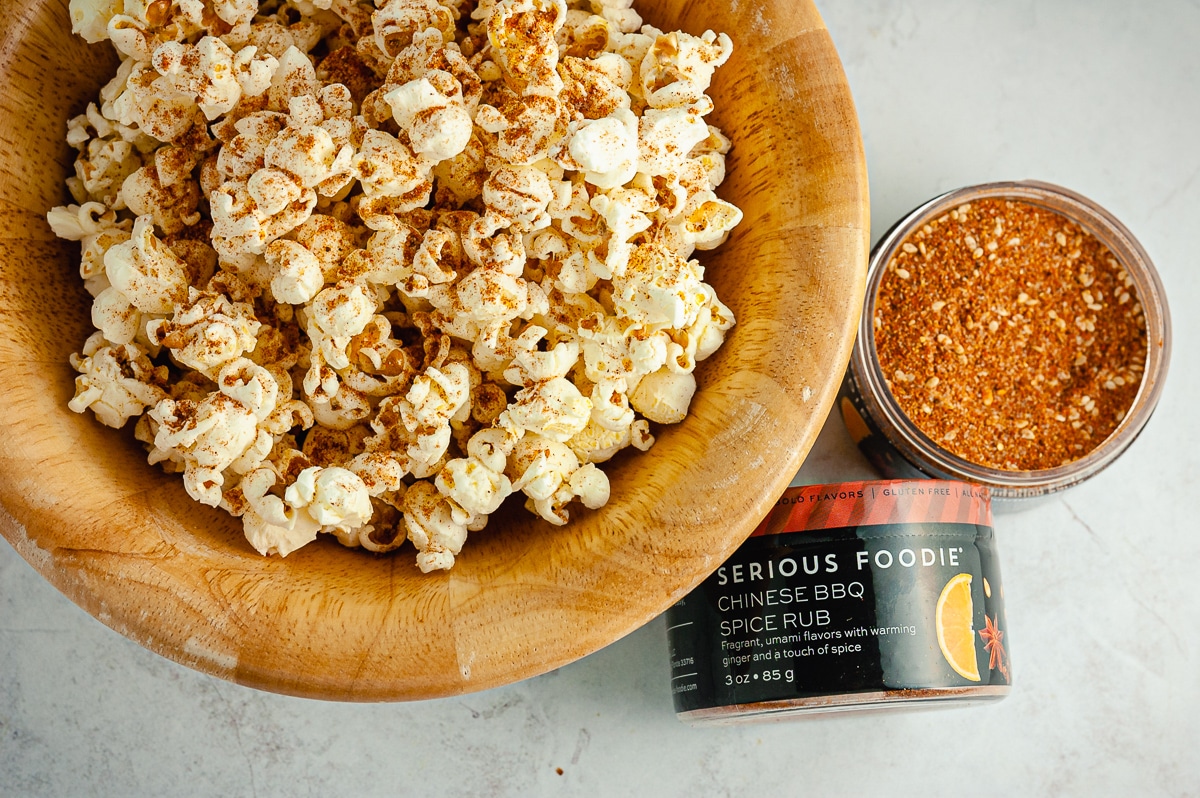 Plain popcorn can be a bit bland so when I was invited to use some exciting spice blends in a recipe challenge from Serious Foodie I thought they'd be perfect healthy popcorn toppings to give my popcorn some unique flavor.
Add seasonings to popped popcorn
After you've popped the popcorn, add 2 tablespoons of The Serious Foodie Spice Rub. I tried Asian Fusion Sweet/Spicy Rub, Filipino Grill Spice Rub, and Chinese BBQ Spice Rub. My favorite was the Filipino Grill Spice Rub.
It was so convenient to have all the spices blended in one incredibly tasty mix. I set up a popcorn buffet and we had so much fun tasting all the different flavors.
I also created a seasoning blend of my own. Nutritional yeast has a cheesy flavor and it is one of my favorite vegan popcorn toppings. Use the Cheesy Vegan Popcorn Seasoning recipe below if you'd like to add a vegan cheese popcorn to your snack assortment.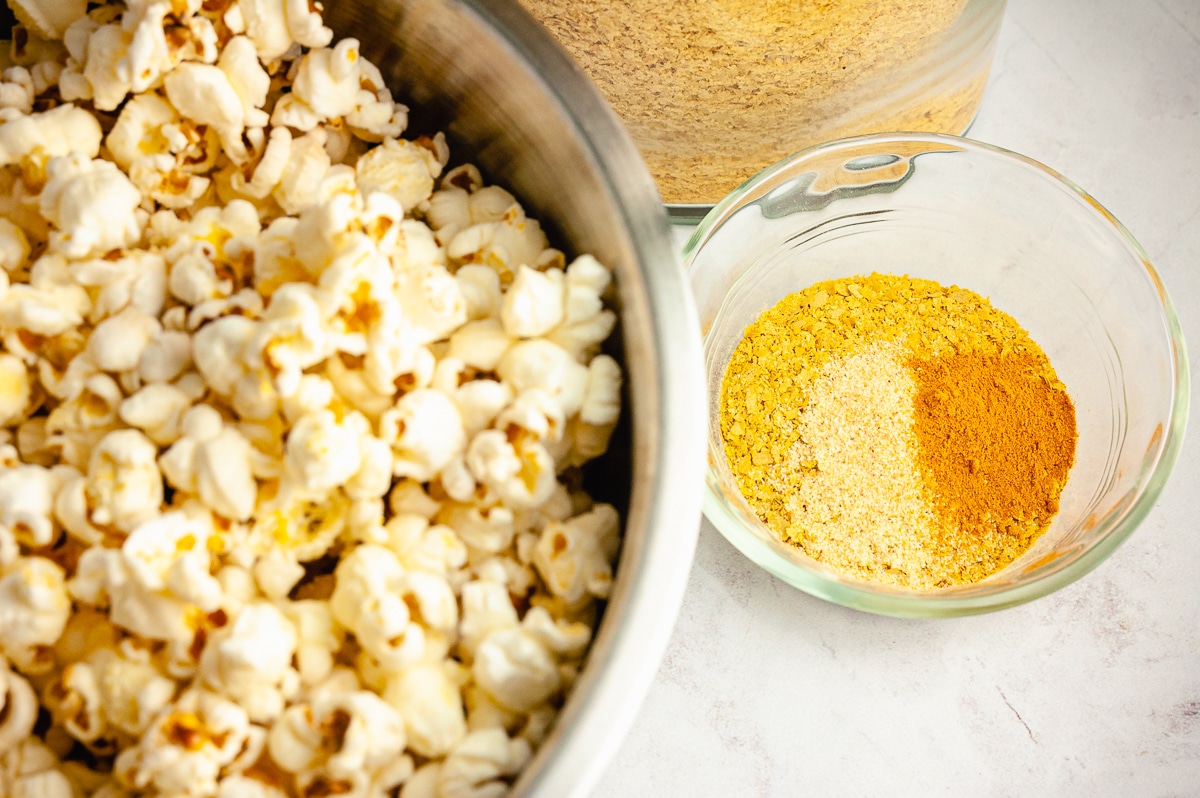 Tips for getting the seasoning to stick to popcorn
Option 1 – While popcorn is still warm, add your choice of seasoning and toss to coat in a large bowl.
Option 2 – After popping your popcorn, use a spray bottle of olive oil to lightly coat the kernels. Add your choice of seasoning and toss several times in a large bowl.
Option 3 – Stir seasoning into 2-3 tablespoons of olive oil or melted coconut oil and drizzle over popcorn. Toss to coat.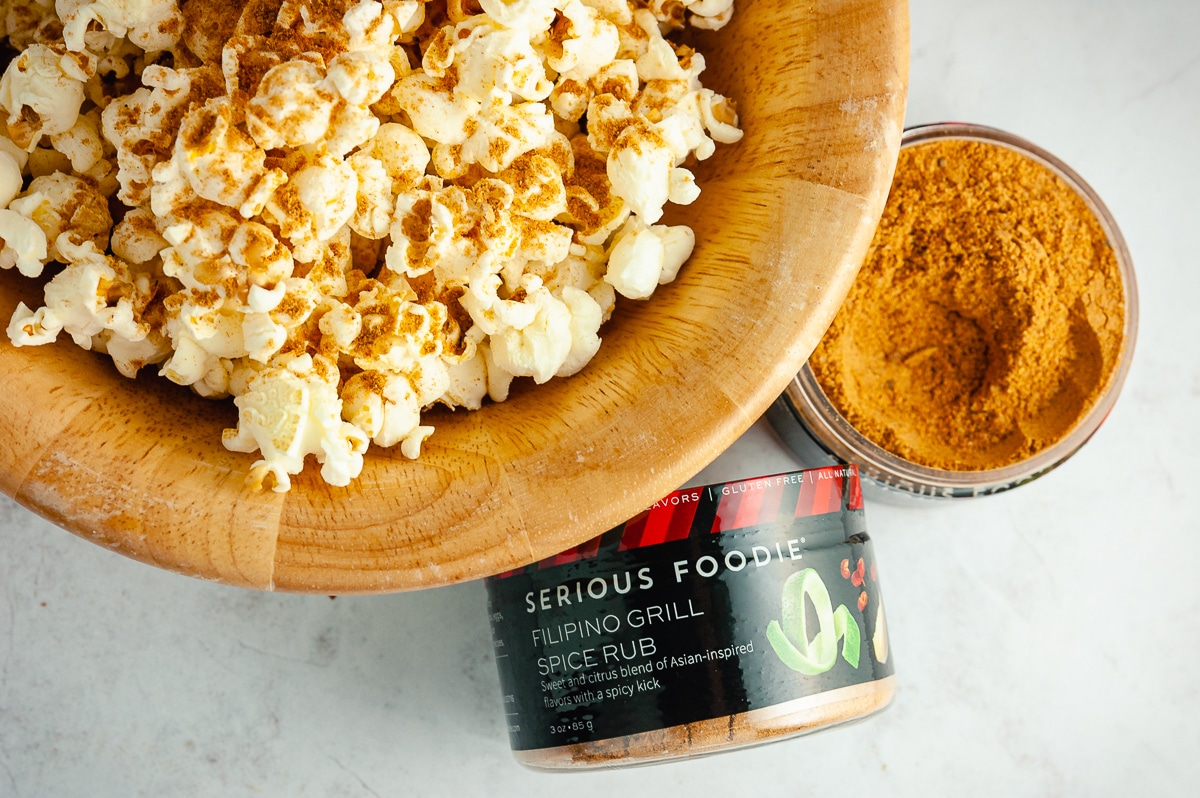 Try Serious Foodie Spice Rubs on your popcorn or anywhere else you find food that needs some character. You can order the trio I used right from their website or Amazon. If you want some inspiration using their other delicious sauces and spicy condiments, check out Serious Foodie on Facebook and Instagram.
Serious Foodie uses their travel experiences to share food cultures from around the world. Their sauces and spice blends are made using a small batch, artisan approach with quality ingredients. They even give back by supporting FreeSet, the Rotary Foundation Microloan project, and No Kid Hungry.
Hey! How about setting out a delicious snack board for a cozy movie night. Arrange your homemade popcorn with your favorite healthy popcorn toppings along with a cashew cheese dip, gluten free crackers, and veggies.
Cheesy Vegan Popcorn Seasoning
2

tablespoons

nutritional yeast

½

teaspoon

garlic powder

¼

teaspoon

turmeric

½

teaspoon

sea salt
Mix all ingredients together. Store in an airtight container.
This post contains affiliate links for products I use and trust. I may receive commissions on purchases at no cost to you. As an Amazon associate I earn from qualifying purchases.