You may have noticed a new kid on the flour shelf recently. Spelt is an ancient grain with a nutty, sweet flavor. It can be used cup for cup in place of common wheat flour which a number of people have difficulty digesting. Some studies show that the older wheats tend to have lower levels of gliadins, the type of gluten proteins that seem to cause most sensitivities.
Those with celiac or a wheat allergy should not consume spelt. However, there seem to be many of us who just experience digestive difficulty when eating foods containing wheat flour. Spelt may offer a way to have your bread and eat it too. This grain contains gluten but is made up of less of the offending component that may cause problems such as bloating, headaches, joint pain, constipation, chronic fatigue, "foggy mind", and depression.
Plus, if you can tolerate it, whole grain spelt contains more fiber, iron, and B vitamins than most gluten free foods out there because many are made with processed alternative flours and starches. I used sprouted spelt flour, even more easily digested, in my breadsticks. You can find it at your healthy food store.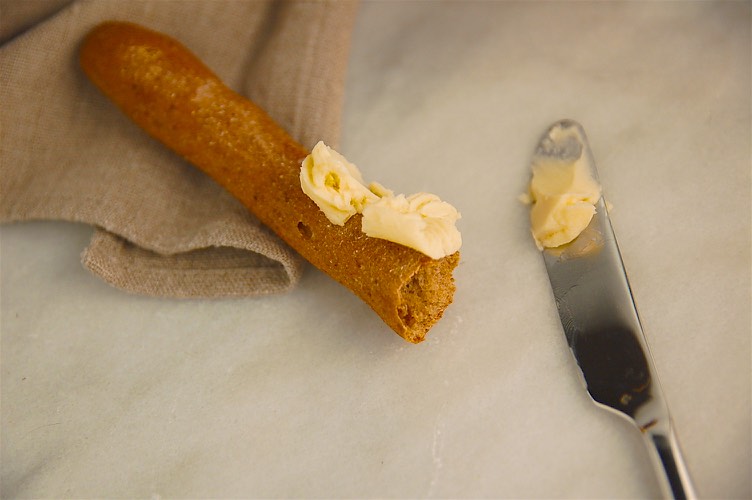 Also on the ingredient list is ground flaxseed which contains lignans, any type of phytoestrogen that can change estrogen metabolism. They can cause the body to produce less active forms of estrogen and may reduce breast cancer risk. Studies show that including ground flaxseeds in the diet decreases cell growth in breast tissue. Flax also promotes digestive health, contributes ALA omega-3 fatty acids, and helps to balance hormones with its estrogenic properties.
Use a bread machine to get these on the dinner table without too much hands on time. Another fun idea – shape them into rolls instead of breadsticks. After they come out of the oven you can brush the tops with garlic and melted buttery spread or brush with egg wash and sprinkle flaked salt, sesame seeds, or poppy seeds.
Spelt Flaxseed Breadsticks
1 ½

cups

warm water

1

tablespoon

coconut oil

3

tablespoons

raw honey

1

teaspoon

sea salt

2

teaspoons

quick-rise yeast

4

cups

spelt flour

½

cup

ground flaxseeds
Place all ingredients in bread machine as directed by manufacturer. Set to dough cycle.

When cycle is complete, divide dough into 16 equal portions. Roll into rope shaped pieces. Arrange on 2 parchment paper-lined baking sheets.

Cover with plastic wrap and allow to rise in a warm place for 30 minutes. Preheat oven to 350℉.

Bake for 20 minutes.