The warm months are the best for mixing up a watermelon smoothie recipe. My Watermelon Strawberry Smoothie is built with fresh finds from the farmers market.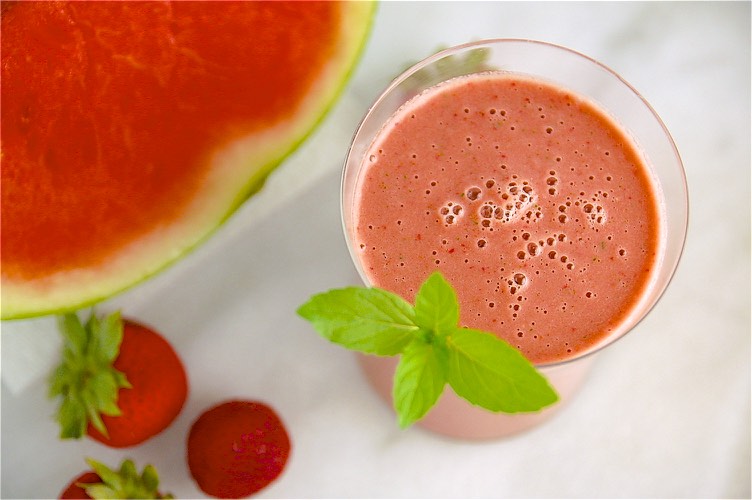 Summer is chock full of fresh fruits like peaches and watermelon, and lots of fresh veggies and greens. It's a good thing too because those foods are exactly what is going to help us avoid puff and bloat. Who wants to deal with that when it's time to slip on the new bikini!
Follow the local, seasonal food trends and they will lead you to foods and drinks that will cool you down and help your natural detoxification systems. Fresh, summer produce and light summer recipes will delight your senses, and help kill the cravings for heavy, greasy or sugary foods.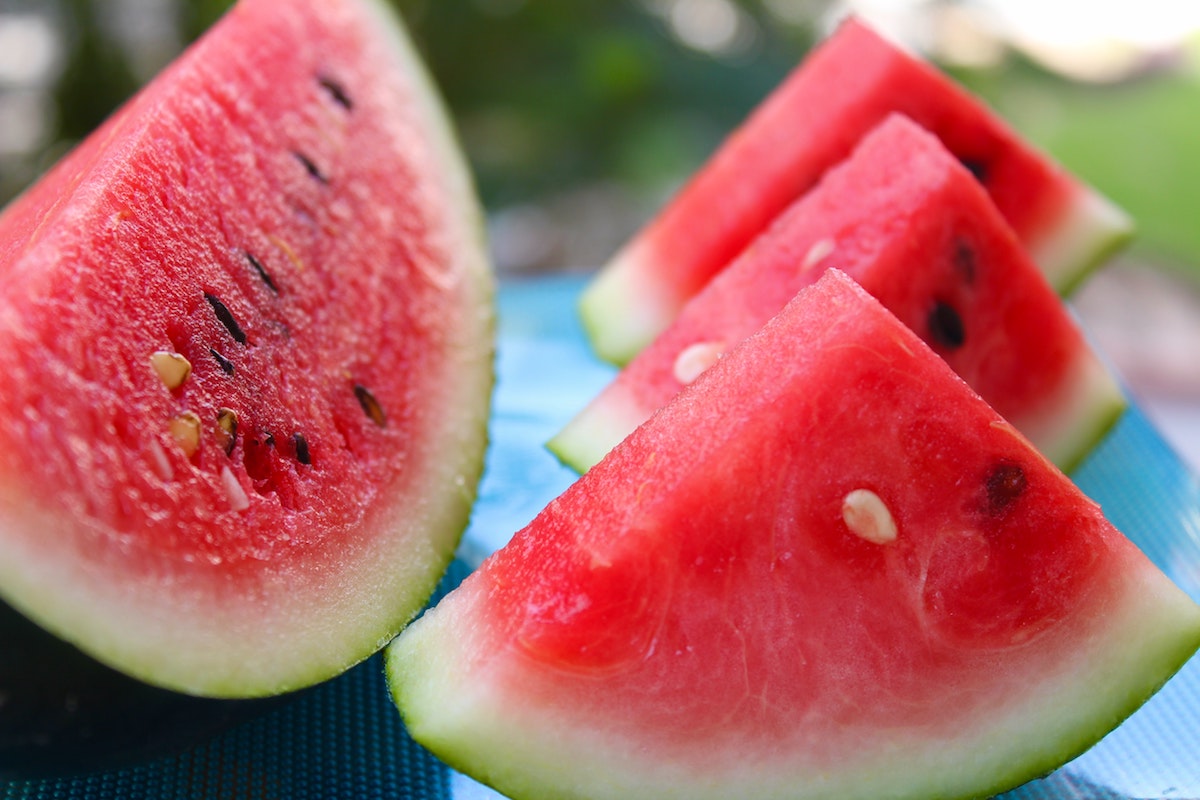 I like to make sure I hit the many farmer's markets which now can be found almost every day of the week around here. There's a steady supply of cucumbers, peaches, nectarines, melons, and fresh herbs to make smoothies and juices, add to salads, toss on the grill, or stash in a bag for a snack.
Creating sweet and savory recipes with juicy watermelon is one thing I love to do. This Watermelon Strawberry Smoothie is a melon-based smoothie to enjoy after a bike ride, morning jog, or active day at the beach. It will replace the water you've lost so quickly in the heat and humidity of the summer. It also has a boost of protein to support your beautiful muscles.
Hormone Balancing Superfood: Watermelon
Purposeful ingredients
Red seedless watermelon is very high in lycopene responsible for reducing risk of stroke and lowering blood pressure.
Cucumbers add fiber and more water.
Sweet, refreshing mint contains cancer-fighting phytonutrients and helps to soothe an upset stomach.
Plant protein helps to repair and build muscles for calorie burning and maintaining a healthy weight.
Another idea for warm weather meals
I love a quick spring or summer meal. Sometimes I'll simply slice some fruits and vegetables on a platter and drizzle some good quality olive oil & vinegar over top. Done! Grill a few chicken breasts or some skewers of shrimp and it's a healthy, nourishing meal.
Thirsty for some more smoothie recipes?
Watermelon Hydrating Smoothie
1

cup

watermelon

,

chopped

½

cup

frozen strawberries

½

cup

seedless cucumber

,

chopped

1

tablespoon

fresh mint

1

tablespoon

lemon juice

1

teaspoon

raw honey

1

scoop plant protein powder

1

teaspoon

maca powder
Place all ingredients in a high power blender until smooth.
This post contains affiliate links for products I use and trust. I may receive commissions on purchases at no cost to you. As an Amazon associate I earn from qualifying purchases.