It's actually very easy to make plant based sushi rolls at home. Just get your supplies ready and slice up the fillings for your sushi. Roll and slice and you're done!
Sushi rolls are usually made with sticky short grain white rice. But this time I switched things up and made my veggie sushi roll with quinoa. This whole grain is a little higher in protein and fiber than refined white rice. Shredded carrots add a touch of sweetness and help the grains of quinoa stick together.
Hormone Balancing Superfood: Nori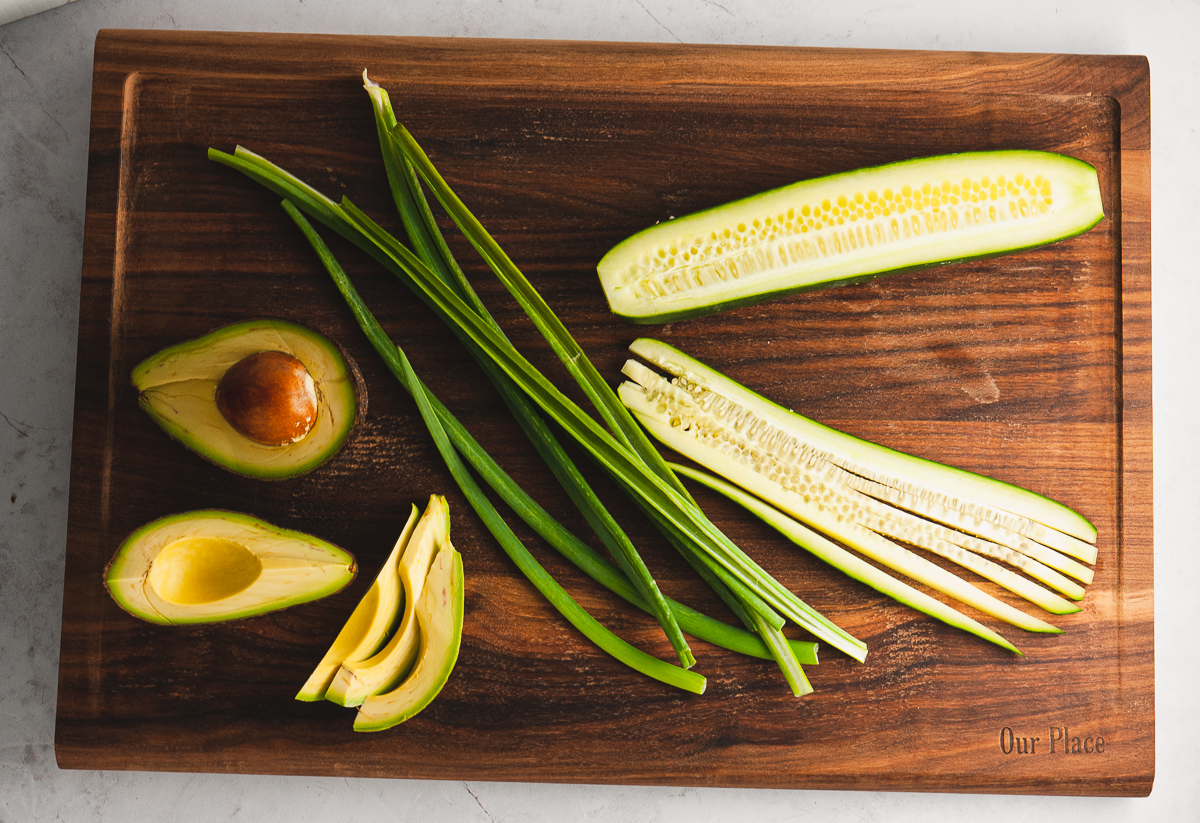 What makes this a vegetarian California roll?
Crab, or more likely, imitation crab called surimi is used to make the filling for California rolls. Hearts of palm make a great plant based crab substitute. I toss the chopped hearts of palm with vegan mayo and Old Bay seafood seasoning to make a tasty "crab" salad. After that I roll in some green onion, cucumber, and avocado. The result is absolutely delicious!
What you'll need to make this vegetarian sushi roll
Bamboo rolling mat – for rolling your own sushi like a pro
Sharp knife – to cut thin strips of vegetables and other ingredients plus easily slice through sushi rolls
Cutting board – to support all the slicing and a provide a solid base for the rolling
Small bowl of water – to seal the nori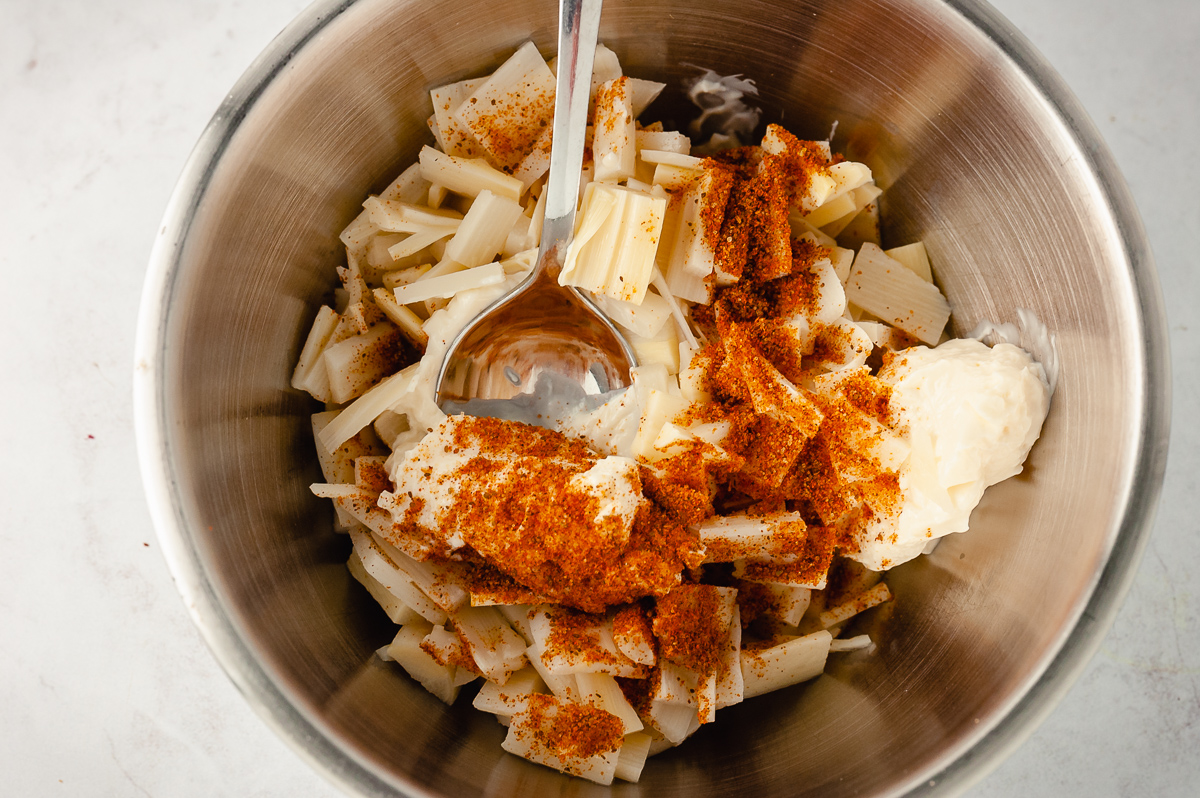 Tips for making sushi at home
Avoid using too much of the quinoa-carrot mixture. This will result in an overflow of quinoa spilling out as you roll.
Don't overload the roll with fillings. This will make it difficult to roll the sushi into a nice cylinder that stays together.
Use a sharp knife. Dull knives will squash the nori and filling resulting in a misshaped roll.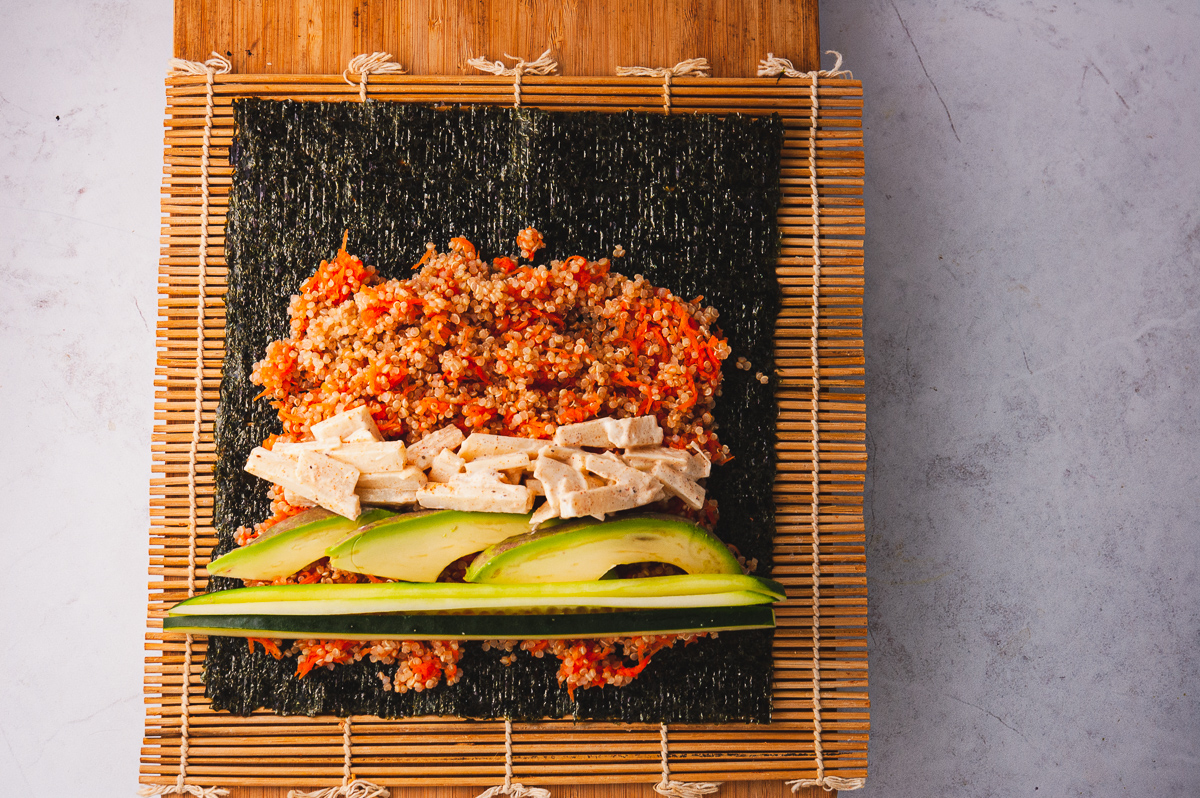 Veggie sushi nutrition
The big nutrition takeaways here are fiber and plant phytonutrients. Most of us don't get enough fiber. That's not great because fiber is so important in perimenopause to keep your gut microbiome healthy and ensure good digestion. It may even help relieve menopausal symptoms like hot flashes and night sweats.
What are phytonutrients? They are natural chemicals found in vegetables, fruits, whole grains, and legumes. Look at the rainbow of colors in the produce section. Color represents these nutrient-rich chemicals.
These plant chemicals have antioxidant and anti-inflammatory activity. This means they boost our immune system and decrease risk of diseases like cancer. Phytonutrients reduce our suffering from menopausal symptoms, help us look younger, and feel more energetic.
Nori, which is made from seaweed, is a great source of iodine and tyrosine for optimal thyroid function. If you want to get more seaweed into your diet try these seaweed snacks or this sprinkle for your eggs, salads, or soups.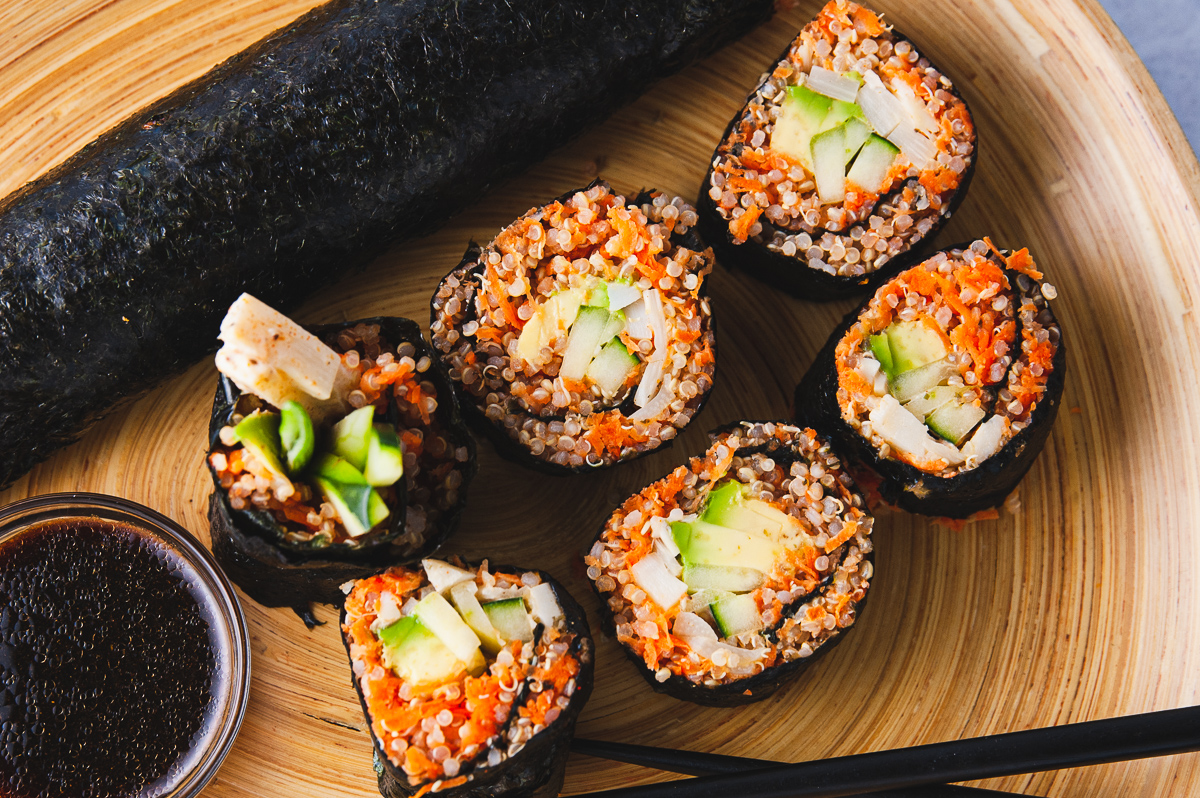 Other recipes with seaweed
Sweet Pea and Asparagus Soup with Dulse
Salmon Protein Salad with Kelp Noodles
Veggie Sushi California Roll
In a bowl, mix quinoa, carrots, vinegar, and salt. Set aside.

In a small bowl, gently toss hearts of palm with mayonnaise and Old Bay. Set aside.

Place a sheet of nori on a bamboo sushi rolling mat. Spread 1/2 cup of the quinoa mixture onto 2/3 of the nori sheet.

Arrange about 2-3 spoonfuls of the hearts of palm mixture across the top of the nori sheet. Add a few slices of avocado, cucumber, and green onion.

Dab some water across the bottom of the nori sheet to help seal the filling. Roll the nori tightly but gently pulling the mat out of the way with each turn.

Let the sushi roll rest on its seam for a few minutes while you repeat this process to make thew remaining 4 rolls.

Whisk the dipping sauce ingredients together. Slice the rolls into 6-8 pieces.
This post contains affiliate links for products I use and trust. I may receive commissions on purchases at no cost to you. As an Amazon associate I earn from qualifying purchases.