Sweet and savory little bites with a creamy dipping sauce. Set them out for your appetizer course or keep them around for healthy snacking.
Sweet Potato Chickpea Cakes is another recipe I created for the Lucky Foods recipe challenge. We were invited to create 2 recipes and I was in a creative mood. The delicious Kalbi BBQ Sauce, made with real food ingredients not chemicals, is used in both the cakes and the dipping sauce.
Kalbi sauce is a staple in Korean cuisine used to marinate short ribs. With it's combo of sweet, sour, spicy, and salty flavors it can be an ingredient for so much more. I like the idea of using it as a stir fry sauce. These little cakes are a vegan appetizer or entree if you like, with many layers of flavor from this sauce.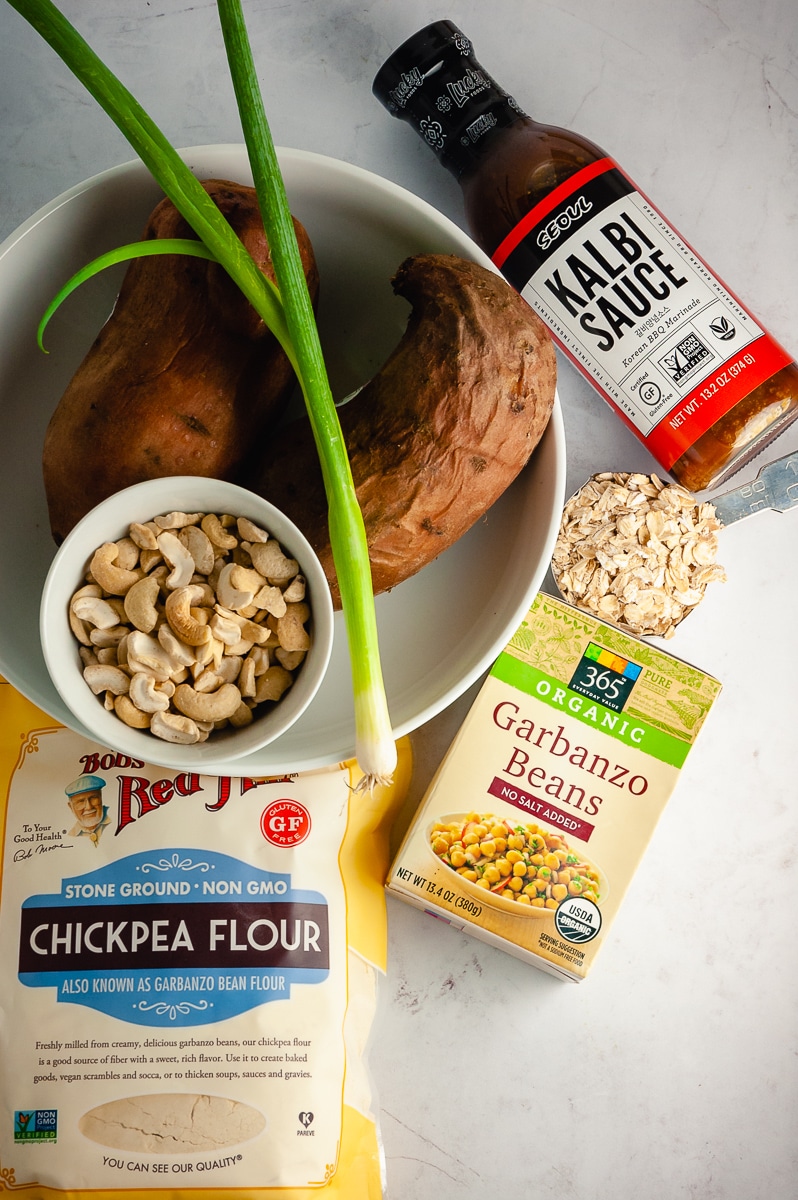 Hormone Balancing Superfood: Sweet Potato
One cup of sweet potato has almost 7 grams of fiber. Since you're aiming for a minimum of 25 grams of fiber each day, a sweet potato can really get you on your way. Sweet potatoes contain both types of fiber: ​​soluble and insoluble.
The fiber and the antioxidants in this orange vegetable promote the growth of good gut bacteria and contribute to a healthy gut. The soluble fibers help to soften your stool and therefore decrease constipation and hemorrhoids. Those are big complaints in perimenopause and menopause, I know.
Tips for this recipe
This is an incredibly easy recipe as you simply add all ingredients to a food processor for the cakes and to a blender for the dip. Whir everything together, shape, and bake – done! The one thing I need to remind you of is to soak the cashews which you could do while you put the cakes together. This just softens them a little so they help to add a creaminess to the dip.
Other options for Sweet Potato Chickpea Cakes
One of my favorite ways to eat these is to put a few cakes on a bed of greens, chop up any veggies I have in the fridge, and use the Creamy Kalbi Sauce as a dressing. This is the coolest looking to-go salad container!
If you want to convert it to a main meal, I suggest serving the Sweet Potato Chickpea Cakes over quinoa or brown rice with some steamed veggies on the side. Drizzle the Creamy Kalbi Sauce over everything. Yummy!
Want to try the Kalbi BBQ Sauce? Look for it in your grocery store, it'll probably be in the condiment aisle. You can also check for a store near you. Look on Lucky Foods facebook and instagram for other ways to use this sauce.
In case you need some other ideas for quick appetizers I found a couple for you:
Sweet Potato Chickpea Cakes with Creamy Kalbi Sauce Dip
For cakes:

1 ½

cups

sweet potato

,

steamed and mashed

1 14 1/2-

ounce

can chickpeas

,

drained

3

tablespoons

chickpea flour

⅓

cup

rolled oats

¼

cup

Lucky Foods Kalbi Sauce

1

scallion

,

chopped

½

teaspoon

garlic powder

1

teaspoon

salt

¼

teaspoon

pepper

For Kalbi Sauce creamy dip:

½

cup

raw cashews

,

soaked 1 hour

¼

cup

Lucky Foods Kalbi Sauce

¼

cup

water

2

tablespoons

lime juice

1

pinch

cayenne pepper

¼

teaspoon

salt
Preheat oven to 350℉. Line a baking sheet with parchment paper.

Place all ingredients in a food processor. Pulse until mixture is blended but chickpeas still have some texture.

Use a small scoop or spoon to shape cakes with about 2 tablespoons of mixture. Arrange on prepared baking sheet.

Bake 20 minutes, until lightly browned.

While cakes are baking, prepare dip. Place all dip ingredients in a blender and blend until smooth.
This post contains affiliate links for products I use and trust. I may receive commissions on purchases at no cost to you. As an Amazon associate I earn from qualifying purchases.