My usual post workout smoothie is designed for both good flavor and function.
This Spinach Blueberry Smoothie is one I created based on my own requirements for recovery after strength training sessions or a run. Basically I need my 25-30 grams of protein, some low sugar carbohydrates, and liquid for hydration. I usually choose whey protein for a smoothie but I like to switch in plant protein occasionally.
How Much Protein Do I Need?
My protein requirement needs to cover loss of muscle due to aging which can begin to happen at 35 years old. Because lower estrogen levels make it more challenging for a perimenopausal or menopausal body to build muscle, my daily protein requirement is about 1.0 grams per pound body weight.
This protein should come from complete protein foods like animal sources (meat, poultry, seafood, dairy) and/or complete vegetarian sources like soy, pea, or hemp. The amino acids from protein stimulate muscle synthesis and halt breakdown.
After my favorite whey or plant protein smoothie , I'll eat an egg or 2 because it is a good source of the important amino acid leucine. Leucine is a branched chain amino acid crucial for building muscle. This protein-carbohydrate combination will stop the muscle breakdown post exercise and replenish depleted glycogen stores from exercise.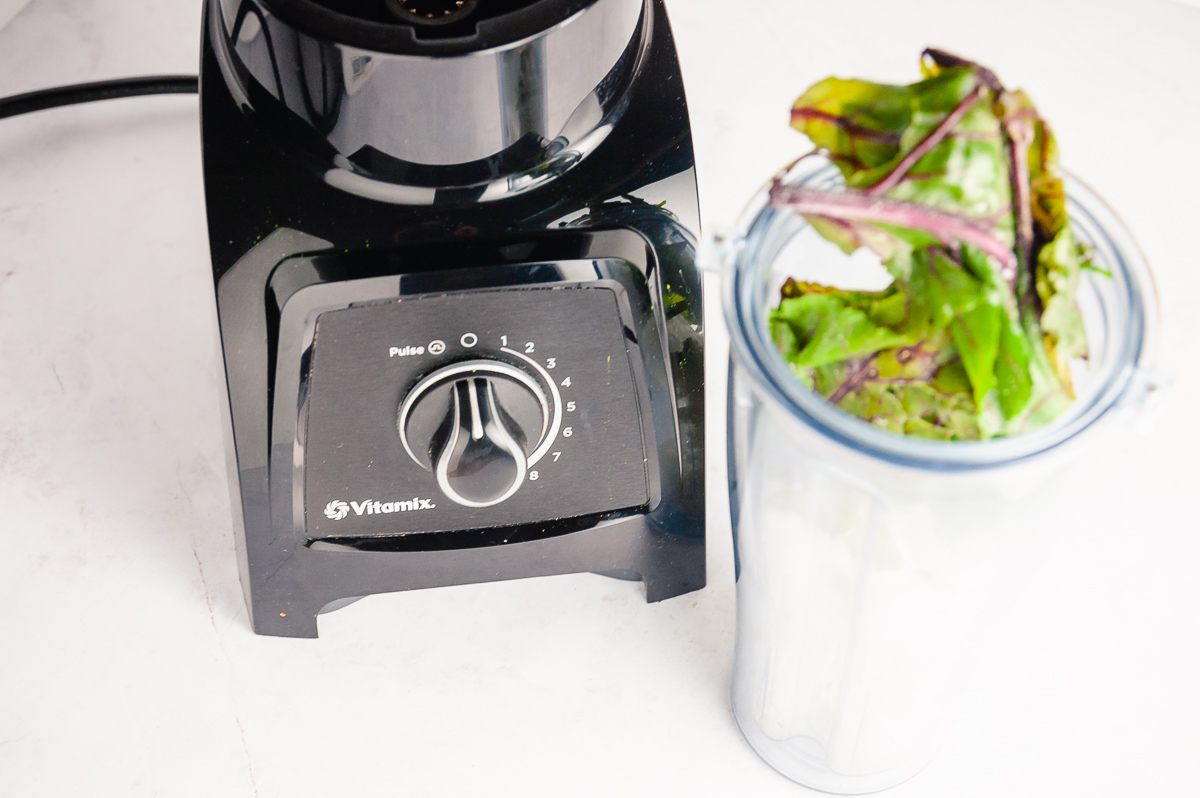 Post workout smoothie ingredients
Berries
I add blueberries which are very low in sugar but high in antioxidants and fiber. Their deep color lets us know they are packed with anthocyanins. This is a type of antioxidant that helps your brain produce dopamine, a chemical that is critical to memory function and your mood.
Cauliflower
Frozen riced cauliflower is a cruciferous vegetable containing phytoestrogens which help support healthy estrogen levels and perimenopause symptoms. You can always find a big bag of frozen riced cauliflower from Costco in my freezer – it's a staple ingredient. I can't taste the cauliflower in my smoothie at all. After blending it in with the other ingredients, it creates a soft ice cream consistency that makes recovery nutrition something to look forward to.
Leafy Greens
I always add some leafy greens for more fiber and natural nitric oxide. Nitric oxide relaxes blood vessels which protects against high blood pressure and heart disease. Eating foods high in nitric oxide can improve exercise performance and recovery.
It's so convenient to just keep a bag of frozen greens in my freezer along with all the other frozen ingredients. They keep longer than fresh greens and they take up a lot less room. I like to add beet greens in smoothies. They usually get thrown into the trash but they are too nutritious to waste! I'll select a bunch of beets with fresh, unblemished greens. I give them a rinse and dry, then pack in freezer bags to use throughout the week.
Cranberries
I pop about 5 frozen organic cranberries into the blender cup. Cranberries guard our heart health, helping with blood pressure and cholesterol levels. Heart health is a really big concern for women with plummeting estrogen levels. That plentiful estrogen we used to have protected our hearts and now we need to step up and provide protection for ourselves in the form of diet and exercise.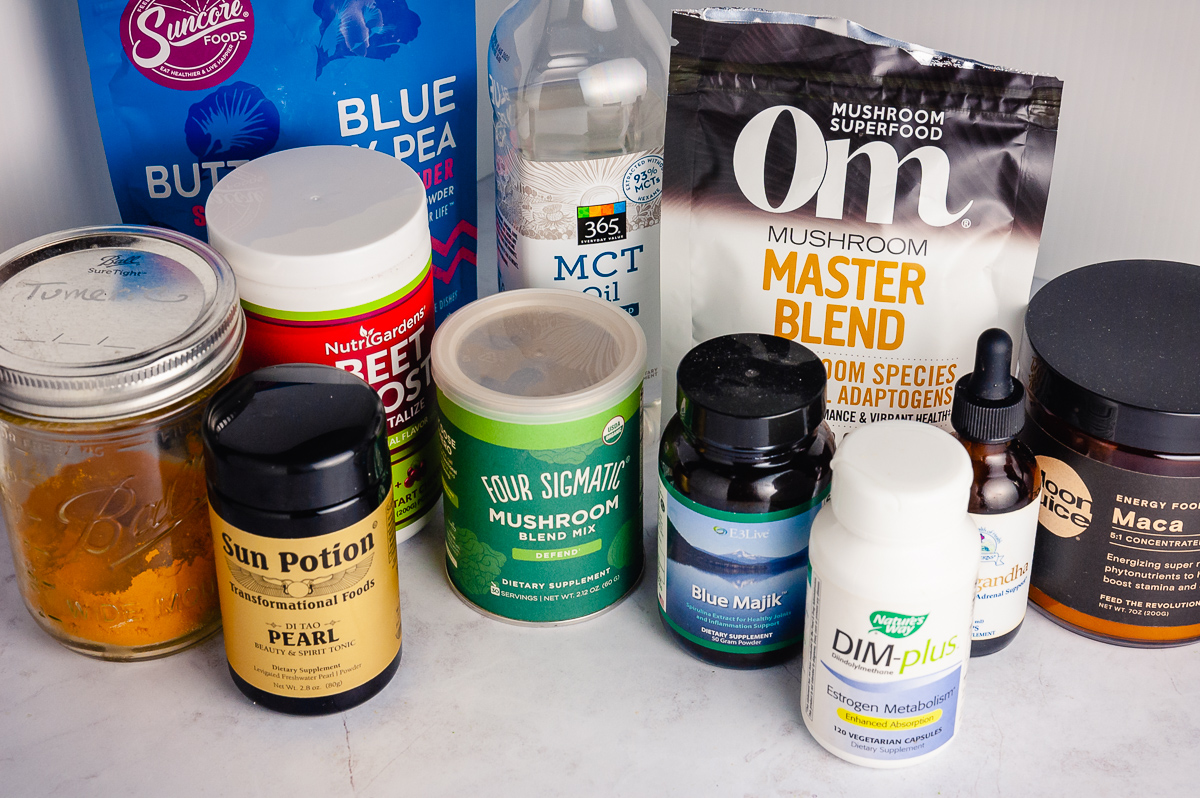 What are the best perimenopause supplements for exercise?
Before I blend everything together I'll add an adaptogen or 2. There are 4 adaptogenic supplements in particular that support active women in perimenopause and menopause :
Ashwagandha – reduces cortisol, lowers anxiety, lowers cholesterol, improves insulin sensitivity for better blood sugar control. For athletes it improves power and endurance. It acts as an anti-inflammatory so we have less soreness after a workout. It may help regulate body temperature and reduce hot flashes.
Schisandra – improves cognition, clears brain fog, helps focus. It increases energy for exercise. It can also help modulate fluctuating hormone levels and reduce hot flashes.
Rhodiola Rosea – is a natural stimulant. It helps balance neurotransmitters to decrease mood swings and anxiety. It can improve concentration. This adaptogen also decreases anxiety and irritability and can help reduce hot flashes. 
Maca – is a strong anti-inflammatory and helps reduce hot flashes, night sweats, and feelings of anxiety and depression. It can also improve mood and energy levels.
Other post workout recovery options
My Watermelon Hydrating Smoothie combines protein and lycopene along with lots of water to rehydrate and nourish you all at the same time.
Oats with Egg and Spinach is a bowl of anti-inflammatory turmeric plus morning energy from oats and the complete protein from eggs.
If you make this recipe let us see! Tag @freshbalancenutrition and #freshbalancenutrition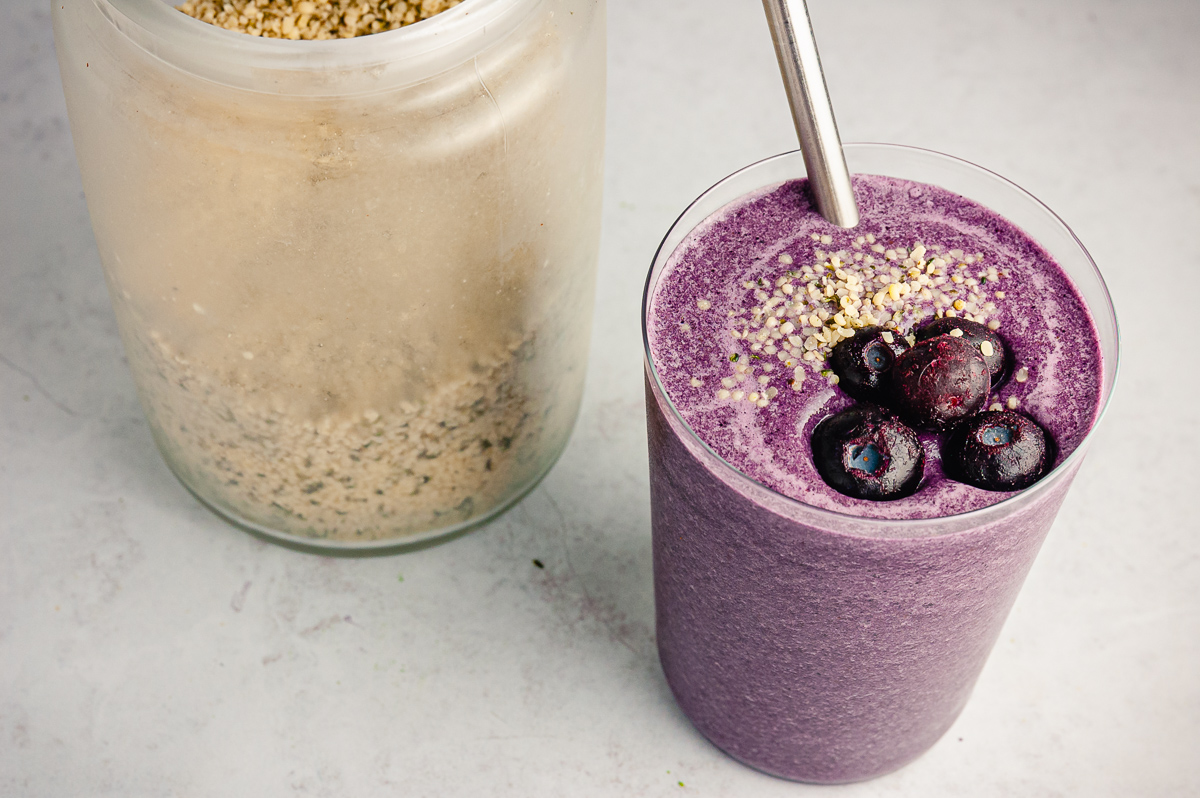 Spinach Blueberry Smoothie for Post Workout
1-2

scoops whey protein powder

,

about 25 grams protein

¾

cup

frozen blueberries

¾

cup

frozen riced cauliflower

¼

cup

frozen greens

,

spinach, kale, collards, beet greens, etc

5

frozen organic cranberries

12

ounces

water or nut milk

ice

2-4

teaspoons

adaptogens

,

optional
Place all ingredients into a blender. Blend until smooth.
This post contains affiliate links for products I use and trust. I may receive commissions on purchases at no cost to you. As an Amazon associate I earn from qualifying purchases.