My recipe for Spicy Shrimp and Cauliflower Rice Bowl is filled to the brim with hormone health supportive veggies and bursting with delicious spicy flavors. A quick and easy dinner, perfect for both weeknights and special occasions.
I try to include a cruciferous vegetable in my meals daily. I combined a couple crucifers in creating this cauliflower rice bowl for a recipe challenge sponsored by Serious Foodie. Cauliflower is the star and purple cabbage is a supporting actor.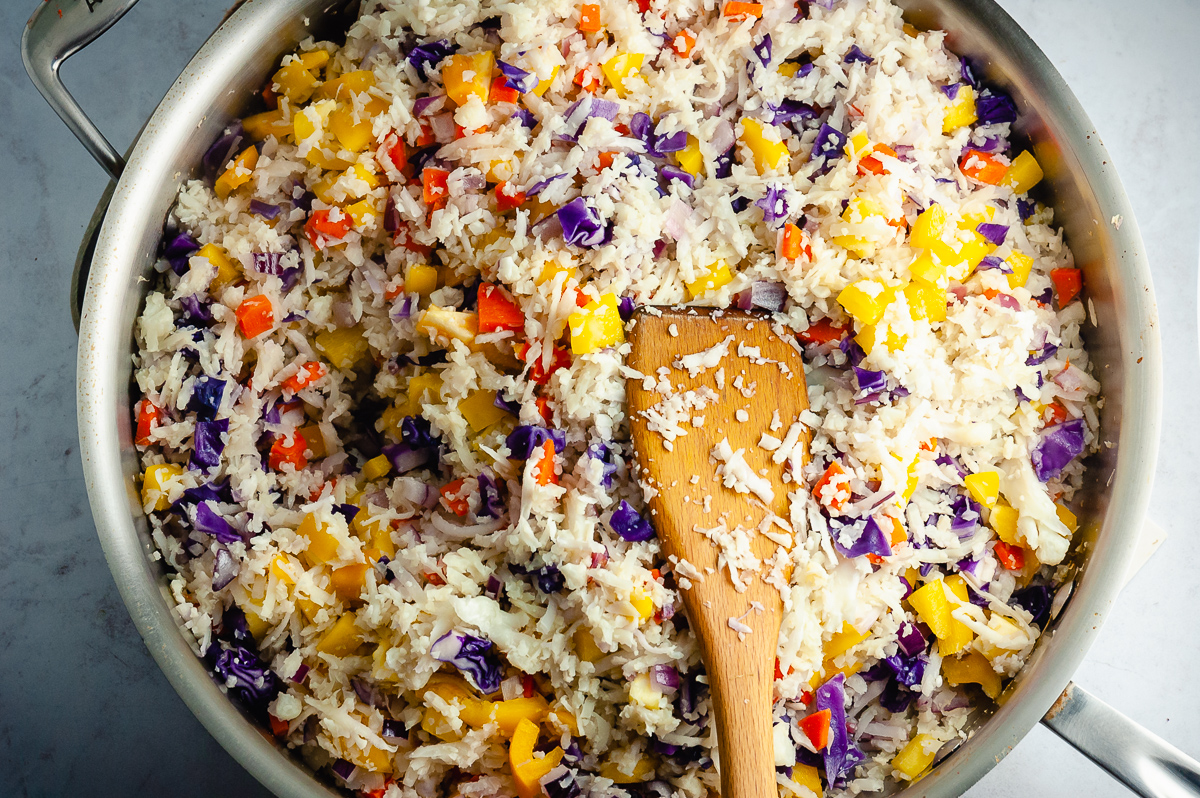 Hormone Balancing Superfood: Cauliflower
Make sure cruciferous veggies like cauliflower, broccoli, cabbage, and brussels sprouts show up somewhere in your meals at least once a day. These special plant foods block the bad estrogens responsible for bloating, weight gain, swollen breasts, hormone-related headaches, PMS, and more.
The fiber in crucifers escort excess estrogen from your body. These vegetables also help dramatically slow your body's aging process.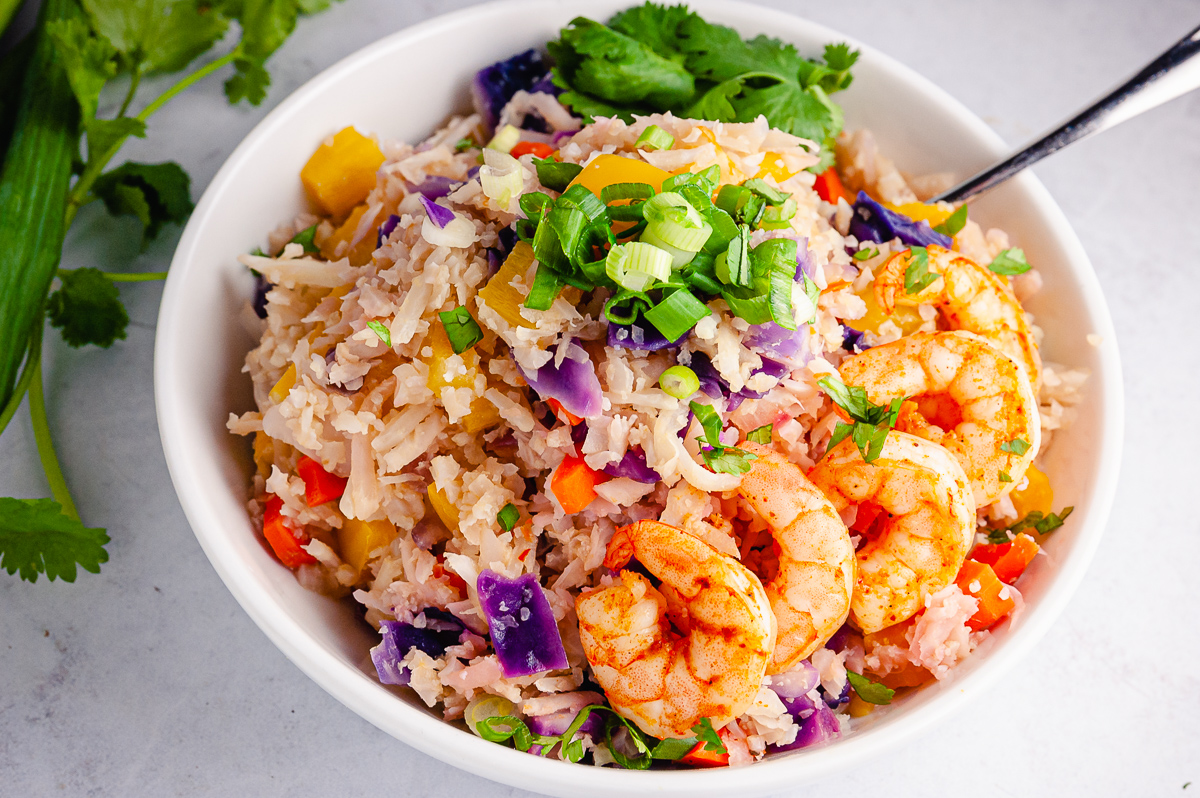 I used Serious Foodie Sri Lanka Coconut Lime Hot Sauce and Serious Foodie Asian Fusion Sweet/Spicy Rub. It is so convenient to have exotic, flavorful blends of spices at my fingertips ready to add to my recipes. They really bump up the flavor of the dish.
For some recipe inspiration that will surely have you salivating, peek at Serious Foodie on Instagram and Facebook. You'll be ready to choose your favorite spice rubs and sauces for your delicious creations. Shop on the website or Amazon.
I like to expand the use of spice rubs by sprinkling them on cooked vegetables or adding a few pinches to sauces and dressings. If you'd like to learn more about using dry rubs take a look at this article.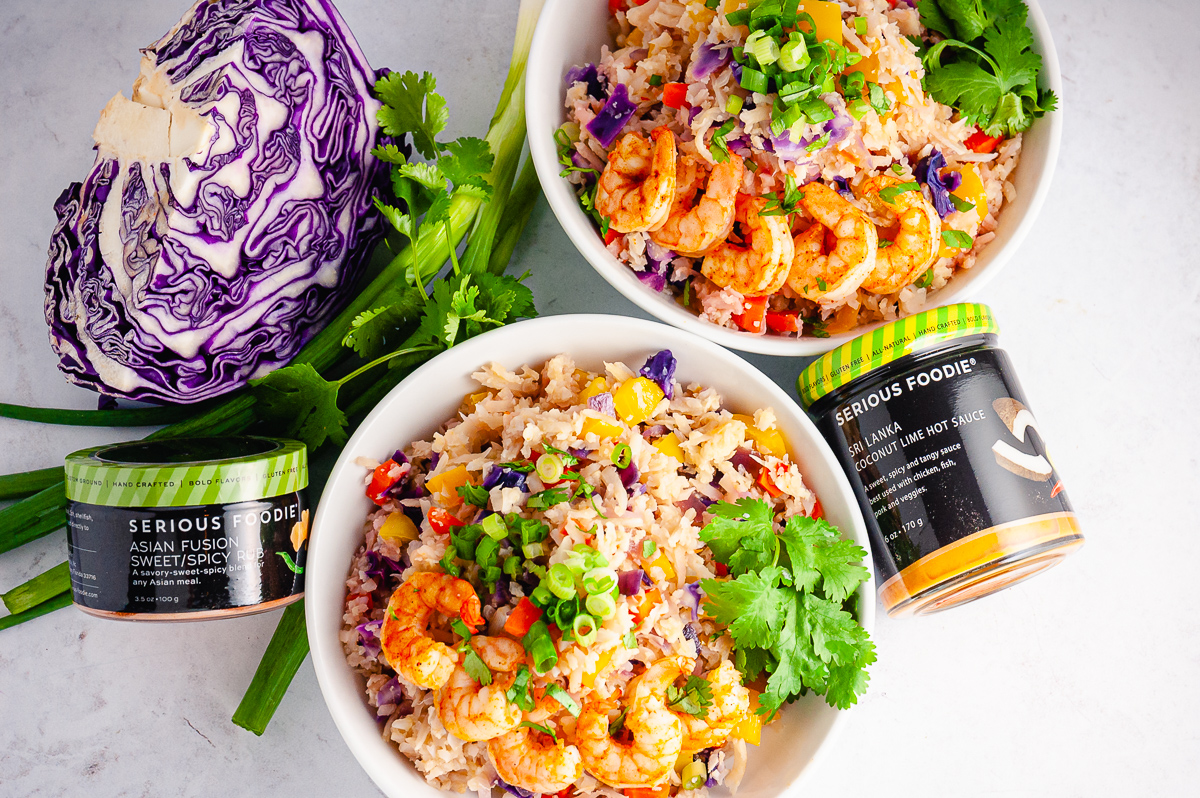 Variations for cauliflower rice bowls
You can use the same grilling or broiling method to swap the shrimp for some chicken, turkey, or firm fish like salmon or cod. Just cut the protein you choose into 2-inch pieces and toss with the coconut milk and other ingredients. Add about 5 minutes to the cooking time until cooked through. Chickpeas would work as a stand-in for the shrimp also.
Batch cooking suggestions
Use this cauliflower rice bowl recipe to stock up on meals to grab and go. You can easily double the recipe and divide into glass food storage containers. Refrigerate to use through the week or freeze them to use later.
Here are some other lower carb recipes packed with nutrition:
Turkey Taco Salad with Cilantro Dressing
Spicy Shrimp and Cauliflower Rice Bowl
1

pound

shrimp

,

peeled and deveined

5

tablespoons

full fat coconut milk

,

divided

1

teaspoon

Serious Foodie Asian Fusion Sweet/Spicy Rub

,

or 2 tsp red curry paste

1 ½

teaspoons

sea salt

,

divided

2

tablespoons

lime juice

,

+ 2 teaspoons, divided

4

cups

riced cauliflower

½

cup

red onion

,

chopped

1

yellow pepper

,

chopped

1

medium carrot

,

chopped

½

cup

purple cabbage

,

chopped

1

tablespoon

Serious Foodie Sri Lanka Coconut Lime Hot Sauce

,

or other garlic chili paste

2

green onion

,

sliced

½

cup

cilantro

,

chopped
Preheat grill or broiler.

In a large bowl, combine 2 tablespoons coconut milk, Serious Foodie Asian Fusion Sweet/Spicy Rub or red curry paste, 1/2 teaspoon salt, and 2 teaspoons lime juice.

Add shrimp to bowl and toss to coat.

Arrange shrimp on a grill or broiler pan and cook, turning once, 2 – 3 minutes per side. Cover with foil and set aside.

Heat remaining 3 tablespoons of coconut milk in a large pan. Add cauliflower, onion, pepper, carrot, and cabbage.

Cook 10 minutes. Stir in Serious Foodie Sri Lanka Coconut Lime Hot Sauce or 1 tablespoon other garlic chili paste. Add remaining 1 tablespoon lime juice and 1 teaspoon salt.

Cook 10 more minutes until vegetables are crisp tender.

Serve cauliflower rice topped with shrimp and garnished with green onions and cilantro.
This post contains affiliate links for products I use and trust. I may receive commissions on purchases at no cost to you. As an Amazon associate I earn from qualifying purchases.