Colorful Shrimp Summer Rolls are pretty to look at. Delicious to eat when dipped in a nutty sauce.
These Shrimp Summer Rolls are soooo pretty, aren't they! I know they look complicated to make, but they're not. They are easier than rolling sushi in my opinion and they come together faster. They're right up your alley if you're looking for foods that will keep your blood sugar levels calm. In other words these rolls won't make you feel bloated or tired after your meal. Nice.
What is a summer roll?
Unlike spring rolls, which are usually deep fried, summer rolls are served chilled and packed with fresh vegetables and herbs. The wrappers are made with white or brown rice and you can find them at healthy food stores, Asian grocery stores, or online.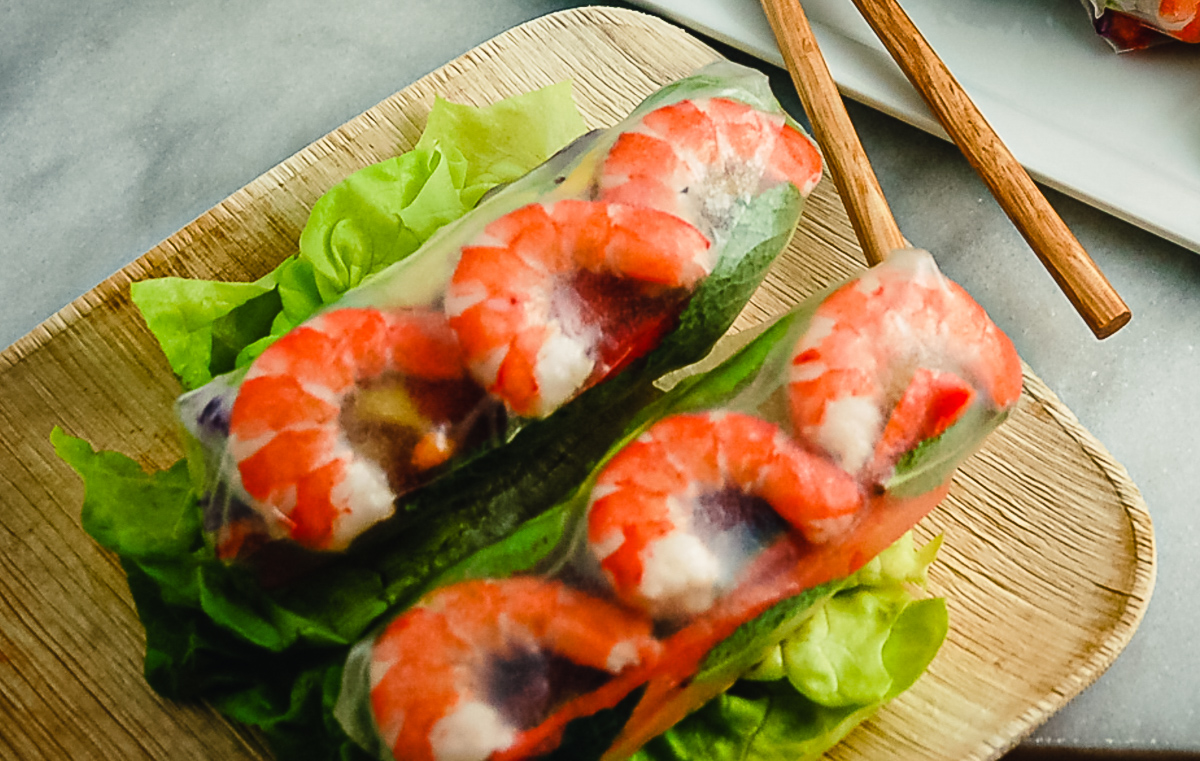 Hormone Balancing Superfood: Shrimp
Because muscle mass starts to decrease during perimenopause, you may need to track the amount of protein you eat and possibly increase by a few grams. Doing some strength training plus meeting your protein needs will help your body build, repair, and maintain muscle. About 25 to 30 grams of protein from seafood, chicken, tofu, beans, protein powder, and other good protein sources at each meal will stimulate muscle-protein synthesis.
I've made these with seasoned tofu (delicious!) and other veggies when I needed to serve a vegan summer roll. Try shredded carrots, radishes, zucchini, leaf lettuce…you get it. Experiment.
Are summer rolls healthy?
summer rolls are full of colorful, nutrient-dense vegetables
they are high in fiber because they contain mostly plants
they feature a blood sugar balancing protein like chicken, shrimp, or tofu
the wraps are gluten free and may be useful for some dietary restrictions
Try kelp noodles
Kelp noodles take the place of rice noodles which are a traditional ingredient in summer rolls. Substituting the kelp noodles reduces the amount of grains in the roll while adding minerals including iodine, calcium, and a little iron. They contain some fiber and are low carbohydrate because they are made from seaweed. Crunchy and don't even need to be cooked, wow.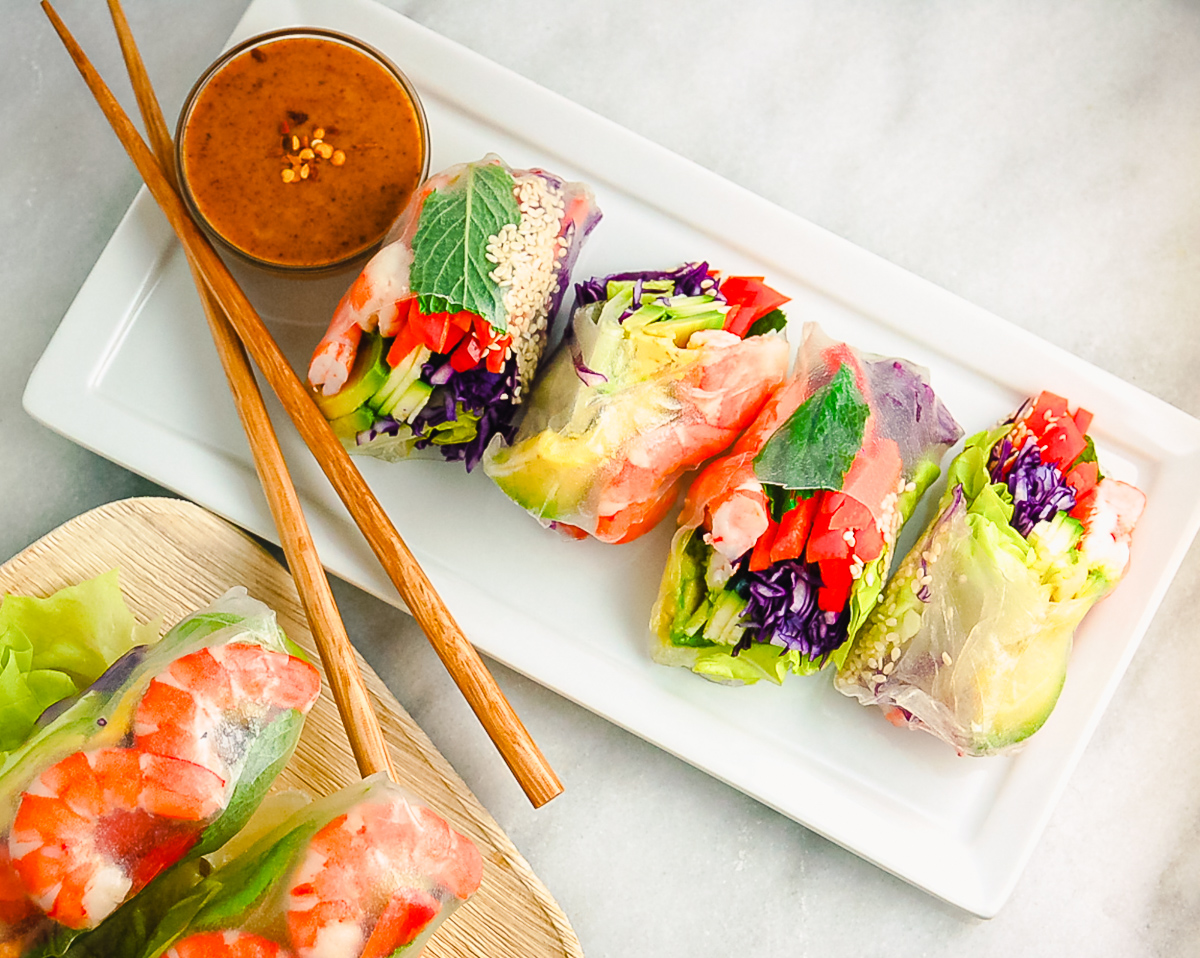 How do you roll a rice paper wrap?
Arrange your ingredients in a prep area. Have a shallow bowl large enough to soak the rice papers. Fill halfway with warm water.
Dip a rice paper briefly, until pliable.
Place rice paper on a large plate or cutting board.
Add the shrimp first so they will show through the wrapper.
Arrange some of the remaining ingredients in small amounts; don't over-stuff.
Bring the bottom of the rice paper wrapper up and over the filling. Completely enclose the filling without tearing the paper.
Gently pull the sides in towards the filling and roll the wrapper up.
Slice in half with a sharp knife.
Shrimp Summer Rolls
Almond Dipping Sauce
¼

cup

almond butter

1

Tablespoon

mirin,

or honey

1

tablespoon

tamari

1

clove

garlic

,

minced

1

teaspoon

Sriracha sauce

2

Tablespoons

warm water

,

or more as needed
Summer Rolls
1

carrot

,

sliced thinly

1

cucumber

,

sliced thinly

½

red pepper

,

sliced thinly

⅓

cup

purple cabbage

,

sliced thinly

4

ounce

kelp noodles

1

avocado

,

sliced

20

mint leaves

5

teaspoons

sesame seeds

5

romaine or butter lettuce leaves

,

sliced in half

20

medium cooked shrimp

,

sliced in half length-wise
Prepare the dipping sauce: Add all ingredients except water to a small bowl. Gradually add water and whisk to blend. Set aside.

Prepare the rice paper wrappers: Pour warm water into a shallow bowl. Dip a rice paper wrapper into the warm water for about 15-20 seconds. The wrapper should be soft, but slightly firm and pliable. Remove from the water and place flat onto a cutting board; plastic works well.

Fill the rolls: Place 4 slices of shrimp, a few sticks of carrot, cucumber, red pepper, and cabbage on the bottom 1/3 of the rice paper. Add a small amount of noodles, a slice or 2 of avocado, 2 or 3 mint leaves, and 1/2 teaspoon of sesame seeds. Place 1/2 of a lettuce leaf on top. Do not overstuff the roll.

Fold the bottom half of the wrapper over the filling, pressing down to create a seal, then fold the sides of the wrapper towards the center, tucking in the filling. Roll the wrapper up, like a burrito. Repeat with the remaining wrappers and filling.

Slice each roll in half diagonally and serve with dipping sauce.

To store: Wrap rolls individually in plastic wrap.
This post contains affiliate links for products I use and trust. I may receive commissions on purchases at no cost to you. As an Amazon associate I earn from qualifying purchases.