Summer. It's the time of the year we enjoy loads of fresh produce. More and more of my clients tell me they are visiting their neighborhood farmer's markets or they've signed up for a CSA (Community Supported Agriculture) to get weekly baskets of seasonal fruits, vegetables, and other local treats.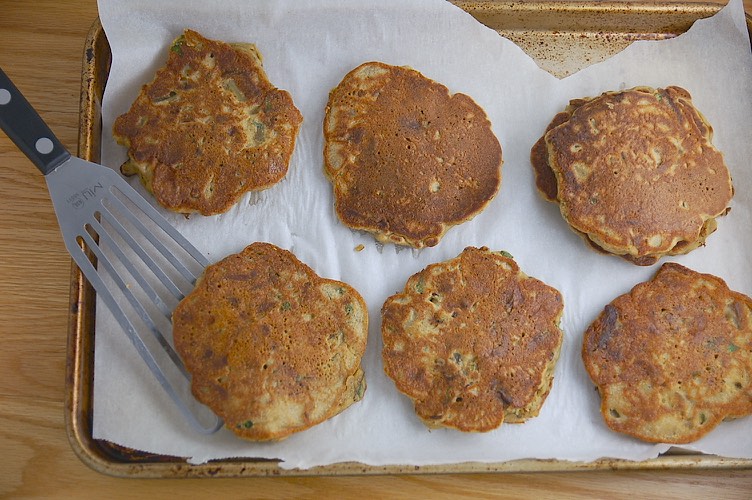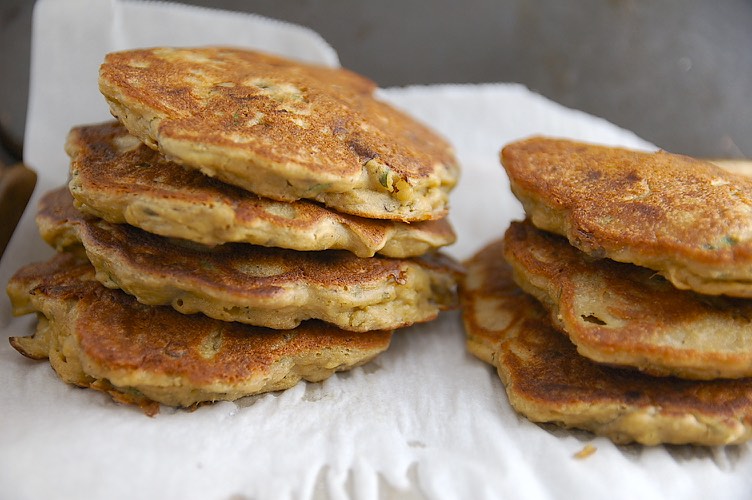 Eggplant is one of the beautiful veggies that will surely showing up and most likely several varieties of it. Look for not only the common deep purple colored eggplant but also the white and green-skinned types. The shape can be anywhere from the large and oblong globe eggplant to the long and thin Filipino eggplant.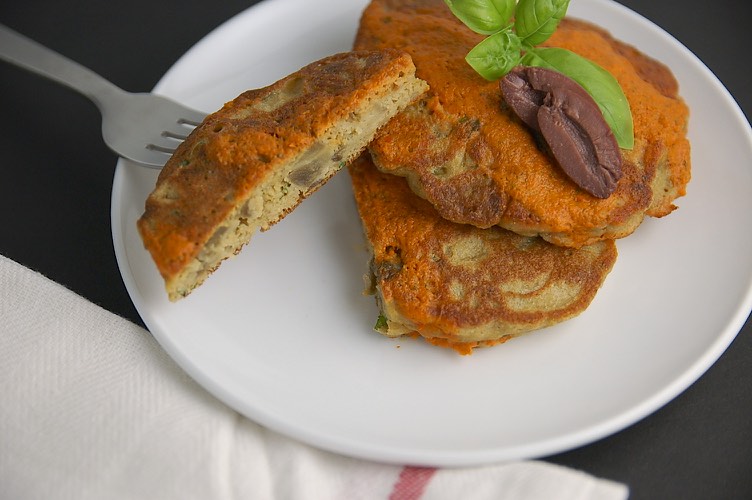 But, guess what? There's more, a whole list of health perks from eating that pretty eggplant. I'm always pestering my clients to eat more fiber. Women should aim for at least 35 grams a fiber a day! Fiber helps your bowels to be regular which will help eliminate toxins. It also feeds beneficial bacteria in our gut and may help us excrete excess estrogen. The antioxidants, minerals, and vitamins support heart health, brain health, liver health, and reduce cancer risk. Just think of the farmers market as your "Farmacy"!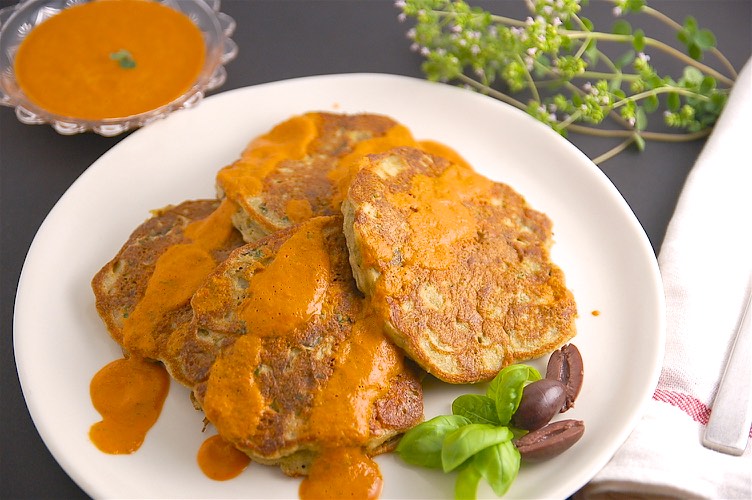 Savory Eggplant Pancakes with Roasted Pepper Sauce
Pancakes:
1

large eggplant

2

tablespoons

olive oil

,

and more for cooking pancakes

1

cup

coconut milk

2

eggs

¼

cup

fresh basil

,

chopped

¾

cup

garbanzo bean flour

½

cup

oat flour

2

tablespoon

nutritional yeast

½

teaspoon

baking soda

1

teaspsoon baking powder

½

teaspoon

garlic powder

½

teaspoon

za'atar

1

teaspoon

sea salt

½

teaspoon

pepper
Roasted Red Pepper Sauce:
1 28-

ounce

jar roasted red bell peppers

,

or roast 2 large red peppers in oven, peel and deseed

¼

cup

fresh oregano

,

chopped

1

teaspoons

balsamic vinegar

2

teaspoons

fresh lemon juice

¼

cup

extra-virgin olive oil

⅛

teaspoon

cayenne pepper
Preheat oven to 375℉. Slice eggplant in half and brush with 2 tablespoons olive oil. Place on a baking sheet and roast until tender, about 30 minutes.

Scoop out eggplant flesh and chop. In a large bowl, combine eggplant with coconut milk, eggs, and basil.

In a small bowl, combine garbanzo flour, oat flour, nutritional yeast, baking soda, baking powder, garlic powder, za'atar, salt, and pepper.

Stir dry ingredients into wet until well combined.

Heat a large skillet. Add 1 tablespoon olive oil. Pour 1/3 cup of batter onto skillet. When pancake has small bubbles on surface flip to cook other side, about 2-3 minutes per side.
To make sauce:
Place all ingredients in a blender or food processor and blend until smooth. Serve at room temperature or warmed over pancakes.