Root vegetables tend to get a bad reputation because they are more carb-dense than veggies like cucumbers and zucchini. But eating root veggies is one of the best ways to get the carbs you need paired with really important nutrients for women's health.
These Root Veggie Fries taste so similar to our beloved french fries. But you can punch up the flavor and the color with endless combinations of versatile root vegetables. They also store well so you can count on them to be ready when you want to add flavor and nutrition to your cooking.
4 reasons to eat your root vegetables
Root vegetables are in season from fall to spring. You should be able to find fresh, local root veggies for at least half of the year. Some varieties like carrots and parsnips taste sweeter after a frost.
They are packed with vitamins, minerals and phytonutrients. You'll get the health benefits from vitamin A, vitamin C, folate, and B vitamins. Some of the minerals in root veggies are magnesium and potassium – really key for good quality sleep and a healthy heart.
In addition to potassium for heart health, these vegetables are a great source of fiber. We know that fiber helps manage cholesterol levels, reduce blood pressure, and decrease inflammation in your body.
That fiber also helps keep your digestion moving along smoothly. The good bugs in your gut love fiber. They need the prebiotic fiber to stay healthy and keep us healthy too.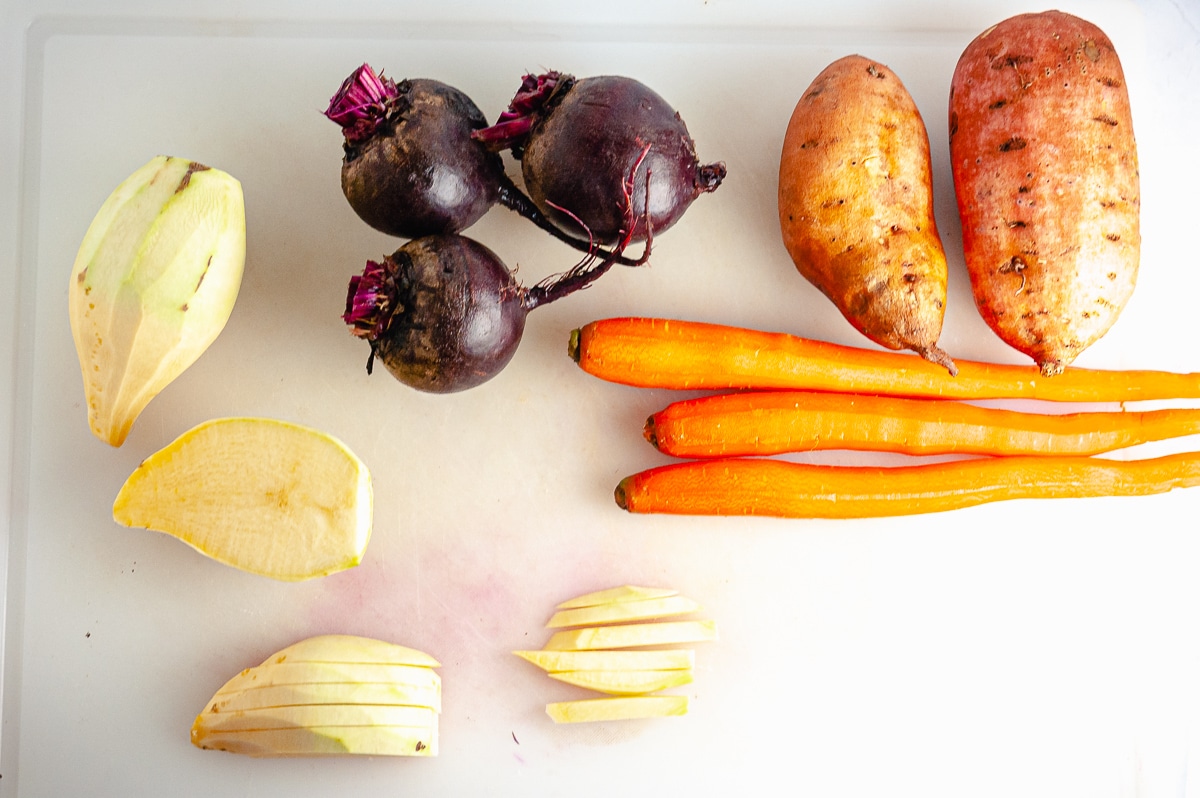 Budget-friendly root vegetables
This group of vegetables is usually one of the bargains in the produce section. The ratio of nutrients to cost is pretty impressive as root vegetables pack nutrition in both the outer peel and inner flesh of the plant. Sometimes I just give them a good scrub and leave the peel intact before cooking. This allows you to benefit from more fiber and nutrients that are located in the thin skin of some root veggies!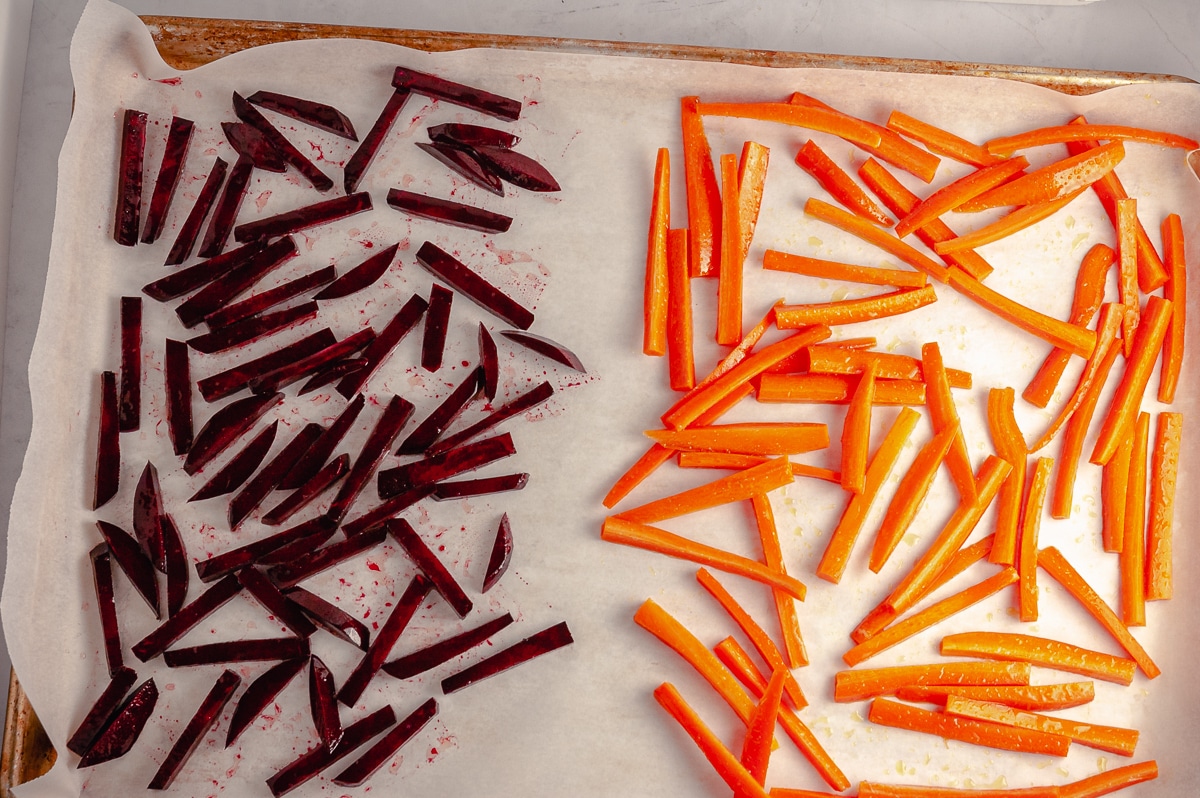 I decided to use sweet potatoes, carrots, beets, and rutabagas for my Root Veggie Fries. You might like to experiment with some other vegetables when making your veggie fries. Switch them around to explore all the flavors. Here's a list to get you started.
Root Vegetable List:
Sweet potato, turnip, beets, rutabaga, carrots, celeriac, parsnips, purple potatoes.
Resources for cooking and seasoning vegetables
Vegetable Literacy a great cookbook by the leading authority of vegetarian cooking, Deborah Madison. Check it out if you'd like to explore all plants in more depth. I keep it as a beloved resource on my bookshelf.
Another book I can't live without is The Vegetarian Flavor Bible. Sometimes we get stuck in a rut using the same seasoning combination over and over again. Get this book into your kitchen to access infinite flavor inspirations for any vegetable dish you wish to create.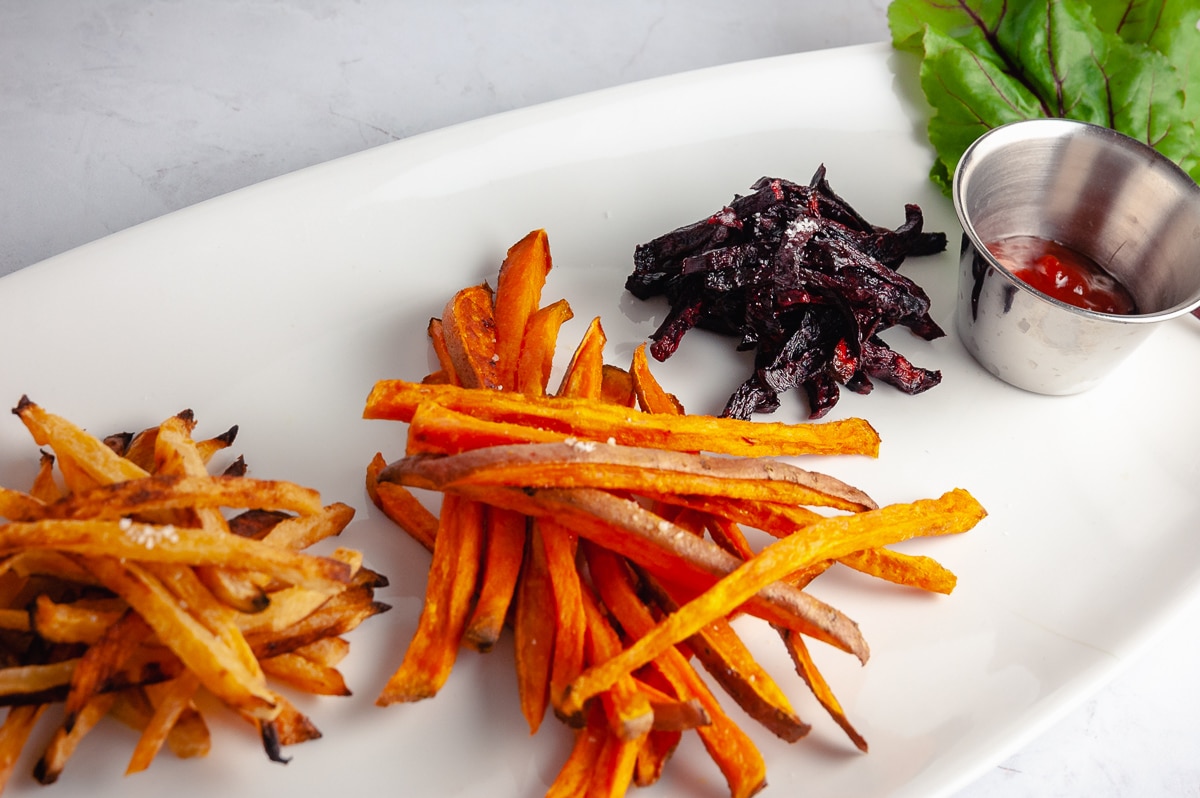 Want to try more root veggie recipes?
Root Veggie Fries
½

pound

carrots

,

cut into 1/4-inch sticks

½

pound

beets

,

cut into 1/4-inch sticks

½

pound

rutabaga

,

cut into 1/4-inch sticks

½

pound

sweet potato

,

cut into 1/4-inch sticks

4

tablespoons

olive oil

1

teaspoon

flaky sea salt

½

teaspoon

onion powder
Preheat oven to 400 ℉. Line 2 sheet pans with parchment paper.

Toss each vegetable with 1 tablespoon oil. Arrange sticks in one layer on sheet pans.

Bake for 30 minutes, stirring once, until edges begin to brown.
This post contains affiliate links for products I use and trust. I may receive commissions on purchases at no cost to you. As an Amazon associate I earn from qualifying purchases.