When the weather turns chilly I crave a warm salad. My Winter Roasted Vegetable Salad tossed with quinoa and a warm lemon miso dressing will chase the cold away.
I'm always up for a good salad. Any delicious combination of veggies, leafy greens, with maybe some nuts or seeds and toss in a grain. Drizzle on a tasty dressing. That's an easy way to get much needed plant foods to help balance blood sugar, feed the gut microbiome, and clear the bad estrogen.
But when the temps get below 40 degrees I'm not craving a chilled anything. So although a warm salad may involve a few extra steps, it's worth it. Batch cook a little extra veggies and double the dressing so you'll only need to warm things up with a few seconds in the microwave.
Serve this Winter Roasted Vegetable Salad with Quinoa as is or add roasted chicken, hard cooked eggs, or marinated tofu to make it an entrée salad. This idea actually makes a quick dinner especially if you've prepped the ingredients ahead of time. We enjoyed big bowls of it last night tossed in the warm lemon miso dressing – fireplace blazing, watching a movie.
A big bonus – it meets the requirements for the best diet for menopause or perimenopause because of all the phytonutrients in the seasonal vegetables, along with the hormone supportive benefits of brussels sprouts – a brassica vegetable. Quinoa is a good source of plant protein and the avocado oil in the dressing is your healthy fat.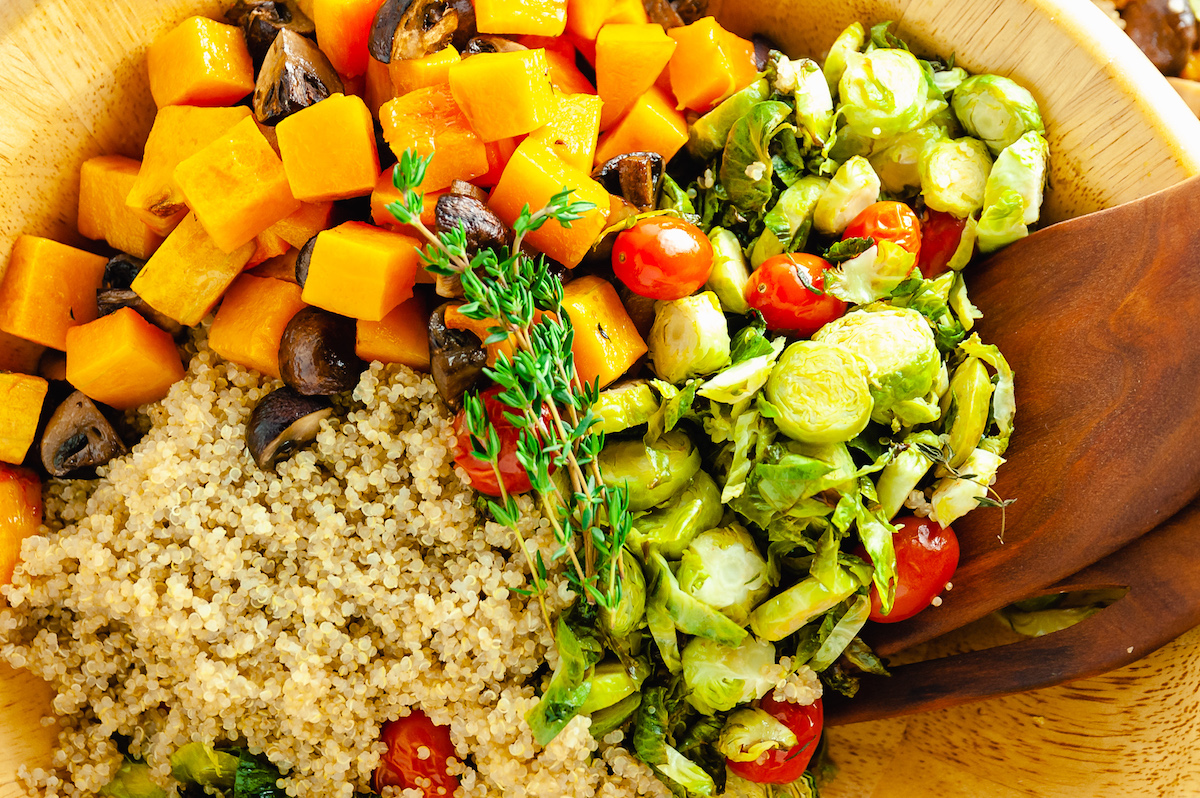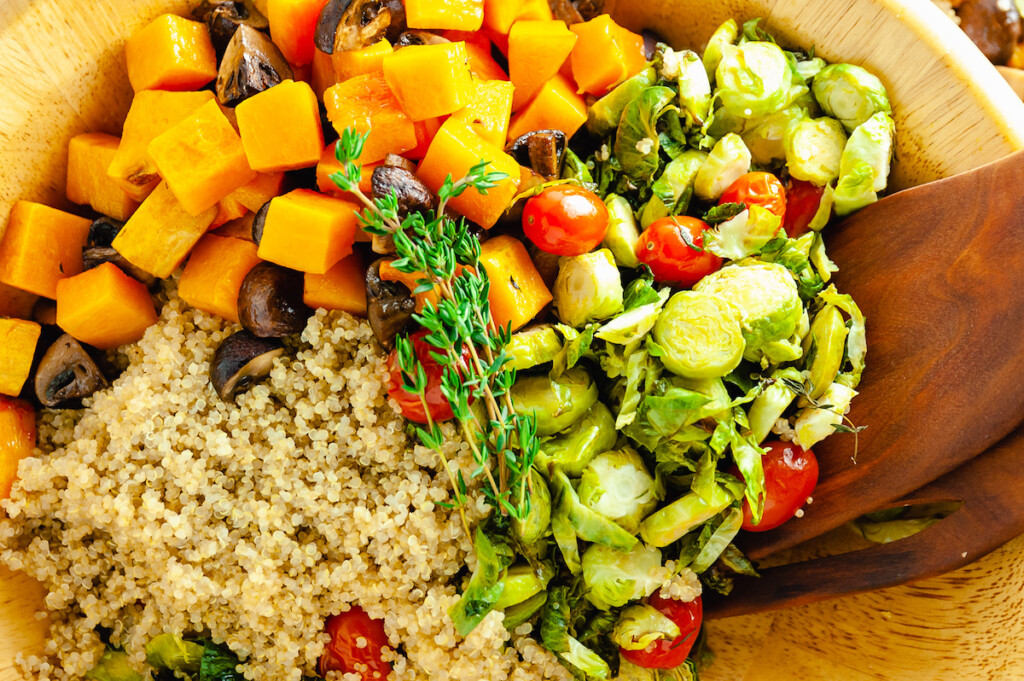 Sprinkle the zinc-rich pumpkin seeds right on top or switch them out for hemp seeds which are a plant source of omega-3's.
Make sure to follow the steps for making the dressing. Warm it up before adding the miso. Miso is a fermented food, meaning it contains live, active cultures of bacteria. Heating it directly will kill the probiotics in the miso, sacrificing the health benefits it offers, like improved digestion.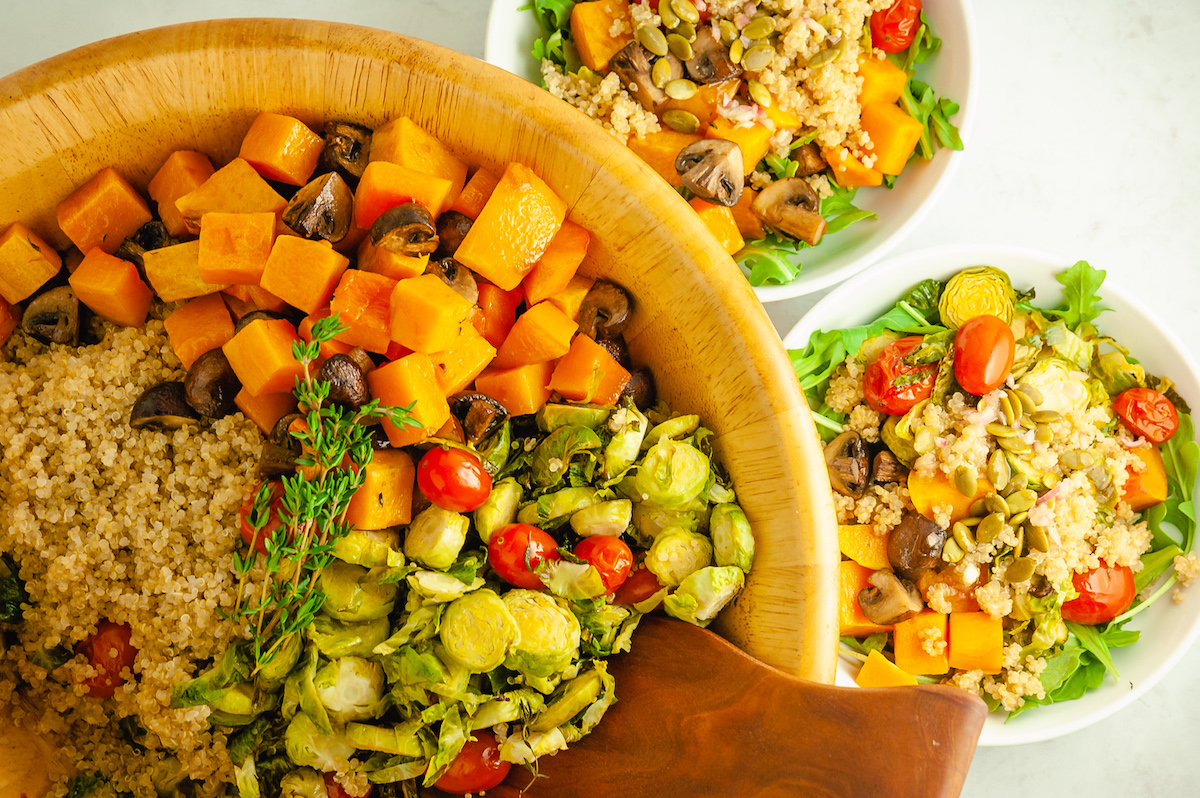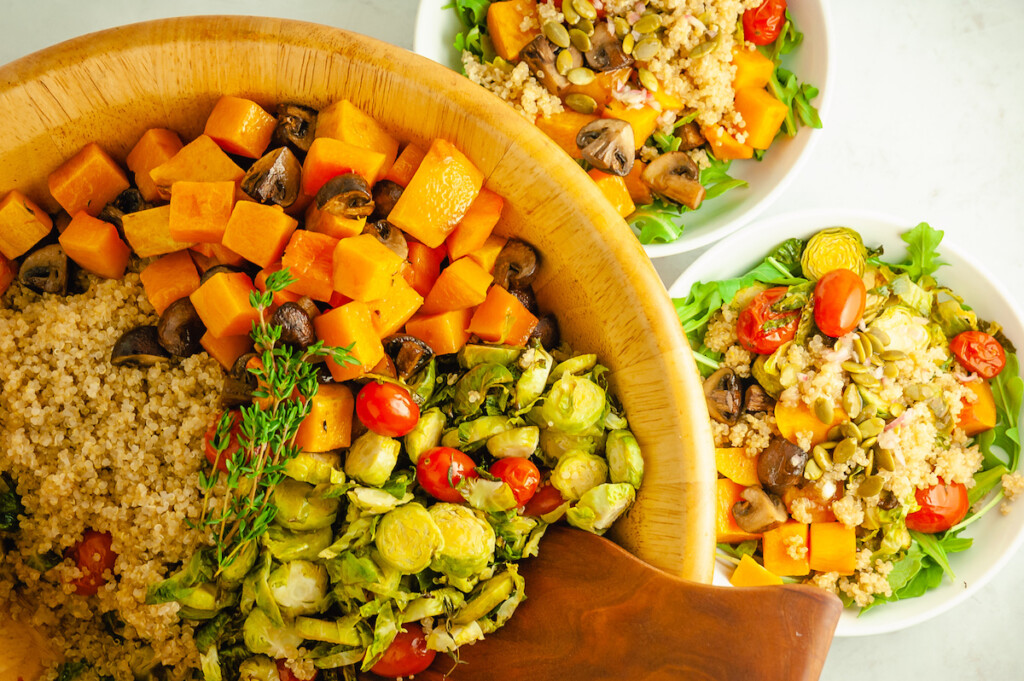 I'd love to see if you make this salad or your own version of it so don't forget to take a picture and tag it #freshbalancenutrition and @freshbalancenutrition on Instagram!
Winter Roasted Vegetable Salad with Quinoa
½

cup

quinoa

1 ½

pounds

brussels sprouts

,

sliced

1

small butternut squash

,

peeled, seeded and cut into 1-inch pieces

8

ounces

cremini mushrooms

,

quartered

1

pint

cherry tomatoes

2

teaspoons

fresh thyme leaves

¼

cup

apple cider vinegar

2

tablespoons

fresh lemon juice

1

small finely diced shallot

¼

teaspoon

salt

⅛

teaspoon

pepper

½

cup

avocado oil

3

cups

arugula

2

tablespoons

pumpkin seeds

,

toasted

1

teaspoon

white miso paste
Preheat oven to 350 ℉. Line 2 baking sheets with parchment paper.

Place quinoa in a pot with 1 cup of water and a pinch of salt. Bring to a boil. Reduce heat to a simmer, cover and cook for 15 minutes. Set aside to cool slightly.

Spread sliced brussels sprouts and cherry tomatoes on one sheet pan. Arrange the butternut squash and mushrooms on the second sheet pan. Drizzle each pan of vegetables with 1 tablespoon olive oil. Sprinkle 1 teaspoon fresh thyme leaves, 1/2 teaspoon of salt and 1/4 teaspoon pepper over the vegetables in each pan.

Roast the vegetables for 25 minutes.

Prepare the dressing. In a small bowl, whisk together apple cider vinegar, lemon juice, shallot, salt, and pepper. Add avocado oil and whisk until blended.

Transfer the roasted vegetables to a large bowl. Add the quinoa and toss gently.

Arrange the arugula in a large serving bowl. Add the roasted vegetables and quinoa. Top with toasted pumpkin seeds.

Warm the dressing for 20 seconds in the microwave. Whisk in miso. Serve dressing with the salad.