Keep this healthy Pumpkin Seed Butter recipe handy. It's a pantry-friendly nut butter with only 5 ingredients needed to make it.
Hormone Balancing Superfood: Pumpkin seeds
Pumpkin seeds belong in a diet for perimenopause and menopause
Pumpkin seeds contain phytoestrogens which are plant compounds that can reduce menopausal symptoms. Studies found that the seeds and the oil they contain decreased symptoms like hot flashes, headaches, and achy joints. Eating pumpkin seeds can help lower your blood pressure too.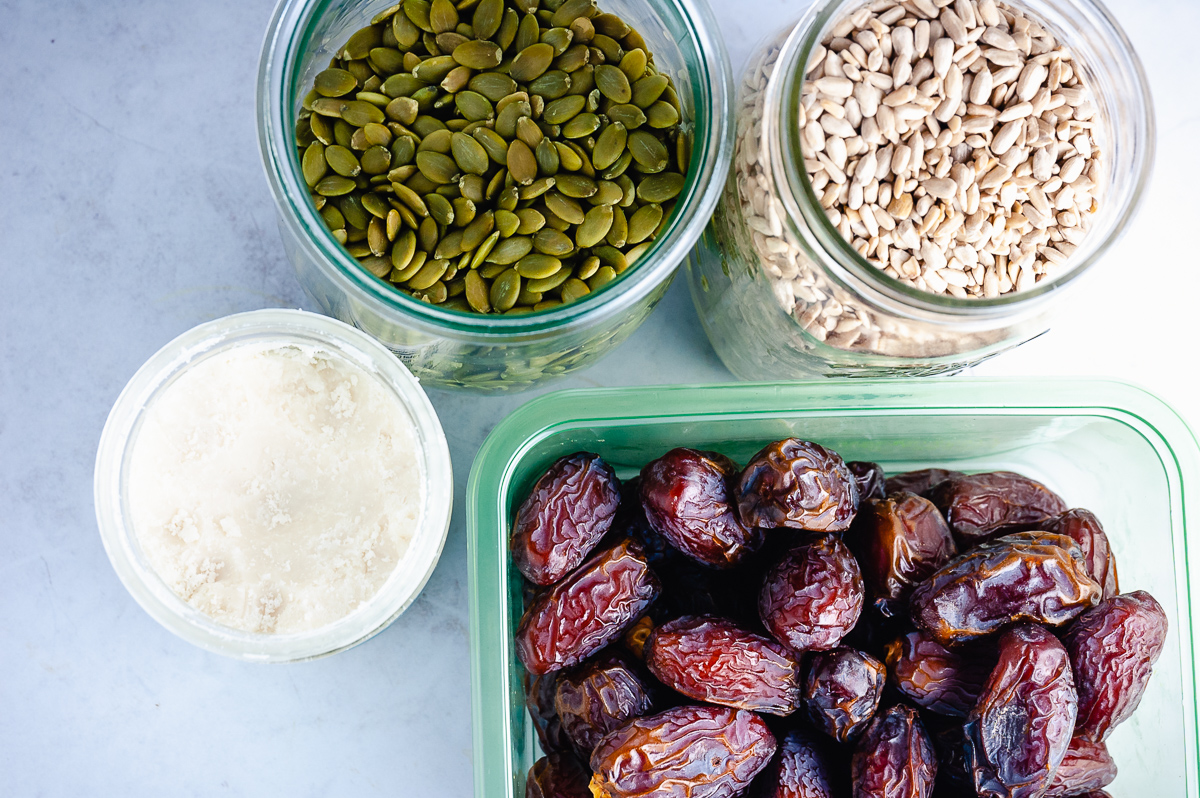 Is pumpkin seed butter healthy?
Pumpkin seed butter is made mainly from pumpkin seeds. These seeds get a lot of attention because of their zinc content. That zinc bolsters our immune system. These seeds also offer fiber and plant protein as well as healthy fats. They support heart health which we women need to be aware of. They even contain tryptophan, yes that stuff that helps us sleep.
Are pumpkin seeds anti inflammatory?
Yes, those little pumpkin seeds contain carotenoids and vitamin E which are antioxidants. They reduce inflammation and decrease our risk of disease.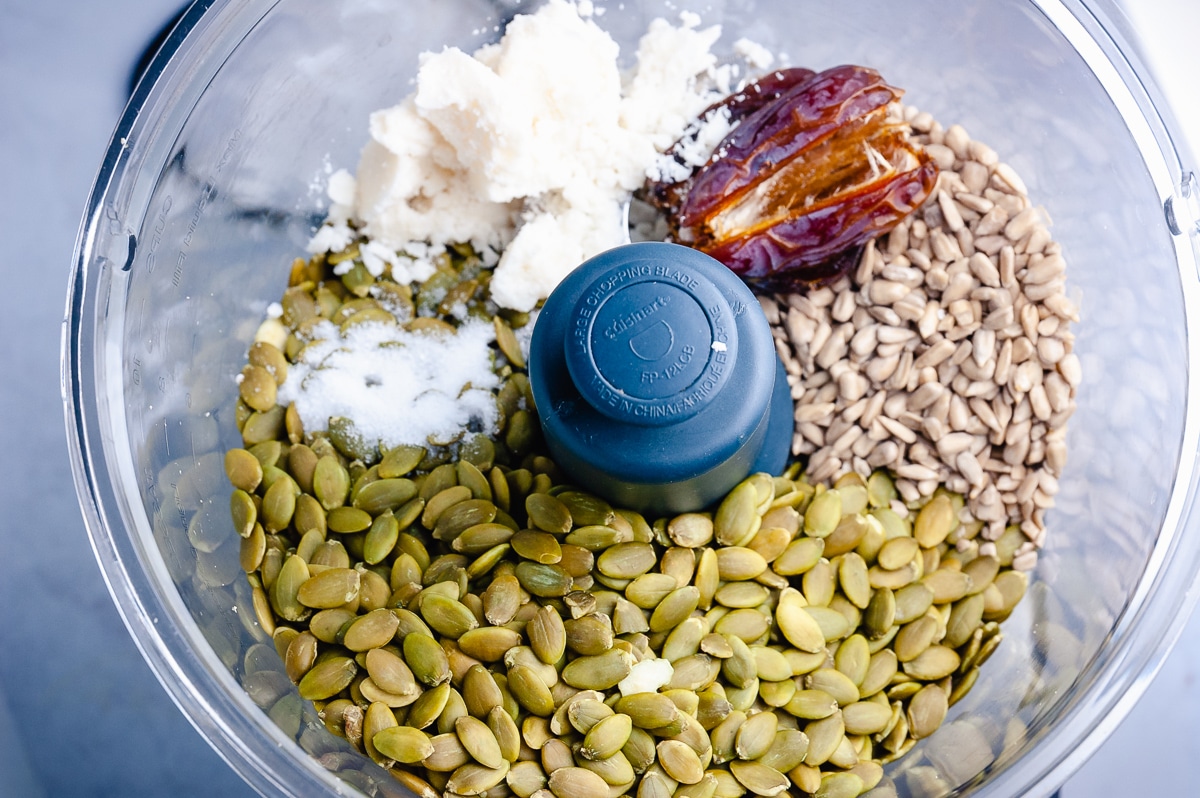 How does pumpkin seed butter taste?
I think it has a buttery, earthy flavor. Everybody seems to love roasted pumpkin seeds and this pumpkin seed butter will have a similar taste. If you toast the pumpkin seeds it will be even more reminiscent of that halloween snack.
 I blend my pumpkin seed butter with some sunflower seeds. I also love the mildly sweet taste of sunflower butter. So I wanted to spin some of that flavor in to add some sweetness without sugar. You could experiment with other nuts or seeds to create your own unique nut and/or seed butter!
I also snuck in dates and a little coconut butter for fiber, healthy plant oil, and sweetness without adding white sugar. Coconut butter is actually another nut butter. It's simply puréed coconut meat.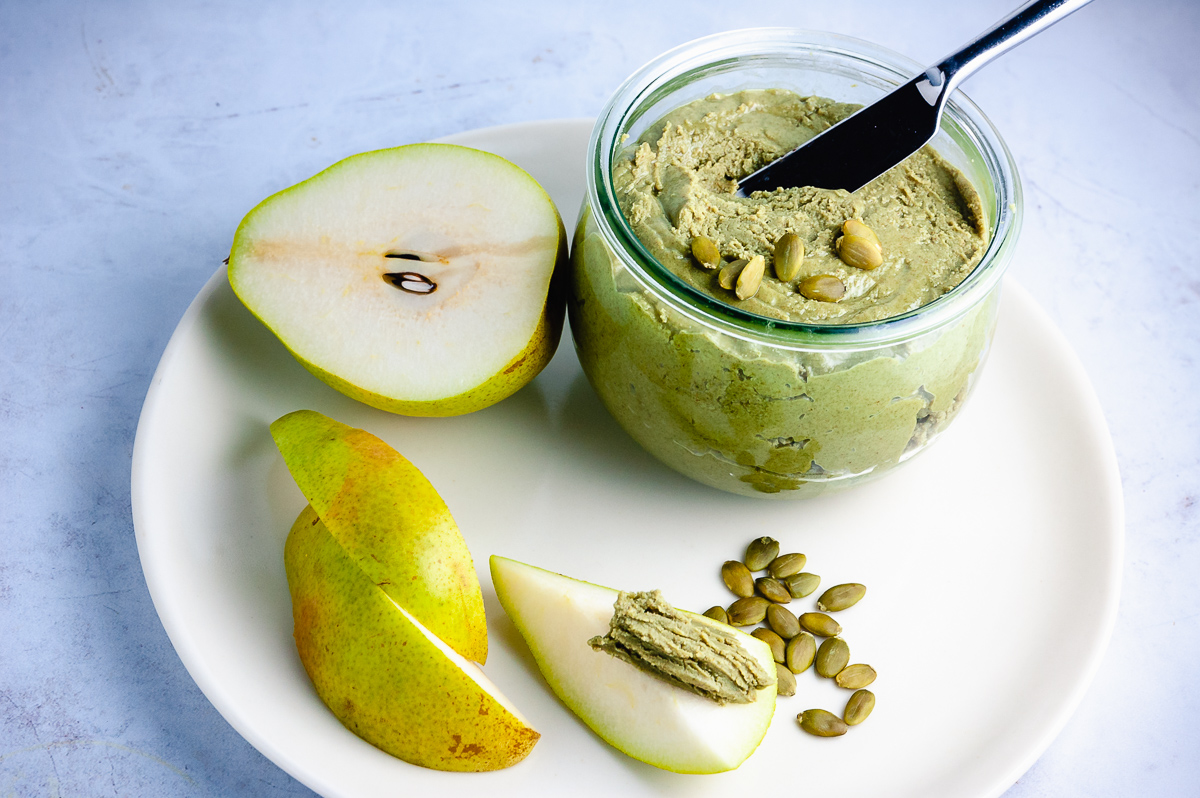 Are pumpkin butter and pumpkin seed butter the same?
These are not the same things. Pumpkin butter is similar to apple butter. It's made from the pureed flesh of a pumpkin which is cooked with a sweetener and spices.
How do you make butter from pumpkin seeds?
The process for making pumpkin seed butter is fairly simple. Place the pumpkin seeds plus any other ingredients you want to add to compliment the flavor of the nut butter in a food processor or high power blender. Then just blend away until it reaches the consistency of nut butters you are familiar with.
Try some other snacks with health benefits for perimenopause and menopause:
Beet & Tart Cherry Energy Bites
Pumpkin Seed Butter
Place all ingredients in a blender or food processor.

Blend ingredients until a smooth consistency is formed. Scrape down sides of food processor as needed.

Ingredients will progress from crumbly to smooth in 10 – 15 minutes depending on the power of your appliance.

Seeds can be roasted in a toaster or a pan on stovetop for 3-5 minutes before blending, if desired.
This post contains affiliate links for products I use and trust. I may receive commissions on purchases at no cost to you. As an Amazon associate I earn from qualifying purchases.