Eggs pair with vegetables in my Mini Vegetable Frittata to make a grounding breakfast which sets you up for a successful day.
Most often I crave the grounding effect of eggs for breakfast. There's just something about their big dose of protein and rich, comforting taste that is so satisfying. Mini Vegetable Frittatas are perfectly portioned and balanced with the best flavors.
What is a frittata?
A frittata is basically a baked egg-based dish similar to an omelette or crustless quiche. It contains additional ingredients like meat, cheese, and/or vegetables. The recipe is very adaptable, perfect for using up leftovers. There are even a few recipes for vegan frittatas.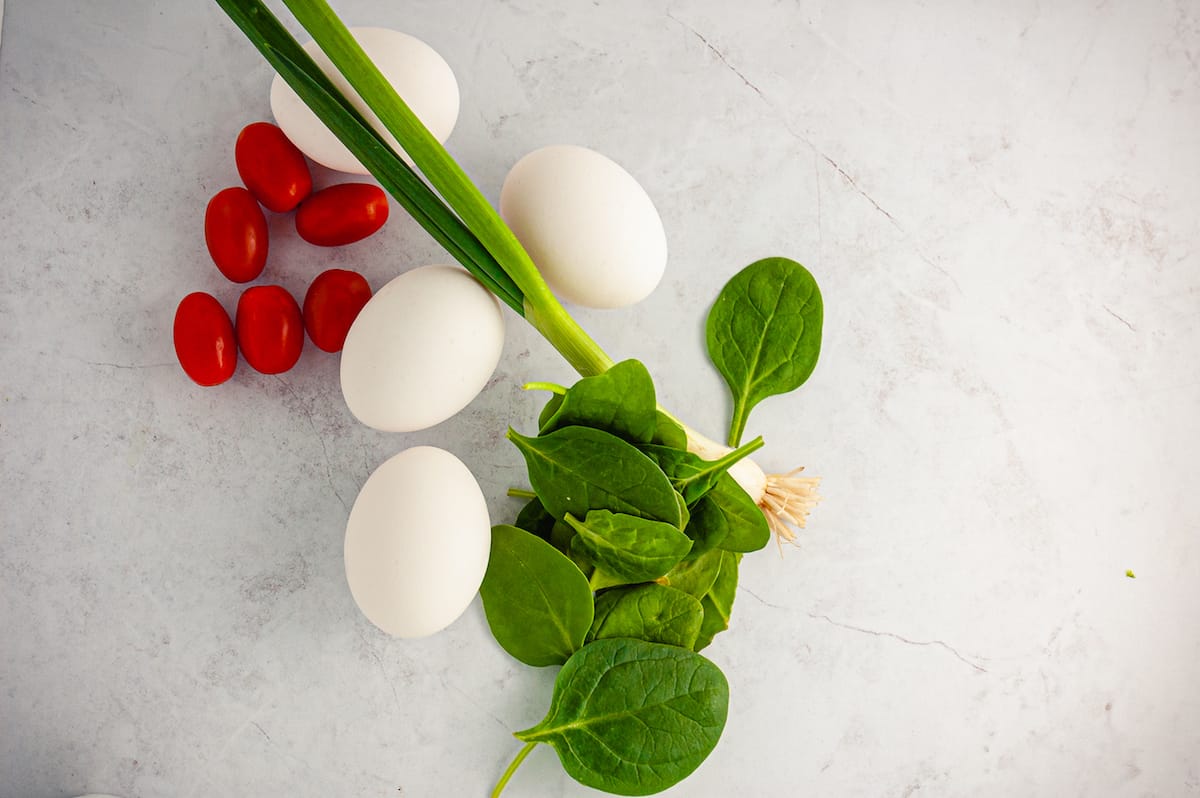 The benefit of savory breakfasts
A savory breakfast would be mashed avocado on sprouted grain bread with smoked salmon, nut butter on sweet potato toast sprinkled with cinnamon, or eggs with vegetables mixed in like these Mini Vegetable Frittatas. Savory breakfasts as opposed to sweet breakfasts help to prevent insulin spikes. We want insulin and blood sugar levels to be steady not erratic.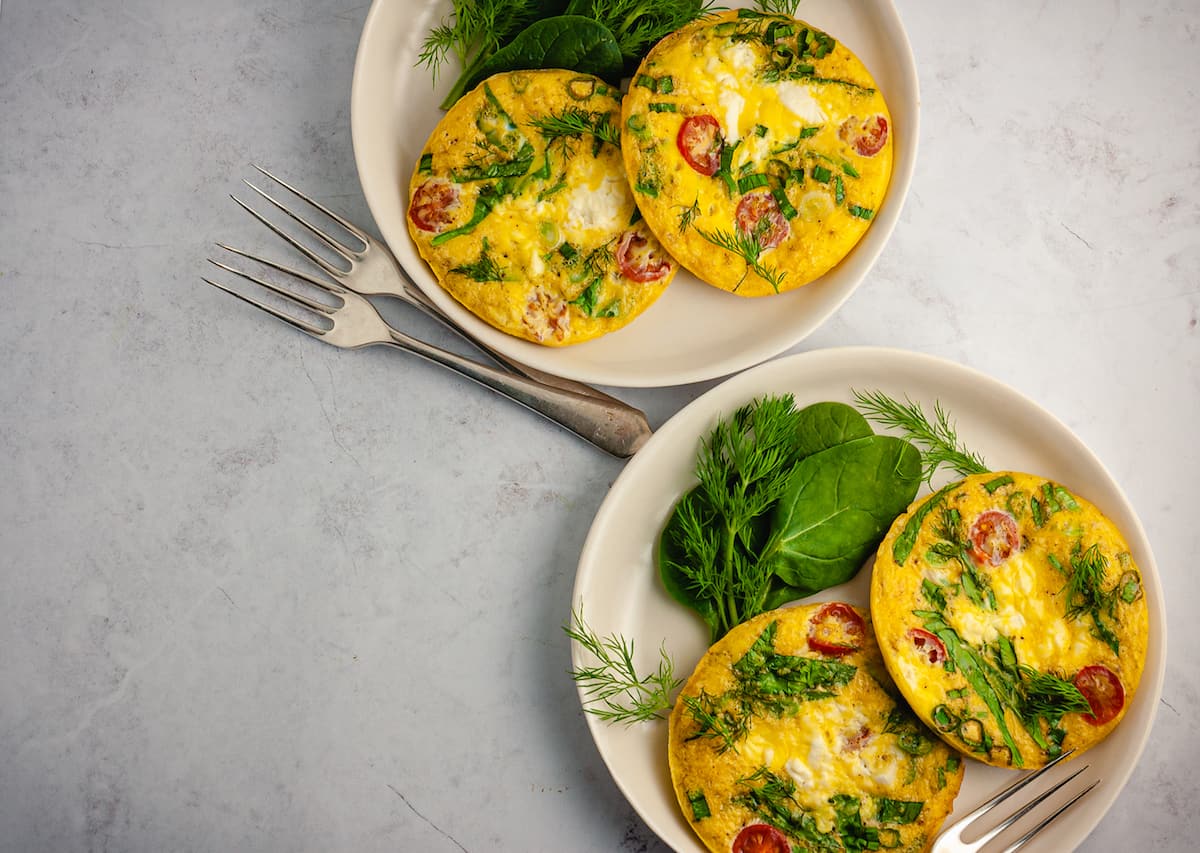 Muffin cups to muffin tops
I can't even remember how long I've been making these frittatas in their current form. I started out making muffin cup omelets containing endless combinations of veggies, cheese, and herbs whisked into eggs. These were baked in greased muffin tins in the pre-silicone era. They had to be gently encouraged out of the molds to store for quick breakfasts.
I had a metal muffin top pan sitting in my cupboard and imagined the same egg mixture baked in that! Instead of a muffin-shaped puck I could create a mini frittata that would be much more pleasant to eat in my opinion. Later on this process became even easier when silicone muffin top pans or molds came out. I have used pan for years and I've gifted it to my favorite home cooks who love it as much as I do.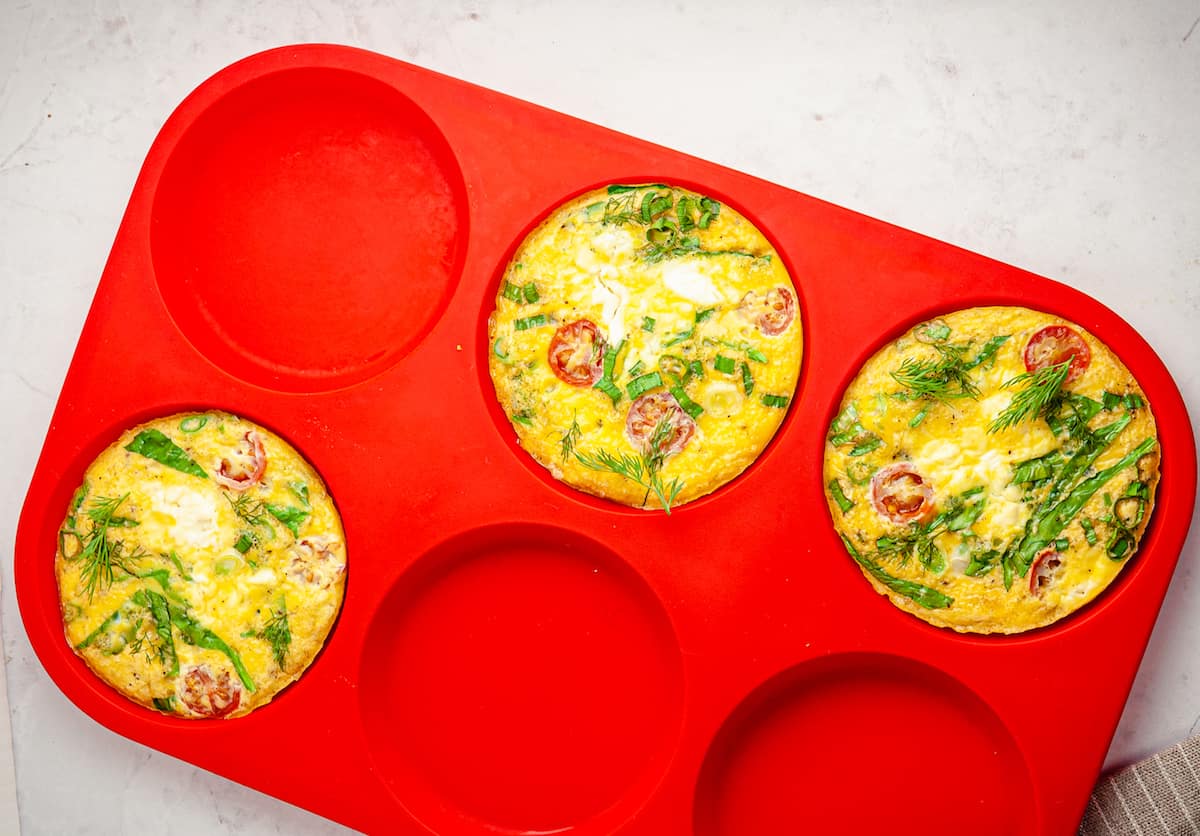 This is a perfect recipe for your weekly batch cooking. Make your 6 (or 12 if you use two silicone pans), enjoy 1 or 2 for your breakfast or brunch. Arrange the extras between some parchment paper and freeze until you're ready to gently defrost maybe 2 or 3 at a time.
I suggest serving a frittata over a bed of salad greens with a light drizzle of olive oil and lemon juice. I have a clever client who likes to make a breakfast sandwich with them – a fast breakfast when you're short on time.
You can literally pop these Mini Vegetable Frittatas out in under an hour. Look around in your fridge for leftover bits and pieces that would work well here. I bet you can come up with some delicious combos, put your creative hat on. Sometimes I stir in some nutritional yeast to boost protein and B vitamins. It gives the frittatas a rich, cheesy flavor too.
Variations of Mini Vegetable Frittata
The recipe below makes a gluten free frittata. For a dairy free frittata, omit the cheese and stir in 2 tablespoons of nutritional yeast or some chopped seasoned tofu to replace the salty, rich taste of dairy. If you want to try making an egg white frittata, replace the whole eggs and egg whites in the original recipe with 12 egg whites and 2 tablespoons of oil whisked together.
Hormone Balancing Superfood: eggs
Eggs are good quality protein
Declining levels of estrogen in perimenopause are linked to loss of muscle mass and bone strength. For this reason we need to make sure we get the amount of protein we need. That quantity goes up a little as we get a little older and go through perimenopause.
Your peri/menopausal body should get about 25 – 30 grams of protein for breakfast. One serving of this Mini Vegetable Frittata will give you about 10 grams. Sometimes I'll enjoy 2 to meet my needs. You could sip on a protein smoothie to up the protein or add a side of chicken sausage. 
If you're like me and crave a savory breakfast, take a look at these other creations for morning inspiration – Oats with Egg and Spinach or Tempeh Bacon.
Mini Vegetable Frittata
6

whole large eggs

,

and 2 egg whites

½

teaspoon

sea salt

¼

teaspoon

pepper

1

baby spinach

,

handful, sliced

6

cherry tomatoes

,

sliced

1

green onion

,

sliced

6

tablespoons

feta or goat cheese

3

sprigs fresh dill

,

chopped
Preheat oven to 350℉. Arrange a silicone muffin top pan on a small sheet pan for support.

Whisk eggs, egg whites, salt, and pepper together.

Divide spinach, cherry tomatoes, green onion, and cheese between muffin top cups.

Use a ladle to evenly distribute egg mixture into each cup. Sprinkle dill over each egg cup.

Bake for 15 minutes, until eggs are set.
This post contains affiliate links for products I use and trust. I may receive commissions on purchases at no cost to you. As an Amazon associate I earn from qualifying purchases.