There's a bunch of green tea out there in overwhelming ways, shapes, and forms. But just remember this → green tea closest to it's whole leaf form will provide you the most health benefits.
That's why matcha green tea is the winner. It is made by taking young green tea leaves and grinding them into a bright green powder. It's the star ingredient in my creamy Matcha Green Tea Frappuccino.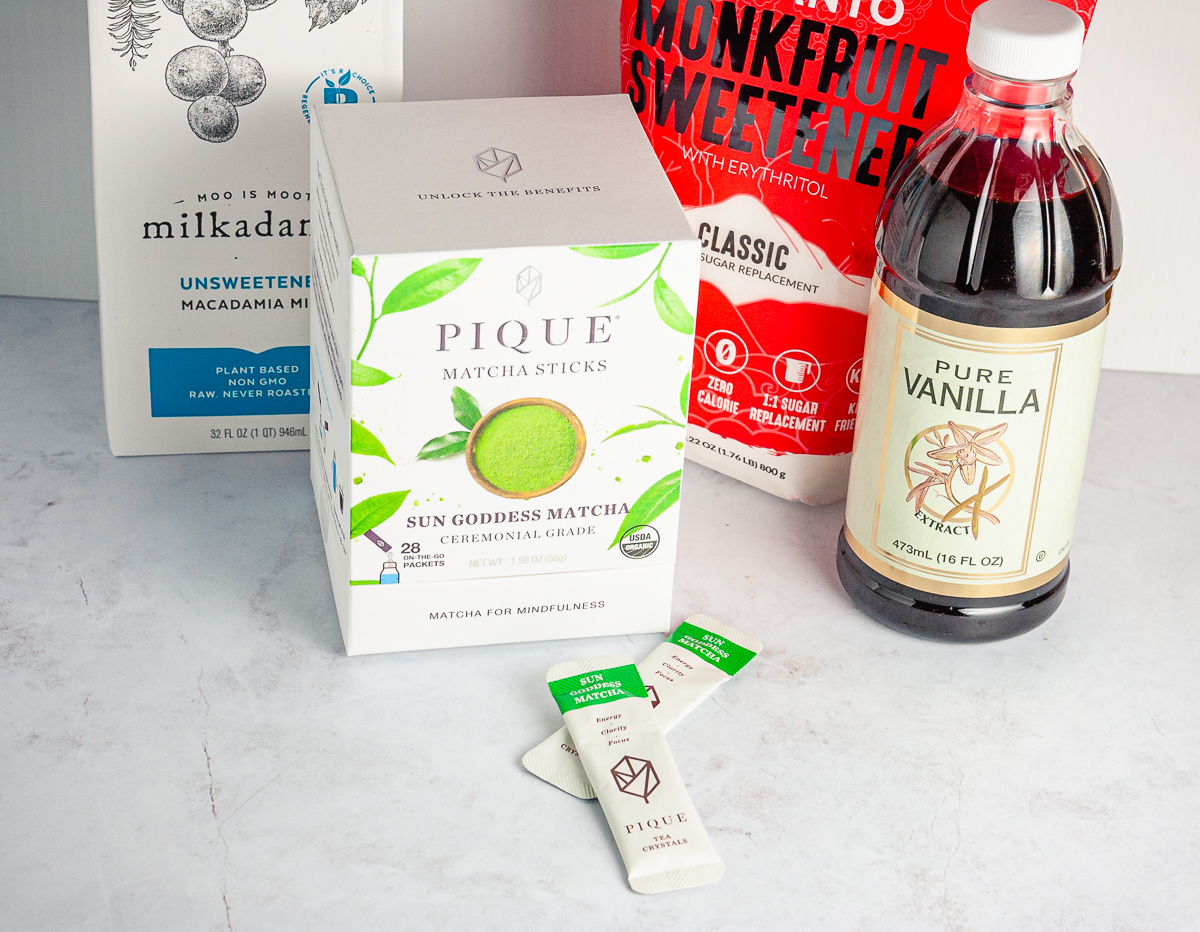 Hormone Balancing Superfood: Matcha Green Tea
But not all matcha is created equal. You want to choose a matcha green tea best in quality for all the menopausal health benefits. I'm using Sun Goddess Matcha from Pique Tea for my Matcha Green Tea Frappuccino. The only ingredient in Sun Goddess Matcha is ceremonial grade green tea from Japan.
Explain the link between matcha green tea for metabolism and weight loss
Green tea is packed antioxidants and EGCG. EGCG gives a boost to your metabolism which can help you avoid that weight gain many menopausal women experience.
Is there a reason to drink green tea for bone health?
Studies have shown that green tea can strengthen bones and decrease the risk of bone fractures, a big concern in women experiencing menopause.
I heard there are benefits of matcha green tea for skin
Catechins are are polyphenol compounds found in green tea leaves. They are strong antioxidants known to firm and brighten skin. The chlorophyll in tea leaves supports skin clarity and the body's natural detoxification process.
Should I avoid matcha green tea caffeine?
Not necessarily. Matcha offers both L-theanine and caffeine. This dynamic duo can promote healthy focus, clarity, decreased anxiety, and a balanced mood. Matcha tea gives a sustained energy without the jitters or crashes some of us get from coffee (including me!). If you are very sensitive to caffeine, drink green tea before noon to protect your sleep quality.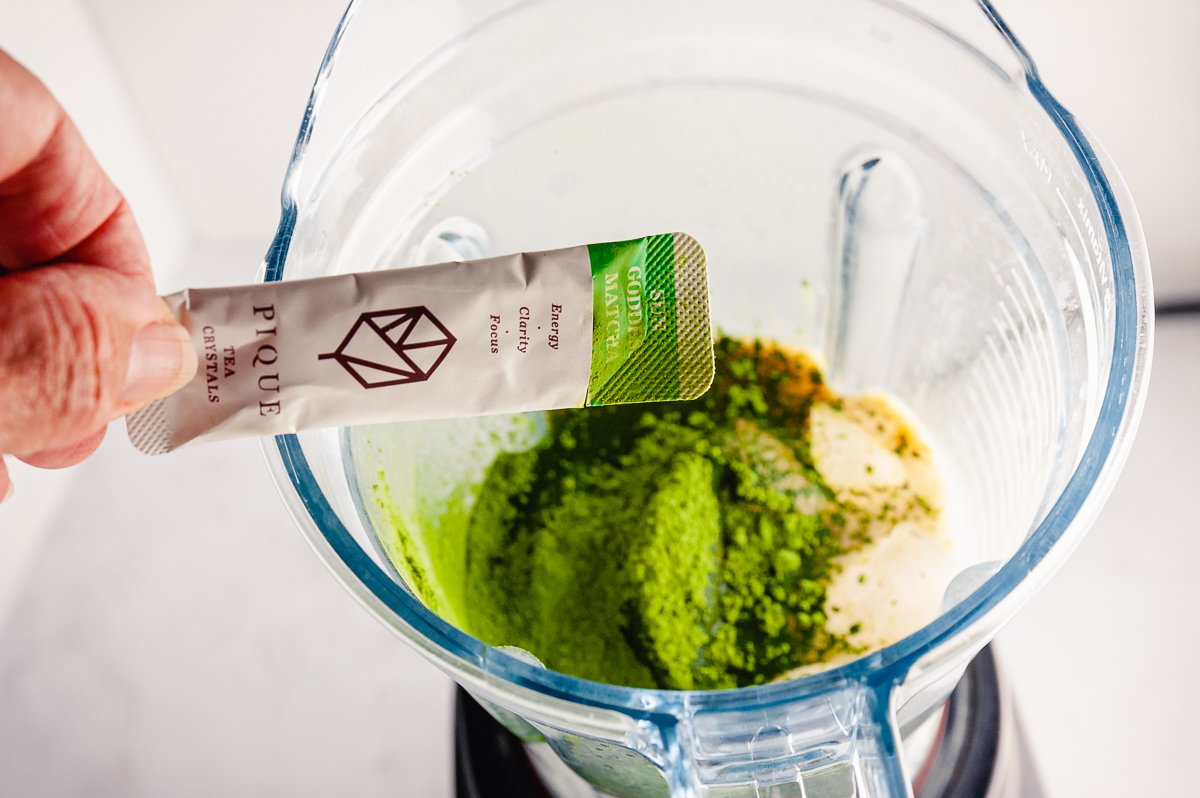 Key ingredients for Matcha Green Tea Frappuccino
Nut milk or milk of choice – I used macadamia milk because I like the richness and flavor. You can try coconut milk or oat milk. Freeze the nut milk in ice cube trays if you prefer a less diluted frappuccino.
Matcha Tea Powder – drinking green tea is a fantastic daily ritual for women in menopause because of the many benefits.
Sweetener – I used monkfruit. This sweetener is made from dried fruit. It's sweeter than sugar, has no calories or carbs, and doesn't raise blood sugar – a plus for insulin resistant menopausal women. It also doesn't have the objectionable side effects that artificial sweeteners have.
Twists and tips for this recipe
try adding a scoop or 2 of vanilla protein powder to meet your protein goal for the day. I like whey protein for building muscles.
top with a plant-based whipped topping. This is often made with coconut milk. You could whip up your own and sweeten with the monkfruit sweetener to keep sugar low.
use a high power blender ( I use my Vitamix) to make this frappuccino. It's powerful enough to blend the ice and creates the best frothy consistency.
I reached out to Pique Tea because I appreciate their high standards for quality, purity, and taste for all of their teas. Sun Goddess Matcha was provided to me compliments of Pique Tea. It can be confusing to know which Matcha to choose. Not only is Sun Goddess Matcha 100% Organic and Ceremonial Grade, it's also quadruple toxin screened for heavy metals, pesticides, toxic mold AND radioactive isotopes. I did the vetting for you, so you can rest assured that with such strict standards to ensure the ultimate purity for daily drinking this matcha is a best choice.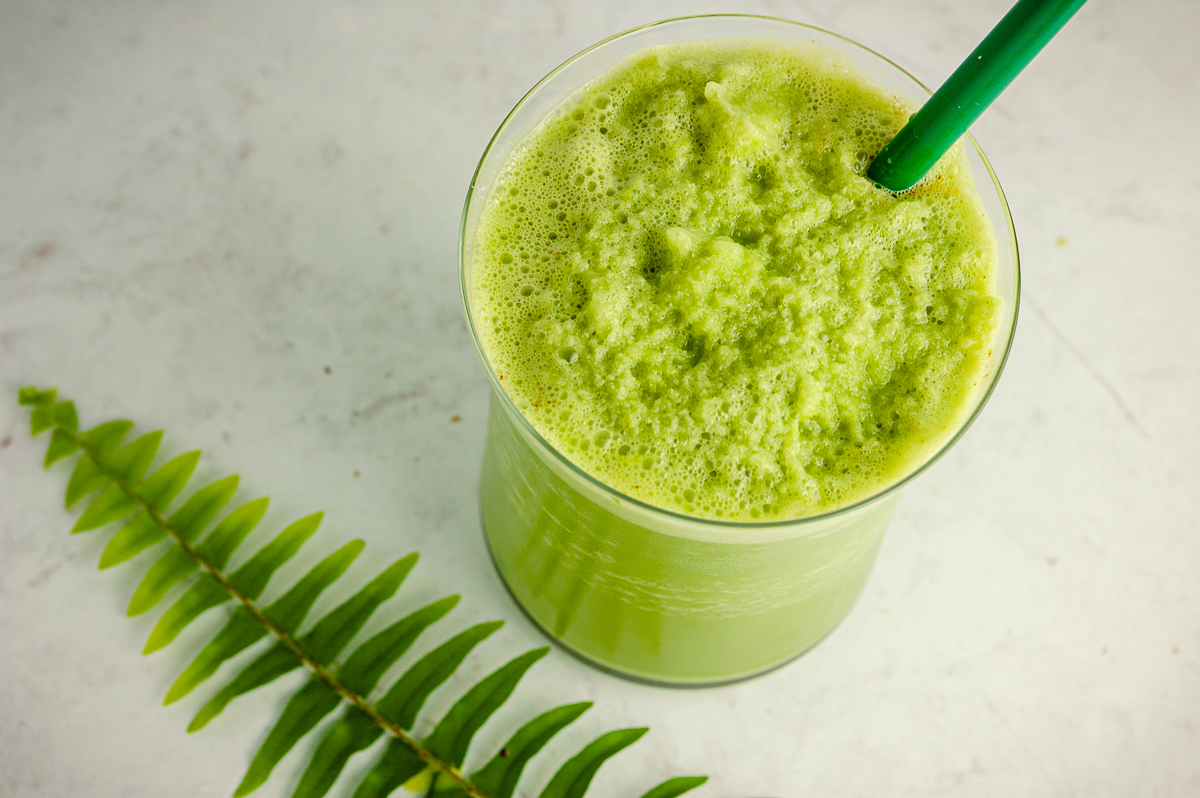 Pique Tea has a bunch of other menopausal health supportive, delicious teas for you. Try out Sun Goddess Matcha and use the code Pique gave me for my community → FBN at checkout for 5% off your 1st purchase.
Still thirsty? Sip on these:
If you make this recipe let us see! Tag @freshbalancenutrition and #freshbalancenutrition
Matcha Green Tea Frappuccino
1

cup

ice

1

cup

nut milk

1

packet Pique Tea Sun Goddess Matcha

,

or 2 teaspons matcha powder

1 ½

tablespoons

monkfruit sweetener

½

teaspoon

vanilla extract

optional:

1-2

scoops whey protein powder

2

tablespoons

coconut milk whipped topping
Place all ingredients (except whipped topping if using) in a high power blender.

Blend for 30 – 45 seconds until ice is completely blended.

Top with whipped coconut milk if desired and drink immediately.
This post contains affiliate links for products I use and trust. I may receive commissions on purchases at no cost to you. As an Amazon associate I earn from qualifying purchases.