Thanksgiving … the holiday that used to always leave me feeling fuzzy-headed and with a stomachache. Well I've adjusted our traditional menu to include more vegetable side dishes and not so many starchy sides full of butter and cream. Since the majority of us at the dinner table are related and therefore may share the same food sensitivities, the menu has been tailored to our collective digestive issues. I think we are enjoying the day a bit more comfortably these days.
I mean, why keep preparing and eating the same foods year after year if everyone is getting bloated, gassy, and falling into a carb coma? Let's put together a tasty, colorful Thanksgiving meal that doesn't end in abdominal discomfort and guilt.
I like to make Maple Dijon Roasted Brussels Sprouts & Squash. It's full of super nutritious veggies sweetened subtly with a little bit of real maple syrup.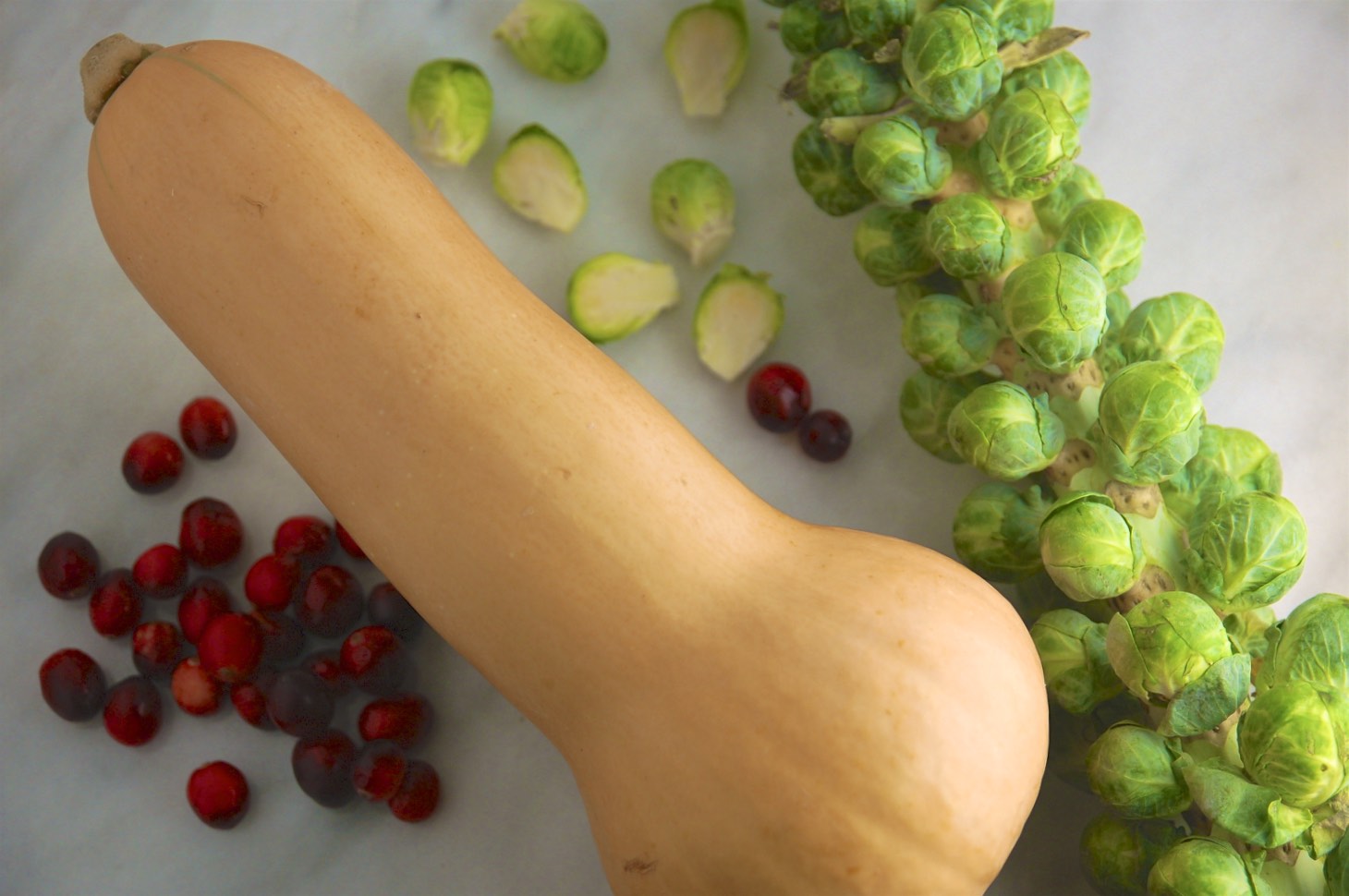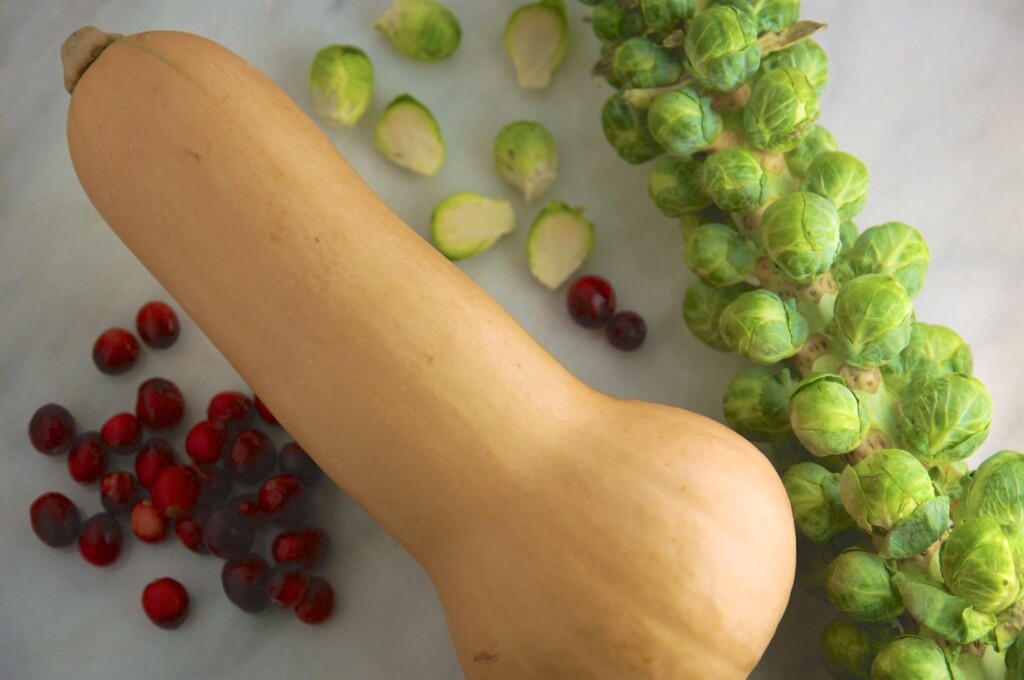 For many of us switching olive oil for butter or trading coconut milk for cow's milk makes digestion a lot smoother. Sometimes just a subtle tweak like using half good quality butter and half avocado oil in a recipe instead of all butter or subbing some spelt or buckwheat flour for all-purpose will do the trick. Play around with your recipes and test these changes. Most Thanksgiving recipes are pretty forgiving and an equally delicious version can be featured on the table.
Here are some ideas to help you plan for a meal your digestive system will be thankful for:
– don't feel like you have to give in to a meal with no options. Make sure you serve or bring something that you can enjoy
– eat a bit of protein like a hard cooked egg, grilled chicken strips, or seasoned tofu strips before you leave for the feast to settle your appetite for a while. You'll make better choices when face to face with the appetizers.
– make a commitment with someone else at the party to support each other in sticking to your goals
– If you're the hostess, serve desserts in small portion sizes so guests won't feel obligated to eat a whole piece of pie, just a few mouthfuls of yum.
– drink a couple of glasses of sparkling water with a squeeze of lemon or lime before the main meal.
– begin your meal with salad, vegetables, or some soup.
– make your way through the meal slowly and mindfully, taking note of how much you eat and savoring each bite.
Have a Wonderful Thanksgiving Celebration!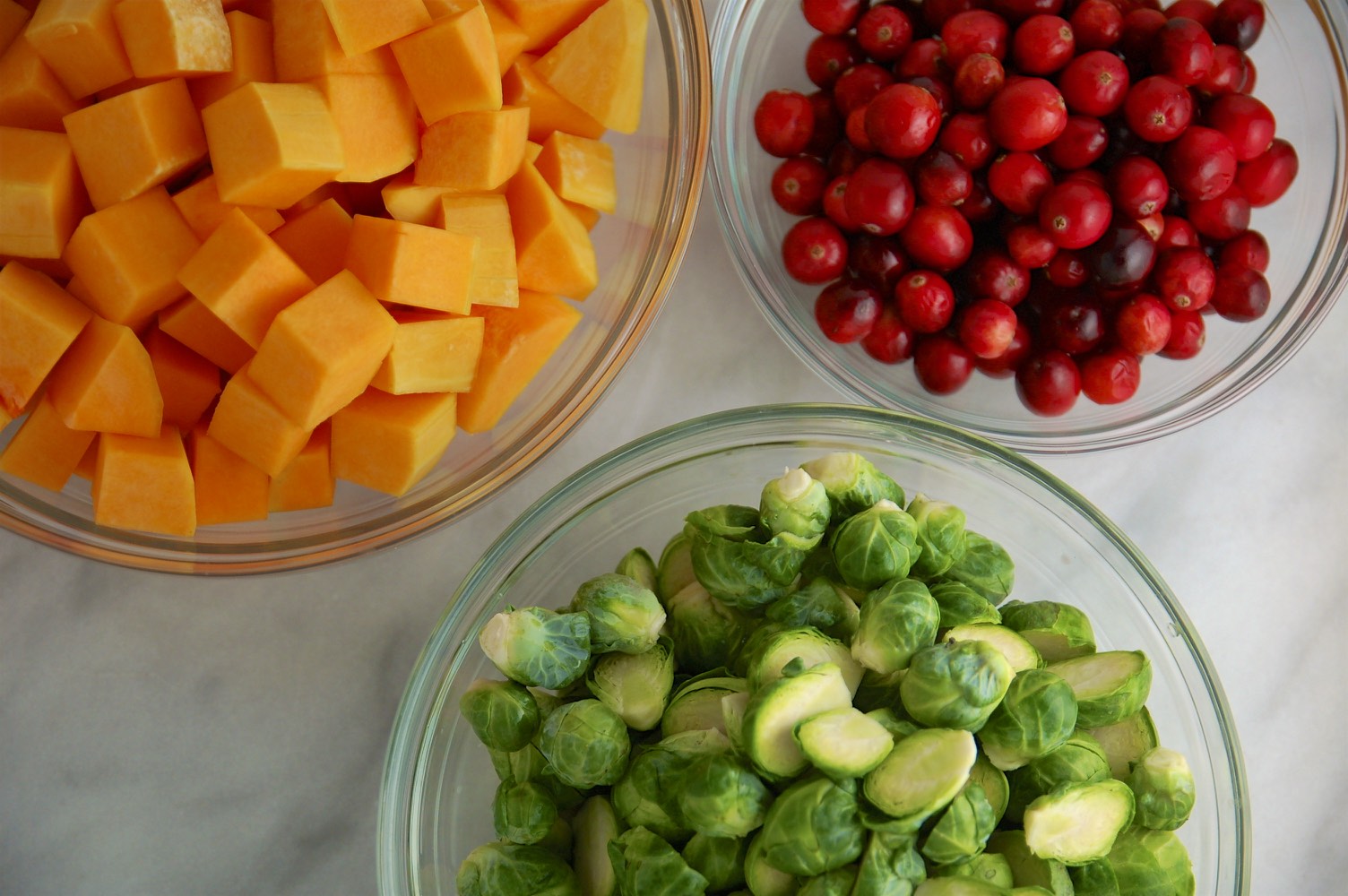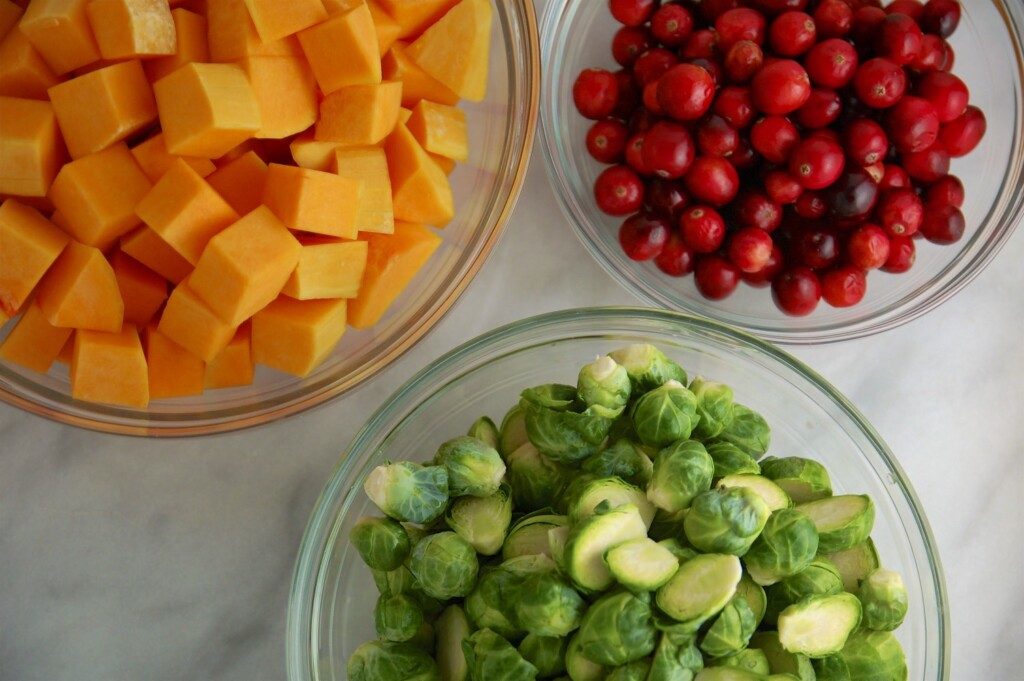 Maple Dijon Roasted Brussels Sprouts & Squash
1 ¾

pounds

brussels sprouts

,

trimmed, sliced in half

1 ½

pounds

butternut squash

,

peeled, seeded, cut into 1-inch pieces

2

tablespoons

coconut oil

,

melted

2

tablespoons

olive oil

,

divided

6

ounces

fresh cranberries

½

cup

pecans

,

coarsely chopped

½

cup

medium shallots

,

thinly sliced

1

tablespoon

maple syrup

1

tablespoon

country dijon mustard

,

the course grain type

½

tablespoon

white miso paste

1

tablespoon

sherry vinegar

½

teaspoon

cinnamon
Preheat oven to 400℉. Place brussels sprouts and squash in a large bowl and toss with coconut and olive oil, 1/4 teaspoon salt and a pinch of pepper.

Transfer to 2 parchment paper-lined baking sheets. Roast for 25 – 30 minutes until crisp tender and lightly browned.

Place cranberries, pecans, and shallots in a bowl and toss with remaining 1 tablespoon olive oil. Transfer to a lined balking sheet and place in oven with sprouts and squash for the last 10 minutes of roasting time.

Meanwhile, whisk together remaining ingredients in a small bowl.

When vegetables are finished roasting toss all together with the maple mustard dressing in a large bowl. Transfer to a serving platter to serve.