When the weather starts to get cool I just want to be in the kitchen slowly stirring up a great soup. This Lentil Soup with Chicken Sausage and Chard is flavorful, chunky, and full of protein.
Hormone Balancing Superfood: Chicken Sausage
There's so much nutrition packed into this soup! Chicken is a good source of animal protein. Most types of chicken sausage have about 14 grams of protein per link. You know protein is crucial for maintaining lean muscle and it also seems to help perimenopausal and menopausal women reach and settle at a healthy weight.
Sausage made with chicken is a better choice than beef or pork if you are trying to decrease saturated fat from animal sources. Chicken sausage will still have some saturated fat but will be a better choice than traditional sausage. Check the brand you use because the fat content will vary depending on the added ingredients and amount of chicken breast and chicken thigh used.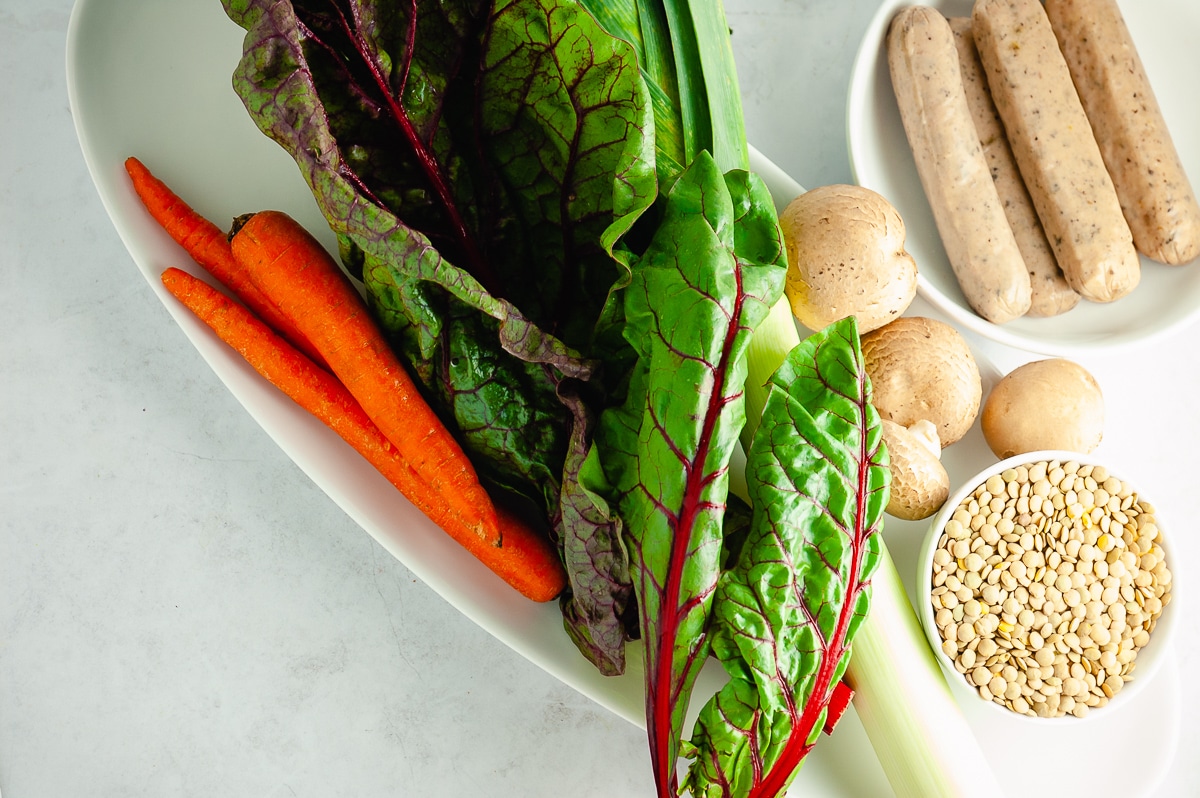 Ingredient substitutions to change up the flavor
Experiment with some other types of sausage like Italian sausage. Replace the cumin, paprika, and turmeric with an Italian seasoning blend. Use andouille or chorizo which are spicy sausages, or chicken and apple for a little bit of a sweet flavor.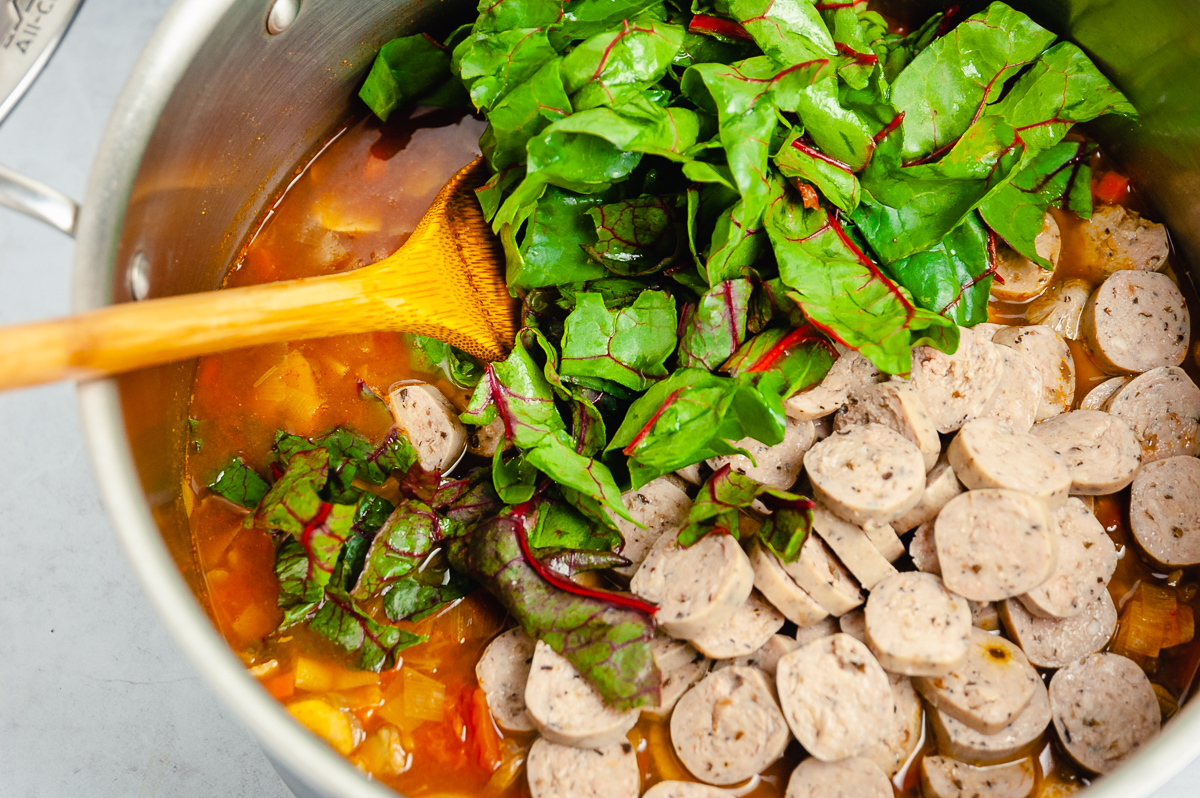 Other nutrient-dense ingredients
Lentils: This inexpensive pulse offers some plant protein plus fiber. I used green lentils for this soup. They are more flavorful than brown lentils. I also really love preparing and eating pretty French Le Puy lentils and caviar-like Black Beluga lentils. I use those 2 for salads or main dishes.
B vitamins, important for managing stress and for energy, in addition to magnesium and zinc stand out in this plant food. Lentils are high in fiber, which supports the growth of healthy gut bacteria.
Chard: I popped a leafy green in this healthy soup. Chard is beautiful to look at first of all. In just a few calories it offers fiber for digestive health and (and surprise!) some protein. You'll get vitamin C for glowing skin and zinc for fending off colds and flu. Both minerals calcium and magnesium are in these leaves for bones and muscles.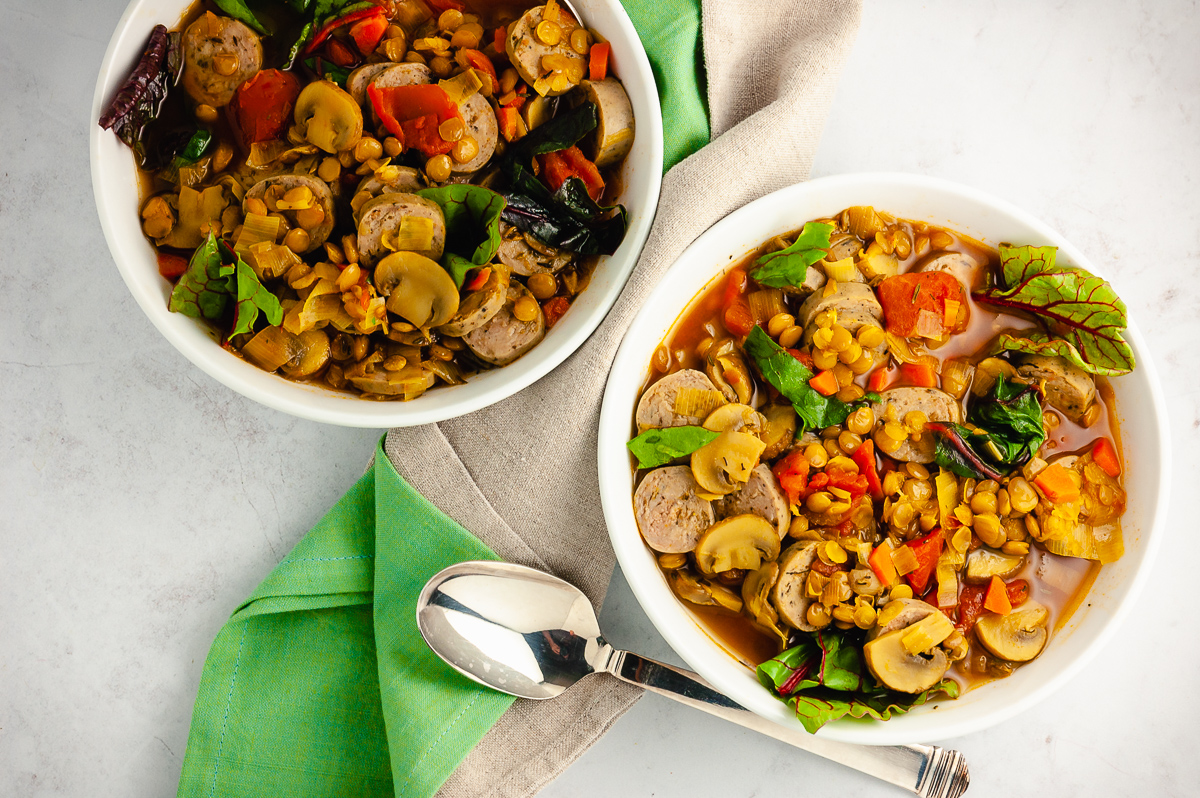 Cooking methods
You could use a slow cooker or instant pot for this recipe. I love taking my time and enjoying the meditative process of preparing a soup. Chopping each ingredient, stirring in spices, and breathing in the aromas makes me so happy. The equipment I use to cook is part of the experience for me too!
This is my current favorite pot to stir up a warm batch of delicious soup or stew. And I love a beautifully designed spoon that won't scratch my pots and pans. Collect some beautiful kitchen tools and make cooking fun!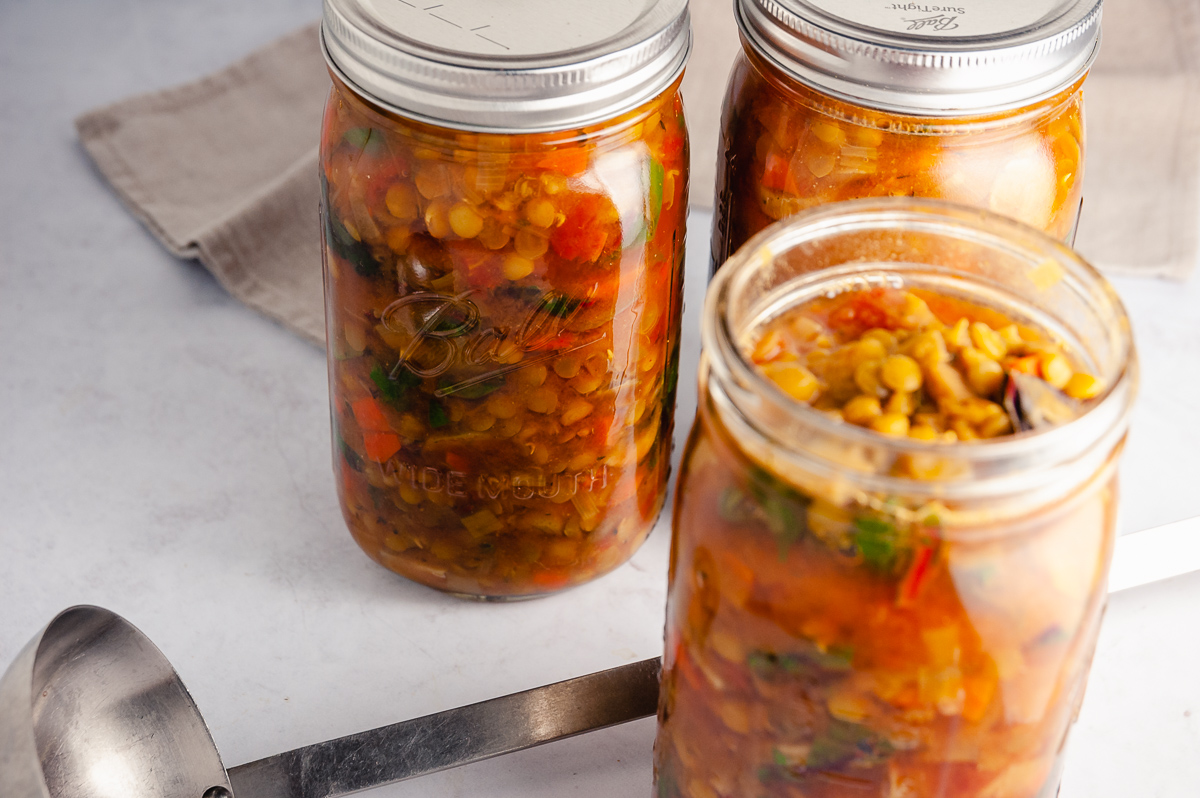 Looking for more lentil recipes or a warm and cozy nutritious soup?
Vegan Mushroom Stew with Lentils
Instant Pot Bean Soup: Classic Black Bean
Lentil Soup with Chicken Sausage and Chard
1

tablespoon

olive oil

1

large leek

,

cleaned and chopped

2

medium carrots

,

sliced

8

ounces

cremini mushrooms

,

sliced

1 ½

teaspoons

cumin

1

teaspoon

smoked paprika

½

teaspoon

turmeric

4

cups

chicken broth

,

plus 1 cup water

¾

cup

green lentils

,

rinsed

1 15

ounce

can fire roasted tomatoes

,

with juices

12

ounces

chicken sausage

,

sliced

1

bunch chard

,

stems removed, chopped

1

teaspoon

dried thyme

2

tablespoons

lemon juice

1

teaspoon

sea salt
Heat oil in a large pot. Add leeks, carrots, and mushrooms. Cook 5 minutes.

Add cumin, paprika, and turmeric. Stir in and cook 1 minute.

Pour in broth, water, lentils, and tomatoes with juices. Bring to a boil.

Reduce heat to a simmer. Cover the pot and cook 30 minutes until lentils are tender.

Add sausage, chard, thyme, lemon juice, and salt. Simmer 10 minutes to wilt chard and warm through.
This post contains affiliate links for products I use and trust. I may receive commissions on purchases at no cost to you. As an Amazon associate I earn from qualifying purchases.