These cute little Holiday Protein Cookie Bombs are sugar free, gluten free, and dairy free. They have more protein than traditional cookies and won't spike blood sugar.
These cookie bombs are a healthy alternative to traditional cookies. If you have a sweet tooth but want to avoid white sugar, these tasty treats will please you. I think they taste a lot like sugar cookies.
Ingredients needed
almond flour – gluten free stand in for refined wheat flour
erythritol and monk fruit sugar replacer – sweetness without spiking insulin and blood sugar
egg – leavening and a source of protein
lemon juice – enhances flavors
coconut butter – like a nut butter made from coconut
collagen powder – adds protein and helps with consistency of the cookie
sugar free sprinkles – makes the cookies festive
Hormone Balancing Superfood: collagen powder
Collagen Powder
The main reason I included collagen powder in this recipe is to increase the protein in the cookies. A few grams of protein also come from the egg, almond flour, and even the coconut butter.
Acting as a protein, collagen can improve the health of your skin, relieve joint pain, and increase muscle mass and strength as we get older.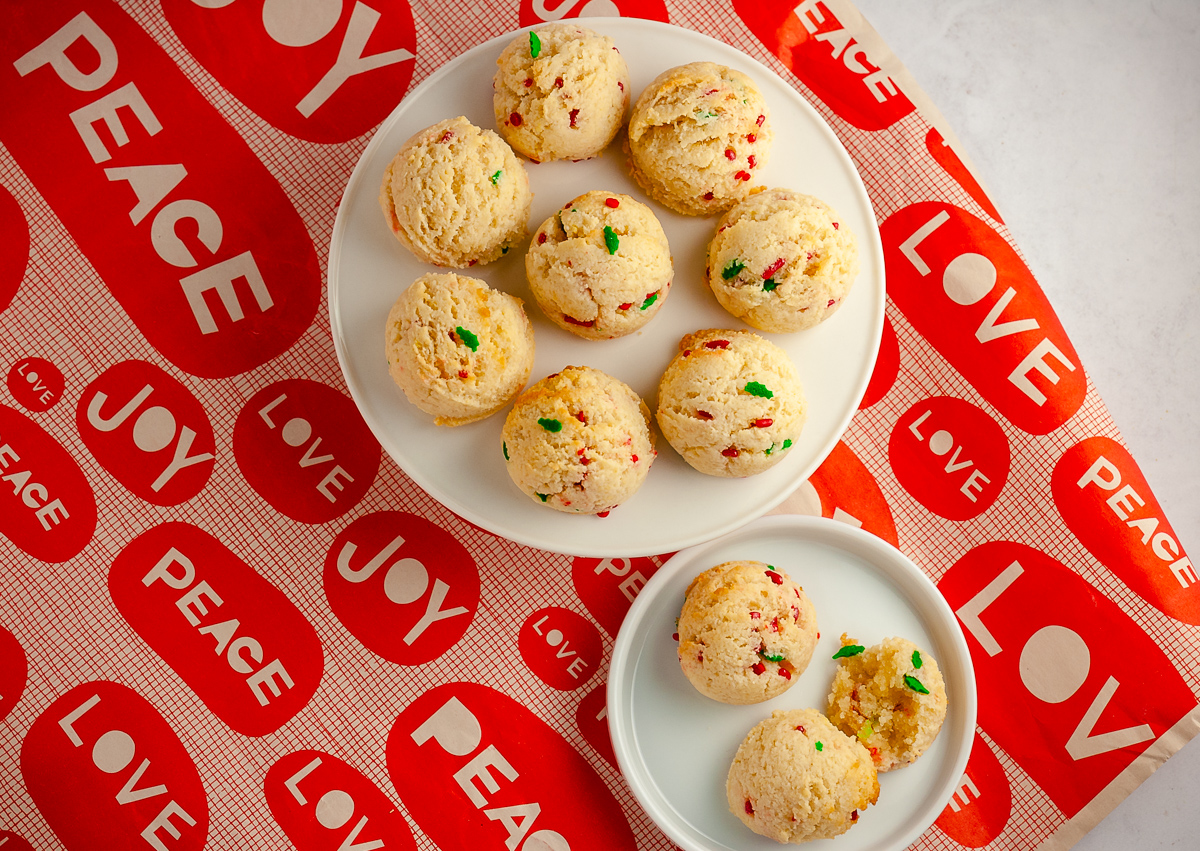 Erythritol
Erythritol is a sugar alcohol which can be found in fruits and vegetables. Sugar alcohols stimulate the sweet taste buds on your tongue.
This is a sugar-free sweetener that is fructose-free and does not have an impact on insulin or blood sugar. It has a different taste than stevia which many may prefer. Erythritol has less calories per gram than sugar.
It has been found to be a safe sugar substitute and does not cause the digestive issues found with most other sugar alcohols. Most of the erythritol you consume is absorbed and then excreted before it gets to your colon which is where digestive issues could occur. If you eat large amounts (which i do not recommend for several reasons) you may find that your stomach could be sensitive. 
Monk Fruit
Monk fruit is a sweetener from dried fruit. It's 150-250 times sweeter than sugar, has no calories, and does not affect blood sugar levels. There are no known digestive issues with monk fruit.
There is some data that monk fruit is anti-inflammatory. It might help prevent cancer and is effective at balancing blood sugar.
Equipment tips
These cookie bombs are so easy to shape if you use a scoop. A small cookie scoop will give you a professional-looking cookie to impress your guests.
Make sure you are using a good quality baking sheet to ensure even heating. Poor quality bakeware can scorch your baked goods and that doesn't taste very good.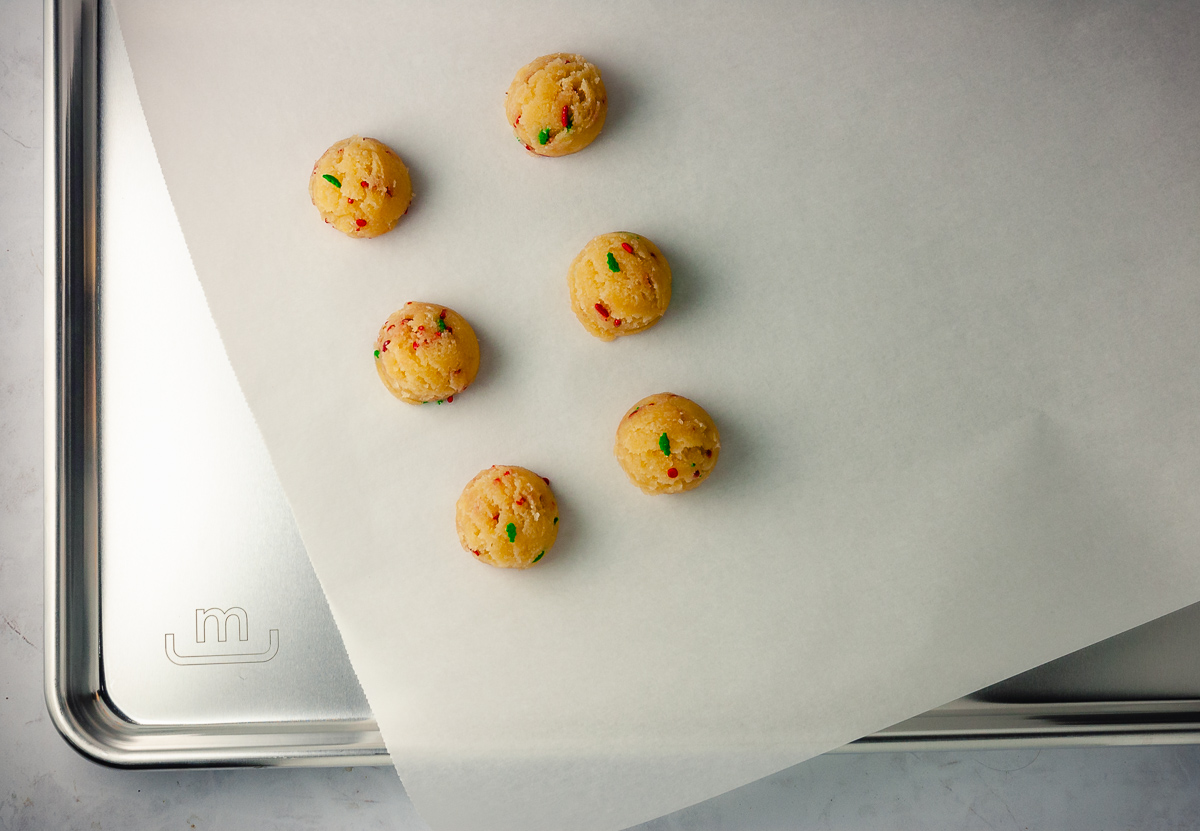 Ingredient suggestions
Swap sugar free multi colored sprinkles for a birthday celebration or sugar free chocolate sprinkles for a little chocolate flavor.
You can play around with different flavor extracts. My Holiday Protein Cookie Bombs are basically a basic sweet dough. Use lemon, orange, or almond extract instead of vanilla to have some fun with different flavors. 
Need some more holiday baking ideas?
Healthy Bite-sized Holiday Desserts
Holiday Protein Cookie Bombs
Preheat oven to 300 ℉. Line a baking sheet with parchment paper or a silicone liner.

Combine all ingredients except sprinkles in a stand mixer until well blended.

Blend in sprinkles until evenly dispersed in batter.

Use a small scoop to form cookie bombs and arrange on a sheet pan.

Bake for 15 minutes. Cool 10 minutes on a cooling rack.
This post contains affiliate links for products I use and trust. I may receive commissions on purchases at no cost to you. As an Amazon associate I earn from qualifying purchases.