This Healthy Stir Fry Sauce is loaded with flavor and so easy to make in a blender!
I've been wanting to create this sauce for a while now. It's not only a stir fry sauce but can be a dip or pasta sauce too. The recipe makes a big batch so you can freeze some to pull out for a quick dinner later on.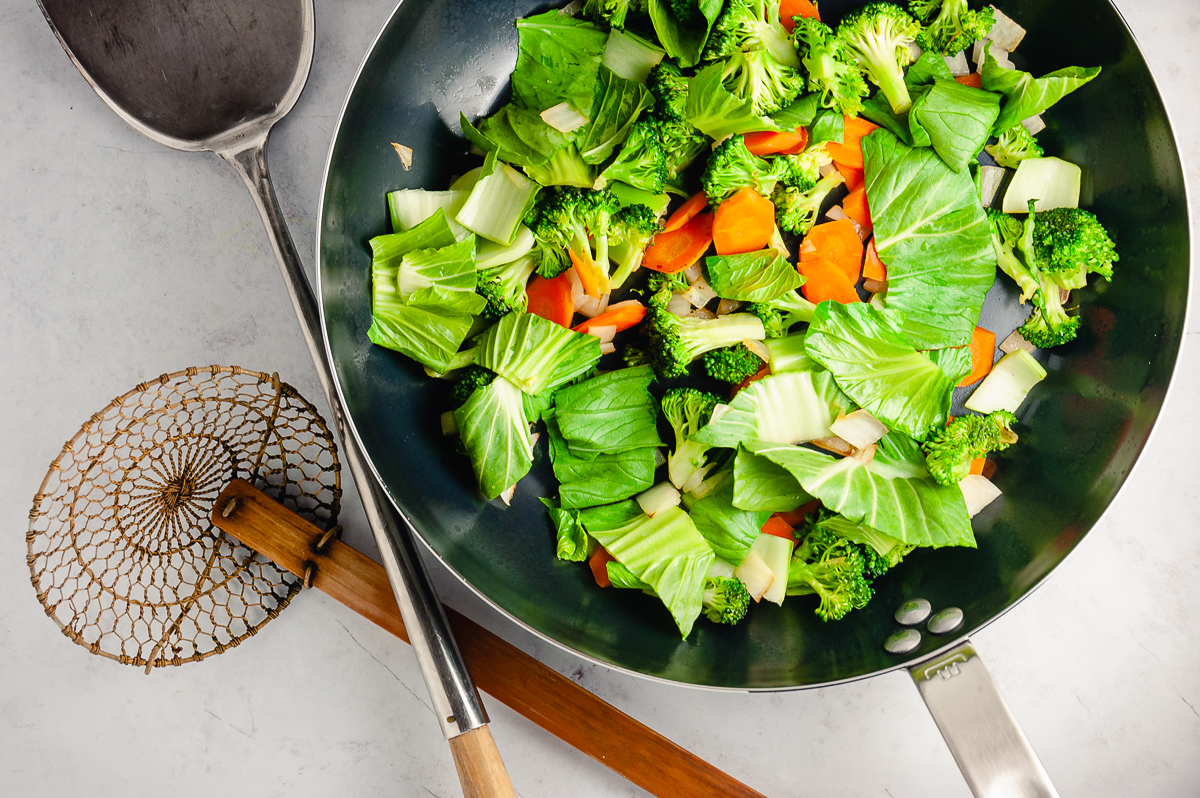 Are stir fry sauces healthy?
A lot of stir fry sauces are loaded with sodium. Many restaurants and most prepared stir fry sauces in the grocery store use cheap, unhealthy oils. Making your own at home allows you to control the quality of the ingredients you use.
My Healthy Stir Fry Sauce is made with nutrient-packed ingredients. These include strawberries high in fiber and antioxidants. I use olive oil which can reduce inflammation and decrease risk of diseases like cancer, heart disease, and diabetes.
There are so many stir fry sauces that include soy sauce as a main ingredient. Soy sauce is made with wheat so it contains gluten. I've used gluten free tamari in my recipe to add saltiness and bring out flavor. But don't worry I've only added 4 tablespoons for the whole batch of sauce which keeps the sodium low in each portion.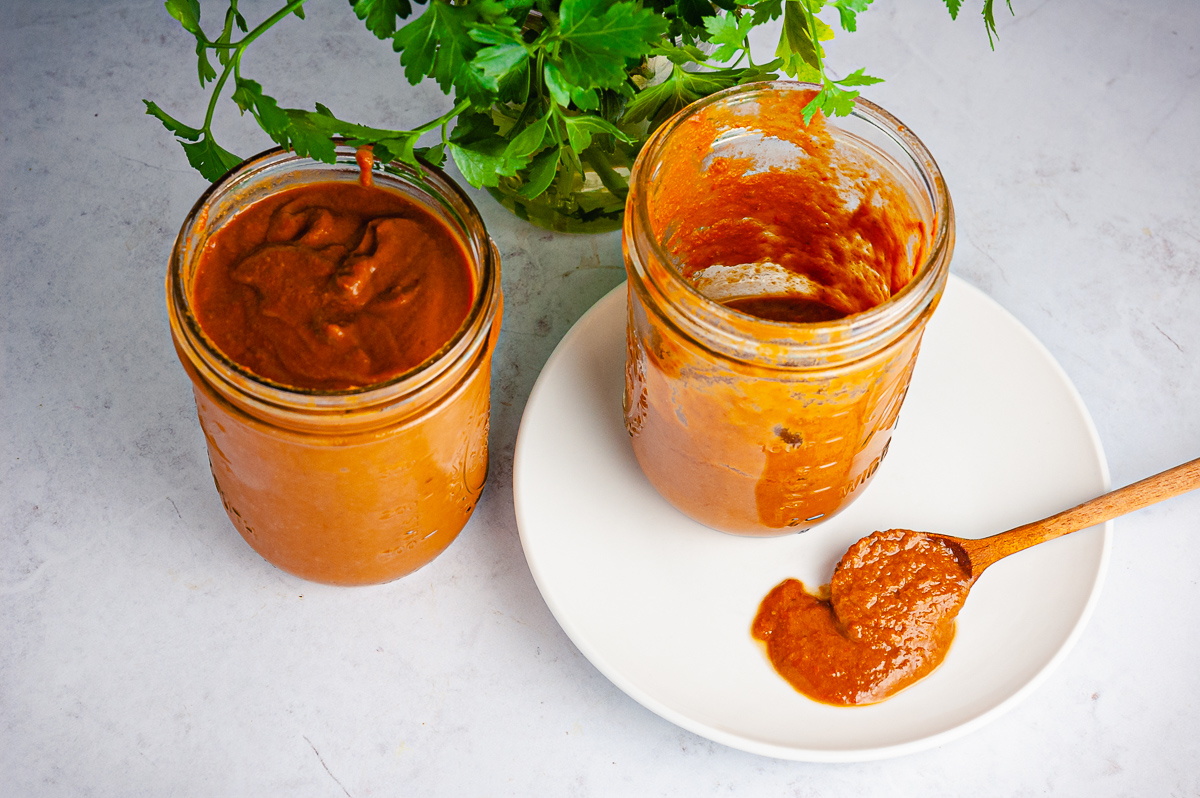 The ingredients that give Healthy Stir Fry Sauce flavor
tamari – adds saltiness without any gluten like soy sauce. It's the only salt used in the entire recipe.
strawberries and ginger – contribute sweetness. Other sauces depend on sugar or honey. You could even use frozen strawberries instead of fresh.
sun dried tomatoes, red wine, and tomatoes – add umami. Savoriness. It's one of the five basic tastes and deepens the overall flavor of the sauce.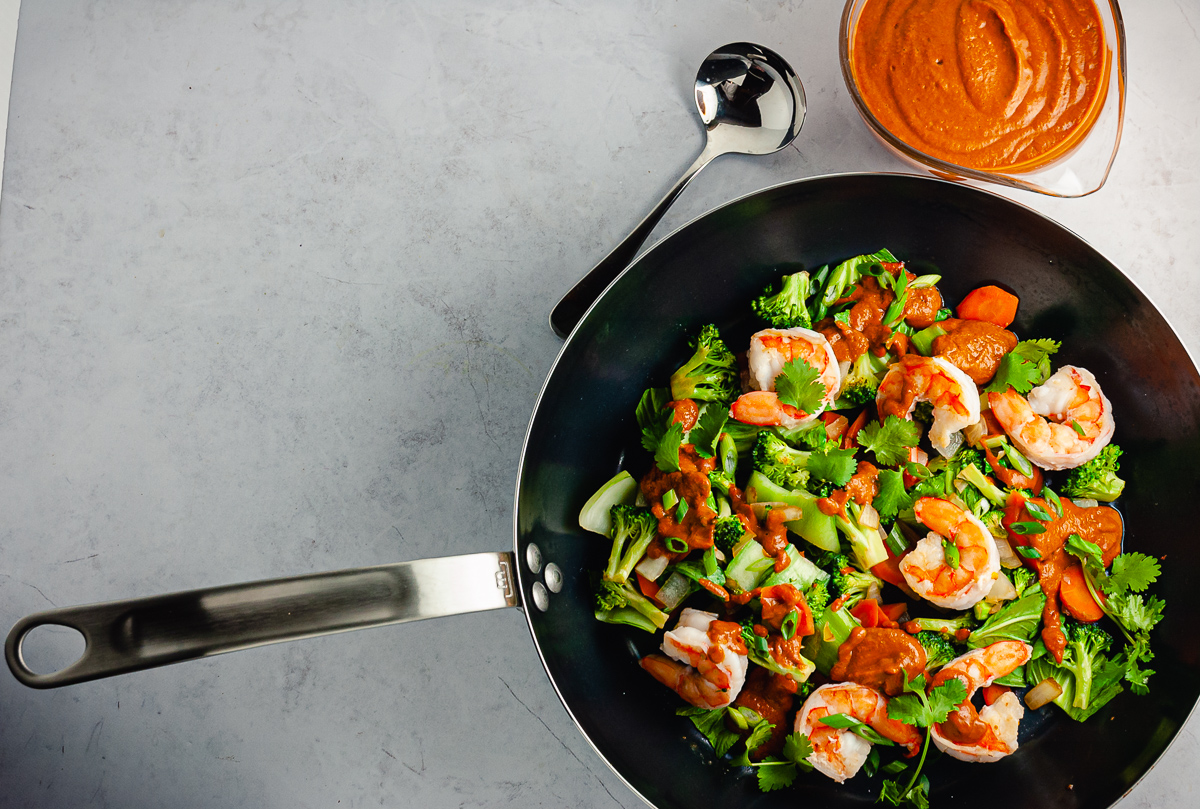 Here's an easy shrimp stir fry recipe method to use with the sauce
Use:
1 pound medium shrimp, peeled and deveined
5 cups chopped veggies like onions, sugar snap peas, bok choy, broccoli, carrots
1 cup of Healthy Stir Fry Sauce or more to taste
Prepare the stir fry with sauce:
1. Heat 1 tablespoon of oil in a non-stick frying pan or a wok. Add the veggies.  Cook for 5-10 minutes, until tender crisp. Remove from the pan and set aside.
2. Add another 1 tablespoon of olive oil to the pan. Cook shrimp for 4-6 minutes, until just cooked through.
3. Stir in 1 cup or more of Healthy Stir Fry Sauce. Cook for 1 minute.
4. Add veggies back into pan and toss everything to coat with the sauce.
You could serve this very healthy stir fry, full of protein, fiber, and healthy fat, as is. If you'd like to build a more substantial meal I suggest serving it over quinoa, brown rice, or soba noodles.
More info about fiber for perimenopause:
Healthy Stir Fry Sauce
1

cup

strawberries

2

cups

cherry tomatoes

½

cup

red pepper

,

chopped

½

cup

oil-packed sun dried tomatoes

,

drained and chopped

¼

cup

shallots

,

chopped

3

cloves

garlic

,

chopped

1

teaspoon

fresh ginger

,

minced

⅓

cup

fresh basil

4

tablespoons

tamari

4

tablespoons

red wine

1

cup

olive oil
Place all ingredients except olive oil in a high power blender. Blend until combined.

Add olive oil and continue to blend until creamy and smooth.
This post contains affiliate links for products I use and trust. I may receive commissions on purchases at no cost to you. As an Amazon associate I earn from qualifying purchases.