Peaches, August stone fruit, are the star of this creamy, spicy frozen delight. Make a bunch to cool off with on Labor Day. Compared with what you'd find on the grocery store shelves, this popsicle excels with fiber, vitamin C and A, and potassium. What this means is your popsicle can help carry toxins from your body, maintain the elasticity of your skin, keep your vision sharp, and support your heart health. Select organic peaches whenever you can because conventional peaches are one of the fruits on the EWG's dirty dozen list produce treated with heavy doses of pesticides. So keep conventional produce on this list out of your body most of the time. Pesticides are endocrine disruptors that we do not want to deal with. Grab EWG's clean 13 list to know which fruits and vegetables you can buy conventional and save some money if you'd like.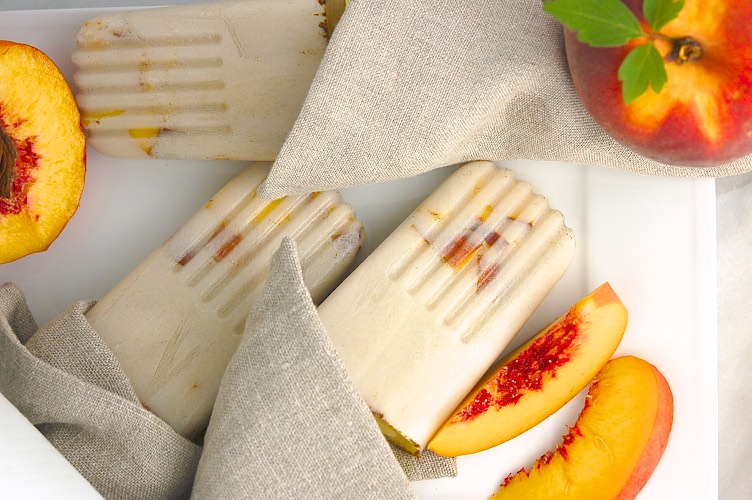 I love this combination of summer flavors. It is based one of my favorite desserts, fresh peaches with vanilla cashew cream. This time I've added some spicy grated ginger to compliment the creamy, sweet taste. Play around with how much ginger you prefer – it's up to you to leave them more creamy-tasting or really spice things up!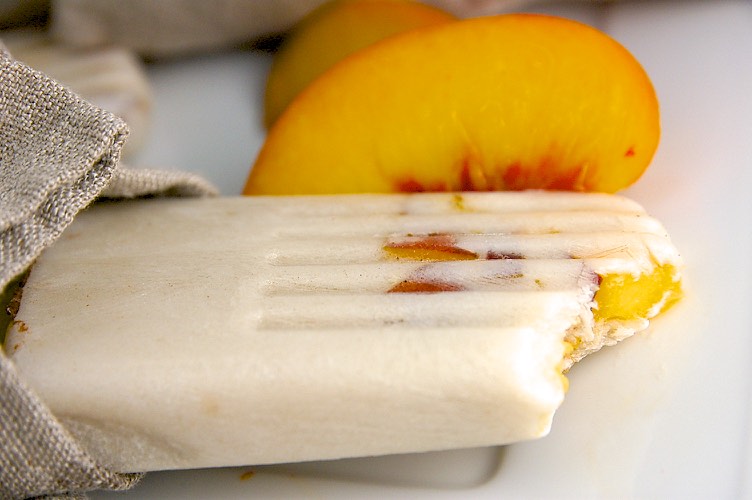 Gingery Peach Popsicles
½

cup

macadamia nuts

,

soaked overnight, drained

½

cup

raw cashews

,

soaked overnight, drained

6

Medjool dates

,

pitted

1

tablespoon

coconut oil

,

melted

2

teaspoons

fresh ginger root

,

grated

1

teaspoon

cinnamon

1

teaspoon

vanilla

pinch

of sea salt

4-5

ripe peaches

,

chopped
Place the drained nuts, dates, and 2 cups filtered water in a high speed blender. Pour blended liquid into a nut bag or cheesecloth over a bowl and squeeze out milk.

Measure 1 3/4 cups of nut milk into a bowl, reserving extra for another use. Stir in melted coconut oil, ginger, cinnamon, vanilla, and salt.

Drop chopped peaches into the empty popsicle molds. Pour nut milk mixture up to fill line. Insert sticks and freeze overnight.