You've just gotta love the color of red beets. Magenta. You might say that you don't like their earthy taste, but you can't say they aren't one of the prettiest colored vegetables, right? If you do prepare red beets, check your social calendar to make sure your pink-stained fingers have time to reset before your next event.
I happen to like beets. I like them roasted and I like them raw, grated into a salad. My husband thinks he doesn't like them. Some unfortunate experience with a grandmother's pickled beets with eggs. A pretty harsh-tasting dish for a kid, it's true. But he hasn't objected to the beets I've served him. Sometimes they are roasted in a salad with a slightly sweet dressing or grated raw into a wrap hanging out with other familiar vegetables. These Garbanzo Beet Patties would be a great way to introduce someone to adding beets to their meals.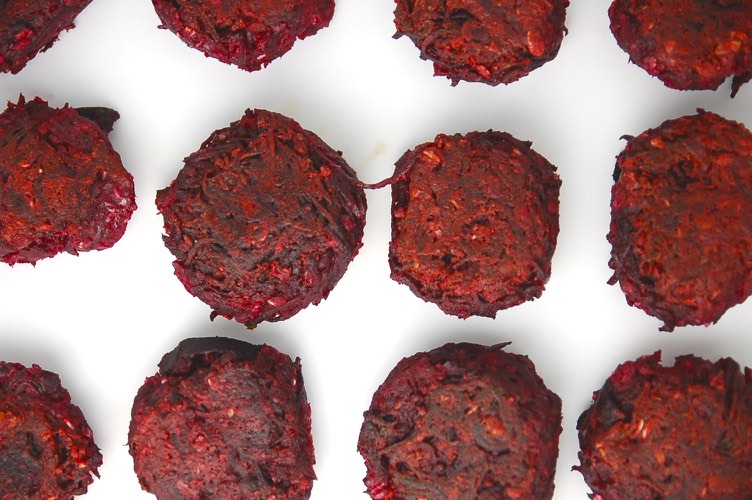 Garbanzo Beet Patties were a hit with my husband, too. I packed some up for an overnight trip to a sports tournament where I knew they would not have anything I was interested in eating. When it was lunchtime I simply opened my cooler, grabbed a coconut wrap, placed 3 garbanzo beet patties on top with lettuce, sprouts, and avocado slices to garnish. Then added a few dollops of goat cheese spread before I rolled everything up. The wraps made a very satisfying meal and we were glad I took the time to pack them up as we looked over at the long lines for the other tournament food options.
Hormone Balancing Superfood: Beets
Beets are an anti-inflammatory food which we need to have in our meals to decrease symptoms of perimenopause. They are a source of nitrates that may help manage increases in blood pressure by reducing the stiffness of blood vessels which occurs in menopause.
Want to explore other recipes featuring beets? I created this dessert recipe with beet powder and it turned out great!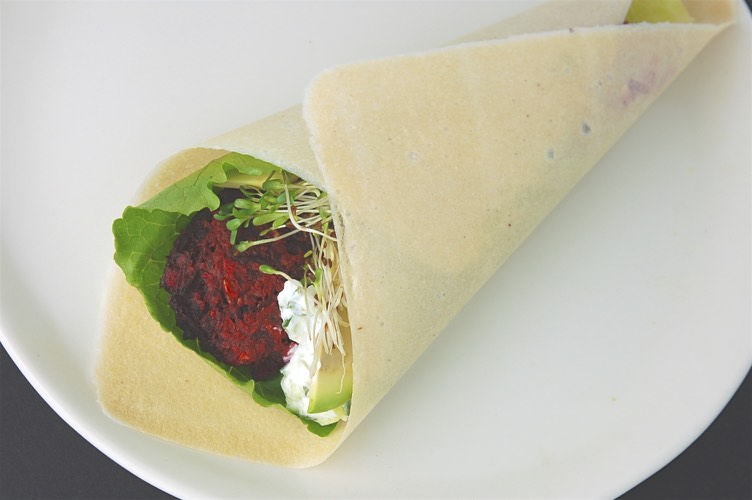 Garbanzo Beet Patties
3

large red beets

1 15-

ounce

can garbanzo beans

,

drained and rinsed

1 ½

cups

rolled oats

½

cup

onion

,

chopped

2

cloves

garlic

,

minced

2

eggs

¼

cup

fresh basil

,

chopped

2

teaspoons

smoked paprika

1

teaspoon

cumin

½

teaspoon

sea salt

¼

teaspoon

cayenne pepper

3

tablespoons

coconut oil
spread:
4

ounces

goat cheese

2

tablespoons

lemon juice

½

cup

seedless cucumber

,

finely chopped

2

tablespoons

fresh mint

,

finely chopped
garnish:
sprouts

avocado

lettuce

4

coconut wraps
Wrap beets in foil and roast at 450℉. Remove beets from foil. push skins off with fingers. Grate in food processor. Transfer to a bowl and set aside.

Place garbanzo beans, oats, onions, garlic, eggs, basil, smoked paprika, cumin, salt, and cayenne pepper in food processor. Pulse until small chunks of garbanzo beans and oats still remain.

Transfer mixture to a large mixing bowl and blend in the grated beets. Cover bowl with plastic wrap and place in refrigerator so that oats absorb moisture.

Meanwhile, prepare goat cheese spread. Place all ingredients in a bowl and blend together.

Heat 1 tablespoon of coconut oil in a large skillet. Remove beet mixture from refrigerator and form 12 small patties. Cook 4 minutes per side until lightly browned. Add coconut oil to pan for repeated batches.

Place 3 patties in each coconut wrap with sprouts, avocado slices, and chopped lettuce. Top with goat cheese spread.