I'm really enjoying cucumbers lately. In fresh pressed juices, Cucumber water, cucumber salsa, ummm cucumber infused vodka… So I've taken some of the other flavors that pair so well with cucumber, lime juice and mint, and sweetened it a little bit to freeze into my Cucumber Mint Popsicles. These healthy popsicles are a nice cooling treat I'll enjoy after a meal or after a run to help cool down.
The pops are very simple to put together since you just pour the mix right out of the blender into your molds of choice. I chose to try some traditional 4-ounce molds as well as some push pop-style silicone molds. Play around with the amount of sweetener to your taste. I'm going to use 1/3 cup agave next time. I find that because I'm not eating much sugar or other sweeteners these days I am more sensitive to sweet tastes and need less.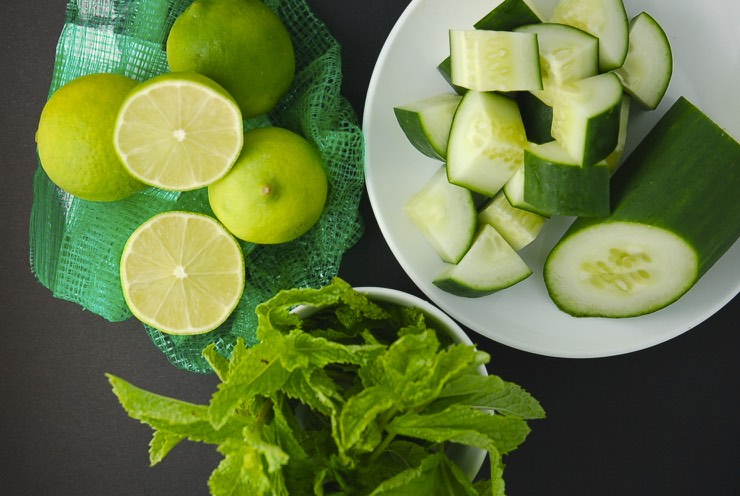 What Nutrients are in a Cucumber?
Cucumbers are full of water and fiber which are essential for good digestion. The skin is particularly high in insoluble fiber which helps move food quickly through your digestive tract and out of your body. The many B vitamins cucumbers contain help with managing stress. The anti-inflammatory and antioxidant elements in cucumbers fight cancer, improve memory, lower risk of heart disease, and help control weight. This sure beats the nutritionally weak, sugar-sweetened, and artificially colored versions of this summer treat!
My Gingery Peach Popsicles are another way to eat your water!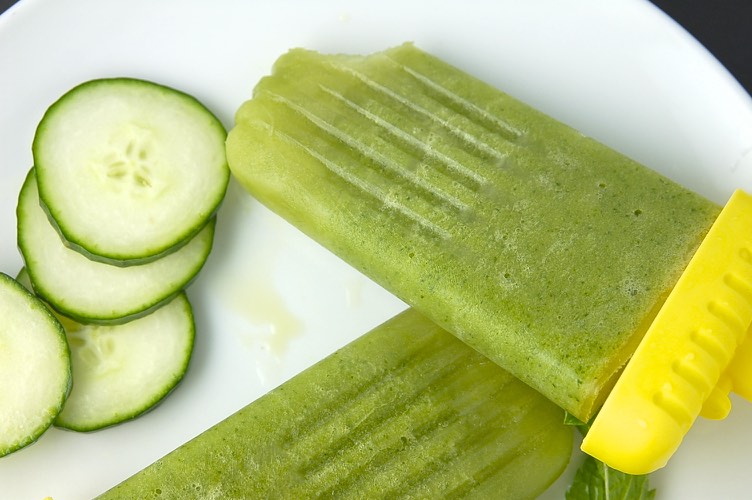 Cucumber Mint Popsicles
5

cups

seedless cucumber

,

chopped

¾

cup

fresh mint leaves

¾

cup

lime juice

½

cup

agave nectar

½

teaspoon

sea salt
Purée the cucumber, mint, lime juice, agave, and salt in a blender until smooth.

Pour the mixture into 8 4-ounce popsicle molds. Insert popsicle sticks and freeze 4 hours until firm.