Bring home the best produce from your farmers market for this easy soup
Soup in the summer?! Why yes! First of all, remember, you can serve a chilled or room temperature soup when the weather is warm. Think gazpacho and cool cucumber soups. And second, light, pureed soups are very hydrating – so win win! Both vegetables and fruits make a delicious base for summer soups. My Creamy Summer Tomato Soup is made with both tomatoes and carrots as well as dates to gently sweeten. There's got to be an almost unlimited number of combinations so let's get started.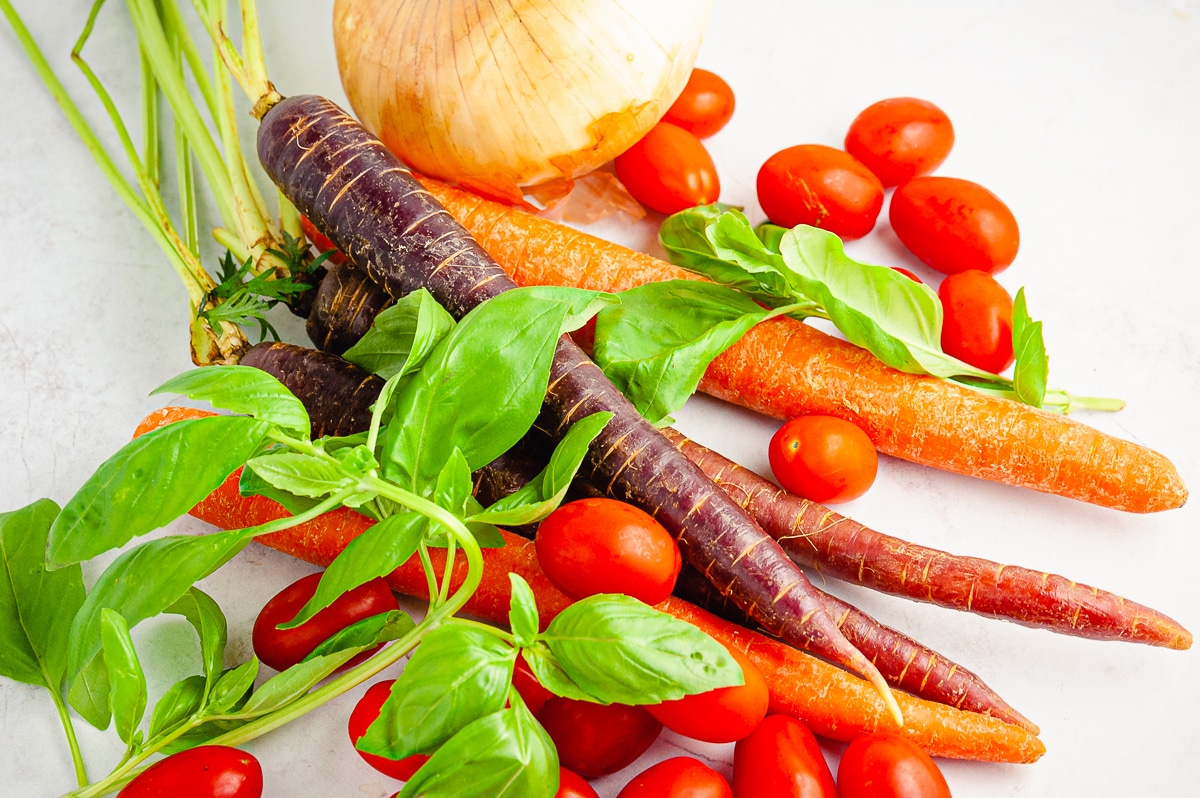 Hormone Balancing Superfood: Tomatoes
Tomatoes are super delicious in summer. Their beautiful colors, yellow, orange, green, and purple, hint at the nutrition packed inside. Tomatoes are a major source of the antioxidant lycopene and other plant compounds, which have been linked to many health benefits like reduced risk of heart disease and cancer. They are full of potassium which is involved in regulating blood pressure and helps prevent heart disease. Because tomatoes are a plant food they contribute some of the fiber that we need daily.
But how can tomatoes actually be a hormone balancing superfood?
In one study women with menopausal symptoms were given tomato juice which actually improved their symptoms. The study found that tomato juice reduced anxiety. The results also found that it increased REE (Resting Energy Expenditure) – translation➝ you burn more calories. This is amazingly helpful because we need less calories daily than we used to. Because we need less calories, we tend to gain weight in perimenopausal years.
It is natural for our bodies to require less food in peri/menopausal years (but we need the same or more nutrients). So we could eat less but then it would be difficult to get in the nutrients we need. Picking up habits like moving more, increasing calorie-burning muscles, and eating nutrient-dense foods will help us to avoid some of the weight gain.
Depression and anxiety during menopause might be associated with oxidative stress. The improvements in psychological symptoms observed in the study participants may be due to the anti-oxidative effect of lycopene and the relaxing effect of gamma-aminobutyric acid (GABA). Stress plays a major part in hot flashes and night sweats. Tomatoes may play an indirect role in soothing these symptoms.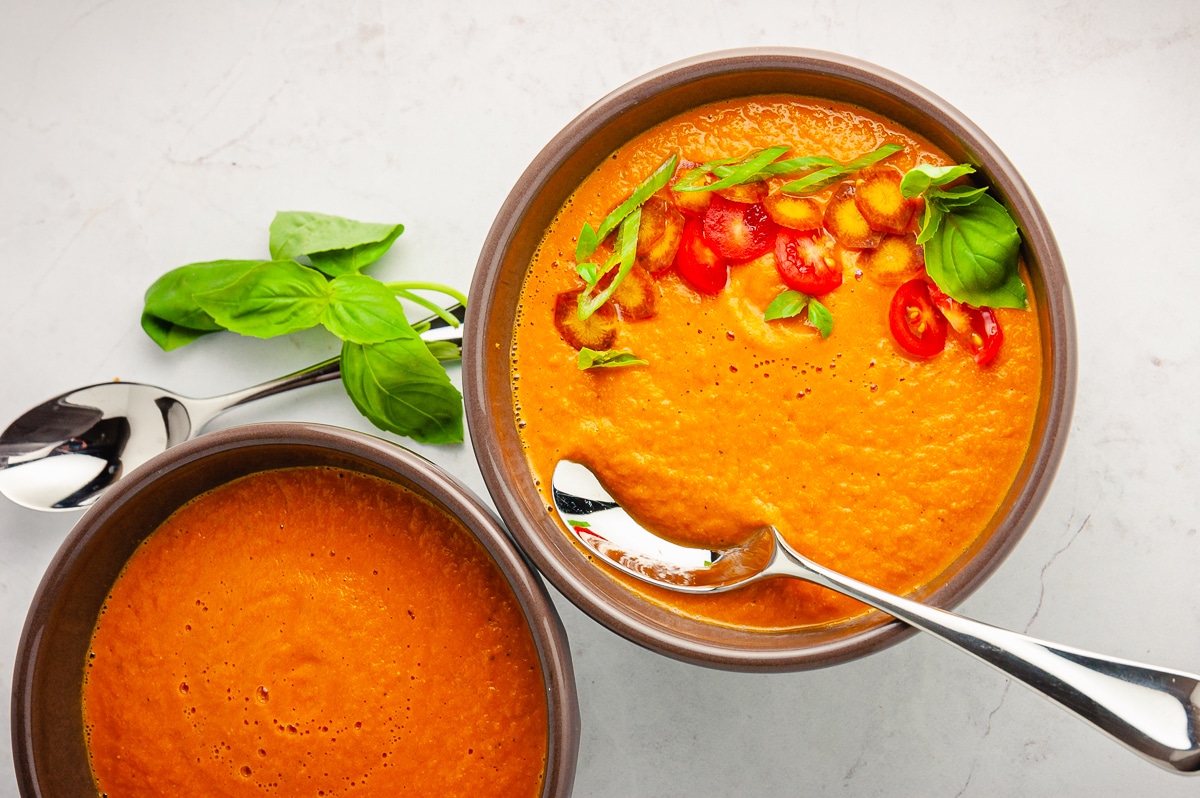 What else can tomatoes do?
The women in this study also lowered their serum triglyceride levels. During menopause, triglycerides tend to increase, which is related to increased weight around the waist and insulin resistance.
The plant compounds responsible for all of these good deeds are activated when the tomatoes are cooked. After cooking my tomatoes, I use an immersion blender or my high power blender to get a really creamy consistency. Did you notice the cashews on the ingredient list? They'll give a cream-like look and mouth feel to the soup without adding any dairy at all.
My Creamy Summer Tomato Soup is a yummy way to get some perimenopause symptom relief. Let me know which way you choose to serve it – at room temperature or chilled – if your summer days are scorching hot like mine.
Here's a cool tempeh salad to serve with your soup, which adds both vegan protein and probiotics to round out a full meal.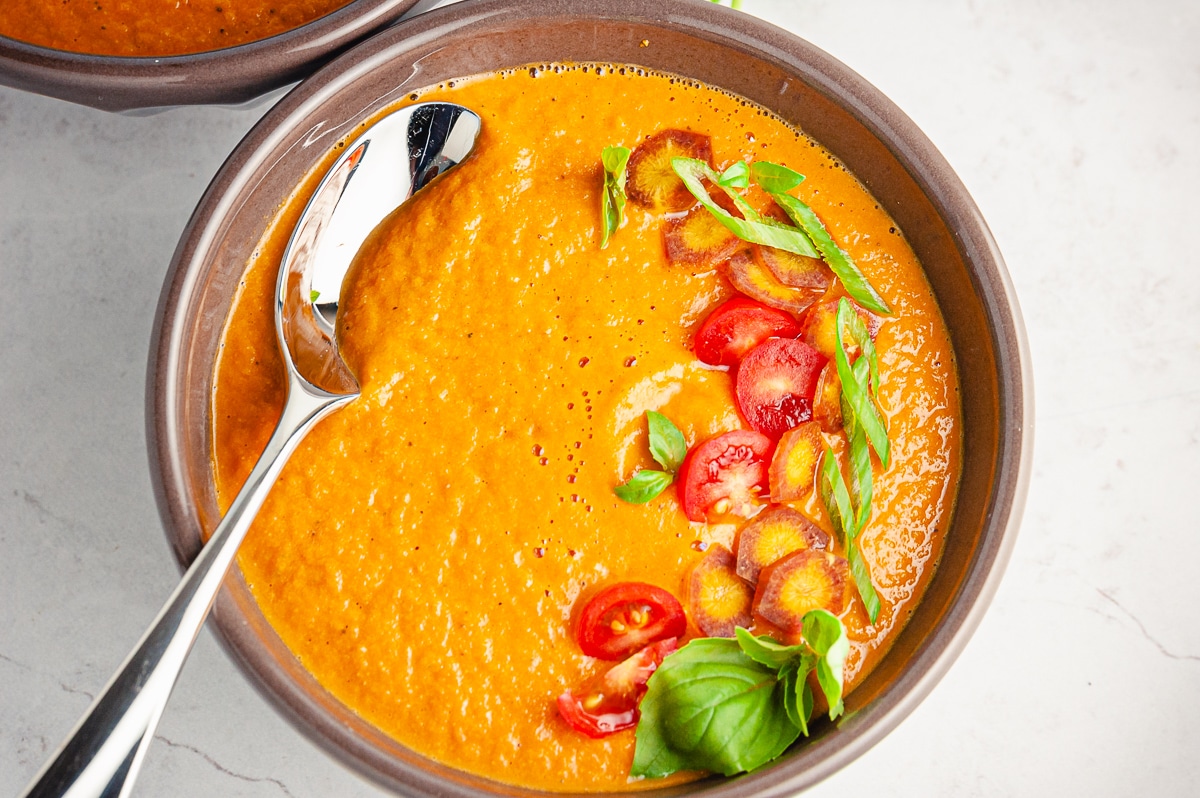 Creamy Summer Tomato Soup
3

tablespoons

olive oil

1 ½

cup

onions

,

diced

1

cup

carrots

,

chopped

2

pounds

tomatoes

,

chopped, or 1 28-oz can whole tomatoes

1

cup

vegetable broth

½

cup

raw cashews

2

dates

,

chopped

1

teaspoon

sea salt

½

teaspoon

pepper

¼

cup

fresh basil
Heat oil in a large pot. Add onions and carrots. cook 5 minutes, until softened.

Add tomatoes, broth, cashews, dates, salt, and pepper. Bring to a boil. Reduce heat and simmer 15 minutes.

Remove soup from heat. Add basil and purée with an immersion blender or in a blender.

Serve warm or at room temperature.
This post contains affiliate links for products I use and trust. I may receive commissions on purchases at no cost to you. As an Amazon associate I earn from qualifying purchases.