This comforting soup is a good source of protein, fiber, and anti-inflammatory spices. Make a fire, put on some great music, and cook up a pot of Coconut Curry Seafood Soup for a cozy evening.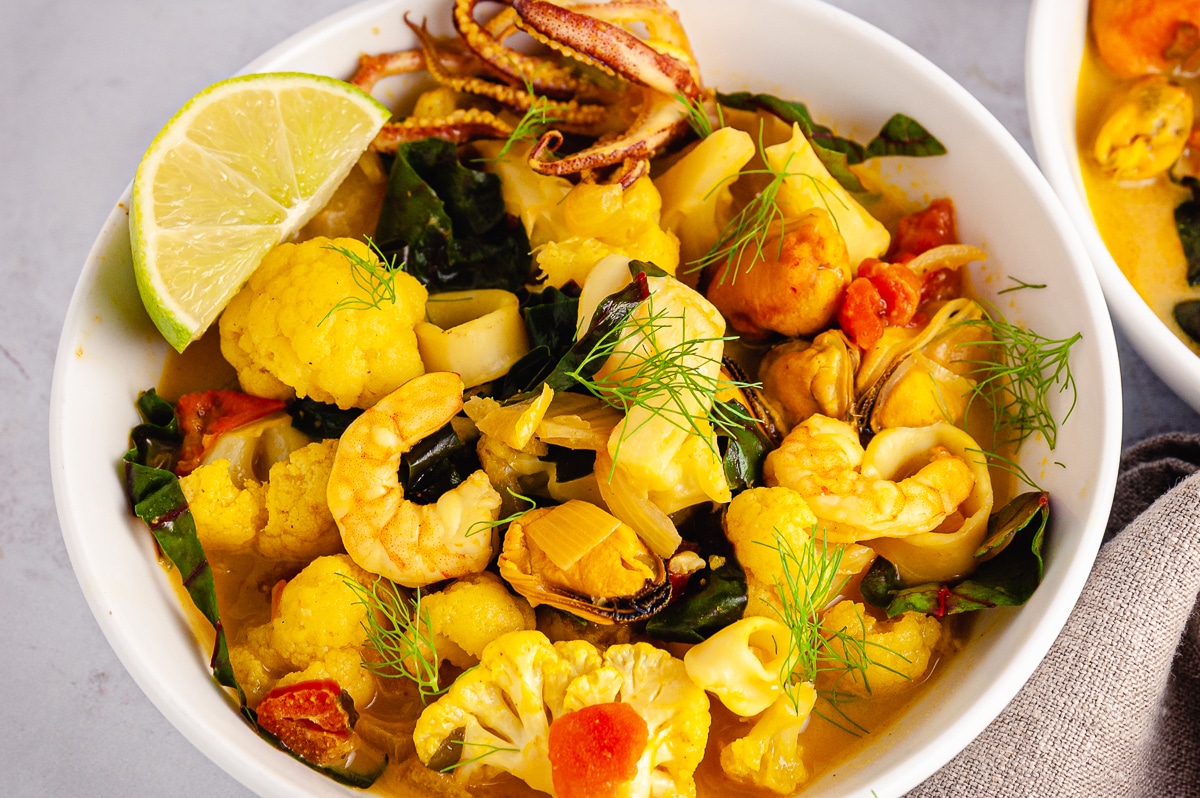 I love a chunky soup. I managed to get several types of veggies in here which pump up the nutrition significantly. Fennel pairs so well with seafood. The cauliflower, a cruciferous vegetable, adds texture. You could even grate it first instead of using the florets. This would give it a rice-like shape in the finished soup. It would also cook more quickly.
Use ruby chard which is red-ribbed. It shares some of it's red color similar to beets. When it blends with the yellow turmeric, the broth becomes a beautiful golden-orange. Chard is a low calorie leafy green stuffed with nutrients. You'll benefit from vitamins A, C, and K. It also has some magnesium, potassium, and iron.
If you are revving up your workout routines you'll want to make sure you're getting your protein. A good quality source of protein will help build muscle. Making sure you get the right amount of protein foods will slow the inevitable loss of lean tissue that is associated with aging. This type of muscle loss begins around 35 years old!
Seafood as well as poultry, meat, and eggs are good quality protein. Beans, lentils, peas, and tofu contain protein in addition to fiber. A combination of these protein sources will offer multiple health benefits to balance hormones and slow aging.
Variations for Coconut Curry Seafood Soup
You could swap the mixed seafood for all shrimp, fish, scallops or calamari. I've even made this soup without the seafood but it's so good you have to try it both ways.
Try other vegetables. Zucchini, broccoli, and spinach would work really well in this soup.
Add some shirataki noodles. These noodles made from konjac. They are very low in calories, gluten free, and won't spike your insulin and glucose like pasta will.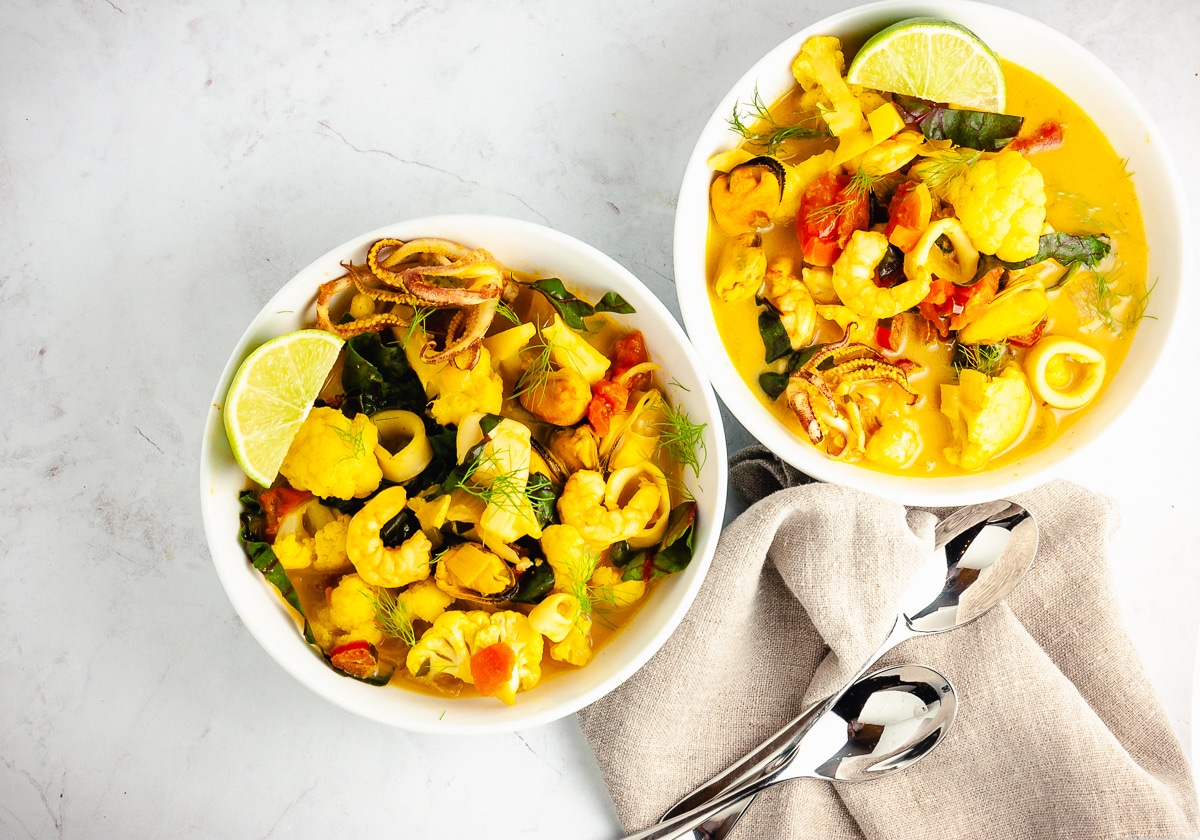 Essential knives
There's a lot of chopping in this recipe … how are your knives working for you? There are 3 essential knives that are "must-haves". The first is a chef's knife. The second knife you'll need to have is a paring knife. This small knife has multi purposes. Not only will you use it for working with small detailed cutting and paring jobs, you can also use it for testing vegetables for doneness. The final knife to add is a serrated bread knife. The saw-toothed edge is perfect for slicing tomatoes too.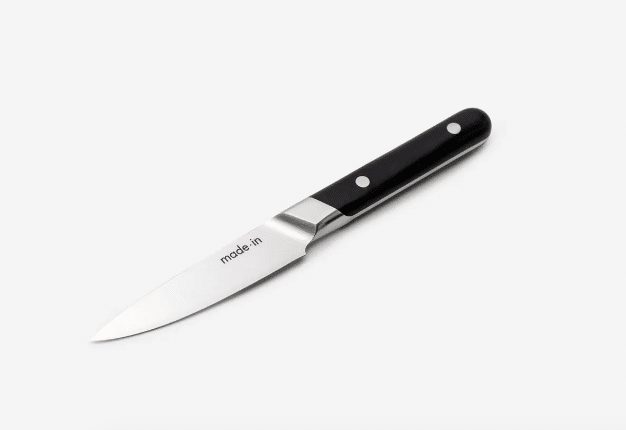 Other chunky soups to try
Creamy Wild Rice Mushroom Soup with Peas
Lentil Soup with Chicken Sausage and Chard
Coconut Curry Seafood Soup
2

tablespoons

olive oil

1

diced yellow onion

1

small head of fennel

,

chopped

1/2

teaspoon

sea salt

1

bunch swiss chard

,

leaves and stems seperated and chopped

½

head cauliflower

,

cut into small florets

4

garlic cloves

,

chopped

1

tablespoon

fresh ginger

,

minced

1 ½

teaspoons

curry powder

½

teaspoon

turmeric

½

teaspoon

cumin

¼

teaspoon

pepper

1 14.5

ounce

can diced tomatoes

4

cups

vegetable or seafood stock

1 15

ounce

can full fat coconut milk

1

pound

bag of frozen mixed seafood

juice of 1 lime
Heat olive oil in a large pot over medium heat. Add onion, fennel, and salt. Sauté until golden, about 6 minutes.

Add chard stems and cauliflower. Sauté another 3 minutes. Stir in the garlic, ginger, curry, turmeric, cumin, and pepper. Cook for 30 seconds.

Stir in the tomatoes, coconut milk, and broth and bring to a boil.

Add frozen seafood. Decrease heat to medium, cover, simmer 10 minutes.

Stir in chard leaves, cook until wilted, about 2 minutes. Stir in lime juice.
This post contains affiliate links for products I use and trust. I may receive commissions on purchases at no cost to you. As an Amazon associate I earn from qualifying purchases.