Craveable deep chocolate deliciousness with hormone health benefits in each crunchy bite.
I've been making my favorite dark chocolate granola recipe for a while and today I'm sharing it with you. It's so easy to toss a batch together and keep one container on the counter for immediate use, another in the fridge for keeping fresh longer, and the rest in the freezer. You might forget you saved some, so what a sweet surprise it'll be to discover this treasure ready-to-eat a month or so later.
Is Dark Chocolate Granola Healthy?
The chocolate flavor comes from cacao powder and cacao nibs. Both cacao powder and cacao nibs are roasted at low temperatures which helps them retain much of their nutrition benefits.
Cacao powder is a healthier alternative for cocoa powder in recipes. It's packed with flavonoids that can help lower blood pressure, improve blood flow, and help prevent blood clots.
Cacao nibs are crushed cocoa beans packed with antioxidants that help fight free radicals in our body. They don't contain sugar like chocolate chips but have a wonderful deep chocolate flavor that is a great substitute for regular chips.
I love dried mulberries and they go so well with chocolate. They are optional because you may not have them on hand. If you try them, stir or sprinkle into the chocolate granola recipe after it cools a little. You don't want to bake these. Dried mulberries are delicious straight out of the bag, too. Another healthy, sweet snack for you.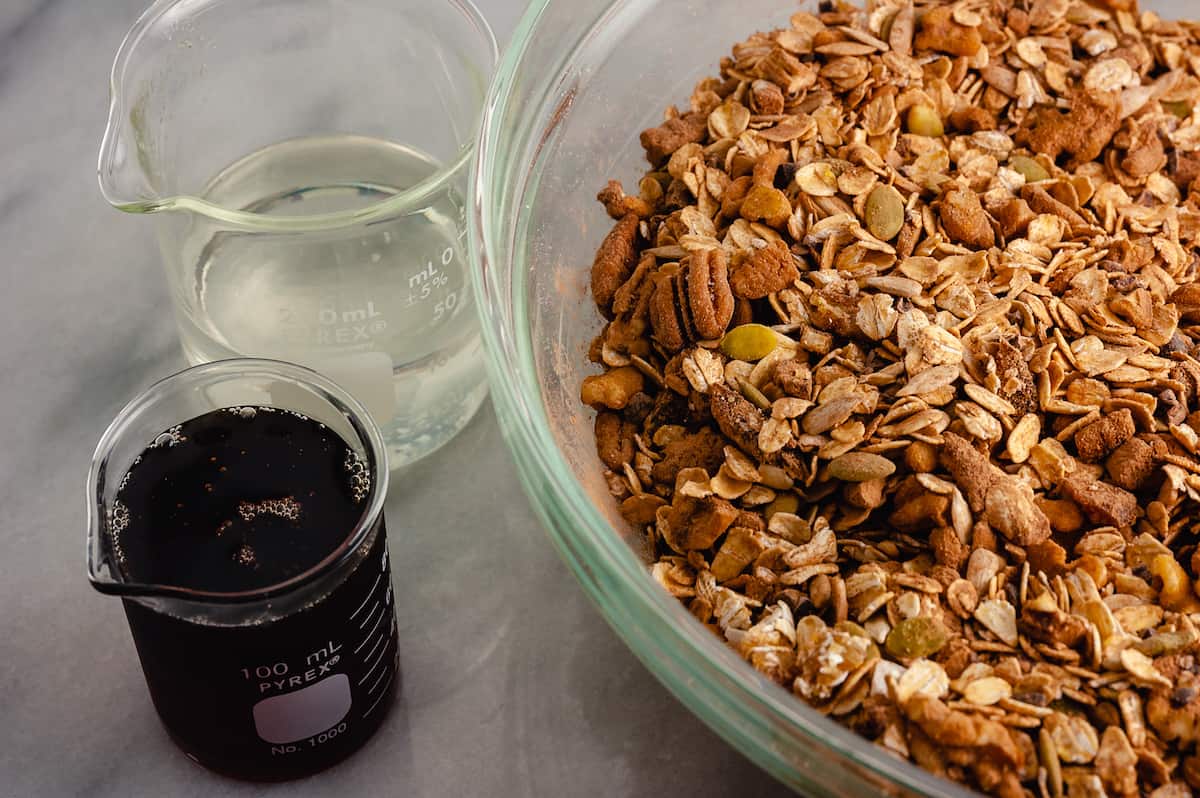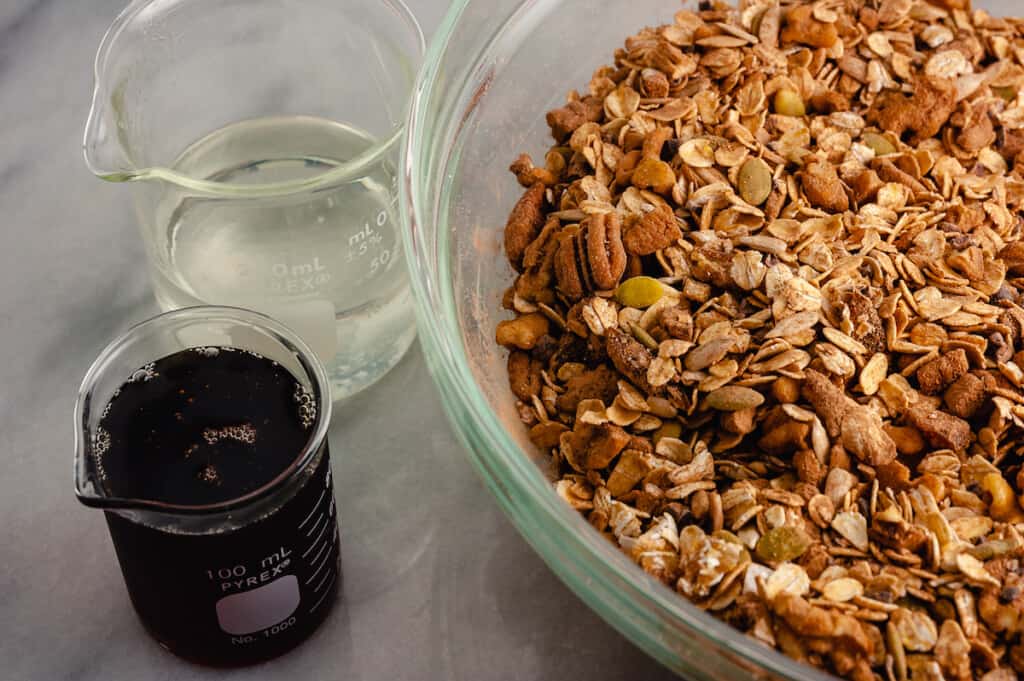 It packs the nutrients I always remind my clients to tick off:
Protein – although the oats have a few grams most of it is coming from the nuts and seeds.
Fiber – Wow, lots of ways to get it in here like the cacao nibs, dates, coconut, nuts, seeds, oats … plus, if you decide to add the mulberries, there is fiber in them also.
Healthy plant fat – well the coconut oil is a good source of medium chain triglycerides. Our body can break them down more easily than long- and short-chain triglycerides and convert to efficient energy.
My Blueberry Turmeric Granola is an example of another granola flavor that meets the same protein-fiber-fat requirement but with a different flavor profile.
One of the things I like the most about this chocolate granola recipe is that it is lower in added sugars than most granola recipes. Just sweet enough from maple syrup, coconut, and dried fruit. If you add some fresh berries and a sprinkle of cinnamon your taste buds will sense even more sweetness without energy-sapping processed white sugar. Smart!
I want to see how you're eating your Chocolate Fruit & Nut Granola. If you make my recipe, show me on Instagram @freshbalancenutrition #freshbalancenutrition.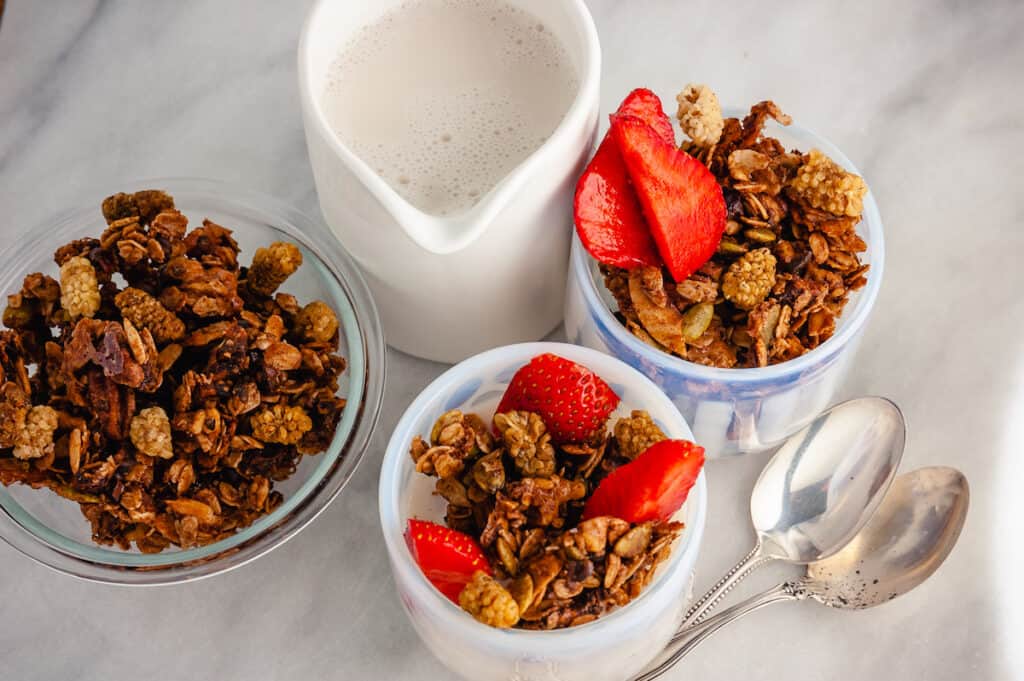 Chocolate Fruit & Nut Granola
3

cups

old fashioned oats

1

cup

walnuts

,

chopped

1

cup

pecans

,

chopped

¾

cup

seeds

,

like sunflower and pumpkin

¼

cup

coconut flakes

½

cup

dates

,

chopped

¼

cup

cacao nibs

¼

cup

cacao powder

1

teaspoon

sea salt

¾

cup

maple syrup

½

cup

coconut oil

,

melted

½

cup

dried mulberries

,

(optional)
Preheat oven to 300℉.

Mix oats, nuts, seeds, coconut, dates, cacao nibs, cacao powder, and salt in a large bowl.

Pour maple syrup and oil over top. Toss to coat.

Transfer to 2 parchment paper lined baking sheets. Bake 40 – 45 minutes.

Stir in mulberries if desired. Store in a glass container in refrigerator or freeze.
This post contains affiliate links for products I use and trust. I may receive commissions on purchases at no cost to you. As an Amazon associate I earn from qualifying purchases.