Zucchini noodles stand in for regular noodles in this nourishing soup. It's full of vegetables that won't spike blood sugar. Tender chicken meatballs boost the protein to keep you feeling full.
Chicken Meatball Soup with Zucchini Noodles is so easy to make. The small chicken meatballs simmer right in the soup. You'll have a low-carb, high protein soup ready to warm up for lunch or dinner all week long.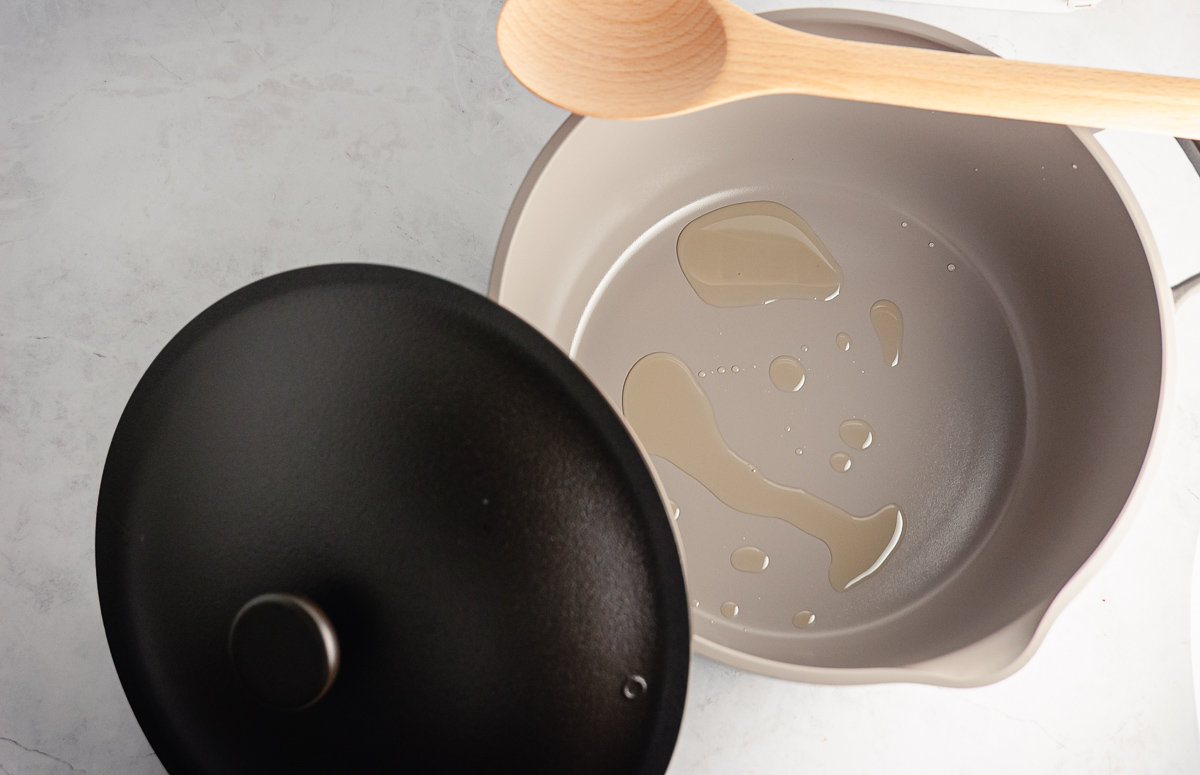 Hormone Balancing Superfood: Chicken

We all know chicken is a good source of protein. But what we need to remember is that protein is so important for women's health. It helps us hold on to our strong, sexy muscles. It also makes it easier stay stay at a healthy weight through perimenopause and menopause. Eating the right amount of protein keeps our bones healthy and decreases risk of osteoporosis, too.
Ingredient substitutions for this soup
Maybe you'd like to use ground turkey instead of chicken. Go right ahead. The flavor and protein content will be similar.  Swap other leafy greens like chard or baby kale for the spinach. If you don't have a spiralizer, use a vegetable peeler to make the zucchini noodles. You could even spiralize or peel the carrots into noodles instead of chopping them.
How to avoid tough chicken meatballs
When you mix the ground chicken too much or form the meatballs tightly they may come out dense and rubbery. Oil your hands lightly to prevent the ground chicken from sticking. Then fold the ingredients together lightly to form the meatballs.
Cooking method
The recipe for Chicken Meatball Soup with Zucchini Noodles comes together so quickly you don't really need a slow cooker or instant pot. I like taking my time cooking soup in this pretty pot. It's not a heavy pot and has a nontoxic, nonstick ceramic coating. It even comes with a roasting rack that also doubles as a steamer. Such an essential piece in my kitchen.
How do you know if the chicken meatballs are cooked?
Chicken meatballs have cooked through if the interior temperature is 165℉. The same rule goes whether you are cooking them in broth or on a baking sheet in the oven.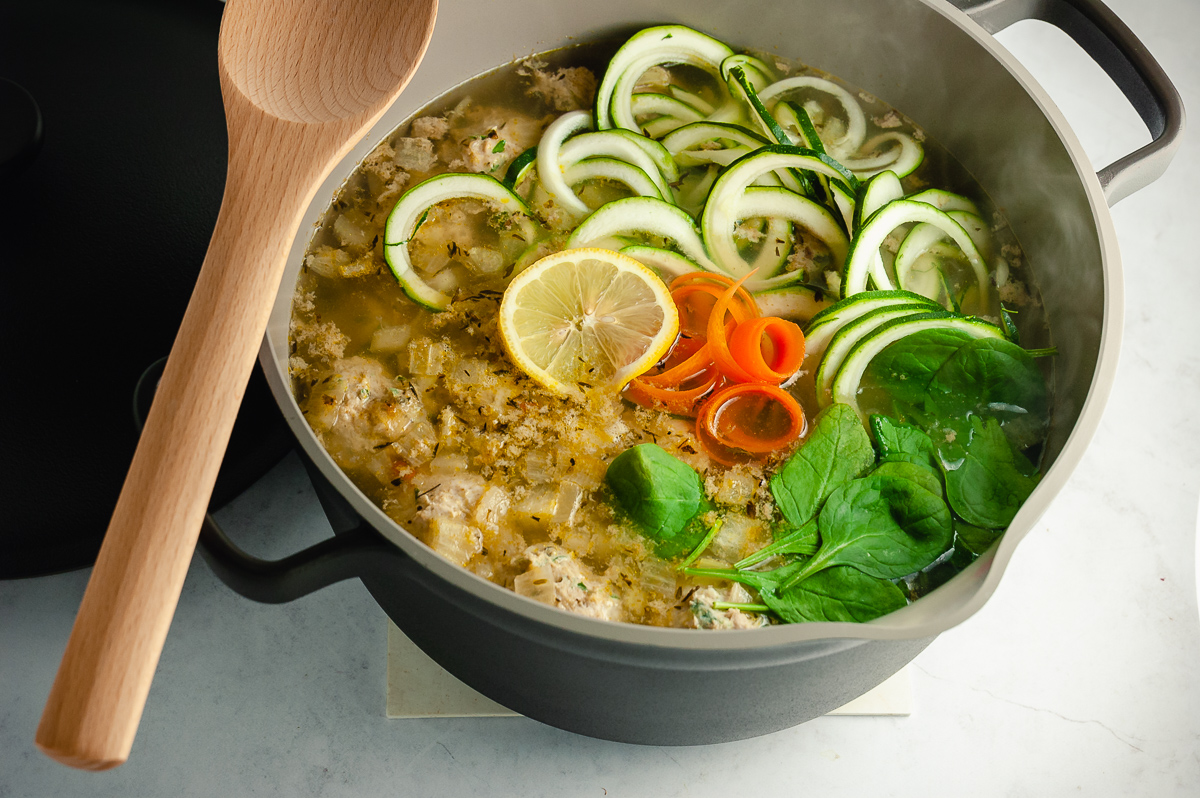 My recommendations for breakfast and dinner to balance the day:
Vanilla Chia Pudding with Persimmon
Chicken Meatball Soup with Zucchini Noodles
For meatballs:

2

pounds

ground chicken

½

cup

onion

,

grated

2

eggs

,

beaten

2

garlic cloves

,

minced

¼

cup

flat leaf parsley

,

minced

2

teaspoons

cumin

1

teaspoon

dried thyme

½

teaspoon

sea salt

¼

teaspoon

fresh pepper

For soup:

2

tablespoons

olive oil

¾

cup

onion

,

diced

3

medium carrots

,

diced

2

stalks celery

,

diced

2

cloves

garlic

,

minced

½

teaspoon

dried thyme

1

teaspoon

cumin

8

cups

chicken stock

1

bay leaf

1

pound

3 medium-sized zucchini, spiralized

3

cups

fresh spinach

2

tablespoons

freshly squeezed lemon juice
In a large bowl, combine all ingredients for meatballs, set aside.

Heat oil in the pot. Add onion, carrots and celery. Cook, stirring occasionally, until tender, about 3 minutes. Stir in garlic, thyme and cumin until fragrant, about 1 minute.

Add chicken stock and bay leaf. Bring to a simmer.

Wet your hands to keep ground chicken from sticking. Form golf ball-sized meatballs, about 2 tablespoons each and gently drop them into the pot.

Simmer meatballs for 20 minutes. Add zucchini noodles, spinach, and lemon juice. Simmer another 2 minutes until noodles and spinach are just tender.
This post contains affiliate links for products I use and trust. I may receive commissions on purchases at no cost to you. As an Amazon associate I earn from qualifying purchases.