Sometimes I just want to throw together a quick dinner. A vegetable salad composed of a roundup of my favorite flavors and textures plus some gentle-to-the-system quinoa always appeals to me.
You can use my Broccoli and Spinach Quinoa Salad as a basic recipe template if you'd like. Choose other favorite vegetables like baby kale, roasted carrots, summer squash, or eggplant. Toss some herbs like basil or parsley in the dressing if you have more time.
I love including nutritional powerhouses in my meals throughout the day. Quinoa is technically a seed, related to the swiss chard, spinach, and beet family. With a protein content of 12 to 18 percent, it has more protein compared to rice, millet, or wheat. One cup of quinoa contains 8 grams of protein. It's easy to digest being gluten free and is manganese rich which is important for energy production and hormone balance.
Hormone Balancing Superfood: Broccoli
Remember, broccoli contains diindolylmethane (DIM for short) which is a powerful functional nutrient found in broccoli, cauliflower, kale, cabbage, and other cruciferous vegetables that has a direct effect on hormonal balance. DIM has estrogen balancing and anti-cancer properties.
I encourage my clients to try and eat one cruciferous veggie each day. Frozen riced cauliflower, one of the cruciferous family, almost always goes into my smoothies. You can't taste the cauliflower and it gives a thick soft ice cream consistency to my smoothies.
Spinach is one of the most nutrient dense foods. Popeye was right to chow down on this powerhouse. Spinach contains its own type of plant based steroids called phytoecdysteroids. Phytoecdysteroids have been shown to dramatically increase glucose metabolism. This keeps blood sugar levels stable and minimizes the need for the critical fat-storage hormone insulin. The chlorophyll in spinach also provides magnesium which acts to strengthen the blood-brain barrier and protect the neurological system from environmental toxins.
Not to mention turmeric. It contains more than two dozen anti-inflammatory compounds and may aid in fat metabolism and help in weight management among a very long list of other health benefits. These plant foods share loads of nutrients with benefits for very few calories!
Want to try another recipe with hormone-balancing super powers? Look at this one.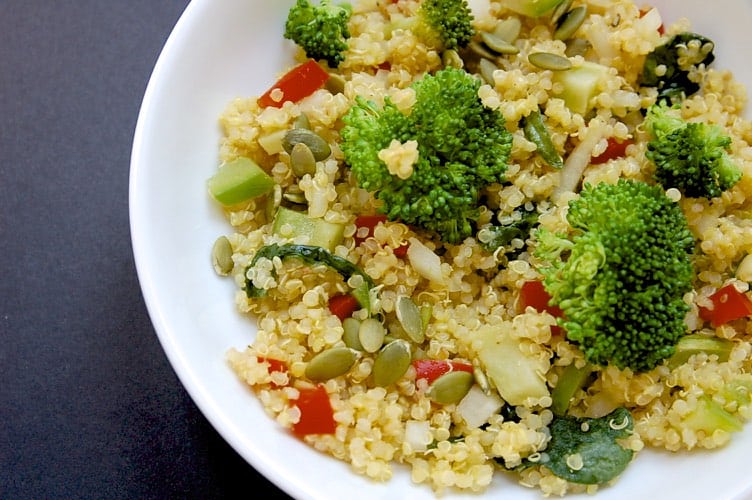 Broccoli and Spinach Quinoa Salad
1

cup

quinoa

2

cups

chicken or vegetable broth

dressing:

juice of 1/2 lemon

1

clove

garlic

,

minced

1

teaspoon

ground turmeric

½

teaspoon

sea salt

¼

teaspoon

cayenne pepper

¼

cup

olive oil

vegetables:

¼

cup

red pepper

,

chopped

¼

cup

green pepper

,

chopped

¼

cup

onion

,

chopped

1

cup

baby spinach

1

cup

broccoli

,

chopped, microwaved 1 minute with 2 tablespoons water, drained
Cook quinoa: Place quinoa in a small pot with broth. Heat to boiling, reduce heat and cover. Simmer for 15 minutes or until liquid has been absorbed.

For dressing: Place lemon juice, garlic, turmeric, salt, and cayenne pepper in a small bowl. Whisk in oil.

Assemble salad: Place remaining vegetables in a large bowl. Add warm quinoa. Pour dressing over all ingredients and toss to combine.

Serve warm or chilled.