I've been wanting to change up my breakfast routine lately. My go-to's are eggs with greens, overnight oats, or a protein smoothie. So it's time for a new granola with a bonus. Blueberry Turmeric Granola one of my favorite basic granola recipes that gets changed up with whatever nuts, seeds, or dried fruit I am feelin' at the the moment. Today I want the deep blueberry flavor from dried blueberries and some crunch from hazelnuts and almonds.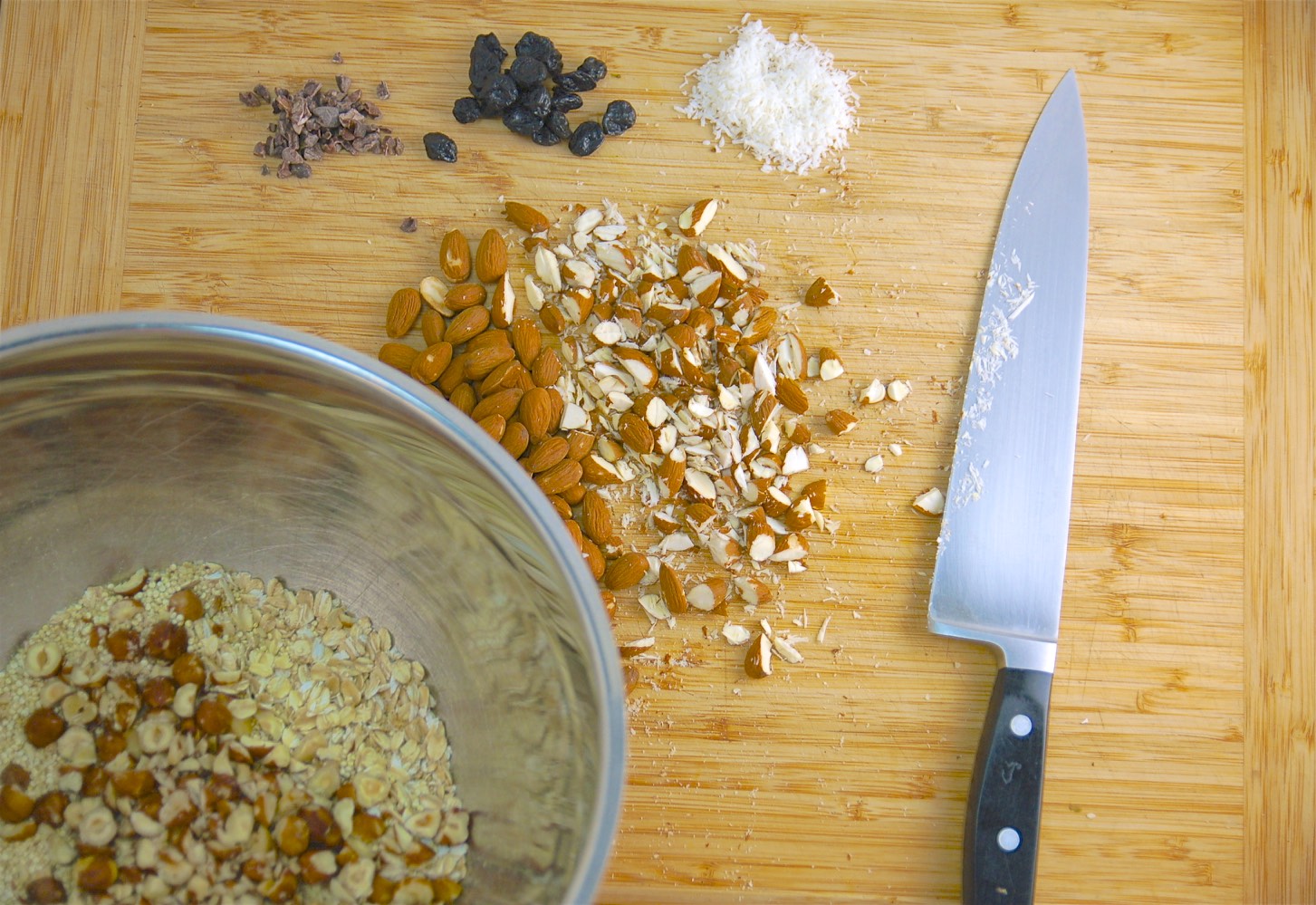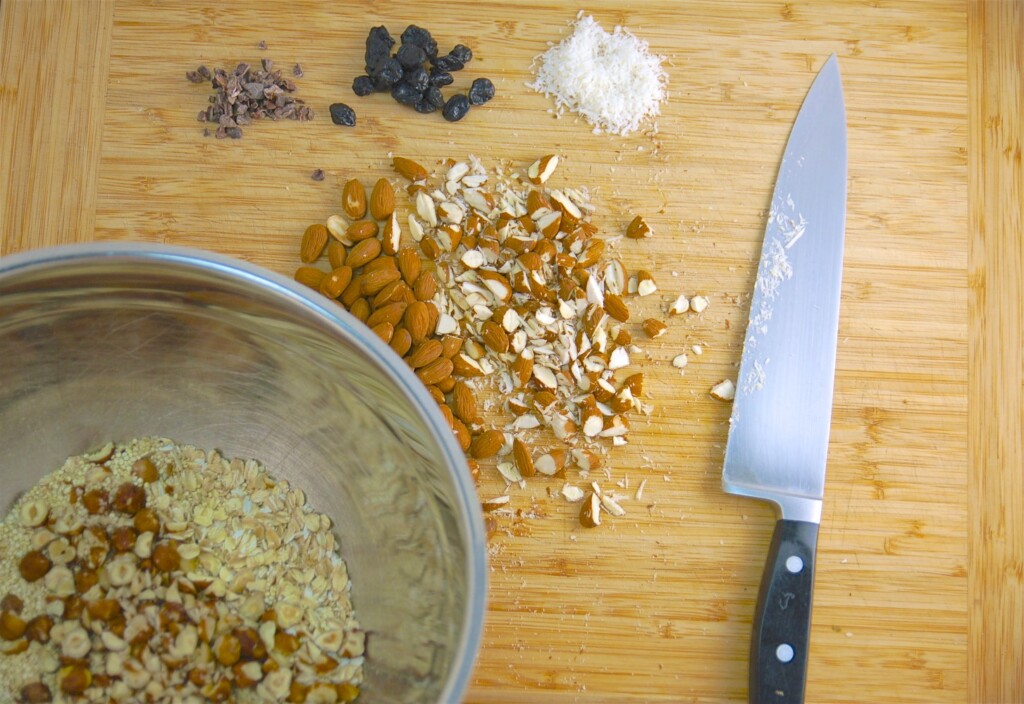 It's purposefully NOT like one of those overly sweetened store bought types of granola. Remember sugar is one of the most common hormone disruptors and is not only highly addictive but also contributes to insulin resistance. The story about insulin resistance is this, we do need a certain amount of carbohydrates for energy. That energy is stored in our liver and muscles. But when we eat more than we need (especially if we aren't exercising or moving to use energy) the excess needs to stored as fat. If we are eating carbohydrates in excess every day our system becomes overwhelmed and we notice our waistline expanding. Because other related hormones are shifted out of balance we have tremendous difficulty losing the weight, lack our usual energy level, and cannot summon up any willpower at all to resist ice cream or french fries.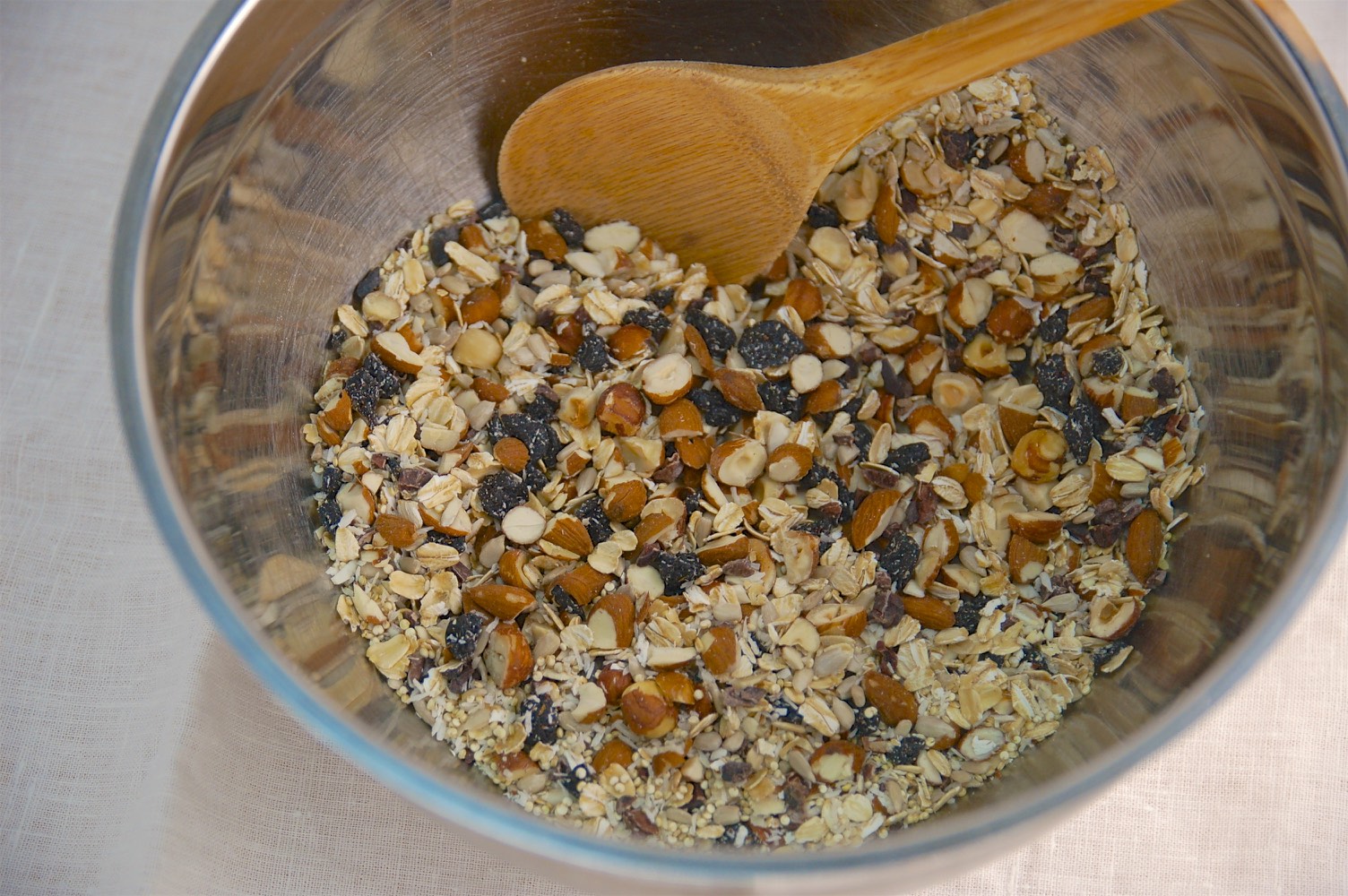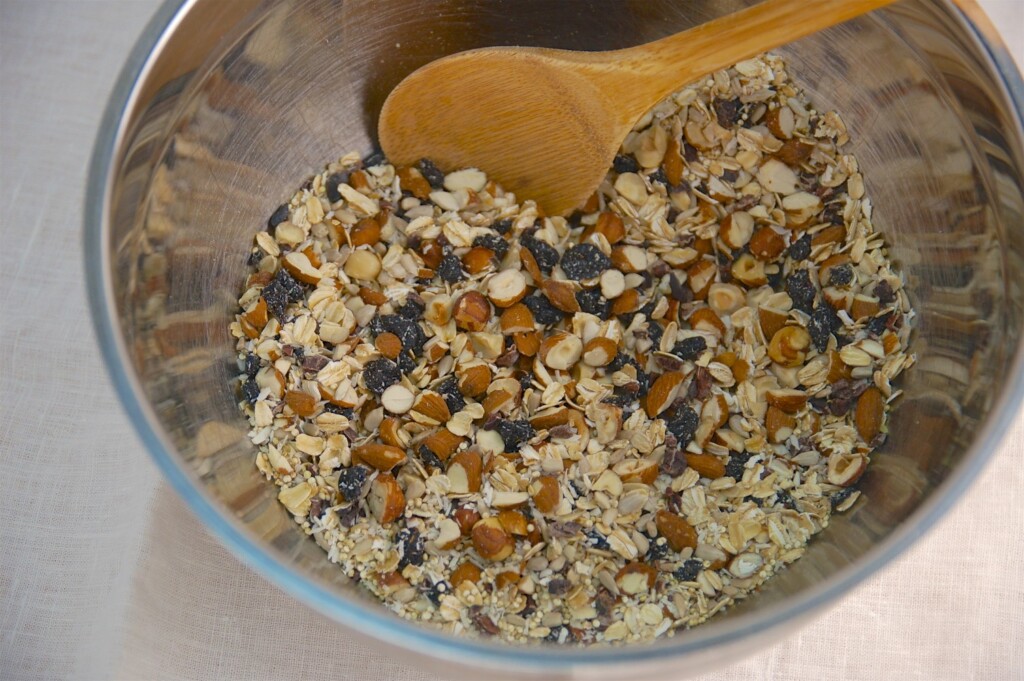 Break the high sugar foods habit by first reducing the amount of sugar in the foods you eat and eventually cutting out the refined sugary foods altogether. Enjoy this mildly sweetened granola knowing that it contains fiber to stabilize your blood sugar and reduce bad estrogens in your body. The blueberries help to ensure your cells aren't damaged by free radicals. You start the morning right with protein and healthy fats from the almonds and hazelnuts. I sprinkled some turmeric in for its anti-inflammatory actions to aid in ailments from arthritis to cancer prevention.
Enjoy Blueberry Turmeric Granola over hot cereal or good quality yogurt containing live probiotic cultures. Stir into a smoothie bowl. Pack some to take along for your travels. Hand out to the kids for snack time. Enjoy and if you try the recipe leave a comment and show me how you decided to munch it on Instagram. Tag your photo with #freshbalancenutrition so I can check it out!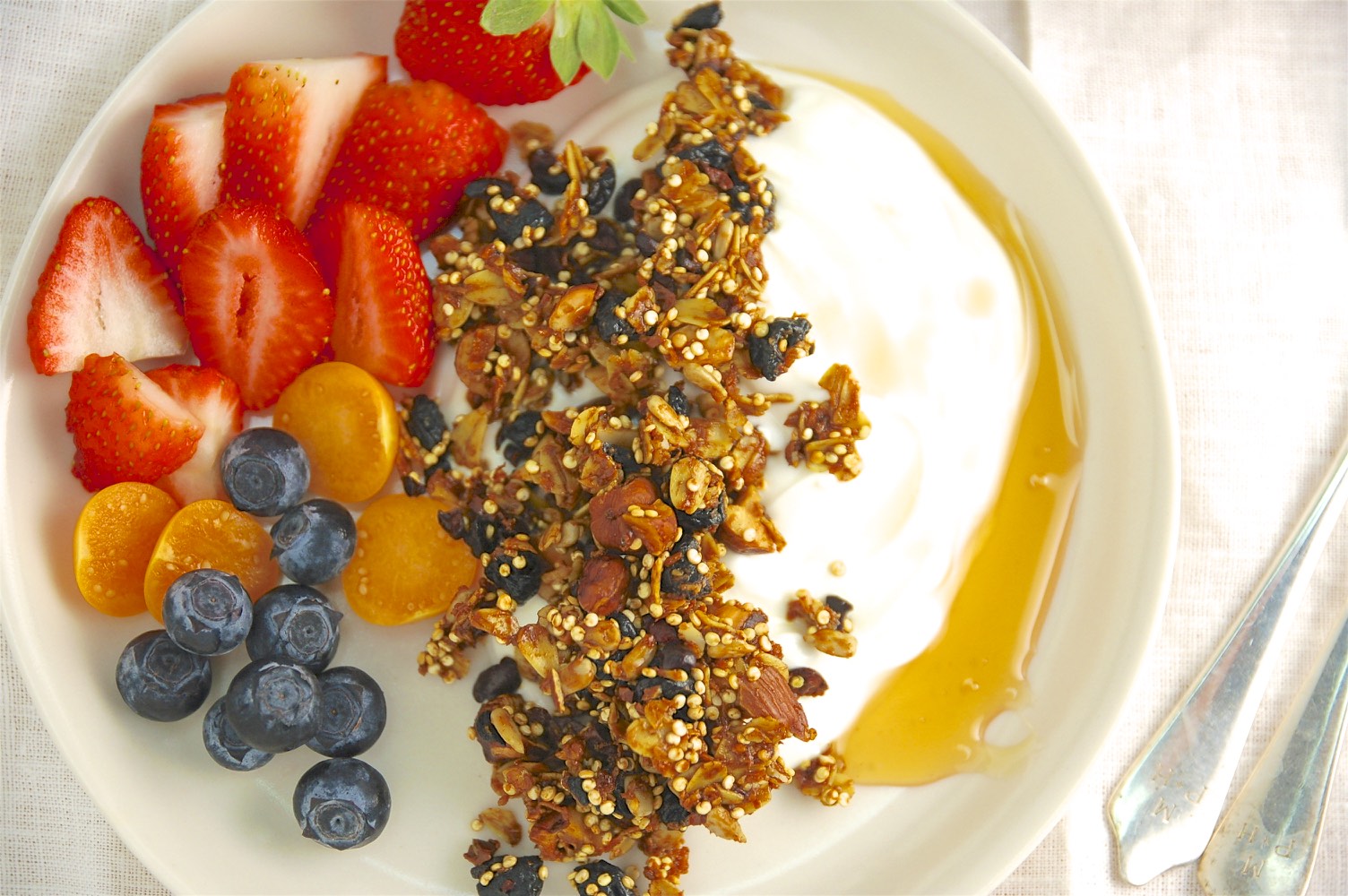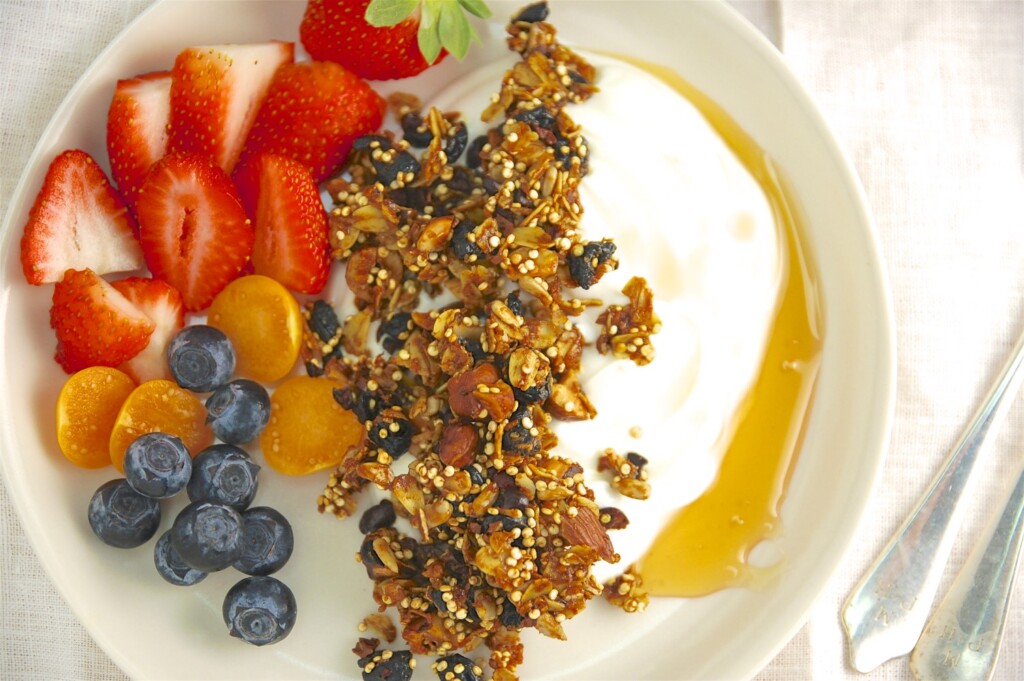 Blueberry Turmeric Granola
½

cup

quinoa

,

uncooked

1

cup

oats

½

cup

almonds

,

roughly chopped

½

cup

hazelnuts

,

roughly chopped (or sub walnuts)

¼

cup

shredded unsweetened coconut

¼

cup

sunflower seeds

¼

cup

cacao nibs

1

teaspoon

cinnamon

½

teaspoon

turmeric

¼

teaspoon

sea salt

2

tablespoons

coconut sugar

4

tablespoons

coconut oil

4

tablespoons

maple syrup

¼

cup

dried blueberries
Preheat oven to 300℉. Place quinoa in a small bowl and cover with water. Soak for 20 minutes.

Place oats, almonds, hazelnuts, coconut, sunflower seeds, cacao nibs, cinnamon, turmeric, and sea salt in a large bowl. Stir to combine. Drain quinoa, add to bowl, and toss again.

In a small pan, stir together coconut sugar, coconut oil, syrup, cinnamon, turmeric, and salt. Warm until coconut oil is melted. Whisk until ingredients are blended.

Remove pan from heat and pour liquid over ingredients in bowl. Toss to coat thoroughly.

Transfer granola to a parchment paper-lined baking sheet. Bake for 15 minutes. Remove baking sheet from oven and stir granola around. Return to oven for 10 more minutes.

Remove from oven to cool and sprinkle dried blueberries over granola. Cool completely before serving or storing in an airtight container.