I created this Almond-Crusted Tofu recipe for a recipe challenge sponsored by Lucky Foods. I designed it to not only incredibly tasty and easy to make, but also to fit the requirements of a dish balanced in nutrients for women in perimenopause.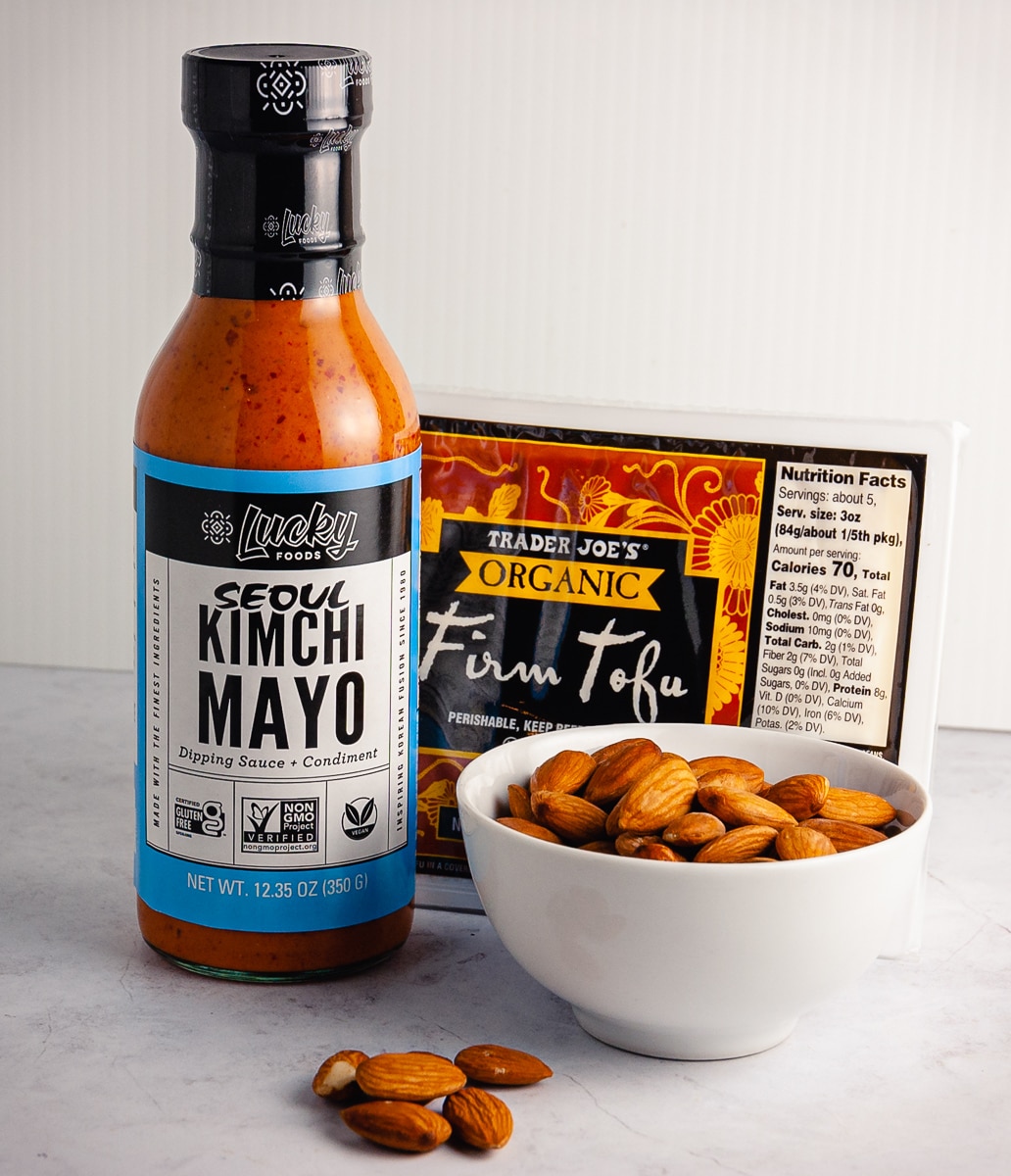 Hormone Balancing Superfood: Tofu
I'm always looking for tofu meal ideas because whole and minimally processed soy foods like tofu, tempeh, and edamame contain phytoestrogens which are not the same as the hormone estrogen. These soy isoflavones may reduce chances of reoccurrence of cancer in women who have had hormone receptor negative breast cancers. They also help keep bones strong which is a huge win because osteoporosis is such a concern for women. Another reason to rotate soy foods on the menu – they help reduce the symptoms of perimenopause and menopause like hot flashes.
The sauce I used in this recipe is Kimchi Mayo from Lucky Foods. It's a vegan spin on spicy mayonnaise. You'd have a hard time believing it is made without eggs because it's so thick and creamy just like the original. Kimchi Mayo can be used as a dip, spread, or as an ingredient in a savory recipe where you'd use regular mayo. It's adds a big spicy kick!
Lucky Foods is a woman-owned company. I love discovering products created by women and I try to support as many as I can. The Stasher Food Storage Bags I use are also a woman owned product that would be perfect for storing recipe leftovers.
So Lucky Food sauces not only add layers of flavor to dishes but make it quick and easy to create great-tasting healthy meals. I can prep some chicken, tofu, or shrimp plus a steamed veggie or two. Then I just serve it up with one of their sauces for a super tasty meal.
Lucky Foods Kimchi Mayo is at most grocery stores and Whole Foods. You can check their website to find a store near you. If you want some inspiration for using their other delicious sauces and products, check out Lucky Foods on Facebook and Instagram.
Tips for this recipe
Make sure you press and pat the tofu dry before dipping in the mayo to help it stick to the slices. Grind the almonds fine enough to create a nut flour with tiny bits of almond for some texture. You don't want to process so long that the almonds turn to nut butter.
The tofu pieces had a real zingy flavor from the kimchi. I was happy to have Almond-Crusted Tofu leftovers. They went over a pile of mixed greens for lunch the next day. Adding some avocado oil to my tamari orange drizzle created a perfect salad dressing!
Other options for Almond-Crusted Tofu
This recipe lends itself to some interesting variations.
Other types of nuts and seeds to use for the crust. Try cashews, pumpkin seeds, pistachios, walnuts, or sesame seeds. Use one type of nut or seed alone or blend 2 together before grinding to a fine flour with a bit of texture.
Trade the kimchi mayo for 1/2 cup of plain mayo with a tablespoon or 2 of flavor whisked in. Try pesto, puréed sun dried tomatoes, or curry paste.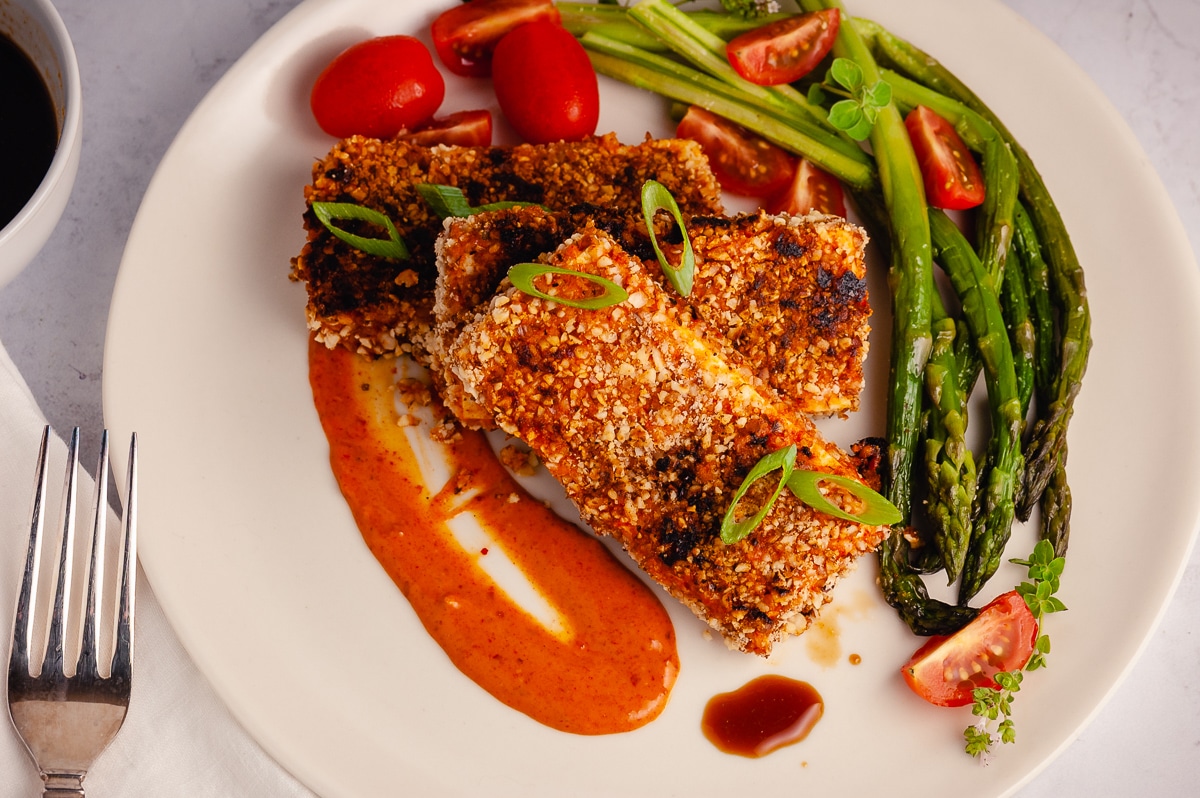 Want to try some other soy recipes?
Almond-Crusted Tofu with Kimchi Mayo
14-

ounce

package organic firm tofu

,

drained

½

cup

unsalted almonds

½

cup

Lucky Foods Kimchi Mayonnaise

2

tablespoons

sesame oil

tamari orange drizzle:

3

tablespoons

orange juice

2

tablespoons

tamari or say sauce

1

tablespoon

honey

¼

teaspoon

powdered ginger
Remove tofu from package. Wrap in a clean tea towel and place on a plate. Place another plate or pan on top of tofu to weight it down. Allow moisture to be absorbed for 30 minutes.

Place almonds in a food processor and grind until a little texture still remains. Transfer ground almonds to a shallow dish.

Unwrap tofu and cut into 8 rectangles.

Pour Lucky Foods Kimchi Mayo into a medium bowl. Coat one piece of tofu with mayo. Then place the coated tofu in the ground almonds. Turn it to cover all sides. Place on a small baking sheet to rest while you repeat with remaining pieces of tofu.

Heat oil in a nonstick pan. Add tofu pieces and cook until lightly browned, about 4 minutes on each side.

Whisk together all ingredients for tamari orange drizzle. Set aside.

Swipe serving plates with a tablespoon of Lucky Foods Kimchi Mayo and arrange tofu on top to serve.

Sprinkle with tamari orange drizzle.
This post contains affiliate links for products I use and trust. I may receive commissions on purchases at no cost to you. As an Amazon associate I earn from qualifying purchases.