Super Bowl Sunday! Are you heading out to a party or hosting one? I just read that Super Bowl is the second largest US food consumption day (Thanksgiving is the first)! It's one of those events where the food choices are traditionally not quite the most uh… health supportive, shall we say??So, I've come up with a good idea that doesn't involve much more effort than chicken wings, pizza, subs, and nachos but offers better quality ingredients. You'll also suffer less bloating, digestive issues, and avoid that annoying habit of complaining about how unhealthy the snacks were that you ate during the game.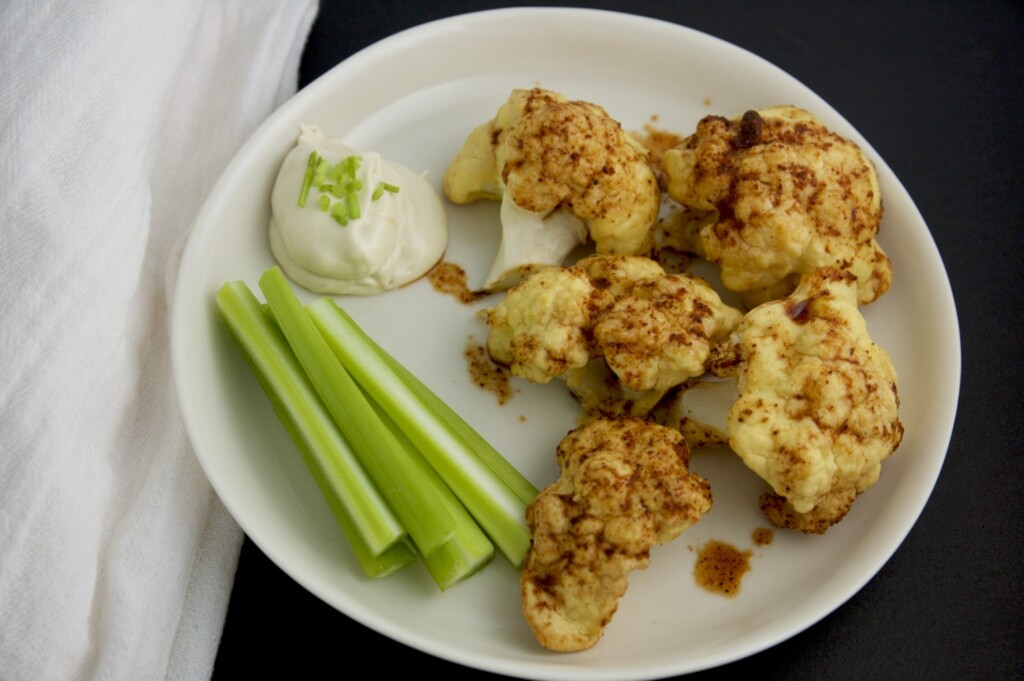 Give your guests a couple of healthier options on Sunday. It's just nice. Maybe a large platter of raw veggies with hummus or a lemon vinaigrette. Try some different types like jicama, purple cauliflower, or fennel. Set up a make-your-own-soda bar. Arrange some chilled sparkling water beside fresh-squeezed blood orange, mango, and ruby red grapefruit juices. Offer garnishes too such as sprigs of mint, lime wedges, and strawberries.Or here's another idea. Make a batch of cauliflower florets coated with a spicy batter and served alongside a creamy, dairy-free dip. This looks like a familiar party appetizer, doesn't it? Even though I didn't use wheat flour in the batter it is still thick and hangs on to each floret. Cashews and nutritional yeast are the secrets in the dip. They give it a cheesy consistency and flavor. And there are always huge advantages when a veggie is on ingredient list. Cauliflower is one of the cancer fighting foods and also has lots of fiber to make you feel full so you won't overeat and you can keep on working towards your healthy weight … like you've been doing … since Jan 1 …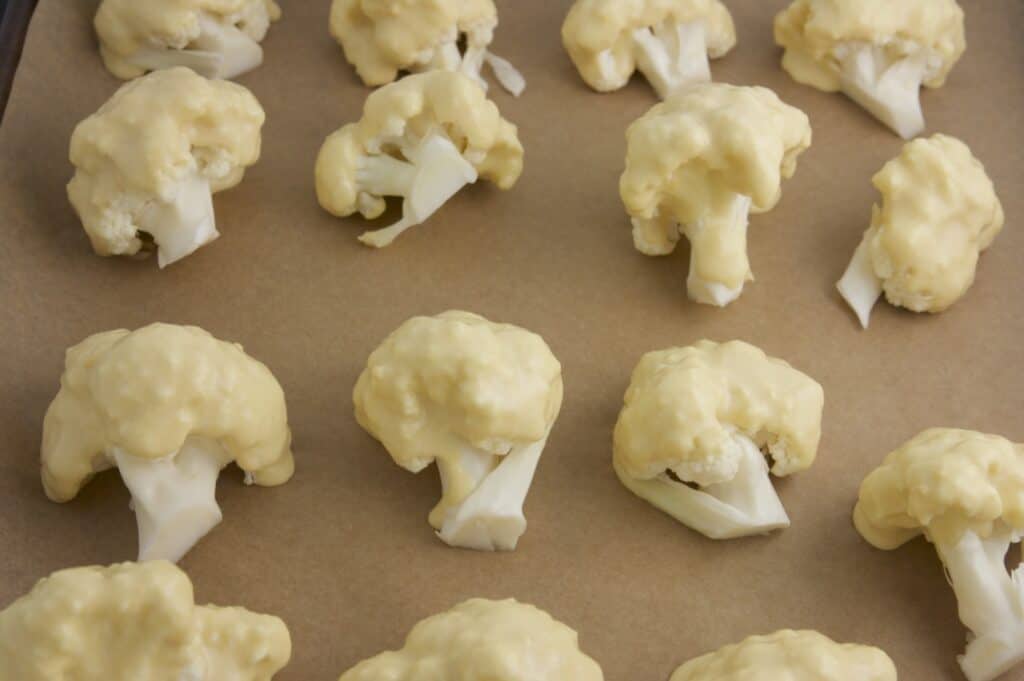 Spicy Cauliflower with Cashew Chive Dipping Sauce
Cauliflower:
1

cup

garbanzo bean flour

½

teaspoon

salt

1

cup

coconut milk

1

large head cauliflower

,

broken into medium-size florets

⅓

cup

apple cider vinegar

2

teaspoons

chili powder

1

teaspoon

salt

½

teaspoon

smoked paprika

½

teaspoon

onion powder

1

teaspoon

sriracha

1

tablespoon

coconut oil
Cashew Chive Dipping Sauce:
1

cup

raw cashews

,

soaked in water for 1 hour, then drained

2

tablespoons

olive oil

3

tablespoons

lemon juice

2

tablespoon

nutritional yeast

½

teaspoon

sea salt

2

tablespoons

fresh chives

,

finely chopped
Cauliflower: Preheat the oven to 450 ℉.

Line a baking sheet with parchment paper or a silicone liner. Whisk together the flour, salt, and coconut milk. Dip cauliflower florets in batter and transfer them to the baking sheet. Roast for 25 minutes, or until the cauliflower is tender.

In a small pan, combine the vinegar, chili powder, salt, cayenne, sriracha, smoked paprika, onion powder, and coconut oil. Bring to a boil, then reduce the heat and cook 5 to 7 minutes, until beginning to thicken.

When the cauliflower is done, pour the sauce over it, toss to coat and return to the oven for 10 minutes.

Dipping Sauce: Blend cashews, olive oil, lemon juice, nutritional yeast, and salt and 1/4 cup water and blend until smooth and creamy. Stir in chives.

Serve spicy cauliflower with dipping sauce.